21+ Best WordPress Company in Bangladesh 2023
There are close to 500 software and IT companies registered in Bangladesh. Among themes, some are big, some are small, a few are growing as a team, and so on. However, in this blog, we will compile a list of the best WordPress company in Bangladesh. It's not just a list, but we also make the ranking so that it helps you see the hierarchical structure of the Bangladeshi WordPress company.
Please be aware that this blog is not following our regular ranking system. This is a specialized blog where Wptowp editorial builds the list and ranking for you. Do you want to know how we did? No worry. We added it in the following section.
Notice 😓😓
Do you know any other great companies from Bangladesh? Did we miss your favorite company? No worry. Contact us and tell us the details. The editorial team will verify and add the company to this list. It's free.
We have added the ranking factors, how we made the list, our counting matrix, and the data source at the bottom of this blog. You can look at them to learn more about our process and transparency. You can learn how we provide you with completely unbiased data.
In order to provide the necessary information and data, this blog has become a massive ♨️ long blog. You can use the table in the content section to see the complete list. And then read about your favorite WordPress company.
Best WordPress Company in Bangladesh 2023
Let's explore Bangladeshi top WordPress product development company with Wptowp editorial. It's time to know the top Bangladeshi WordPress company which is specialized in branding, UX design, web design, web development, plugin development, and mobile and web app development. Let's make the blog fruitful for future industry leaders.
weDevs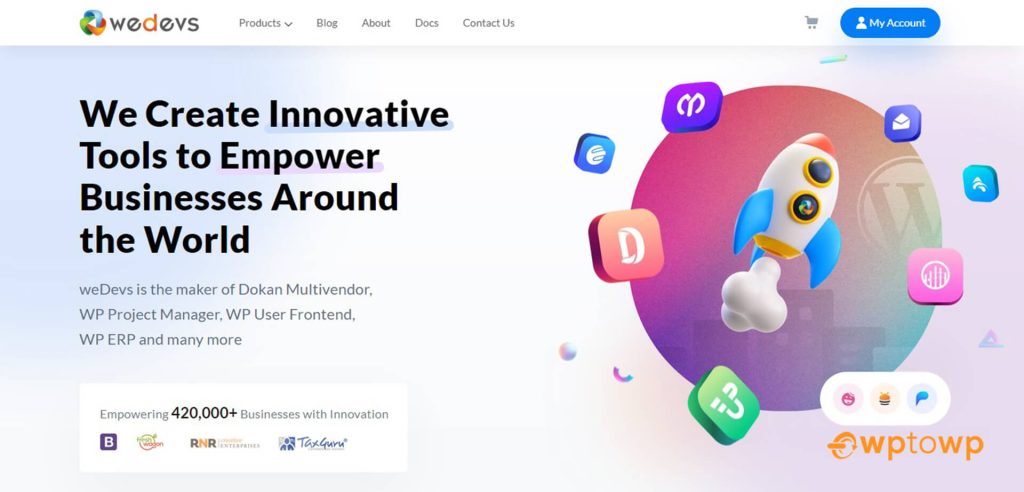 From a blog to a leading WordPress product development company! This is the story of the Bangladeshi iconic WordPress company weDevs Pte Ltd. WeDevs began in 2012 as a WordPress blog and quickly grew in popularity. After gathering the experience, they started a company in 2012.
WeDevs has become one of the dream destinations for new generations due to its quality and work culture. The company was named the happiest company by Prothom Alo. They also got featured on national international websites, journals, newspapers etc.
Popular Products from weDevs ⭕️⭕️ WeDevs offers some of the world's most well-known products, including Dokan, the leading multi-vendor marketplace, the WP User Frontend, Happy Addons, and others.
Dokan Multivendor 📌 Dokan is the best WordPress eCommerce solution to build & manage your dream multi-vendor marketplace. Trusted by 60,000+ entrepreneurs from 180+ countries around the globe, Dokan become the No. 1 Multivendor Marketplace for WordPress.
WP User Frontend 📌 WP User Frontend is one of the best frontend builder plugins for WordPress. It includes a frontend dashboard, frontend editor & publishing, and frontend uploader. Easily create amazing directory & membership sites, event registration forms, allow guest posting, and much more, using the All-In-One WP User Frontend.
Happy Addons 📌 Happy Addons for Elementor page builder Is One of the Best Elementor Addons That Comes With 97+ Elementor Free & Pro Widgets and 20+ Problem-Solving Elementor Features. And HappyAddons Elementor widgets are not limited to customizations.
WP Project Manager 📌 WordPress Project Manager is a simple yet powerful open source Project Management tool to manage work and deliver projects timely.
weMail 📌 weMail helps you to send newsletters, collect leads, automate emails, auto-add subscribers to a list and manage subscribers all inside the WordPress dashboard.
WP ERP 📌 WP ERP is the first full-fledged ERP (Enterprise Resource Planning) system through which you can simultaneously manage your WordPress site and business.

WPHive 📌 WP Hive is a modern take on the WordPress repository that puts the focus back on its users.
Appsero 📌Appsero is a brilliant tool for analytics, software licensing, automatic updates and releasing new versions of plugins and themes.
wePOS 📌 wePOS is an advanced and responsive WooCommerce Point of Sales plugin. It lets you customize features, take orders and track your real-time inventory using your WordPress dashboard.
Management Team ⭕️⭕️ As per we know, the CEO, CTO and HR Head were with weDevs from the start. Later on, other leaders join in the company and make weDevs as one of the best WordPress company in Bangladesh.
Important Link ⭕️⭕️ If you plan to join at weDevs then you can check the weDevs career page. For any pre-sale query, you can talk with them over live chat or a support channel. Follow their LinkedIn page and Twitter handles for regular updates.
Special Notes ⭕️⭕️ weDevs is one of the favorite companies of our editorial team. The editorial team loves the company not because of its statistics but because of its reputation and culture. There are multiple companies that grow by following weDevs and their success. One of the best parts of the company is, that they regularly support the WordPress community by sponsoring, hosting meetups and contributing to the community.
WPDeveloper ❤️❤️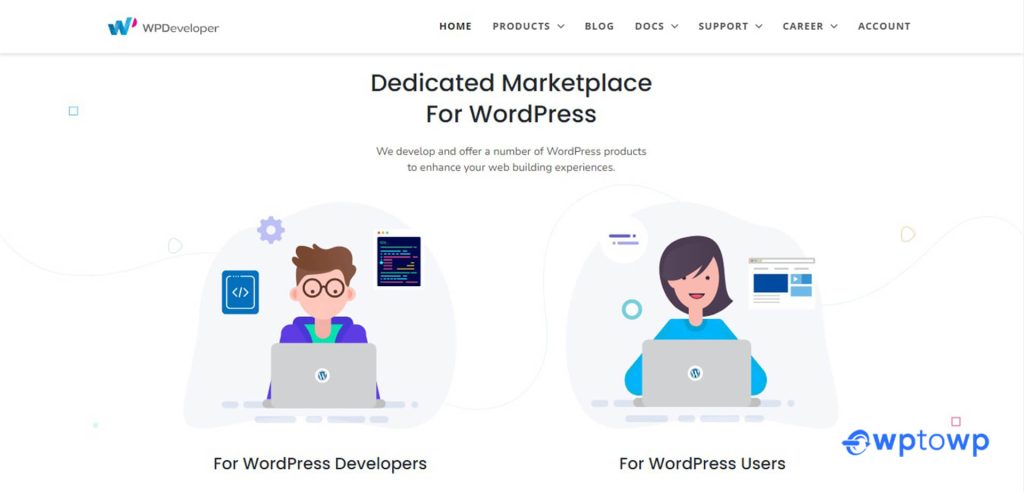 WPDeveloper is another of Bangladesh's best WordPress company with multiple successful products. With 3 million+ happy users from 180+ countries, the company offers software to enhance the web-building experience. Recently, they started making Shopify apps to extend their products. The WPDeveloper team strongly believes "good for the business" should also mean "good for the customers."
The company wins multiple awards including BASIS outsourcing awards. At the same time, they sponsor WordPress meetups regularly in their office.
WPDeveloper's Popular Products ⭕️⭕️ WPDeveloper is the creator of Essential addons for Elementor that are powering 1M+ WordPress Elementor websites worldwide. They are the 2nd add-ons that hit 1M+ active institutions. Apart from this, they also have Disable comments plugin with 1M+ active installations. There is a number of notable products that they developed.
Essential Addons for Elementor 📌 The ultimate elements library for Elementor WordPress Page Builder. Premium elements with stunning design and endless customization options.
Disable Comments 📌 Instantly allow or disallow comments from any post type in WordPress (Pages, Posts, or Media) to stop the spammers and gain complete control over your full website.
Templately 📌 Save & store your page templates on MyCloud to reuse them whenever you need them. Workspace. Invite your team members & work together to build a website whenever and wherever they want.
BetterLinks 📌 Betterlinks is an all-in-one solution for managing your affiliate links. It's a simple plugin that anyone can use to create and link to any short link or track your URL.
EmbedPress 📌 EmbedPress is a complete plugin that allows you to add and display PDF files in your WordPress posts and pages.
BetterDocs 📌 BetterDocs is an advanced documentation & knowledge base plugin for WordPress that will help you improve your user experience and reduce support tickets.
NotificationX 📌 NotificationX is a freemium WordPress plugin that helps bring those two marketing strategies to your WordPress site, with eye-catching notification alerts for new sales, comments, reviews, and more.
SchedulePress 📌 A complete solution for WordPress Post Schedule. Manage the schedule through the editorial calendar and enable auto-scheduler.
ReviewX 📌 ReviewX lets you get instant customer ratings and multicriteria reviews to add credibility to your WooCommerce Store and increase conversion rates.
Management Team ⭕️⭕️ Asif Rahman started the company and later another management teams join in the race. Here is the current management team of the company.
Important Link ⭕️⭕️ WPDeveloper, another of the best WordPress company in Bangladesh, provides amusing parks and benefits for new employees. If you are interested, you can check the WPDeveloper career page for a recent job. Also, here you can see the people behind this big company. You can follow them on facebook, twitter, and LinkedIn for regular updates.
💥💥 Admin Update (30 March 2023) 💥💥 Recently we connected with the WPDeveloper team and the response is amazing. Something was missing from our earlier conversation. But the team vowed to provide a better response from now on. We believe a better response will be applicable to our visitors like you. So the response issue-related notice is no longer applicable. We will remove it in a few days.
Special Notes ⭕️⭕️ When we reached out to WPDeveloper through different support channels, we never got their proper response. In some cases, we got a generic response that they had received our query. Since we published unbiased data-based content, we kept them on this list. We are not sure about their further experience, but we believe, they provide quality support and products for the international community.
XpeedStudio ❤️❤️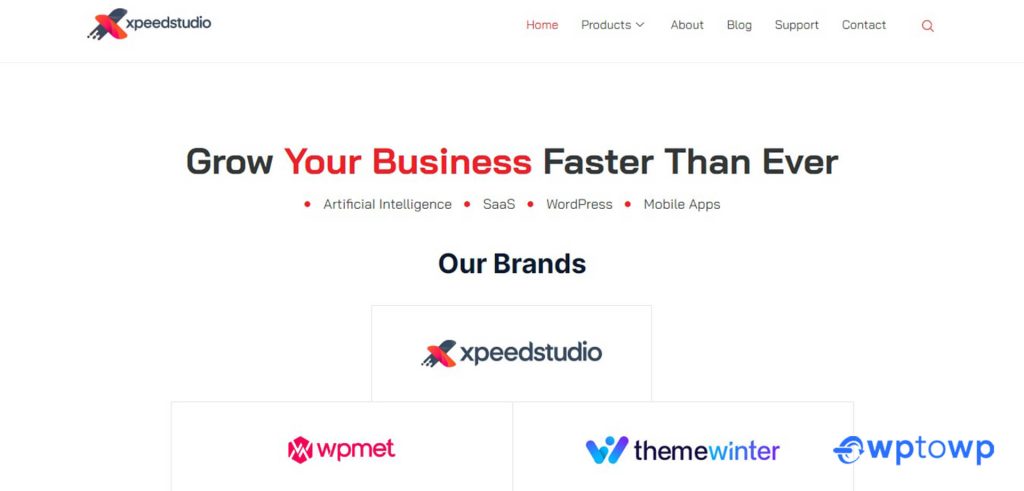 XpeedStudio, a household name in the tech sphere of Bangladesh, was founded in 2013 by Ataur R with a pledge to innovate and bring groundbreaking results. Specializing in AI, Machine Learning, SaaS, Web Apps, and Mobile Apps. XpeedStudio strives to produce high-quality, user-friendly, and next-gen web solutions for people worldwide. They are a team of awesome superheroes 🦸‍♂️🦸‍♀️, consisting of versatile people with expertise from different fields in tech stacks.
XpeedStudio is a Power Elit Author at Envato, and TrippleS is now an 11th-level author in the same market. The company won the prestigious BASIS Awards several times. Their products are regularly entered into various competitions. So far, they have 10,00,000+ users from 180+ countries.
XpeedStudio's Popular Products ⭕️⭕️ XpeedStudio's many themes have gained huge popularity in the Envato Marketplace. For example, Marketo crossed 5,000+ sales, Digiqole, and Exbiz had almost 3,000 sales, and Exbiz had almost 2,000 sales. As one of the top authors, their popular theme list is long. ElementsKit, their plugin, has also reached 900,000 active installations. We anticipate that the plugin will be the third to reach 1 million or more active installations.
ElementsKit 📌 Elements Kit is an all-in-one advanced addon built to enhance the page builder with widgets and features.
ShopEngine 📌 Lightweight suite of WooCommerce solutions for Elementor with a blazing fast loading speed, packed with WooCommerce Builder, Product Comparison, Wishlist etc.
MetForm 📌 Metform contact form builder is an addon for Elementor, build any contact form on the fly with Metform drag and drop builder.
WPCafe 📌 WPCafe is a complete Restaurant Solution Plugin to run your online Restaurant Business, Online Food Order, Reservation System, Pickup, Delivery etc. WPCafe complete review includes details information, unique selling points, pricing and so on.
Eventin 📌 Eventin is a simple and easy-to-use WooCommerce Event Manager Plugin to manage Events, Registration, Schedule and Sell Tickets.
Management Team ⭕️⭕️ Ataur Rahman started the company back in 2013, and since then, he has been leading the company from the front. Ehsan Riyadh and Al Emran later join the company. Here's the current management team of the company.
Important Link ⭕️⭕️ You can have a look at the XpeedStudio career page. You will always see there's a job opening for you. Hardly you will get the XpeedStuio's career page empty. Check parks and benefits if you are interested. You can reach the theme via support channels as well as Facebook, and Twitter ids. WPMet and ThemeWinter sites can help you with the latest product updates.
Special Notes ⭕️⭕️ XpeedStudio operates under three wings. XpeedStudio is a theme author with parental activities. WPMet is one part that brings Elementor-based plugins like ElementsKit, ShopEngine, and MetForm. ThemeWinter is another part that provides themes and niche-based plugins. Recently, they launched Genie AI writing assistance.
Themeum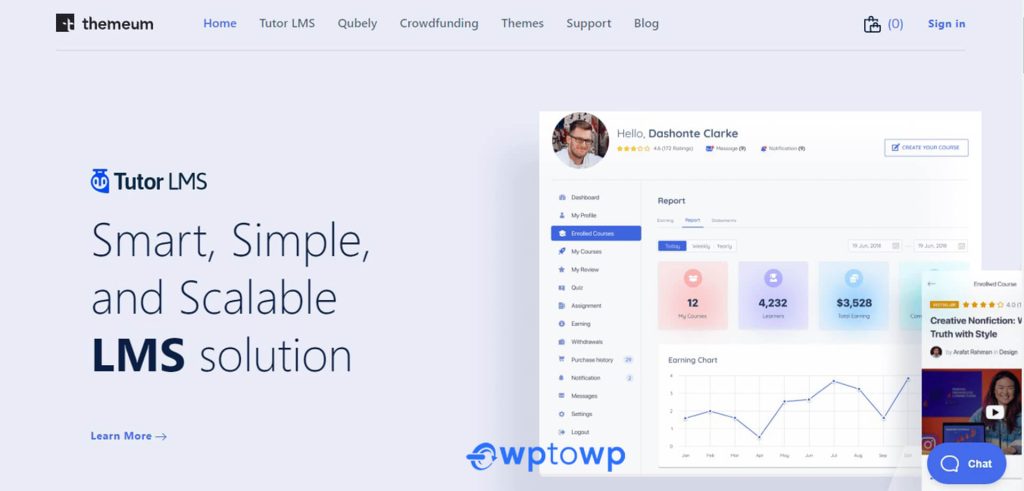 Themeum is another Bangladeshi WordPress company leading in the world. If you know the #1 Joomla company Joomshaper then know, Themeum is the company under the same umbrella. Ollyo is the parent company under which Themeum and Joomshapper is operating the reactivity.
Themeum is a state of the art WordPress theme and plugin development company on a mission to upgrade people's web experience with high-quality WordPress themes and plugins.
Themeum is a sister concern of Ollyo. They started with WordPress themes but later they move into the WordPress plugin business. Tutor LMS is the most popular product of the company.
Themeum Popular Products ⭕️⭕️ Even though they have a theme business history but we did not find any new data in the web search. And their support is not that much responsive, unfortunately.
Tutor LMS 📌 Tutor LMS is a complete, feature-packed, and robust WordPress LMS plugin to easily create & sell courses online.
Qubely 📌 Qubely is a full-fledged Gutenberg block toolkit with plenty of custom blocks, predefined sections and starter packs to create beautiful web pages.
Crowdfunding 📌 Crowdfunding is a revolutionary WordPress plugin that helps you create a fundraising or backer site with WordPress.
WP Mega Menu 📌 WP Mega Menu is a powerful WordPress drag-and-drop menu builder for anyone who wants to create awesome menus with all functionalities that a menu can have.
Themeum Management Team ⭕️⭕️
Important Link ⭕️⭕️ Themeum support page and contact page goes here.
AuthLab/ WP Manage Ninja ❤️❤️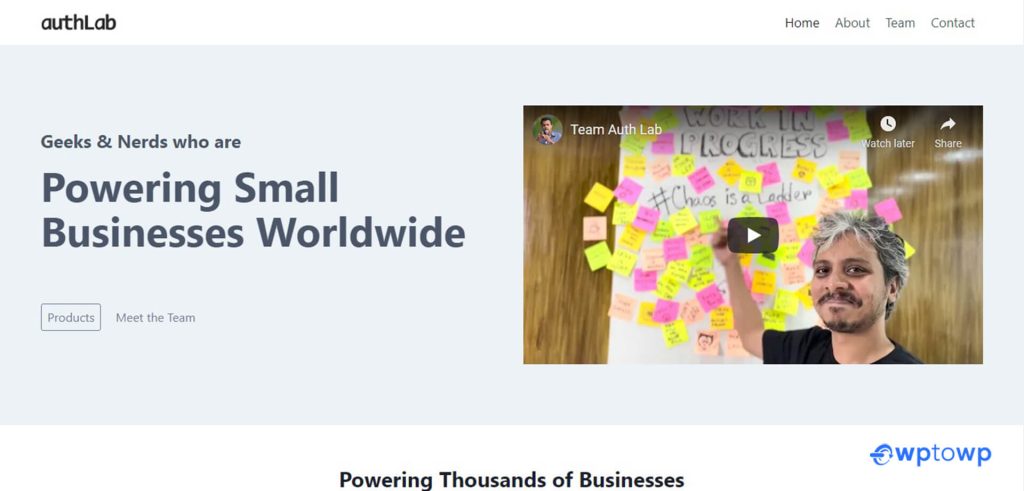 Let's move outside the capital city of Bangladesh! So far we have seen the company located in Dhaka. However, AuthLab, formally known as WP Manage Ninja, is the company leading in this list from outside Dhaka. AuthLab is located in Sylhet. They are the name behind FluentForms, Ninja Tables, FluentCRM, FluentSMTP, FluentSupport, AzonPress, and more. Over 300 thousand businesses use our software to increase their revenue and conversion rate and provide a better customer experience.
Their product has been downloaded by almost 3M, 300K+ Happy Customers, and provides services in 160+ Countries Worldwide.
AuthLab Popular Products ⭕️⭕️ FluentCRM is one of the popular products from the company. They also have other products like Table builder, social media manager, form builder, etc.
FluentCRM 📌 FluentCRM is the best and most complete feature-rich Email Marketing & CRM solution. It is also the simplest and fastest CRM and Marketing Plugin on WordPress.
Ninja Tables 📌 Ninja Tables is the best WP table plugin that comes with all the solutions to the problems you face while creating tables on your posts/pages.
FluentSMTP 📌 FluentSMTP is the ultimate WP Mail Plugin that connects with your Email Service Provider natively and makes sure your emails are delivered.
Contact Form Plugin 📌 Fluent Forms is the ultimate user-friendly, customizable drag-and-drop WordPress Contact Form Plugin that offers you all the premium features, plus many more completely unique additional features.
AuthLab Management Team ⭕️⭕️
Important Link ⭕️⭕️ Here is the authlab website link and WP Manage Ninja link. Moreover, they maintain multiple websites for different products. So don't be confused.
SovWare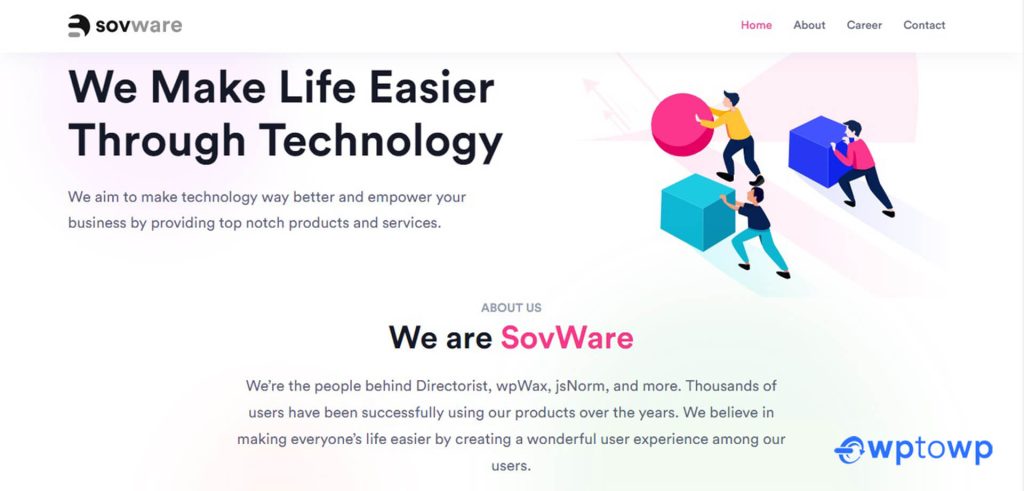 First, we discover wpWax, which is a WordPress marketplace. Then we got the software as the parent company. SovWare is the people of diverse expertise to make your web experience even better. They started off our journey with the belief of diversity and inclusion to make your business grow faster.
SovWare Popular Products ⭕️⭕️
wpWax 📌 A Reliable Marketplace for WordPress Plugins & Themes. Under the marketplace, they have multiple themes and plugins.
Directorist 📌 Directorist business directory plugin streamlines the process of creating industry-standard scalable and user-centric online business directories.
SovWare Management Team ⭕️⭕️
Important Link ⭕️⭕️ Here is the career page of the company. And if you are interested in seeing their team, click here.
HappyMonster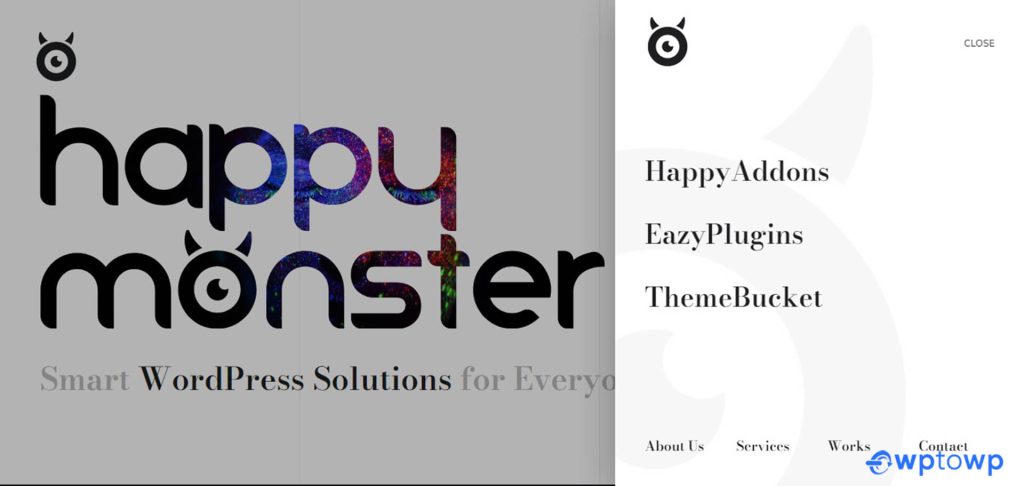 HappyMonster is a company that helps you from functional prototyping to launching your dream project. They have been working in the industry for over a decade.
HappyMonster Popular Products ⭕️⭕️
EazyPlugins 📌 EazyPlugins creates WordPress plugins that make it easier for you to manage your WordPress site.
HappyMonster Management Team ⭕️⭕️ According to our team's feedback, we knew the company has 3 management. However, when we search it online, we did not get a lot of information. We just get 2 people in the front line.
HappyMonster Important Link ⭕️⭕️ We did not see any career page for HappyMonster. However, you can see their details on their website.
HasThemes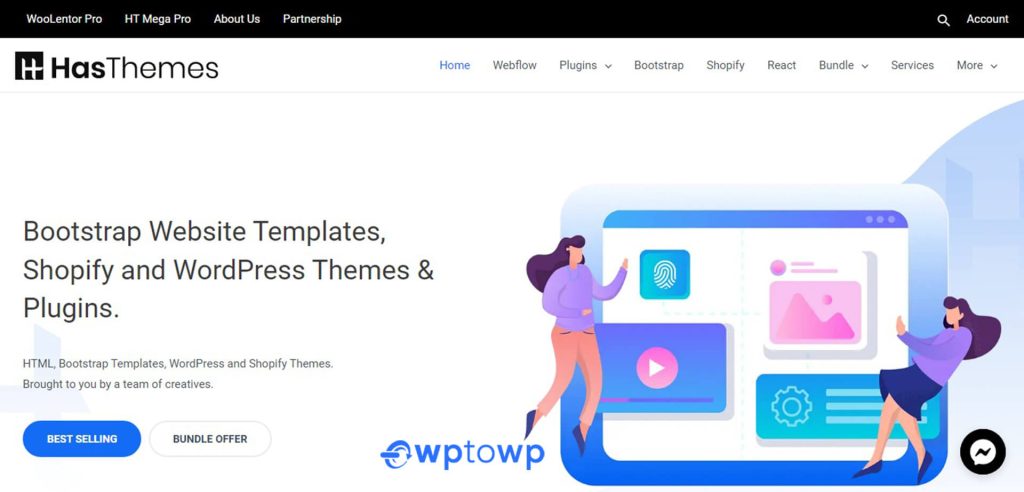 HasThemes is a company with a group of 50+ professionals with a passion for technology who have worked on WordPress plugins, Shopify Apps & Themes, ReactJS, VueJS Templates, and other JAMStack Technology templates. They are working with more than 120 countries around the world. Their products have been downloaded 1 million times.
HasThemes Popular Products ⭕️⭕️
WooLentor 📌 WooLentor is an all-in-one solution that will not only give you complete control over the WooCommerce page designs but also provide you with several features.
HT Mega 📌 HT Mega is an absolute addon for Elementor Page Builder that includes 80+ elements & 360 Blocks with unlimited variations.
HT Contact Form 7 📌 Contact Form 7 Widget is an Elementor addon for Elementor page builder and Gutenberg blocks.
HashBar 📌 HashBar is an easy-to-install notification plugin for WordPress, allowing you to easily create WordPress notification bars that can be used in any resolution.
HasThemes Management Team ⭕️⭕️
Important Link ⭕️⭕️ Say hello to HasThemes support and check the partnership page if you are interested.
WPPool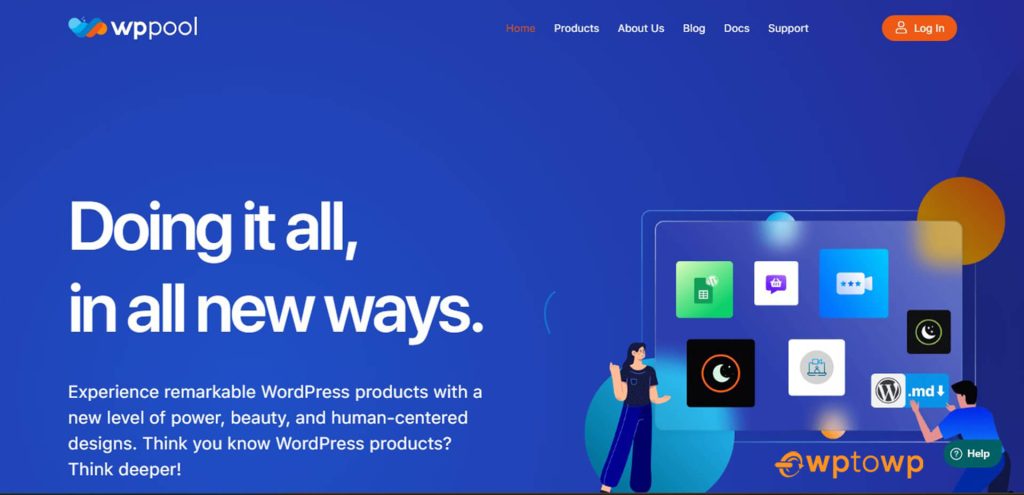 WPPOOL promises to build high-quality and high-performance WordPress plugins and themes. Experience remarkable WordPress products with a new level of power.
Popular Products ⭕️⭕️ Sheets To WP Table Live Sync 📌 Active installations:1,000+, WP Dark Mode 📌 Active installations:10,000+,
Jitsi Meet 📌 Active installations: 2,000+, WP Markdown Editor 📌 Active installations: 2,000+, etc. They also have some new products that look promising to us.
Management Team ⭕️⭕️
Important Link ⭕️⭕️ Check the latest products made by WPPool here. Also, you can see the career page and org profile for more details.
BDThemes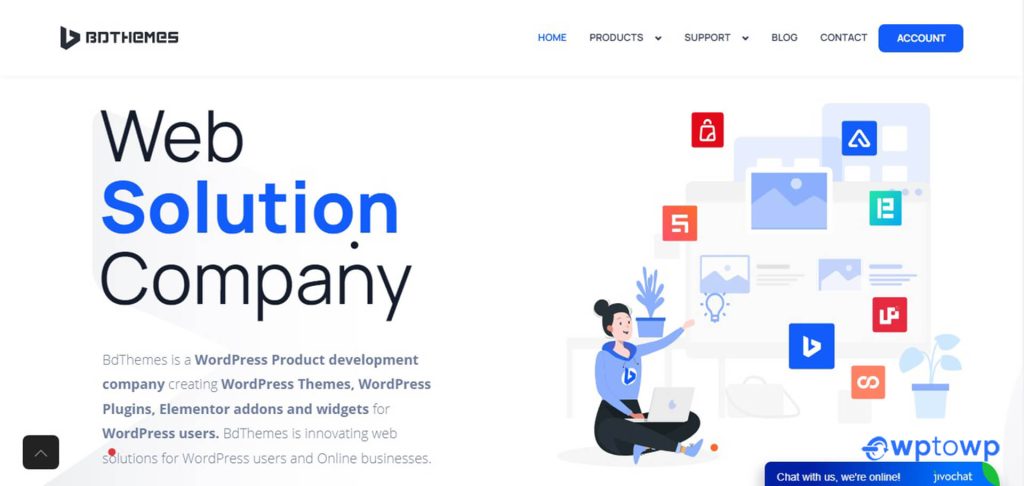 BdThemes is a WordPress Product development company creating WordPress Themes, WordPress Plugins, Elementor addons and widgets for WordPress users.
Popular Products ⭕️⭕️ Element Pack Elementor Addons 📌 Active Installs: 60,000+ and Prime Slider 📌 Active Installs: 60,000+
Management Team ⭕️⭕️
Important Link ⭕️⭕️ BDThemes website and LinkedIn page.
Codexpert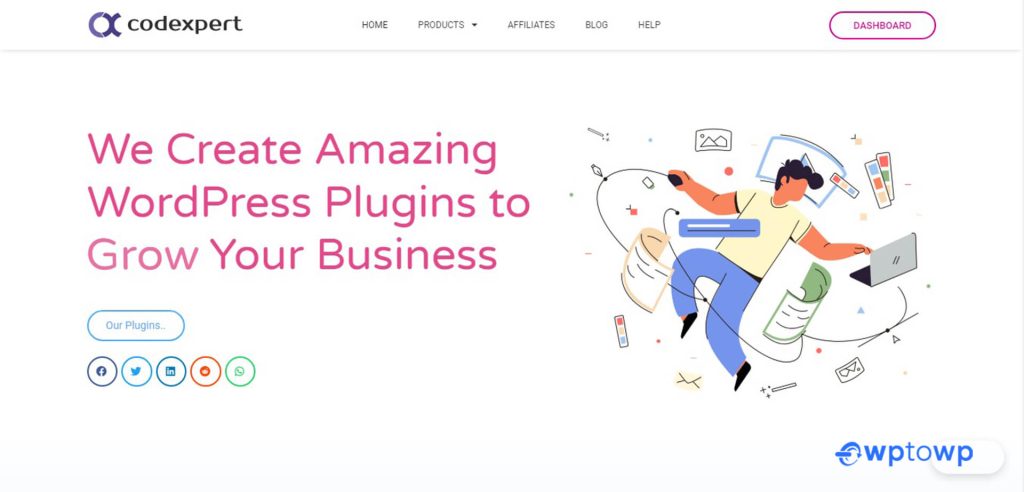 Codexpert is a small team of skilled and experienced folks that are best at what they do. We have 30+ years of combined experience that makes us stronger than ever.
They created CoDesigner, WC Affiliate, Share Logins and some other amazing plugins that help thousands of users boost their businesses. Along with these, they helped hundreds of clients shape their dreams by developing quality solutions including eCommerce and ERPs.
Popular Products ⭕️⭕️ CoDesigner – Best Elementor WooCommerce Builder📌 Active Installs: 20,000+ and Stop Generating Unnecessary Thumbnails📌 Active Installs: 30,000+
Management Team ⭕️⭕️
Important Link ⭕️⭕️ Codexpert website and LinkedIn page.
Webappick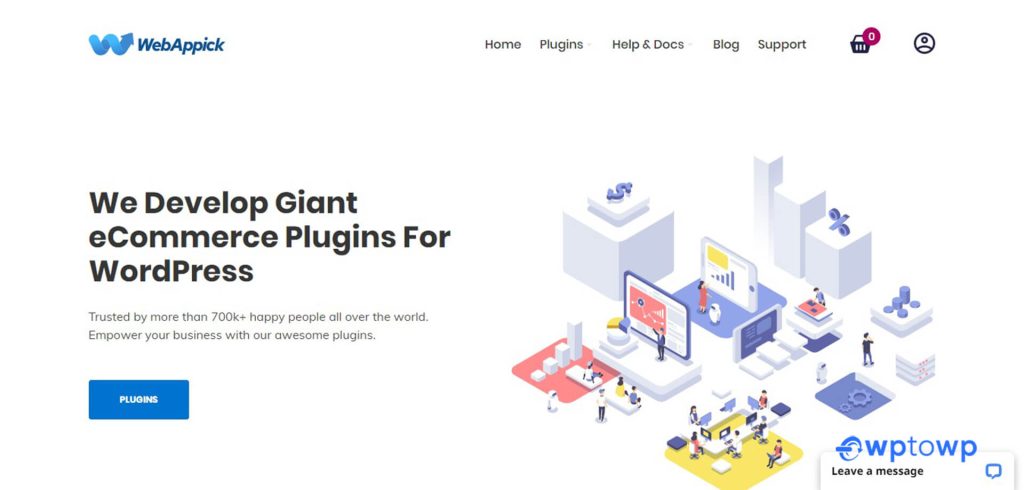 WebAppick LLC is a Software Development Company founded in 2014. WebAppick develops Plugins for WordPress and WooCommerce. WebAppick has introduced two WordPress plugins WooCommerce Product Feed Pro and WooCommerce Review Collector Pro.
Popular Products ⭕️⭕️ Challan – PDF Invoice & Packing Slip for WooCommerce 📌 Active Installs: 1,000+ and CTX Feed – WooCommerce Product Feed Manager Plugin 📌 Active Installs: 50,000+
Management Team ⭕️⭕️
Important Link ⭕️⭕️ webappick website and career page.
WPXPO ❤️❤️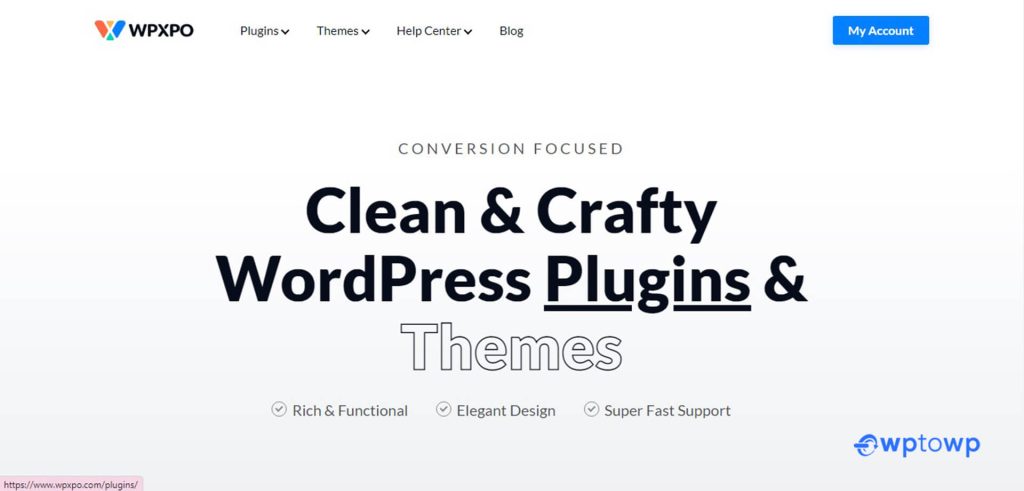 Starting in 2019, WPXPO have already established their two flagship products: PostX, Gutenberg's post block editor, and ProductX, Gutenberg's WooCommerce solutions. PostX is currently powering 20,000+ websites worldwide, while ProductX is also growing, with more than 2,000 active installations.
WPXPO won the prestigious national ICT awards in Bangladesh in 2022. Their product, PostX is the BASIS National ICT Awards-2022 "Winner". Additionally, PostX ran an LTD campaign in the MarTech community, where they received a lot of feedback from the top marketers in the industry.
Popular Products ⭕️⭕️
WPXPO has released three products so far. Beginning with the PostX Gutenberg post block plugin, they progressed to the ProductX, WooCommerce Gutenberg plugin, and the most recent WholesaleX.
PostX 📌 PostX is an all-in-one plugin to create a WordPress site. The main features are Archive Builder, Query Builder, Post Grid Layouts, Premade layouts, etc.
ProductX 📌 ProductX is a WooCommerce plugin for creating beautiful and unique product grids, product lists, product sliders, category lists, product carousels, etc.
WholesaleX 📌 WholesaleX is the simplest solution for creating conversion-focused B2B and B2B+B2C hybrid stores in WooCommerce.
Management Team ⭕️⭕️
Special Notes ⭕️⭕️
We published multiple reviews and analysis content for WPXPO. We are their affiliate partners. You can see PostX review, WholesaleX review for more information.
RadiusTheme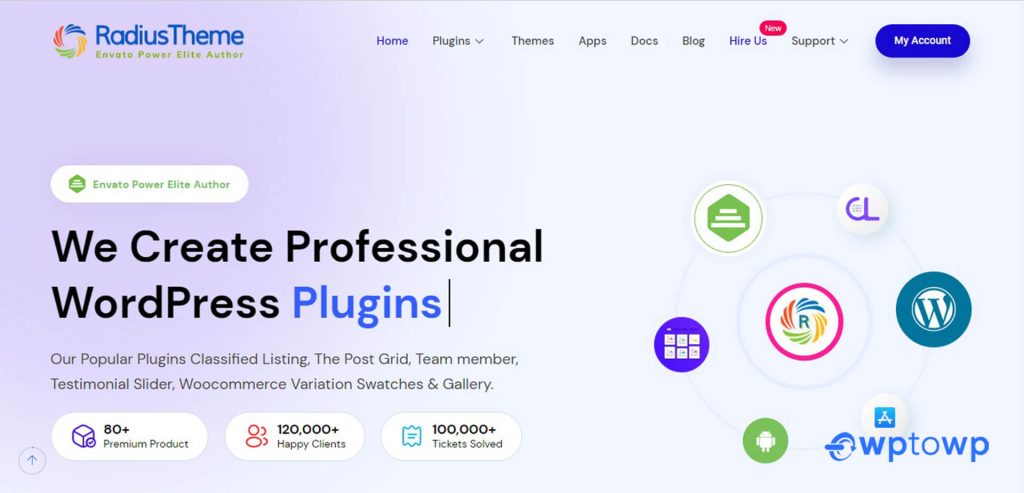 RadiusTheme is a Bangladeshi software development company focusing on WordPress products. The company provides not only product development but also custom software development services. You can hire them for a specific project as well.
Popular Products ⭕️⭕️ The company has some popular plugins so far. Among them, "The Post Grid" recently achieved 40,000+ active users.
Classified Listing 📌 Classified Listing is among the best-classified ads WordPress plugins available. It comes with all the features necessary for building a classified listing website.
The Post Grid 📌 Post Grid is the top popular plugin for creating the most elegant grids for any website with Shortcode or Post Grid Elementor Addons.
Testimonial Slider 📌 Best Testimonial Slider and Showcase plugin for WordPress websites. It is a developer and user-friendly testimonial plugin that facilitates the easy management of customer testimonials.
Team 📌 Team is the best WordPress team plugin that facilitates the best display of your team members on your site.
Variation Swatches 📌 Woocommerce variation swatches plugin converts the product variation select fields into radio, images, colors, and labels.
Review Schema 📌 WordPress Review Plugin with a JSON-LD-based Structured Data Schema solution for your website.
Management Team ⭕️⭕️
Coderex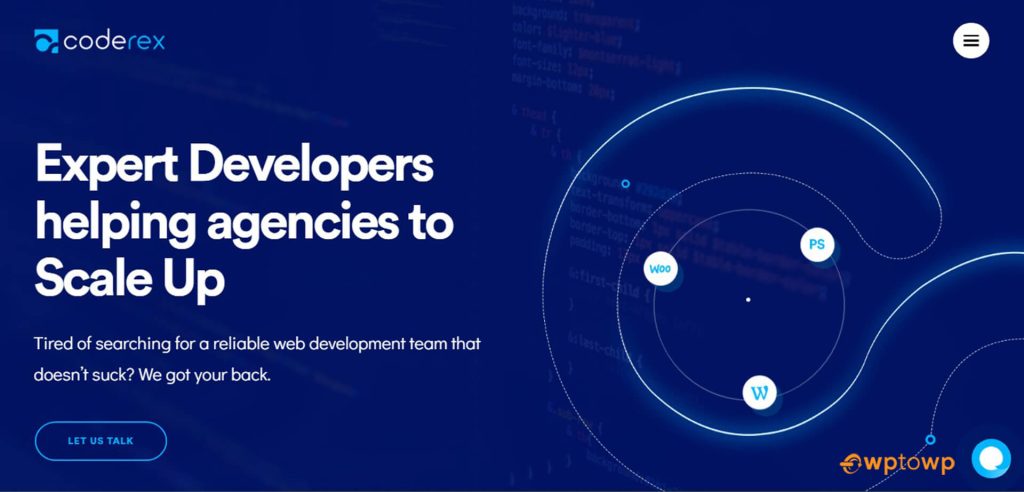 Coderex is a white-label WordPress-focused software company. Starting back in 2017, they are providing quality services. You can expand your business to increase ROI doesn't require a huge amount of investment or time. You just need the right team by your side.
The company is a service-based company so there are no popular products. However, from the same team, WPFunnels was born.
Management Team ⭕️⭕️
Codeboxr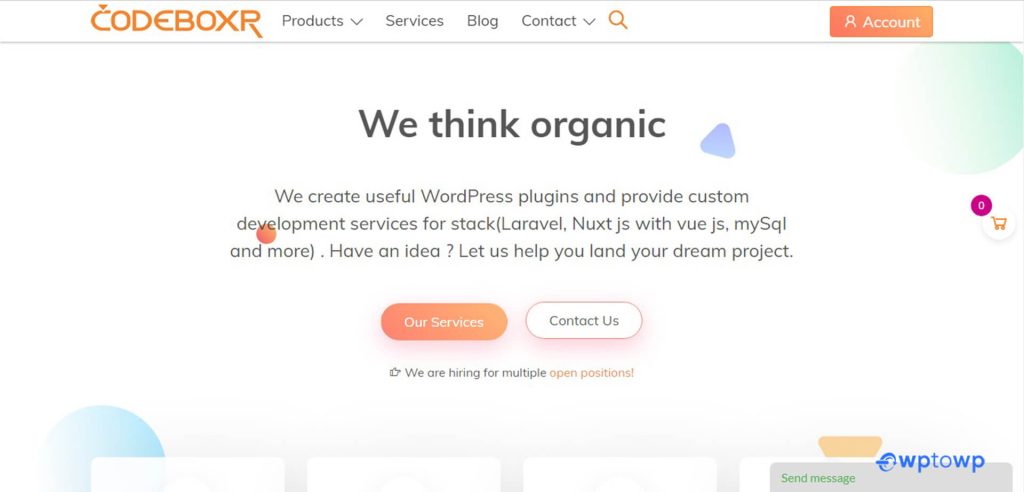 Codeboxr is a web service company (founded in 2011) revolving around organic ideas and meeting the demands of our clients with advanced solutions for a socially friendly web experience. We are experts in creating custom web applications using the latest technology.
Codeboxr has multiple WordPress plugins in its portfolio. However, they are still growing.
Management Team ⭕️⭕️
QuomodoSoft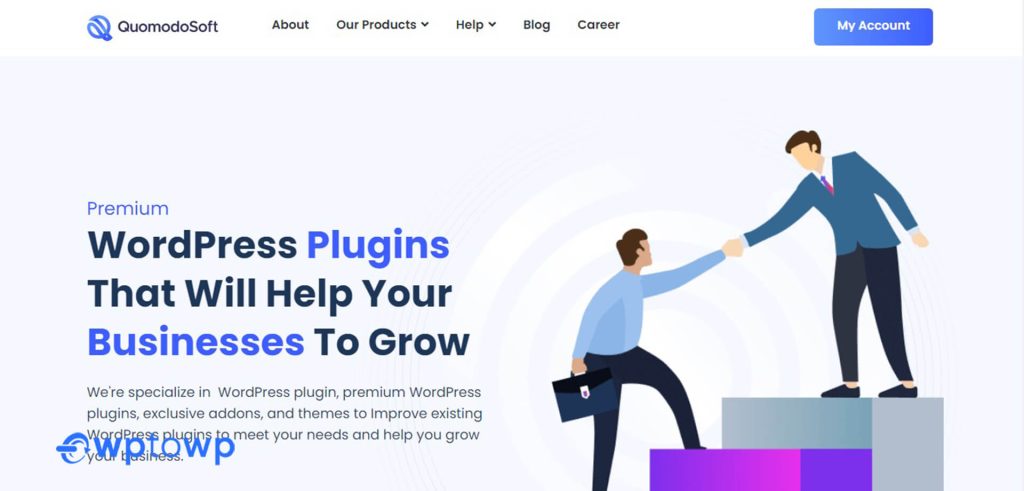 QuomodoSoft is another Bangladeshi product development company. They specialize in WordPress plugins, premium WordPress plugins, exclusive addons, and themes to Improve existing WordPress plugins to meet your needs and help you grow your business.
Popular Products ⭕️⭕️
ElementsReady 📌 ElementsReady is an all-in-one WordPress website customization solution with all the necessary page, layout, and function-building tools.
Management Team ⭕️⭕️
DroitThemes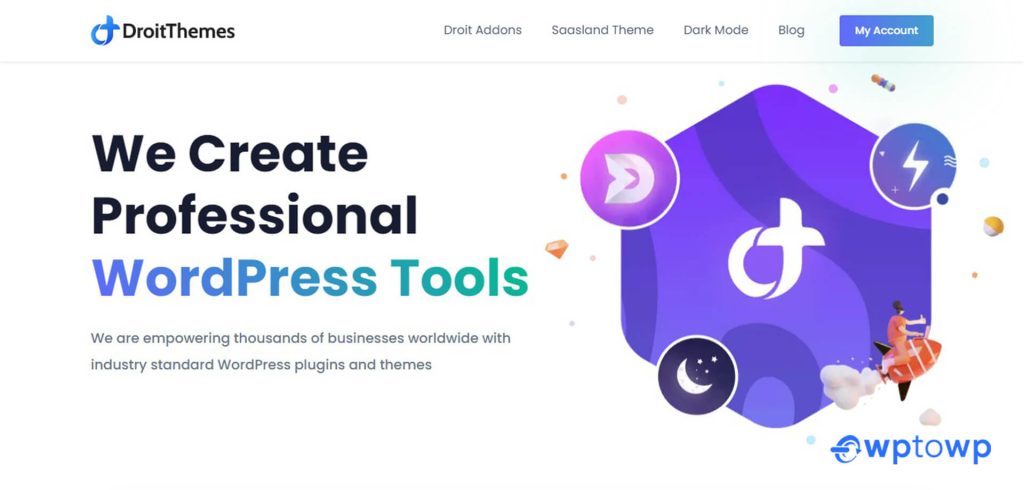 DroitThemes is an amazing source you can use to build your website using our exceptional WordPress themes, plugins, HTML templates & PSD templates. They are 10th-level authors at Envato marketplace. Their theme SAASLand has been sold almost 8 thousand times.
Popular Products ⭕️⭕️
Saasland 📌 a multipurpose WordPress theme, is the next-generation theme solution for building blazingly fast, responsive websites. With tons of great features, hundreds of templates and so much more website creation has never been easier.
Droit Elementor Addons 📌 Droit Elementor Addons is an extension for the Elementor Page Builder Plugin. It will amplify your web design experience.
Management Team ⭕️⭕️
ThemeLooks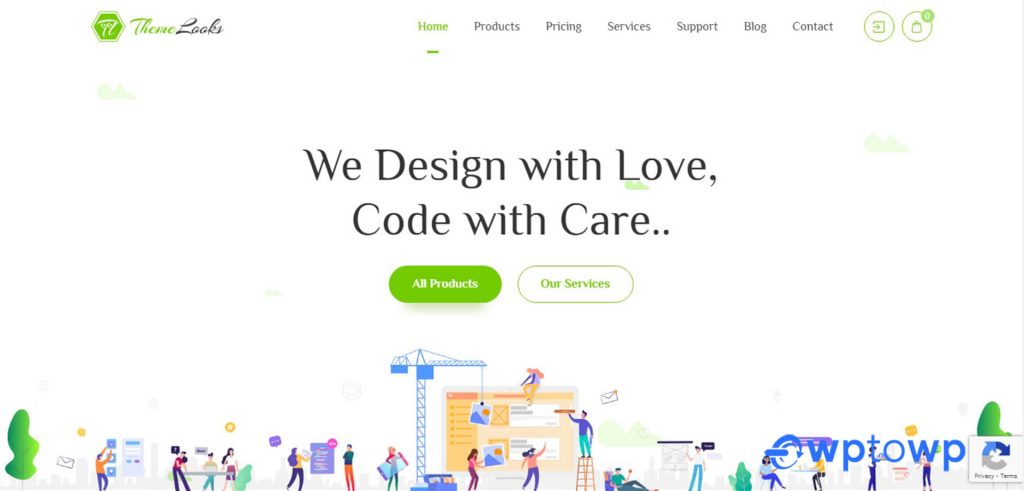 ThemeLooks provide the best web development solutions and out-of-the-box user experience. With integrity and collaboration as a team, we'll be providing you with all exclusive themes and website templates.
Popular Products ⭕️⭕️
ThemeLooks has multiple WordPress plugins in its portfolio. However, they are still growing.
WPCommerz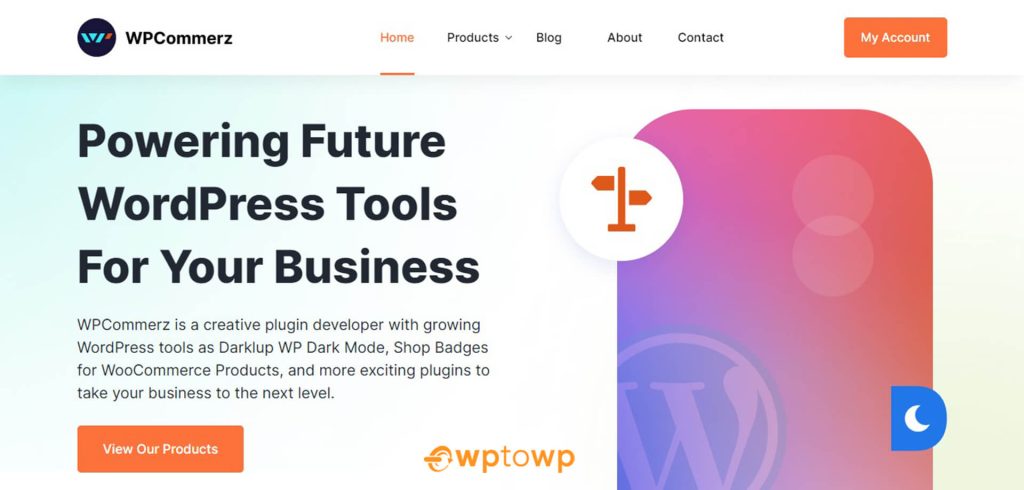 WPCommerz is a creative plugin developer with growing WordPress tools such as Darklup WP Dark Mode and Shop Badges for WooCommerce Products. They are a new but promising WordPress product company here in Bangladesh.
Popular Products ⭕️⭕️
WPCommerz has multiple WordPress plugins in its portfolio. However, they are still growing.
Management Team ⭕️⭕️
EgensLab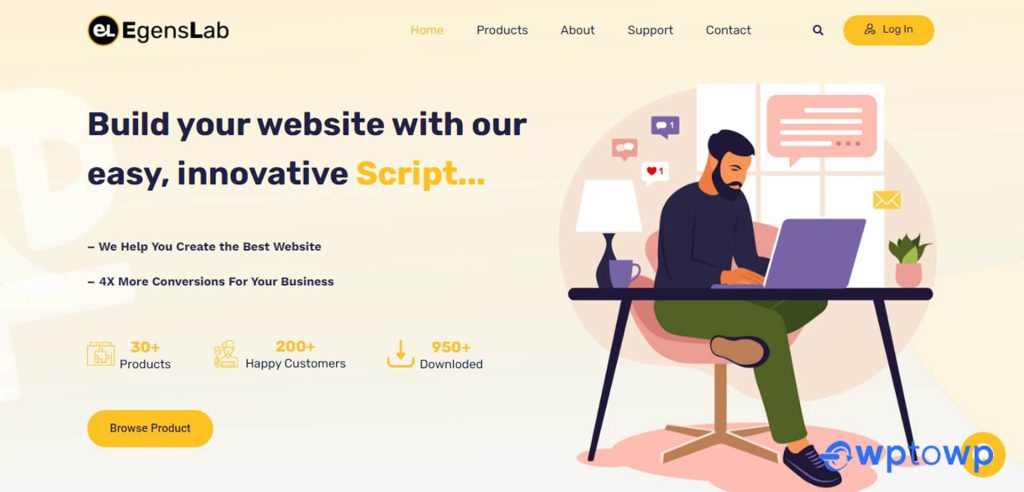 EgensLab provides outstanding results in web design and development. They are a company that knows how to take your business to the next level. Their goals are to make the best UI/UX design, Frontend Development, WordPress themes and Plugins, and SaaS Applications.
Devscred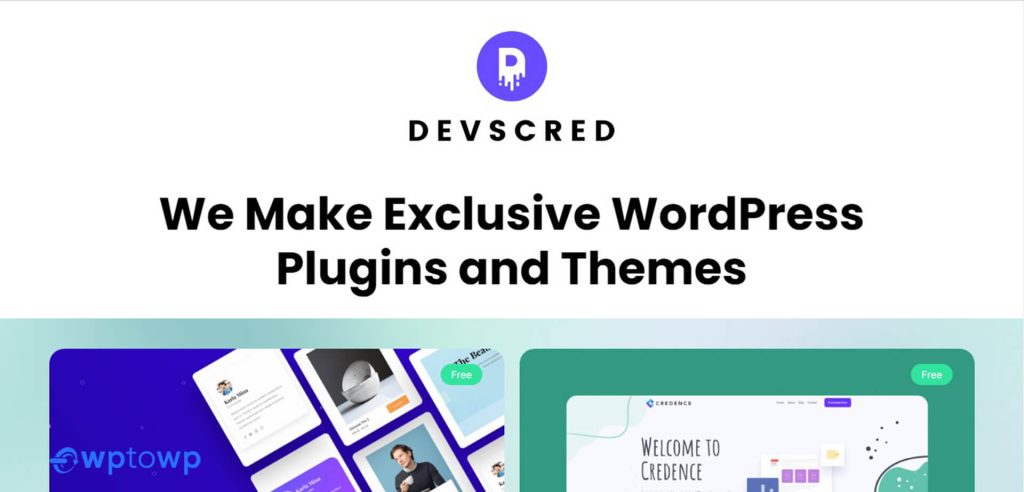 DevsCred is a WordPress-based theme and plugin developer company that believes in making things the right way. Devscred is the company behind "Exclusive Addons".
Popular Products ⭕️⭕️
Exclusive Addons 📌 Exclusive Addons come with the ultimate Header-Footer builder for elementor. Create templates and place those at the top or bottom of the page.
Management Team ⭕️⭕️
There's much more 🧐🧐
Even though we have added around 25 Bangladeshi WordPress base companies, there are more. In Bangladesh, there are thousands of software companies at this moment. Also, every day, new teams grow, funding is secured, and products are launched. All other software companies also work with WordPress development.
Editorial Favorite Company
There's a lot of company here on this list. It took us a long time to gather and analyze the list. It wasn't easy as we wanted to provide a completely unbiased article to you. While checking the information, some of the company feels easy to connect with, have more potential, better work culture, etc. All the companies mentioned above are quality companies of course, but here's our favorite list.
XpeedStudio
XpeedStudio is one of the most favorite companies due to its online reputation. And the company is growing fast. Recently the company published GetGenie artificial intelligence application. And ElementsKit is probably going to be the 2nd 1M+ powering Elementor Addons.
WPXPO
WPXPO is new but still our favorite company for a reason. It enables an affiliate program for the local affiliate, especially those who have no international payment getaways. Many people can now join them as affiliates and make money.
AuthLab
AuthLab is a company outside the capital city but growing fast. Their product FluentCRM grab our attention. Latter we become their fan.
WPDeveloper
WPDeveloper is a leading Bangladeshi WordPress company. We are growing and motivated by seeing them. Nothing much more we can say about them. They are another favorite company of ours.
What Did We Consider?
As the blog was not based on a regular ranking system, what did we consider while building the blog? We examine the factors that are critical for any business. After we got all the data, we added them together and ranked them on the list. Not a 100% accurate list but it's unbiased and Bhai-brother effects free.
Company Age ⭕️⭕️ When did the company establish and how long they are operating? Are they are growing regularly? A company's reputation and sustainability are important so we consider the company's age.
Employees Number ⭕️⭕️ How about the company size? There are a lot of people who claim them as CEO, CTO, and CXO but they are one man company. This means, they manage everything by themselves and called them as they want. We avoid those companies on the list.
Products Number ⭕️⭕️ Our main focus was on a product-based WordPress company so product number was counted carefully. If any WordPress company declares the total product number that they have, we just take it. If not then we counted manually and take the total production number. For product counting, we count every WordPress product as a single 1 if they have a dedicated pricing page.
Small Plugins Calculated as Single Product 🐯🐯 If any company sells a lot of small plugins and that's like a mini marketplace, then we called 1 single product for all of them. It's not accurate we know. However, counting small plugins as individuals will make an imbalance with the bigger plugins too.
All Themes Calculated as Single Product 🐯🐯 Themes are counted as single products. Let's say, a company sells 100 themes from their Envato profile, and they will have 1 product according to us. If they have 2 Envato accounts and a sale theme from their own site too, they will have 3 products in total.
How Did We Make the Ranking?
It wasn't easy to make a list. Specially when Bangladesh have 500+ software company and it's counting more every day. And the WordPress-based company's also growing. But the team did it successfully.
Making the Row List of the Company ⭕️⭕️ We started with the team suggestions. As you know, our editorial team has great experience and we work with a lot of companies, so we got a good number of WordPress company names. Then we check the other listing blog from a similar website. But it's a matter of sorrow that most of the listing blogs are biased and promote themselves only. Lastly, we checked the job website and career-related groups. For the company that posts WordPress jobs, we collect their name too.
Data Collection and Analysis ⭕️⭕️ We got a lot of names in our initial step. Then we start collecting the data. How many years has the company been operating, what are its services, how many are its employees, and the online reputation? It was not easy but our experienced analyst team did it with their highest efforts. They use different public directors, search engines, and social media to see the data. They also verify the data as much as possible,
Making the Final List ⭕️⭕️ After the analysis, we removed all the companies that are not WordPress-focused. Also, we removed any company that's duplicated from the list. Finally, shortened the list and make the final list.
Whom Did We Exclude?
We excluded the company represented by one single person. Or maybe a team that is not operating the company. We also removed the company that's not providing dedicated WordPress service or developing WordPress products.
You might not find some of the known companies on the list. This is due to their reputation and internal policy. Some of the companies continuously copied products and features, doing marketing with fake profiles. We are in including them in this list.
We are committed to our visitors to provide them with honest and unbiased information.
Editorial Closing Words
Bangladesh is a land of opportunity and WordPress companies are taking this opportunity. Every month, new companies are coming, establishing their business and growing. So, while you are reading this blog, maybe there are multiple companies become big fish! We try to update our blog on a regular basis. Still, you can see some of the company missing, maybe some of the information needs to update.
Anything you feel can make this blog more informative, and helpful for our students? Contact us and we will surely walk with you. You are just one message away from us. Ping us today!
Did you enjoy the blog? We think, yes! Do you want to support us a lot with a few clicks? A social share will take a moment from you. But it will help us to grow and we will be motivated. Just click on your favorite social icon and share.
Acknowledgment 💯💯
🐾 Images – Images in this blog have been collected from the website, blogs, landing page, WordPress directory, Social site etc
🐾 Affiliate Links – This blog contains several affiliate links. This means, that if you purchase any product through the link, we will get a commission without costing you extra. You can see affiliates disclosed here.
🐾 Data Source – All the data has been collected from various open-source. For example landing page, WordPress directory, youtube channel, etc. Data can get changed at any time.