PostX Gutenberg Post Blocks Plugin Review 2023
Different Gutenberg post blocks plugins were born and are growing up alongside the Gutenberg age! If you are looking for a Gutenberg post blocks plugin, surely you will have a tough time choosing the best one! But no worries! The Wptowp editorial team has chosen the best Gutenberg post blocks plugin for you!
PostX Gutenberg post blocks plugin is the one we are recommending. It can help you most by solving your website-related issues. We are recommending this plugin due to its features and functionalities. And, in this blog, we'll go over the PostX Gutenberg post blocks plugin in detail.
Is PostX the best Gutenberg blocks plugin in 2023?

We are keeping this question for you! After the end of this blog, you can answer it. We will fairly presents all the information as like we do in our blog.
If you still don't know what PostX is, PostX is one of the promising Gutenberg post blocks plugin made by WPXPO. The plugin is ideal for different types of blogs, such as news sites, magazines, or individual blogs. A bunch of features is available to improve your site's functionality. Ready-made block designs and CSS customization options. In particular, it will make your life easier when designing an appealing website.
What is the Story of PostX?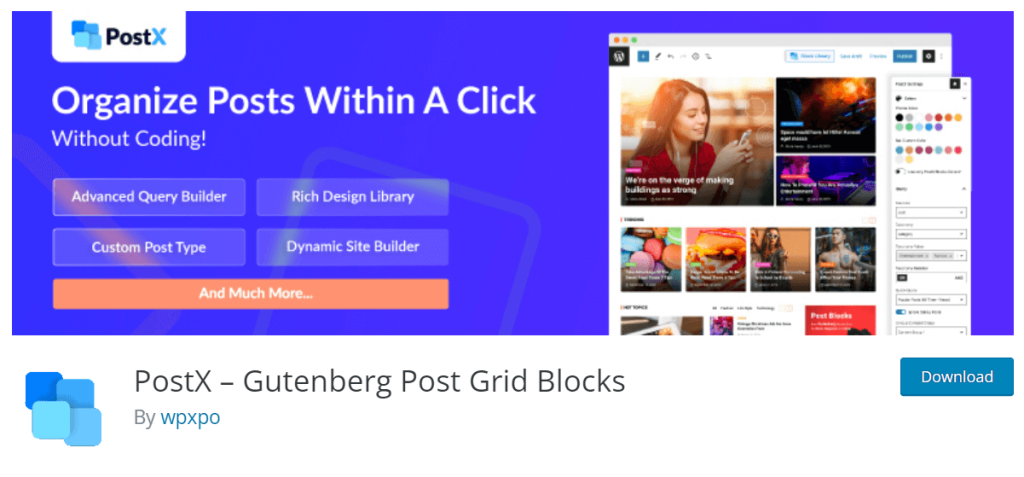 On March 5, 2020, a new Gutenberg post blocks plugin get its initial release in the WordPress directory. Later in the same year, the premium version of PostX was published. The plugin has grown rapidly since its inception. So far, PostX, the best Gutenberg post blocks plugin, has achieved 30,000+ active installations, 123+ five-star ratings, 769,672+ total downloads, and serving more than 120 countries!
Editorial Note 🔔🔔
This blog covers all the possible information that you need for making your decisions. Hence the blog becomes longer than regular expected reviews. You can bookmark the blog for split reading. Maybe you can just scan the headings and highlights if you are in rush!
Which is the Company Behind PostX?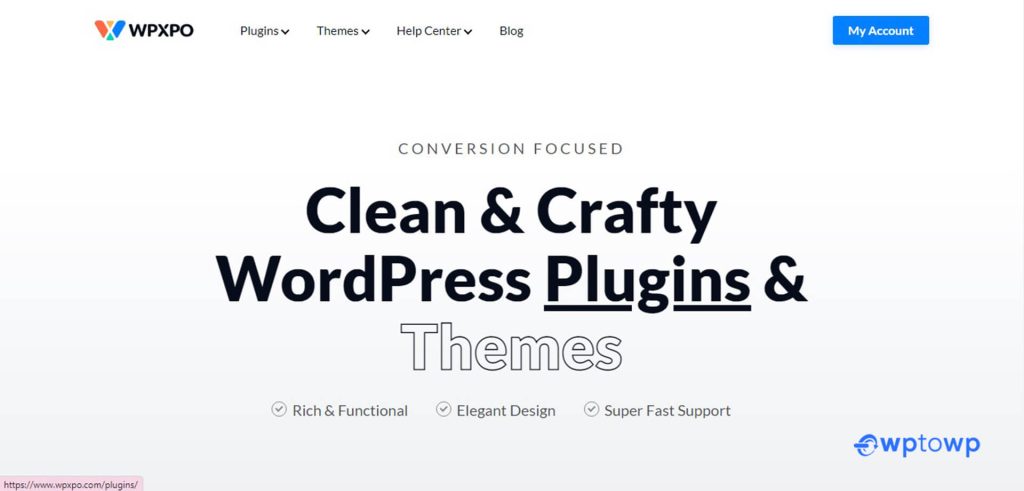 PostX is backed by the Bangladeshi software company WPXPO. Starting in 2019, they have already established their two flagship products: PostX, Gutenberg's post block editor, and ProductX, Gutenberg's WooCommerce solutions. PostX is currently powering 30,000+ websites worldwide, while ProductX is also growing, with more than 2,000 active installations.
WPXPO won the prestigious national ICT awards in Bangladesh in 2022. Their product, PostX is the BASIS National ICT Awards-2022 "Winner". Additionally, PostX ran an LTD campaign in the MarTech community, where they received a lot of feedback from the top marketers in the industry. Read more details about WPXPO at Bangladeshi WP Company Listing Blog!
Where did PostX Get Mentioned?
While checking the PostX community response, the Wptowp editorial team is taken aback. There are a lot of community responses, reviews, mentions, and recommendations. PostX is discussed by Rank Math, wpgiz, YayCommerce, ThemeWinter, WPHive, KafleG, wpentire, sitesaga, wptng, and webhostingblackfriday. Moreover, almost all the LTDs posted the PostX deals there. Different black Friday, cyber Monday listings also refer to the products.
Apart from the blog and website, multiple youtube channels also published videos about PostX. Among them, WPTuts, themesCode, Stratos Tutorials, Jack Cao, David McCan, Tech Trends Zone etc main.
What Makes PostX Standout from the Crowd?
Making a website is not enough nowadays. You need to stand out from your competitors. You need to build a website that Google will like. A fast-loading and smart website can be developed with PostX. PostX comes with the following unique features for you.
1) Dynamic Site Builder 🤟 You can build a whole website, including a home page, post page, archive page, contact page, etc. You will not need to worry about the inner page. Because PostX allows you to build any page that you want on WordPress websites.
2) Dynamic Post Slider 🤟 Add a beautiful, dynamic slider with the post and keep user engagement higher than ever. Also, you can highlight your targeted post with the slider.
3) Advanced Query Builder 🤟 PostX comes with an advanced query builder for your next website.
4) AJAX Powered Post Filter 🤟 In the modern era of the web, filtering is one of the most used features in every website. And PostX brings AJAX-based post-filter options. Your website will not get re-load while users use the filter option. So, they will get a fast-browsing experience.
5) Advanced Posts Pagination 🤟 Post pagination increases users' session and reduces bounce rate. PostX advanced post-pagination feature allows you to set the pagination in your style.
6) Ready-made Starter Packs 🤟 You can go with just a basic theme. Even if the themes look awkward, you don't need to worry. PostX comes with a lot of pre-made starter packs that you can import and use instantly. Recently, we have noticed that the company is releasing multiple new starter packs every month. [November 2022]
Moreover, from the company perspective, you will also get better design, quick support, regular updates, and resources that make it easier to manage the site.
Best Features of PostX
Let's explore the latest features of the plugin. We have added the list for you. It's just a list but you can check the details from the PostX Gutenberg post blocks plugin's landing page.
| | | |
| --- | --- | --- |
| Ready-made Blocks | Starter Design Packs | Indefinite Listing |
| Layout Offerings | Endless Customizations | RTL Readiness |
| Dynamic Post Slider | Advanced Query Building | Typography Control |
| Quick Query Picker | Posts Taxonomically | Customizable Coolness |
| Easy Ordering | Further Pickings | Elementor Compatibility |
| AJAX Filtering | Advanced Pagination | Unlimited Templates |
| Content Filtering | Easy Navigation | Templates Library |
| More Functionality | Collapsible Table | Content Animation |
| Sticky Table | Back to Top | Image Animation |
| Table Styling | Category Settings | Content Customizability |
| Category Styling | Category Positioning | SEO Meta Functionality |
| Category Specific Color | SEO Integrations | Content Excerpt |
| Layout Combinations | Responsiveness Control | Archive Builder |
| Table of Contents | — | — |
Data Collected up to 7th February 2023
Hote News: While we are publishing the blog, the PostX Gutenberg post blocks plugin added a new feature called "PostX Advanced Post Slider". It allows users to add multi-style sliders to your website.
Gutenberg Post Blocka Plugin Addons
Addons make the PostX Gutenberg post blocks plugin better, and more robust and extend the compatibility with multiple other popular plugins. For example, RankMath meta addons help users to use the meta description option on the blog or page.
👍 Saved Templates – Convert Gutenberg Blocks into shortcodes to use them anywhere.
👍 Table of Contents – Add a Customizable Table of Contents to your blog posts and custom post types.
👍 Elementor Addons – Use Gutenberg blocks inside Elementor via Saved Template addons.
👍 Category – Choose your desired color and Image for categories or any taxonomy.
👍 Dynamic Site Builder – Create dynamic websites using PostX instead of old-school page builders.
👍 Progressbar – Let the users see a graphical indicator to know the reading progress of a blog post.
👍 Yoast Meta – Show Yoast meta description in the excerpt.
👍 All in One SEO Meta – Show All in One SEO meta description in the excerpt.
👍 RankMath Meta – Show RankMath meta description in the excerpt.
👍 SEOPress Meta – Show SEOPress meta description in the excerpt.
👍 Squirrly Meta – Show Squirrly meta description in the excerpt.
Data Collected up to 7th February 2023
PostX Free vs Pro (Self Battle)
Hello, it's battle time, and it's a self battle. Let's see the comparison between the free and pro comparison of PostX. Please be aware that, we did not get enough scope to make a features comparison of the plugin. However, there are templates, patterns, and addons available that we did. The following table excluded features comparison.
| | | |
| --- | --- | --- |
| Name | Free (Number) | Premium (Number) |
| Templates | 03+ | Free & 25+ |
| Patterns | 24+ | Free & 148+ |
| Addons | 04+ | Free & 06+ |
| Blocks | 38+ | 38+ |
Data Collected up to 7th February 2023
Wptowp editorial team conducted the comparison manually. While you are reading this blog, you can get different and more items in PostX because the team regularly brings new updates. At the PostX Gutenberg post blocks plugin, all 38+ blocks are free.
With the free version of the PostX Gutenberg post blocks plugin, you can build a complete website. But the pro version of PostX will bring advanced features, integration, and patterns. If you are making money with the site, go for PostX Pro.
PostX Site Builder

PostX Gutenberg post blocks plugin recently introduced the new dynamic site builder. It enables users to create the entire site from the sketch. You can develop your dream Gutenberg-based website with the builder. You can build the home page and gallery page. archive page etc. We have published a complete tutorial about the PostX Gutenberg website builder.
When Should You Use PostX?
When should you go for the PostX premium version? Well, if you are convinced and need the advanced features, you can purchase pro. Here are some of the important categories that demand the PostX Gutenberg post blocks plugin for your next website.
🤘 News Portal – Create a new portal website without doing any hand coding and optimize the pattern like a pro. You don't need to use the old-style blog and news theme for your next news portal. Update the whole pattern with PostX.
🤘 Online Magazine – Bring the ideas of your online magazine to life with PostX pro. Import a dedicated magazine demo and update the content.
🤘 Personal Blog – Have some personal thoughts? Well, it's time to publish them and make your digital diary accessible from around the globe. Build your personal blog with the PostX Gutenberg post blocks plugin today.
🤘 Fashion Blog – Are you a fashion expert? With a fashion online blog, you can share your knowledge with a wider audience.
🤘 Travel Blog – Traveller? Why don't you try to make some extra bucks by sharing the travel experience online? Get a domain, hosting, WordPress, and PostX. No more hassle or difficulty managing your travel blog.
🤘 Sports News – Develop your sports news site with PostX pre-made spots demo.
🤘 Food Blog – Foodis? Share your own personal blog's food review. Build a professional food blog within a few hours with PostX.
Seems like, all the blog categories are included here. But you can use the PostX Gutenberg post blocks plugin for any similar purpose. Like building a portfolio website, personal funding website, or company representing website. You can also create a social gathering website, deals, and marketplace website. PostX provides a free version so no matter which purpose you need if it's Gutenberg based, try PostX first!
PostX Pro Pricing
PostX pricing is divided into two styles. You can pay yearly or once and use it for the rest of your life. And all the pricing is under three modules for a single site, five sites, and unlimited sites. Depending on your needs, you can choose any pricing plan. And you will also get 14 days of the money-back guarantee.
| | | | |
| --- | --- | --- | --- |
| Unlimited Elements Pricing | | | |
| 1 Site | 5 Sites | Unlimited Sites | Refunds Policy |
| 49$/year | 79$/year | 99$/year | 14 days |
| 149$/Lifetime | 249$/Lifetime | 399$/Lifetime | |
| | | | |
Data Collected up to 7th February 2023
Please be aware that pricing is subject to change, and WPXPO holds the full right to change the price at any time. You can check the latest price on the website. The above prices do not include applicable taxes based on your billing address.
Editorial Prediction for PostX
PostX Gutenberg post blocks plugin grows from 0 to 30k+ within a few years. And our prediction is, it will grow more and become 50k+ within the next year. That's what we are hoping only depending on our experience. If you notice their changelog, you can see the regular update! Moreover, they also have nice responses from the MarTech social community led by top marketers. We believe, PostX will always be the top pick for the Gutenberg post blocks plugin.
Get Started with PostX
What is the easiest task you ever did? Drinking a glass of water? Well, the next easiest task is, getting started with the PostX Gutenberg post blocks plugin. You can just create your website in 3 simple steps.
1) Get Domain and Hosting – The basic and mandatory part is, to purchase the domain and hosting. As you will be using WordPress, so it's better to buy WordPress-dedicated hosting. Also, please be careful while you select the domain name. You can't change the name every day.
2) Install WordPress – Install WordPress on the website. On the control panel, you will be seeing the one-click WordPress installation options. Use that or install it manually. After the WordPress installation, get a basic theme. And also install all the basic plugins like SEO plugin, cache plugin etc.
3) Get PostX Pro – Install the PostX Gutenberg post blocks plugin and purchase the PostX pro. Now, go to the plugin menu, select the niche, import the demo, and update the data. Don't like a part of the demo design, no worries! From the 148+ patterns, select and import your favorite pattern on the site. You have done it.
What is on the Roadmap of PostX?
No public roadmap was found for the PostX Gutenberg post blocks plugin. However, from the newsletter subscription, we found, they will try to publish new starter packs once every Monday.
PostX Gutenberg Post Blocks Plugin FAQs
Have a query about the installation of PostX, renewing the license, or confusion if you need an extension? Check out our frequently asked questions. Let us know if you found the answer to what you were looking for!
Do You Have Any Discount Offers for PostX?
Are there Any LTD Deals on PostX?
Yes! PostX Gutenberg post blocks plugin offers lifetime deals. You can avail of the deals on the PostX pricing page.
Can I Use PostX with Elementor?
Yes! You can use the PostX Gutenberg post blocks plugin with the Elementor too. PostX is fully compatible with Elementor!
Does PostX have Multisite Support?
Yes! PostX Gutenberg post blocks plugin supports the multisite feature. In that case, you need to purchase the multi-site licensing. You can go with the mid-tier or top-tier Pro plan. If you go with our lowest pricing tier, then you will not be able to use it with multiple WordPress installations.
Should You Use PostX Right Away?
If you are planning to grow your site with organic traffic then PostX should be your choice. If you have long time plan to continue your site and add more and more content, then PostX can help you. The different pattern is ideal for optimizing the website. Also, SEO plugin integration can lead your site to the next level. So, build a site with the PostX Gutenberg post blocks plugin, that google like!
Kudos to you, you have finished the whole blog. Now, it's time to share the blog on your favorite social, media. Let your friend know about this amazing plugin. We are sure, they will like this too! By the way, can you answer the question now, that we asked at the start of this blog?
Acknowledgment 💯💯
🐾 Images – Images in this blog have been collected from the WPXPO website, blogs, Wholesale landing page, Social site, etc
🐾 Affiliate Links – This blog contains several affiliate links. This means, that if you purchase any product through the link, we will get a commission without costing you extra. You can see affiliates disclosed here.
🐾 Data Source – All the data has been collected from various open-source. For example landing page, WordPress directory, youtube channel, etc. Data can get changed at any time.

Editorial Staff
Our Editorial team consists of WordPress Expert/s, Analysts, Content Editors, Writers, Designers, SEO Experts, Outreach People and Developers! For each content, a highly expert and dedicated team led by Asadullah Galib, works together. We have only one motto, "Help you to make your final decisions!"