13+ Top Restaurant Menu Plugin for WordPress 2023 [Filtered]
In this blog, we have talked about the "Top restaurant menu plugin for WordPress." Started with the descriptions and ended with the analysis. Are you looking for analytics then you are in the right place. The blog contains insight-full data and bhi-brother effects free comparison. The best part of this blog is, data are verified manually.
What is the top restaurant menu mean? Well, sometimes, restaurant owner can display their local menu perfectly on the website with any plugin! Then the plugin is called top restaurant menu plugin for WordPress. If any restaurant want to become online, the menu plugin is the primary handle they needs.
For the freelancer and developer, knowing bunch of top restaurant menu plugin for WordPress can help a lot. They can choose the best fitted restaurant menu plugin for WordPress while developing a new food business website. Depending on the different clients, different restaurant menu plugin for WordPress may required. This blog will give you the exact ideas about the popular plugins.
Is there any best and outstanding restaurant menu plugin for WordPress?
No spoilar at this moments. Let's check the blog, and we hope, you can decide which is best restaurant menu plugin for WordPress. Moroever, you can get the plugin links at a same page. So, you can dig the further information if needed.
We consider 4 important parameters during our analysis. Our team collects all the data from the wordpress.org plugin directory and wphive and then makes a calculation. Here is what we consider and how we make the calculation.
Just a small interpretation! We want to keep everything transparent and crystal clear for our visitors. When you are trusting us, trust us with the best confidence. So, here in this section, we have added the basic of, how we calculate the ranking.

Would you like to know the Wptowp ranking system? You can see the whole details of our system from the link. If you have time limitations, you can skip this part too.
| | | |
| --- | --- | --- |
| SL | Name | Consideration |
| 01 | Active Installation | 40% |
| 02 | Plugin Resource | 30% |
| 03 | Plugin Ratings | 20% |
| 04 | Plugin Age | 10% |
| | Total | = 100% |
| | | |
First, we build the ranking then we start researching the features. We want to include exclusive information. Keeping the blog length readable and adding the information that you need were our main goals. In this article, the details feature is not included. In case, if you are interested to know, all the links are clickable. You can check the details feature from the directory of each plugin. Click and check from the plugin directory.
The market is projected to grow from USD 2,540.05 billion in 2022 to USD 5,194.60 billion by 2029, exhibiting a CAGR of 10.76% during the forecast period. The report from fortunebusinessinsights. Would you like to grab the market and become next successful food entrepreneur? Then the blog can help you! In this blog, we have added 4 types of food menu plugin.
Top Restaurant Menu Plugin for WordPress (5k – 10k Active installations)
Growing Restaurant Menu Plugin for WordPress (1k – 4k Active installations)
New Restaurant Menu Plugin for WordPress (10 – 900 Active installations)
Honorable Mention for Elementor Food Menu Plugin
Please be aware that the above category is based on active installations. However, we did a ranking based on many other factors. We already described it at the start of this blog.
Important Note 🐶🐶
You may see that some of your known plugins are not available in this list. We have excluded those plugins for different reasons. Most of them are not related to the restaurant menus. We have explained the reasons at the bottom of this blog.
WPCafe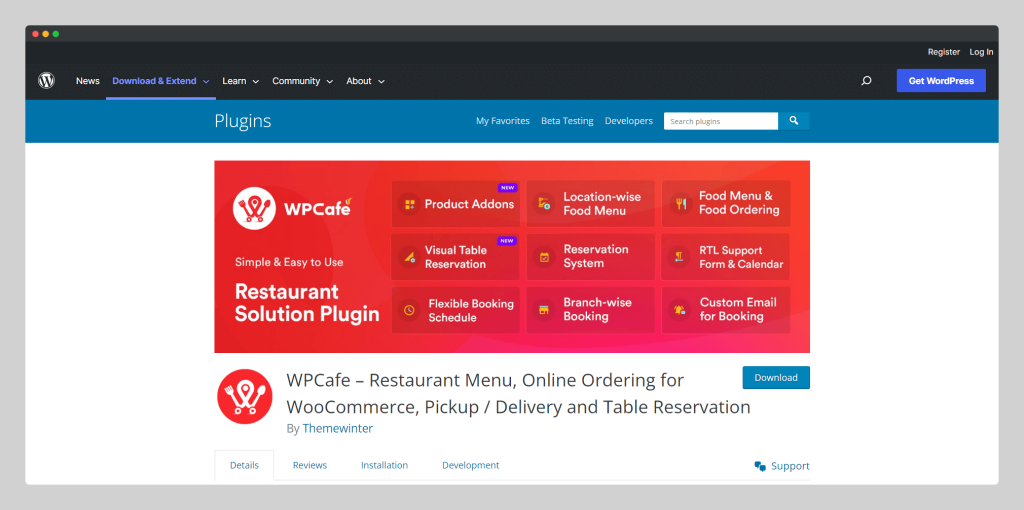 Interested to know more about WPCafe? Check our honest and details review here!
WPPizza
Food Store
Orderable
Food Online for WooCommerce
Restaurant & Cafe Addon for Elementor
Active Installation and Ages Comparison
Why Some of the Plugin Isn't on the Above List
While analyzing the top restaurant menu plugins for WordPress, we had to exclude some of them. They have been removed from this list. However, we want to keep it transparent. So, here in this section, we make clear the filter elements. If your favorite plugin does not appear in the above list, it may contain any of the details listed below.
As always, the Wptowp listing blog is bhai-brothers effect free. And we follow wptowp standards to make any list. We are committed to providing you the best possible information.
Food Menu Plugin from Codecanyon: CodeCanyon is an excellent place for quality plugins. But still, the following list contains no plugins from the marketplace. The reason is simple, we can't test them. We write about that plugin, which we can test. But the plugin from CodeCanyon is fully paid, and we are unable to test it. As a result, we exclude them from our list.
Not Updated Regularly: "Restaurant menus" is one of the niches that requires regular updates. Especially trendy designs need to display the food menu. So, in our restaurant menu list blog, we avoid them. Soon we see that "this plugin hasn't been tested with the latest three major releases of WordPress," Wptowp editorial removes them from the list.
Food Delivery Plugin: We have excluded the food delivery WordPress plugin. Our plan is to make this blog more readable. We have a separate food delivery plugin that you can read here.
Fewer Than Ten Active Installations: We excluded any plugin with fewer than ten active users. As the restaurant menu is one of the sensitive areas, we do not want to recommend to our users any plugin that can't manage 10 users yet. Well, they might have good quality and potential, but we have excluded them. We will include them in this blog as soon as they reach 10 users. Due to this filter, "WP Food Manager" got removed from the list even though the plugin is made by "Ashok Dudhat," who is also behind "WP Events Manager."
Help Us to Grow More
Thank you for reading the full blog about "Top restaurant menu plugin" and their comparison. We hope, you have seen, how un-biased this blog was. To collect data and analize them, we invest a lot of time. Our team is committed to help you making your purchasing decisions.
Would you like us to grow? You can help us by sharing this blog on your favorite social media sites. A single share may rob you of a moment. But that will be a big help for us. At the same time, your friends can know about us. They can read about all the above amazing plugins. What are you waiting for? Click on the icon of your best-loved social media site and share it.