11+ Best WordPress B2B Wholesale Marketplace Plugins 2023
If you are looking for WordPress B2B Wholesale Marketplace Plugins 2023 then no more tab switching. You got it right. In this blog, we have added all the best WordPress B2B wholesale marketplace plugins. Moreover, we have included statistics, development companies, ratings, and our own reviews. After reading this blog, you will be able to make your own purchase decisions for wholesale marketplace plugins.
The global wholesale market grew from $45,672.51 billion in 2022 to $48,883.25 billion in 2023 at a compound annual growth rate (CAGR) of 7.0%. (Source- thebusinessresearchcompany)!

Can you imagine how big the market size is and the potentiality?
Setting up a wholesale marketplace was not easy but WordPress, WooCommerce, and wholesale marketplace plugins make it easy. Not just easy to handle, but also easy to purchase. The best part is, you do not need to change or build the website from the sketch. You can convert your running eCommerce site into a marketplace.
The B2B wholesale marketplace plugins blog is long. As we have covered all the wholesale marketplace plugins in this blog, so you will need some time to cover them. You can use the table of content to jump into any specific area of this blog. Moreover, all the important features and statics has been highlighted for you. Let's dig the blog now!
Promoted 💥 WholesaleX is a completely new B2B wholesale marketplace plugin. Due to its potential and features, we have promoted it to the top of the list. We tested the plugin while publishing the complete review and holistic review. Moreover, we are carefully keeping our eyes on the plugin.
WholesaleX (1)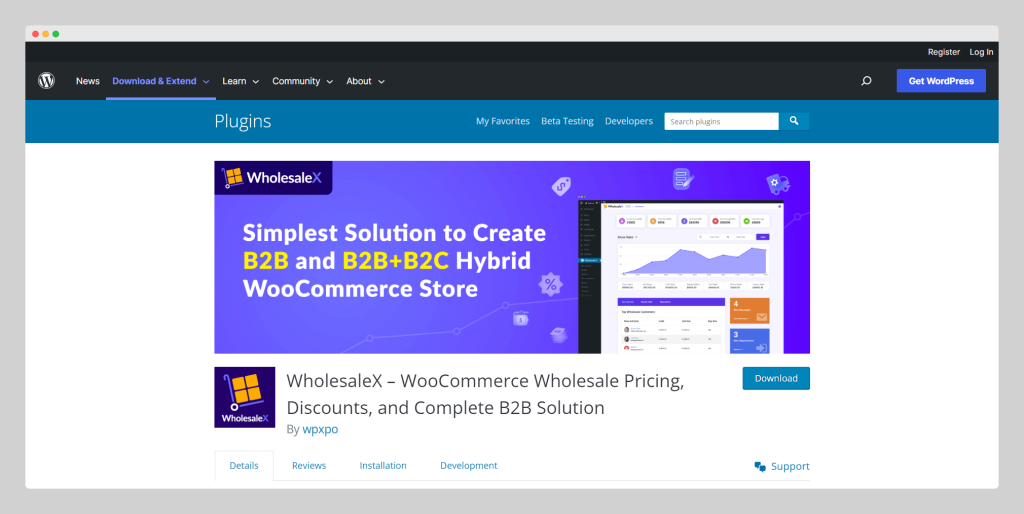 WholesaleX is one of the finest and best B2B wholesale marketplace plugins! It's new but the features and resources seem pretty professional. Starting from the basic features like wholesale pricing, then moving to the dynamic discount rules, multiple pricing tiers, form builder, and control shipping methods makes the plugin undoubtedly a better competitor among all the similar wholesale plugins.
WholesaleX brings the wholesale wallet to make your money management easier. The best part is, You can manage both B2B and B2C wholesale marketplace parallelly with WholesaleX.
WPXPO is the company behind WholesaleX. They are the same team as the PostX Gutenberg block plugin (30k) and the ProductX Gutenberg WooCommerce plugin (2,000+). They also have a theme "Coblog" which is powering 500+ websites. The company is mainly a product-based WordPress company from Dhaka. They won the prestigious ICT awards last year.
Editorial Feedback 🔔🔔 Working with PostX and ProductX, we were aware of WholesaleX too. We started working on the release date. We tested the free version, and the pro version, and then start writing. If you think, any other plugin deserves number #1, contact us. Our team will review and take the necessary steps after cross check your feedback.
Pro Starting Pricing 👉 $149 Single Site/Year (💥 Special 10% off coupon code for Wptowp visitors!)
Wholesale Suite (2)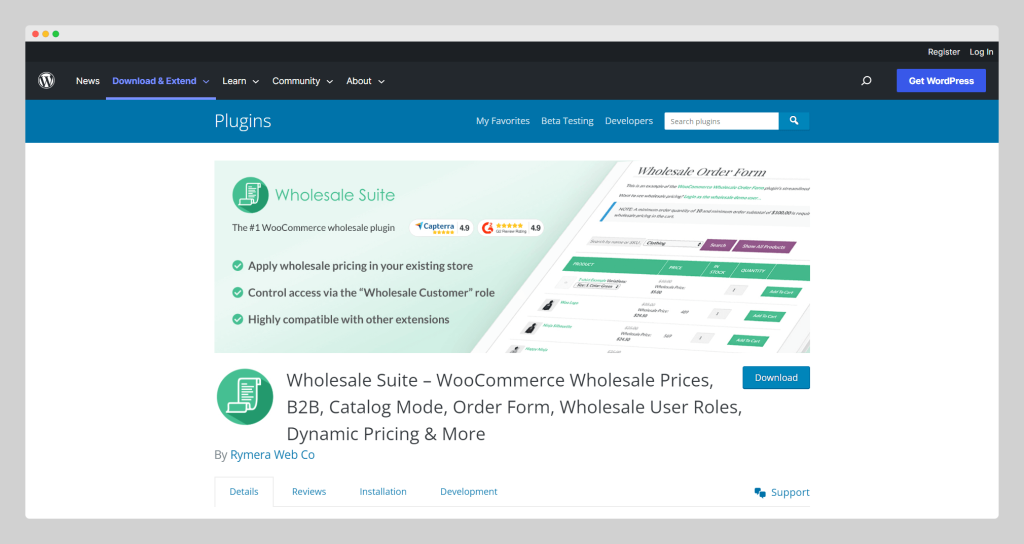 Wholesale Suite is a WooCommerce wholesale plugin. The plugin comes with wholesale prices, B2B, catalog mode, order form, wholesale user roles, dynamic pricing, and more. 148+ features and integrated with top WooCommerce extensions make it a better B2B wholesale marketplace plugins. Documentation, self explain features makes it easy to set up a new wholesale marketplace in WordPress.You can also set up a WooCommerce private store now with the free wholesale plugin option to hide add-to-cart and retail pricing.
There's not a lot of information about the developer team. However, Syed Balkhi, the man behind WPBigginer is one of the contributors to this plugin.
Editorial Feedback 🔔🔔 Statically, Wholesale Suite is the #1 Wholesale marketplace plugin. As we keep the highest transparency and write based on the data analysis. So we are clarifying the whole issue here. We are always unbiased and bhi-brother effects-free.
Pro Starting Pricing 👉 $297 Single Site/Year
B2BKing (3)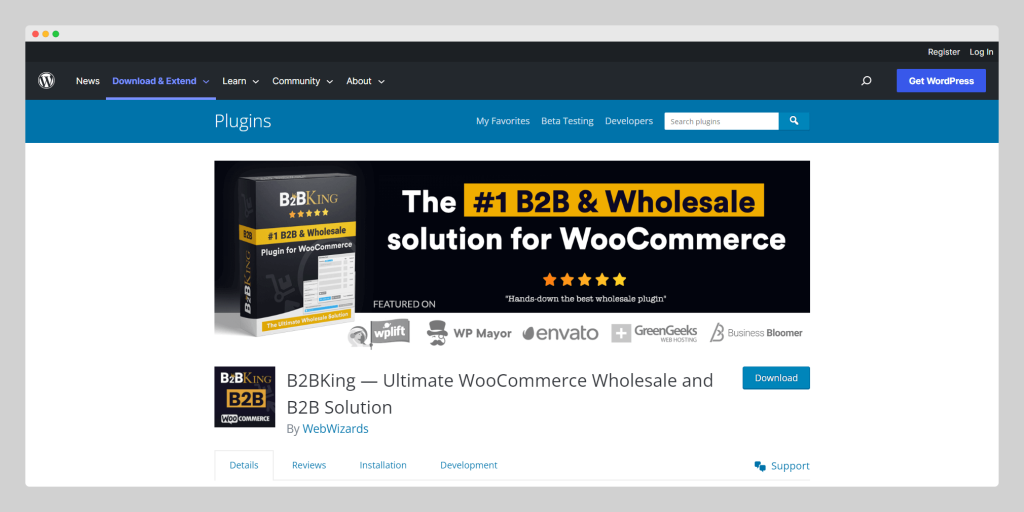 B2BKing is the ultimate solution for running a Wholesale, B2B, hybrid B2B+B2C, or Private Membership store with WooCommerce. The plugin is fully translatable, supports all the major themes, compatible with all the popular plugins. It also works with a popular page builder like Elementor, WPBakery, etc. It's a feature of full B2B wholesale marketplace plugins that can bring your marketplace to the next level.
B2BKing is the product of kingsplugins. They are also known as WebWizards, an award-winning digital agency, specializing in WordPress sites and plugins, including custom plugin development. The other popular plugin is MarketKing (500+ active installations), Private Store (500+ active installations), etc. The company also sell on Envato Studio from 2015 till now. They are elite authors with over 500k+ sold.
The plugin has been mentioned in many popular blogs and websites. WPLift, WPMayor, Envato, BusinessBloomer, and many other top WP sites have featured B2BKing.
Pro Starting Pricing 👉 $129 Single Site/Year
Whols (4)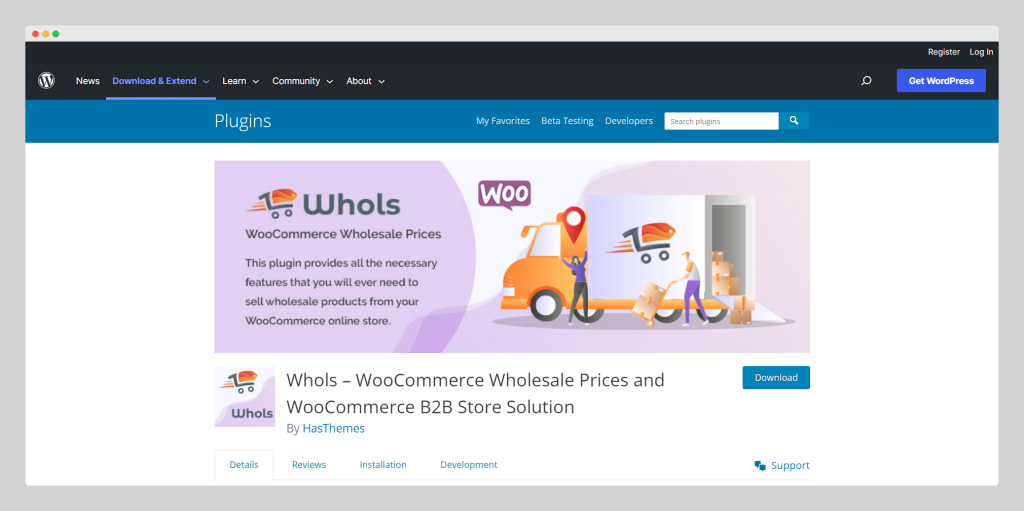 Whols is a WooCommerce Wholesale marketplace plugins. It is a powerful solution for WooCommerce B2B Stores. It is a b2b WordPress plugin that helps you turn your WooCommerce store into a fully functioning B2B or B2C store. You can also operate B2B and B2C hybrid marketplace with the help of Whols.
HasThemes is the company behind the Whols plugin. They are also behind Woolentor, the best Elementor WooCommerce add-ons. They made more than 12 plugins for WordPress users. Among them HT Mega (100k+ Active Installation) Contact Form 7 (10k Active Installation), HT Slider for Elementor (10k+ Active installation), HashBar (10k+ Active Installation), WP Plugin Manager (3k+ Active Installation) etc are remarkable.
Pro Starting Pricing 👉 $79 Single Site/Year
Premmerce Wholesale Pricing (5)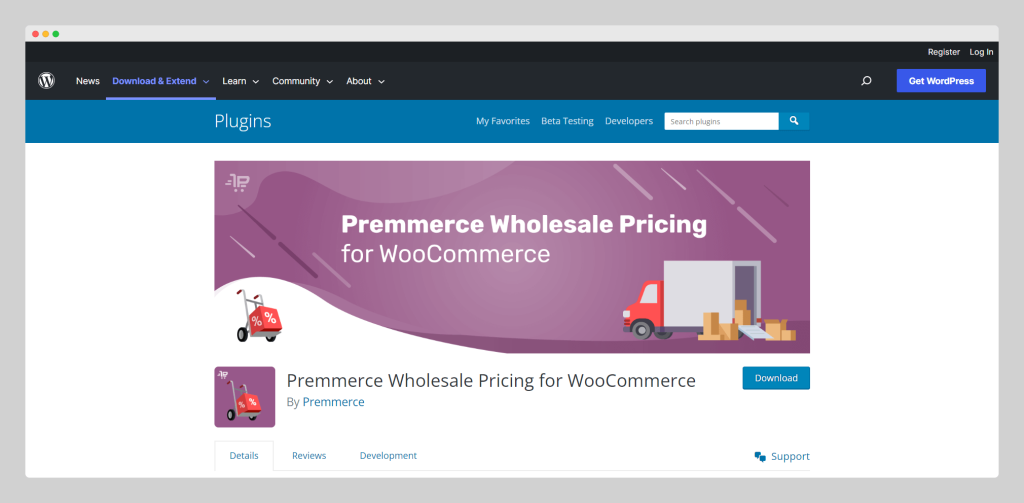 Premmerce Wholesale Pricing for WooCommerce is another B2B wholesale marketplace plugin. It will allow you to add wholesale prices and to adding custom prices. This plugin effectively works with the premiere user roles plugin that allows you to easily create additional users' roles directly from the dashboard.
Premmerce is a WordPress product development company focusing on WooCommerce. They are developing an e-commerce platform based on WooCommerce with its own highly efficient dashboard, up-to-date themes, extensions, and plugins. They published the "Premmerce Wholesale Pricing for WooCommerce." Other popular plugins made by the same team are "Premmerce Permalink Manager for WooCommerce (50k+ active users)", "Premmerce Brands for WooCommerce (5k+ active users)." etc.
Pro Starting Pricing 👉 $99.99 Single Site/Year
Wholesale For WooCommerce (6)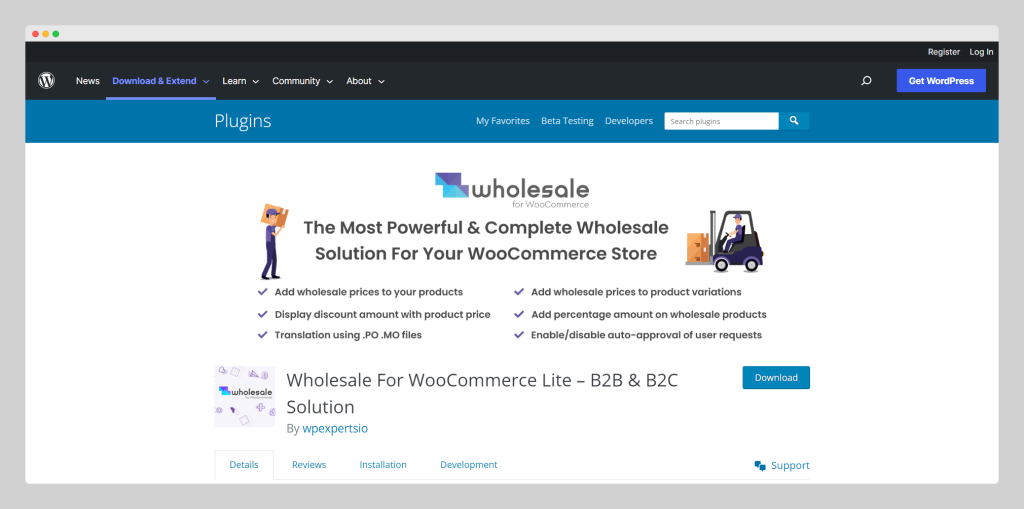 Wholesale For WooCommerce is another wholesale marketplace plugins for you. You can control everything you want to sell to your wholesale customers through the Wholesale for WooCommerce plugin. It lets you manage your eCommerce store's wholesale pricing, multiple wholesale user roles, and much more.
WPExperts.io is a website-developing company, rather we believe in collaborating with businesses and exploring new avenues to strengthen their business presence. They published Wholesale for the WooCommerce plugin. Not only this, but they also have tones of another plugin in the WordPress directory. Post SMTP Mailer with 300k+ active users, Password Protected with 300k+ active users, Open Graph and Twitter with 80k+ users, and Post Snippets with 30k+ users are the most popular plugins.
Pro Starting Pricing 👉 $99 Single Site/Year
Wholesale Market (7)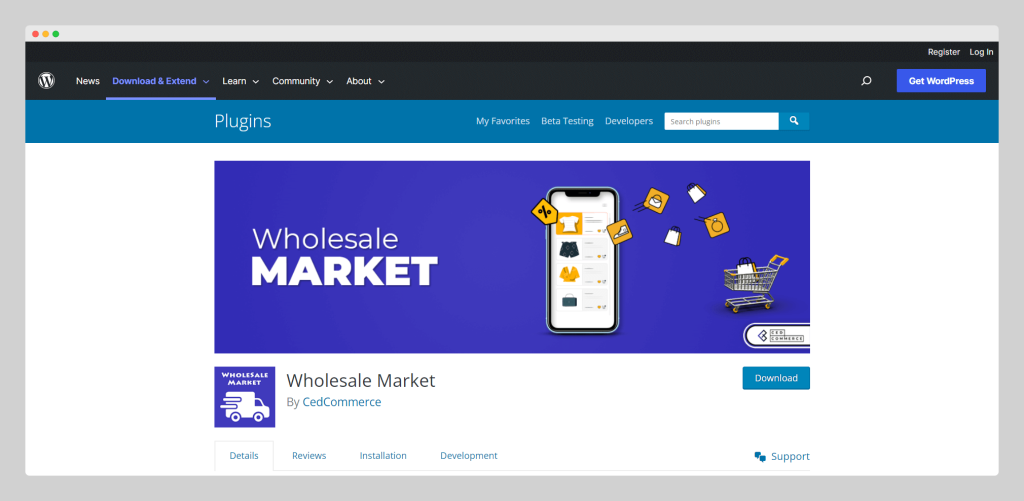 Wholesale Market is a WooCommerce extension for wholesale marketplace plugins. It empowers your regular website with the capability to create wholesale users and give special privileges to them by setting the product's wholesale price. You can offer your customers a seamless experience in wholesale marketing. It's a plugin that is a feature-rich tool that allows WooCommerce store owners to handle wholesale and regular customers.
CedCommerce brings Wholesale Market as WordPress wholesale plugins. Founded in 2010, CedCommerce revolutionizes the way eCommerce is perceived and performed over the Internet. They have multiple other WordPress plugins in their portfolio. Hide Price Until Login (4k+), WP Advanced PDF (2k+), and Recently viewed and most viewed products (2k+) are some of the popular plugins by the company.
Pro Starting Pricing 👉 $79 Single Site/Year
Wholesale Pricing (8)

You can get started with your own store to greater success with wholesale pricing and sales promotions! Just about any type of wholesale pricing or sales promotion you can think of, Wholesale Pricing for WooCommerce is your one-stop shop to accomplish it. The Wholesale pricing rules of this plugin give you all the flexibility you need to create your wholesale pricing or marketing promotion campaign.
Vark, a WordPress plugin company from New Zealand, published the above plugin. They have other popular plugins like Pricing Deals for WooCommerce, Minimum Purchase for WooCommerce, etc with a maximum of 4,000+ active users.
Pro Starting Pricing 👉 $25 Single site
WooCommerce Wholesale Discount (9)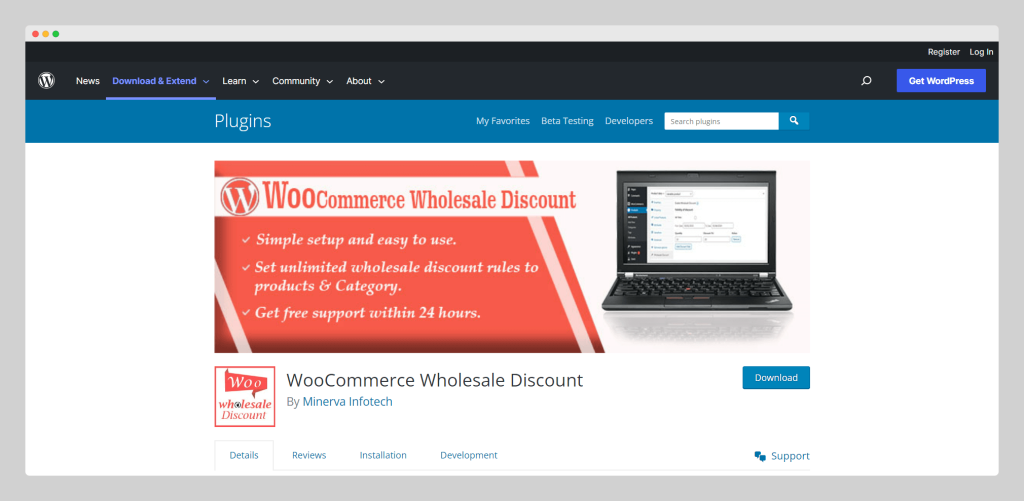 WooCommerce wholesale discount allows you to set wholesale discounts on WooCommerce cart items based on their quantity. Discounts can be set against both product and category, the plugin will first give preference to product-wise discounts and then category.
Minerva Infotech is the publisher of this wholesale marketplace plugins. They are experts in handling WordPress, Magento, Joomla, and Shopify websites, themes, plugins, and other web technology. They are a service-based WordPress company from India.
Wholesale Order Table (10)

Wholesale Order Table for WooCommerce is an excellent solution for wholesale ordering. Its fast order process and its visualization of product data. In wholesale, there will often be beneficial to display the product price per consumer unit even if you sell it in whole batches.
Arosoft Software Development is a company in Uppsala – Sweden. They published the "Wholesale Order Table" plugin. Apart from the wholesale marketplace plugins, they have a "food online for the WooCommerce" plugin. They also have a "Shipping Zones by Drawing for the WooCommerce" plugin.
Pro Starting Pricing 👉 $49 Single site/6 months
WholeSale Products Dynamic Pricing (11)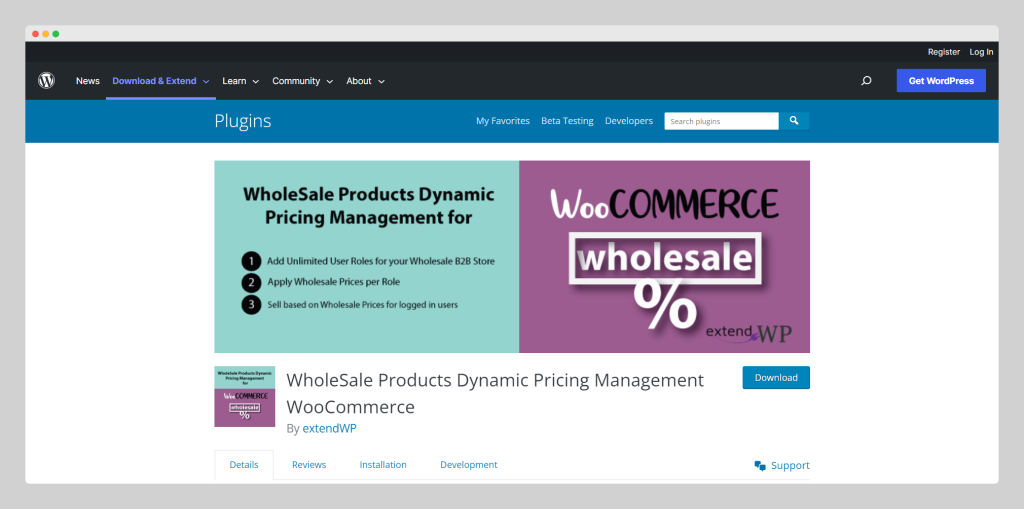 Turn into a wholesale eCommerce website with "WholeSale Products Dynamic Pricing." If you have a regular WooCommerce website, It's time to grow sales by converting the site into a wholesale marketplace. The plugin will allow you to apply dynamically different pricing for wholesale products. You will be able to define multiple Wholesale User Roles and apply dynamic wholesale prices per Role for your Wholesale Products.
ExtendWP is a team of professionals that aims to provide further solutions for the WordPress platform. They are the team behind "WholeSale Products Dynamic Pricing." WordPress & WooCommerce with Excel and Product Excel Import & Export from Excel is their other popular plugins.
Pro Starting Pricing 👉 €60 Single site/6 months
Honorable Mention 🧐 Even though the following plugin is not a dedicated Wholesale plugin, still we have added the plugin to our list as an honorable mention. The plugin has wholesale pricing features and a good reputation. Our editorial believes It can help our users.
Advanced Dynamic Pricing

From the name, you can understand, "Advanced Dynamic Pricing" is a pricing setup plugin. As wholesale is also a matter of pricing in a big portion, people may use the plugin as an alternative to B2B Wholesale Marketplace plugins. The plugin allows the users to set up rule-based pricing for the website users. Users can set discounts, adjust percentages, and set fixed prices. They can also activate and deactivate any pricing while needed.
Statically, the Advanced dynamic pricing plugin has over 20,000 users. They have 86+ five-star ratings from 95 total ratings. It has been downloaded 540k+ times from the WordPress directory. Algol+ is the company behind this plugin. They also have other plugins like "Advanced Order Export For WooCommerce." The plugin has 100k active installations.
Happy with all the plugin's basic information? Well, we did more work for you. You can check the statical comparison of all the top wholesale marketplace plugins here.
How We Ranked B2B Wholesale Marketplace Plugins?
We consider 4 important parameters during our analysis. Our team collects all the data from the wordpress.org plugin directory and wphive and then makes a calculation. Here is what we consider and how we make the calculation.
Just a small interpretation! We want to keep everything transparent and crystal clear for our visitors. When you are trusting us, trust us with the best confidence. So, here in this section, we have added the basic of, how we calculate the ranking.
Would you like to know the Wptowp ranking system? You can see the whole details of our system from the link. If you have time limitations, you can skip this part too.
| | | |
| --- | --- | --- |
| SL | Name | Consideration |
| 01 | Active Installation | 40% |
| 02 | Plugin Resource | 30% |
| 03 | Plugin Ratings | 20% |
| 04 | Plugin Age | 10% |
| | Total | = 100% |
| | | |
First, we build the ranking then we start researching the features. We want to include exclusive information. Keeping the blog length readable and adding the information that you need were our main goals. In this article, the details feature is not included. In case, if you are interested to know, all the links are clickable. You can check the details feature from the directory of each plugin. Click and check from the plugin directory.
Why Some of the Plugin Isn't on the Above List
While analyzing the top restaurant menu plugins for WordPress, we had to exclude some of them. They have been removed from this list. However, we want to keep it transparent. So, here in this section, we make clear the filter elements. If your favorite plugin does not appear in the above list, it may contain any of the details listed below.
As always, the Wptowp listing blog is bhai-brothers effect free. And we follow wptowp standards to make any list. We are committed to providing you with the best possible information.
Help Us to Grow More
Thank you for reading the full blog about the "B2B Wholesale Marketplace Plugins" and their statistical information. We hope you have seen, how unbiased this blog was. To collect data and analyze them, we invest a lot of time. Our team is committed to helping you make your purchasing decisions.
Would you like us to grow? You can help us by sharing this blog on your favorite social media sites. A single share may rob you of a moment. But that will be a big help for us. At the same time, your friends can know about us. They can read about all the above amazing plugins. What are you waiting for? Click on the icon of your best-loved social media site a
Acknowledgment 💯💯
🐾 Images – Images in this blog have been collected from ThemeWinter's website, blogs, landing page, WPCafe landing page, other restaurant plugin pages, WordPress directory, Social site etc
🐾 Video – The video in this blog has been collected from the different plugin channels.
🐾 Affiliate Links – This blog contains several affiliate links. This means, that if you purchase any product through the link, we will get a commission without charging you extra. You can see affiliates disclosed here.
🐾 Data Source – All the data has been collected from various open sources. For example landing page, a WordPress directory, a YouTube channel, etc. Data can be changed at any time.

Editorial Staff
Our Editorial team consists of WordPress Expert/s, Analysts, Content Editors, Writers, Designers, SEO Experts, Outreach People and Developers! For each content, a highly expert and dedicated team led by Asadullah Galib, works together. We have only one motto, "Help you to make your final decisions!"