Eventin 👉 Best Alternatives to LMS WordPress Plugins [100% Verified]
Tired of experimenting with the WordPress LMS plugin and looking for the best alternatives to LMS WordPress plugin? We've got the best plugin for you! Eventin, one of the most popular event management plugins, is the ultimate alternative to LMS WordPress plugin! DON'T TRUST OUR WORDS, CHECK THE BLOG AND GET THE PROOF!
Here in this blog, we will start with a comparative analysis, an introduction to Eventin, and how Evenetin can be the best alternative to LMS WordPress plugin! We will also share the basic tutorial that Eventin uses. After this blog, you will be confident to use Eventin as an alternative to LMS WordPress plugin!
Setting up and managing an LMS in WordPress or SAAS takes time, is technical in most cases, and is expensive. LMS is an excellent choice for team and course marketplaces. But that's not applicable to a single instructor. We'll find a better solution soon; we're here! So do you?
Please be aware that, we have added a comparative analysis for those who are still confused to move from LMS to a stand-alone plugin. If you already convince and looking for the best alternative to LMS WordPress plugin, then skip the part and start from the Eventin introduction.
WordPress LMS vs SAAS LMS
There are several WordPress LMS plugins like Lifter LMS, DozentLMS, and Master Study LMS. They are popular having a lot of active users (10k-100k). There is SAAS learning management too. But the problem is, Learning management system can not be the best solution for single instructors. That's why we are looking for alternatives to LMS platforms.
There's an important issue in SAAS LMS. You have less control over the course, content, and other staff. As you will store everything on that platform's storage.
How Much does LMS Cost?
According to edly.io, a learning management system costs 2,000 USD to 25,000 USD! This approximate cost is for setup. There's much more cost for other elements such as domain, design, course management, etc. You will be either dependent on the SAAS platforms or the technical person. Another study of webcourseworks finds that, depending on the users, an LMS can charge 2,000 USD to 20,000 USD annually for maintenance.
The cost is huge! It's more than impossible for a single instructor. A single instructor, like a school teacher, a yoga trainer, or a private tutor, can not afford the charges. We felt the same and search for the best alternative to LMS.
There are many plugins that can help a single instructor to host their courses online, physically and hybrid. However, considering the easy usability, and master class design based on use cases, we chose Eventin!
What is Eventin Plugin?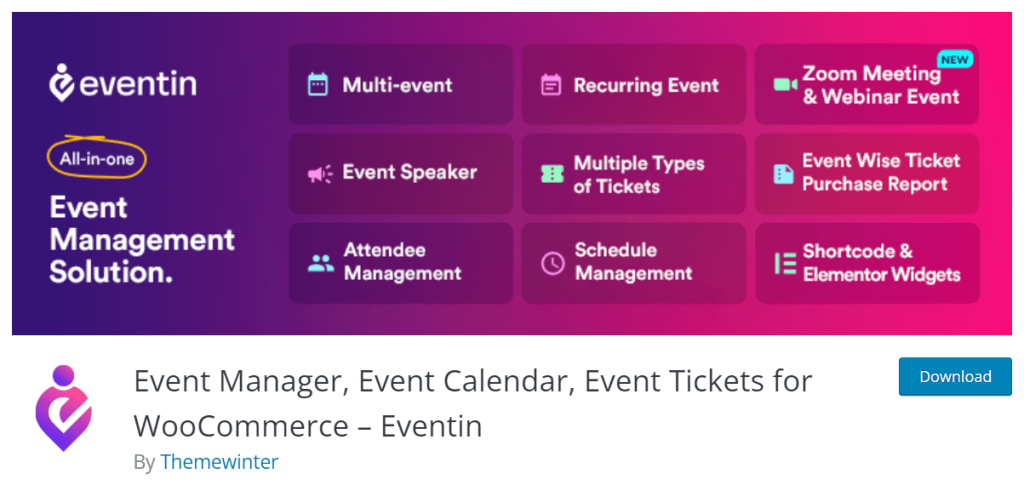 Eventin is an easy-to-use WordPress event management plugin. But its usability is not limited to only event management. It extends the service through training, online class, marker, and host through its quality features. Eventin lets you create and manage sessions and sell tickets. You can grow your online course, training, and similar service with Eventin, an affordable WordPress management plugin.
Eventin was in our rudder from the time we listed the best Event management plugin listing blog. Later, we published a complete review of Eventin and the top reasons to use Eventin pro. We are sure, we will have some more blogs on this plugin. We never hesitate to write about a plugin that can truly benefit our users.
Eventin is a plugin that maintains 100% positive and fives star ratings in the WordPress directory still now [2.5+ years]. There is no other plugin that has a 5/5 star rating with 2+ years of age!
Eventin as Alternatives to LMS
Since we have great ideas about Eventin, we did not think twice about selecting plugins as alternatives to LMS plugin. You can use Eventin as an alternative to the SAAS learning management system, too. Eventin is best suited if you are a one-man army that wants to sell courses or sessions online.
Easy and Affordable Solutions
Eventin Pro comes with flexible pricing. You can pay them either yearly or as LTD. The package began at only 69 dollars. They have a 14-day money-back guarantee, so you can use the plugin and test it for this period of time. You are getting the easiest design with a low-cost premium package.
Better Support and Resource
Eventin is kind of famous for its support replication. If you check the Eventin ratings, many of the users mention the support. They are providing support through live chat, ticket base support, social channel, and community group. You can access them on the WordPress directory too. No matter whether you are a free or premium customer, Eventin will always care for you equally.
Eventin's resources will help you with every new release. You can check their YouTube video tutorial, documentation, blogs, and release notes. You can also look at their public roadmap to see what's coming up for the plugin.
How Eventin can Alternatives to LMS Plugin
An event can be anything! A traditional event, a component of an event, and a life event! You can consider your class an event, you can say your consulting hour is an event. So, considering the class of a teacher as an event, we are saying that Eventin is the plugin, you need as the best alternatives to LMS WordPress plugin.
Now, It's not just a matter of class, every course contain many facts. What are they?
Teacher's WorkFlow (Case Explained)
Let's consider a teacher, who wants to start his own private class. He has to show the class schedule, the class link for the online session, and his detailed profile. Also, he needs to take the payment, provide certificates, and keep track of the students. The main fact is class, but the other factors are also important.
Teacher Profile ➡️ Schedule Details ➡️ Class Conduct ➡️ Take Payments ➡️ Certification
From the above teacher's flow, you can do everything at Eventin. Moreover, there is much more inside the flow that is also possible. This is why Eventin become the best alternatives to LMS WordPress plugin. Let's have the details of teachers working flow.
Taking Online Class
Online classes becomes a new trend. From the COVID outbreak, it started. Covide dies down but the online class does not!
Zoom webinars and meeting integration are included with Eventin. Once you create online events, Zoom details will be sent to the participants automatically with the link and passwords. The zoom synchronization option is available, so you don't need to log in to your zoom account again and again. Everything you can manage from the Evenetin dashboard. And the Google Meet integration is on the roadmap of the best alternatives to LMS WordPress plugin.
Taking Offline Class
You can manage offline classes too. Every event participant will get unique event tickets that contain QR Codes, too. So, tracking students is not a headache for Eventin users.
Does s/He Need to create class Numerous Times?
Let's say a teacher has 48 classes in a 4-month session. Does he need to create 48 events? BIG NO! The teacher needs to create one single event under "recurring events." The system will create 48 child-individual events for the teacher. This way, the teacher will be required to set up the logic, detail the parent (main) events, and save. Eventin will create and handle everything, including payments.
Providing Class Schedule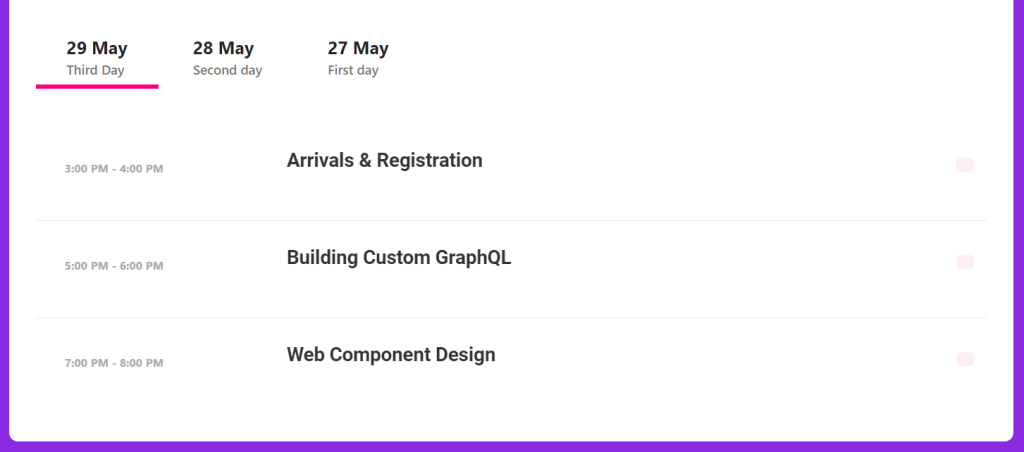 You can add the class schedule as a single event or as a recurring event. On the event page, you can add much more than a class schedule. You have the option to add a counter, registration option, class course-relevant banner, images, coaching/center details, etc.
Providing Teacher's Schedule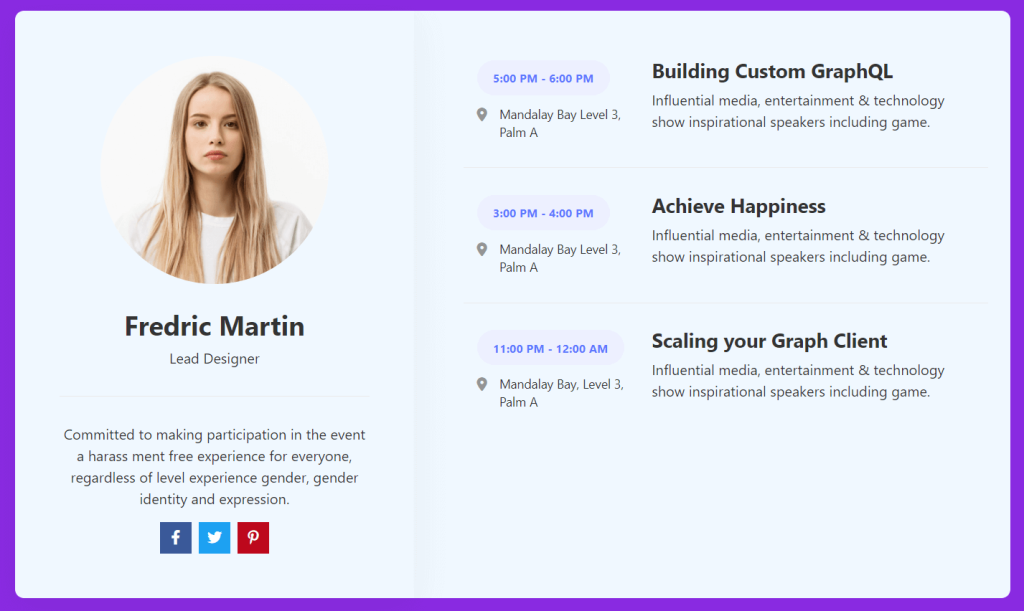 As a teacher, you need to add your schedule to the website. It will help the student select their class accordingly. Eventin, as one of the best alternatives to LMS, has a beautiful scheduling system. You can add your class schedule there.
Display Teacher Details

You can add your details, such as education, certification, experience, etc on the website. Eventin has speaker and organizer profile options. You can add social links too. By the way, don't forget to add a smiling image of yourself that students love to see!
Issue Course Certificate
What is the best part of finishing a course? The course certificate and recognition! With Eventin, a course teacher like you can issue certificates. You have the option to design the certificate and send it to all the students with a single click.
Taking Payment from Students
Eventin supports all the WooCommerce-supported payment gateways. As a result, you can accept payments from students and learners using any of the popular payment methods. Moreover, if you want to avoid WooCommerce, the Stripe payment gateway is there for you.
Extended Options of Teacher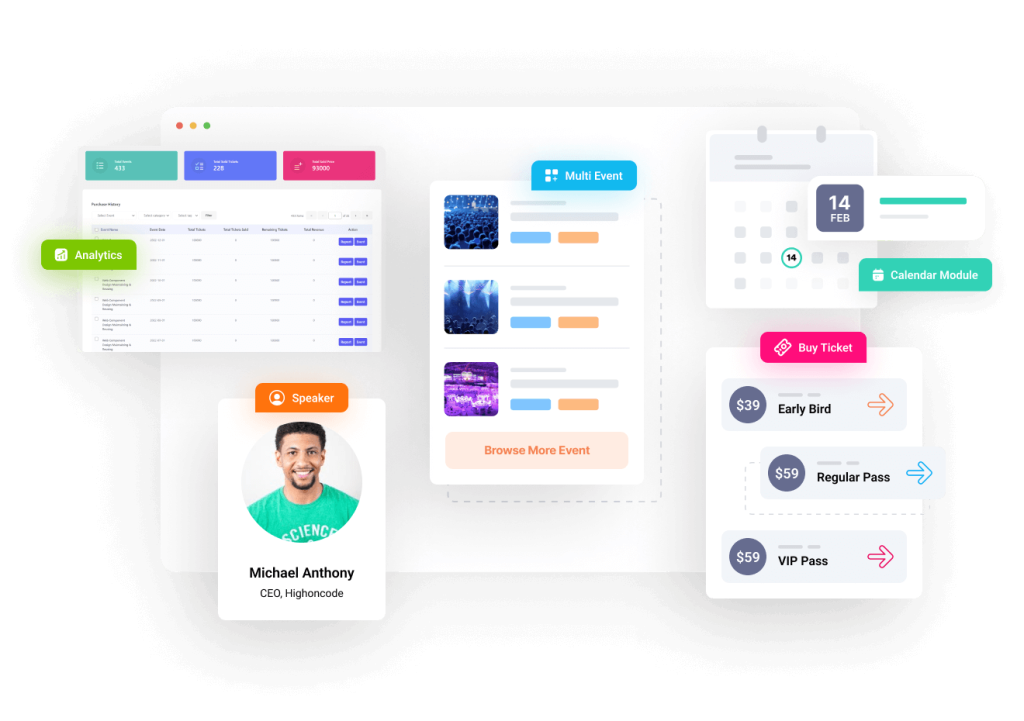 Eventin has a lot more that you can use in your eLearning or training sessions. Let's take a look at the list. Alert😜 The list is big. Be patient and scan the list.
1) Unique QR Code for Physical Class
Every student can get a unique QR code that they can use for check-in. QR Code has the option to check in for single and multi-step. And, you do not need to use any mobile phone to scan the QR Code. Eventin is fully responsive and you can use the scanning option like a mobile app.
2) Attendee Form for Student Registration
With the registration form, collect student information. It's customizable, and you can add multiple elective/required fields. With the form, you can collect and store information on the website's backends.
3) Display Class Schedule in Calendar View
You can display the class schedules on the calendar widgets. So, students can get clear views with a single glance. There are multiple styles, and you can use anyone from the list. Apart from the widgets, Eventin has calendar integration too. So, saving the class in Google Calendar is easy and takes a few clicks.
4) Instant Update with Pabbly, Zapier
Send instant email and SMS updates to the students. Information about class start and cancellation notifications, as well as other relevant updates, can be sent to students. As Eventin comes with Pabbly and Zapier integration, so you can utilize them.
5) Detailed Analytics Report
See how your course is performing, especially the sales report on the dashboard. Evenetin, alternatives to LMS,, more detailed analysis is available in the pro version. The graph will help you see the latest data and customize it at a glance.
6) Course Marketing with CRM
You can do some marketing and send reminder emails through CRM. FluentCRM and Groundhagg CRM are supported by Eventin, alternatives to LMS,. Every time a student purchases the sessions, their details will be sent to CRM. You can utilize them for future marketing. Like other alternatives to LM, you do not need to worry about marketing.
7) RTL Support for Language-Specific Course
There's no need to worry if you want to do something in the local language. Eventin, alternatives to LMS, is fully translatable and has RTL support. As a result, you can translate the website and course into any language. Keep students enrolled in the local course. Provide the best alternatives to LMS experience with Eventin.
8) 7+ Builder Support that brings No Coding
No worries about coding. Eventin has 7+ page builder support, and that leads you to no-coding functionality. Elementor, Beaver builder, Oxygen Builder, etc. are supported by the alternatives to LMS plugin. Eventin can help you no matter which builder you're using.
/cta
Who Else Can Use Eventin?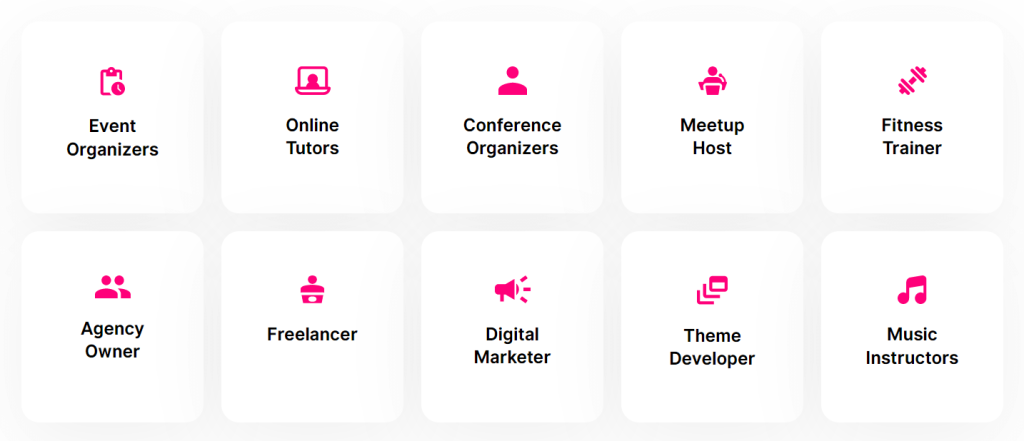 Event Organizers 🦥 Eventin, All-in-one WordPress event management plugin, can be used to create and manage events, sell tickets and do event marketing. Eventin can also be alternatives to LMS.
Online Tutors 🦥 Create sessions as one-time or recurring events, then sell tickets to students. Zoom is available for online tutoring. You can provide the certificate with Eventin certificate builder features.
Conference Organizers 🦥 Showcase conference details including speaker and sponsors details, schedule, etc on the dedicated page. Sell tickets too.
Meetup Host 🦥 Manage to gather people with free ticketing systems. You can manage stock with WooCommerce.
Fitness Trainer 🦥 Create sessions as events and sell tickets. Showcase the schedule and other information on the dedicated schedule page.
Agency Owner 🦥 Provide quick development service for the event's website without any technical issues and extra cost.
Freelancer 🦥 Provide quality service within the deadline using Eventin, and WordPress event management plugin.
Digital Marketer 🦥 Sell your valuable time and schedule to the customers. An event can be considered your consulting time. So, whenever you plan to host paid hours, use Eventin.
Theme Developer 🦥 Develop an event management theme with complete functionality. You have overriding options in the WordPress event management plugin Eventin. If you face any issues, reach out to ThemeWinter's support channel.
Music Instructors 🦥 Sell your weekly schedule and training sessions through events. You can use one-time or recurring events to manage your schedule. There's zoom for you to host online sessions.
Convinced of Alternatives to LMS
So, convinced to purchase Eventin as an alternatives to LMS WordPress plugin? If yes, go ahead and get Eventin now. By the way, Eventin has a lifetime deal that you can purchase now. If you are still confused, check Eventin holistic reviews, ask us questions and so on.
Eventin Pro Pricing
Eventin, the best alternative to LMS WordPress plugin, comes with a straightforward pricing policy. You can pay them either yearly or as an LTD. The package started at $69 USD. They have a 14-day money-back guarantee so that you can use the plugin and test it for this period of time. The price is lower compared to other WordPress event management plugins. Eventins, in particular, include advanced integrations and add-ons at no extra charge.
| | | | |
| --- | --- | --- | --- |
| Eventin Pricing | | | |
| Standard, 1 Site | Premium, 10 Sites | Agency, Unlimited | Refunds Policy |
| 69$/year | 169$/year | 289$/year | 14 days |
| 169$/Lifetime | 289$/Lifetime | 519$/Lifetime | |
| | | | |
The last update date is 14th November 2022
The price can go up and down at any time, as ThemeWinter holds the right to change the pricing at any time. You are encouraged to check their website for the most recent update.
Hey, you are amazing! You have finished the blog already. Love to support us more? You can, however, share the LMS alternatives on your preferred social media platform. Your friends can know about these amazing alternatives to LMS plugin, and we can have some new visitors through your social sharing. Win-win offers for both of us. Be more amazing,, buddy!
Acknowledgment 💯💯
🐾 Images – Images in this blog have been collected from the ThemeWinter website, blogs, Eventin, alternatives to LMS, landing page, Social site, etc
🐾 Affiliate Links – This blog contains several affiliate links. This means, that if you purchase any product through the link, we will get a commission without costing you extra. You can see affiliates disclosed here.
🐾 Data Source – All the data has been collected from various open-source. For example landing page, WordPress directory, youtube channel, etc. Data can get changed at any time.

Editorial Staff
Our Editorial team consists of WordPress Expert/s, Analysts, Content Editors, Writers, Designers, SEO Experts, Outreach People and Developers! For each content, a highly expert and dedicated team led by Asadullah Galib, works together. We have only one motto, "Help you to make your final decisions!"