18+ Top Event Plugin in WordPress 2022
Tired of looking for an Event Management Plugin? Looking for the best solution but confused to see the biased list by the listing blog? There are tons of WordPress plugins and while making this list, we were struggling. But we are assuming, you will find an unbiased list of top Event Plugin in WordPress.
At the bottom of this blog, we added the pricing, active users, ages, and rating comparison. Also, we added the editorial recommendations. With all this information, we are expecting to help you make your own decisions.
What is an Excellent Event Management Plugin? A plugin that lets you create the ultimate freedom of pressing the Events online. Also, the plugin should let you manage the events smoothly. It should not ask you to buy addons every time you try to add new features to your event site.
Is there any outstanding Event Management Plugin? No spoiler at this moment. Please keep reading. There's a lot more that you will need to host events. And choosing the best plugin can reduce a lot of your work.
How Did We Make the Ranking?
Before diving into the list, a little time for knowing the insight! How did we make the ranking, you need to know. With the ranking system summary, you can know how much help will be on the list for you. And the best part, you can see, how transparent we are! Also, it reflects how much hard work this list has taken from us.
We consider the active installation number and give it the highest priority, Also, plugin ratings, and ages matter to us.
| | | |
| --- | --- | --- |
| SL | Name | Consideration |
| 01 | Active Installation | 40% |
| 02 | Plugin Resource | 30% |
| 03 | Plugin Ratings | 20% |
| 04 | Plugin Age | 10% |
| | Total | = 100% |
For the product resource, we consider the landing page, blog page, video tutorial, introductory video, influencer reviews and tutorial. We also see how they are providing support. Wheather they have documentation or no
Which Plugins are Excluded from the List?
An event can handle in multiple ways. There are a lot more plugins that are also used for Event handling. But when we are talking about Event management, we are adding the dedicated Event Management plugins. To keep our visitors confusion-free, we are explaining the reasons to avoid the popular category in the following section.
💥 Booking Plugin ❌❌ WordPress booking plugins are a great solution for managing events. But it's limited to managing the schedule of the events. You will have to face difficulty displaying event information such as schedule, speaker profile, etc. You may need to create a new post and page for adding the information. Also, sometimes, it required hard coding to add specific information such as the venue.
💥 Calendar Plugin ❌❌ WordPress calendar plugins are another popular category that users can use for event handling. You can display all of your events as great views to the users. But that's limited to schedule management. A calendar view can be a part of event management plugins. But a dedicated calendar plugin can not give you the ultimate freedom to create and manage events.
💥 Form Plugin ❌❌ With a form, you can create users interactive and get the registration done. But Events information display and ticket selling are limited to the form of plugins.
💥 Event Ticketing Plugin ❌❌ Event ticketing is a small part of an event. But we focus on the whole event management so we avoid event ticketing plugins in this list.
💥 RSVP and Elementor Widgets ❌❌ There's an RSVP dedicated plugin that can use as an event management plugin. However, RSVP only enables one single feature of any event. moving forward, Elementor Widgets base Events plugins are limited to Elementor users only. But we have many other users who don't use Elementor. Thus, Wptowp editorial avoids both the RSVP and Elementor widgets plugins.
The Events Calendar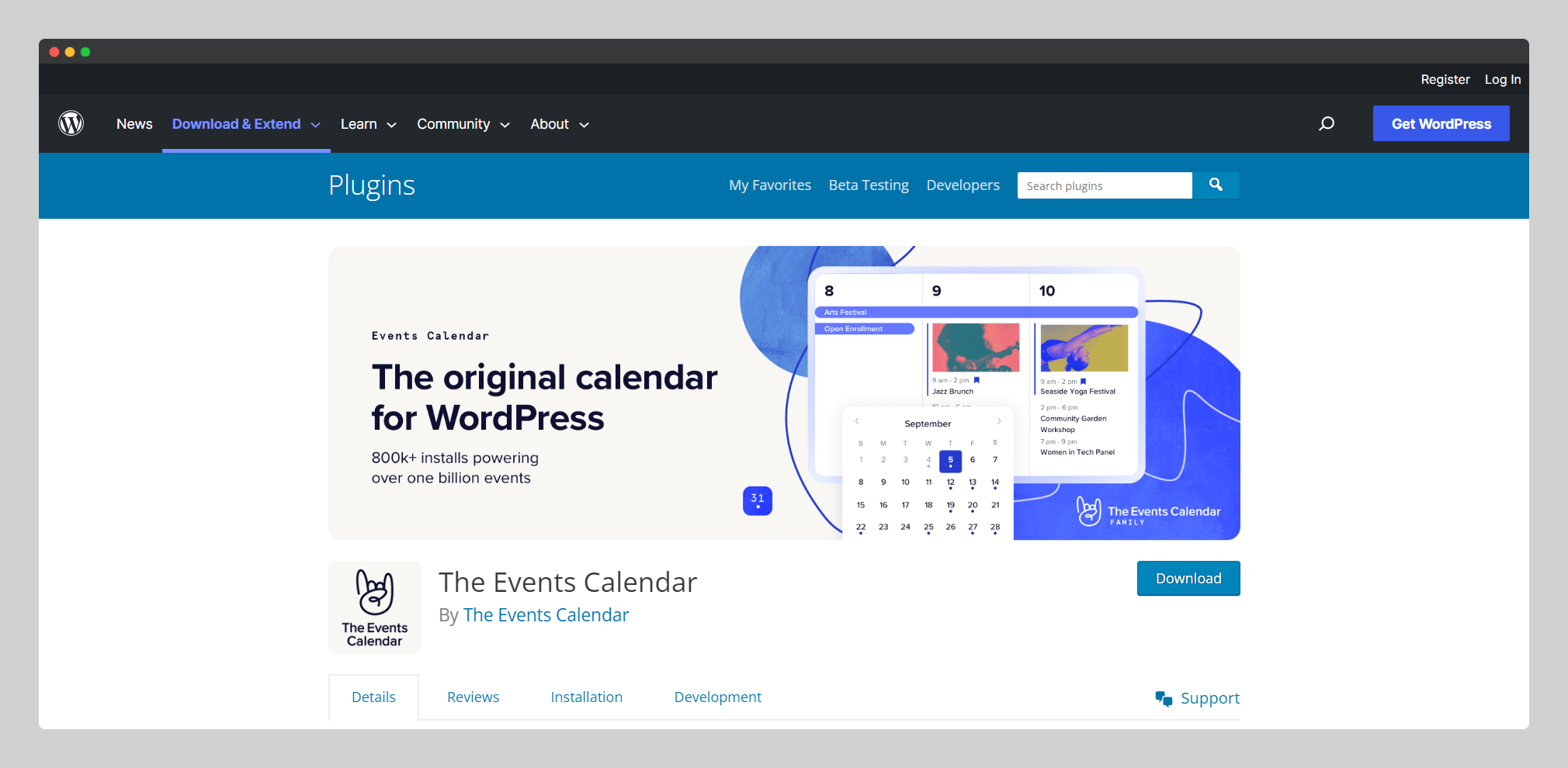 Easily create and manage an events calendar on your WordPress site with The Events Calendar free plugin. Whether your events are in-person or virtual events, this WordPress calendar plugin boasts professional features backed by our world-class team of developers and designers.
A company that brings iThemes, Restrict Content Pro, Kadence, GiveWP, IconicWP, LearnDash, and many more to the frontline! The company name is stellarWP and The Events Calendar is backed by them. We did not gather any data from the company as their individual products name is enough to introduce themselves. If you are in the WordPress era, you can understand how they are!
The Events Calendar plugin has everything you need and they are doing monopoly business. You can see the clear reflection in their pricing. But keep in mind, they developed leading products so they have the full rights to sell at a high price.
| | | | | | |
| --- | --- | --- | --- | --- | --- |
| The Events | Calendar | Pricing | | | |
| 1 Site | 3 Sites | 10 Sites | Multisite | Unlimited | Refunds Policy |
| 689$/year | 1199$/year | 1999$/year | 1999$/year | 3699$/year | 14 days |
| | | | | | |
The last update date is 30th July 2022
Editorial Comments 🐯🐯 13 years ago a plugin was born, grows from time to time and now it's containing 800k active installations. It feels like leading from the front side. Remember, it's not a generic plugin, it's niche based product. We are sure, the plugin is a source of inspiration for many other events management plugins.
Events Manager
Events Manager is another early mover of event management solutions. 14 years back, the plugin started its journey. Events Manager is a full-featured event registration plugin for WordPress based on the principles of flexibility, reliability and powerful features!
NetWebLogic is the company behind the event plugin. There's not a lot of information available about the company. But as per what we found, the company is WordPress product and service based. Marcus leads the company. They have several other plugins like Login With Ajax, Meta Tag Manager etc.
| | | |
| --- | --- | --- |
| Events Manager Pricing | | |
| Standard, 1 Site | Premium, 5 Sites | Refunds Policy |
| 75$/year | 150$/year | No Refund 🐈 |
| | | |
The last update date is 6th August 2022
Timely All-in-One Events Calendar

Timely All-in-One Events Calendar is a free WordPress plugin trusted by 1,50,000+ event creators worldwide. Easily create, manage and share events. Simplify your event creation, promotion & ticketing with the Timely All-in-One Events Calendar Plugin for WordPress.
Timely is a software company that vision is to create one event in a city. They believe an Event Calendar is the first step in bringing communities together and turning events into lifelong memories. They aim to be the best event management software company there is, for our clients and our employees.
There's no public pricing table available for the Timely All-in-One Events Calendar 🐈🐈
WP Event Manager
WP Events Manager
RSVP and Event Management Plugin
FooEvents for WooCommerce
Eventin WordPress Event Plugin
| | | | |
| --- | --- | --- | --- |
| Eventin Pricing | | | |
| Standard, 1 Site | Premium, 10 Sites | Agency, Unlimited | Refunds Policy |
| 59$/year | 139$/year | 279$/year | 14 days |
| 129$/Lifetime | 259$/Lifetime | 479$/Lifetime | |
| | | | |
The last update date is 23rd July 2022
Editorial Notice 💥
Due to unbiased data analysis, Eventin is here in this position. However, the plugin impressed the editorial team and secured the editorial choice badge. It's one of the highest potential plugins in our eyes.
Simple Event Planner
Event Management Tickets Booking
Event Manager and Tickets Selling Plugin
EventPrime
EventON
Events Made Easy
Eventer
Simple Event Management
Sched Event Management Software
Event Tickets Manager for WooCommerce
Quick Pricing Comparison of Event Plugin in WordPress
Active Installation Comparison of Event Plugin in WordPress
Quick Ages Comparison of Event Plugin in WordPress
Quick Rating Comparison of Event Plugin in WordPress
The Bottom Line of Top Event Plugin in WordPress
FAQ about Best Event Plugin in WordPress
Hey, we hope you enjoyed our blog on how to create a personal blog using WordPress and PostX. We appreciate it if you can share this on your favorite social media. Let's share the blog with your social friend and let them know about this amazing content.
As a top WordPress resource site, we also published multiple WooLentor vs ShopEngine review-related articles. Here in the following section, you can just click and get quick access to them. Moreover, you can check all the WooCommerce blogs here.
Acknowledgment 💯💯
🐾 Images – Images in this blog have been collected from different websites, blogs, landing pages, plugin landing pages, WordPress directory, Social sites etc
🐾 Video – The video in this blog has been collected from different youtube channels.

🐾 Affiliate Links – This blog contains several affiliate links. This means, that if you purchase any product through the link, we will get a commission without costing you extra. You can see affiliates' declarations here.
🐾 Data Source – All the data has been collected from various open-source. For example landing page, WordPress directory, youtube channel etc. Data can get changed at any time.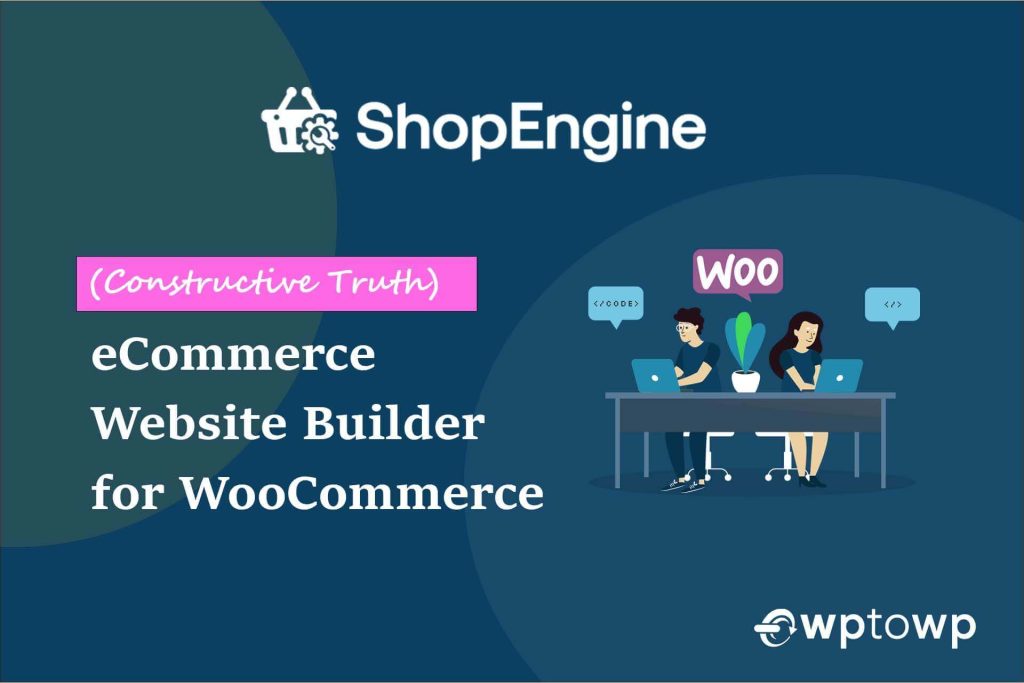 Editorial Staff
Our Editorial team consists of WordPress Expert/s, Analysts, Content Editors, Writers, Designers, SEO Experts, Outreach People and Developers! For each content, a highly expert and dedicated team led by Asadullah Galib, works together. We have only one motto, "Help you to make your final decisions!"
Quick Links
Here is the latest blog from Wptowp that you may enjoy. You can click on the embedded link to go to the blog. You can also read the Wptowp blog by browsing the home page of the site.