ElementsKit Best Elementor Addon (300k Grows/Year)
How quickly can a plugin grow its user base? We can't answer the question, but we can say something more exciting. Elementskit, one of the best Elementor Addons grows by 300,000 users a year. ElementsKit will have 200k active installations by November 2020. After 12 months, it has 500k active users in the WordPress directory.
ElementsKit best Elementor addon is continuously growing. Like in 2022, they grow from 500k to 700k. One of the fastest growth rates ever experienced in the Elementor family. Currently, the plugin has over 900,000 active users. We are waiting for 1M+!
ElementsKit best Elementor Addon comes in our list while we analyzed the Elementor Addons listing blog. ElementsKit secured one of the top positions among 33+ Elemenor addons. The fastest growth rate and great positive response from the community lead us to review the plugin.
We published ElementsKit best Elementor addon detail review during the early days of Wptowp launch. And then we lost all of our data. Now that we are restoring the blog, it has grown to 100k users within a few months. It's an updated review of Elementskit.
When did ElementsKit Start its Journey?
In June 2019, WPMet launched a new Elementor Addons called ElementsKit. The plugin had 10k active installations in less than 6 months and 150k users in its first year of release. ElementsKit has since grown to 900,000 users and 1150+ five-star reviews. They solve 100% of tickets on the WordPress platform.
Who are Behind the Established Elementor Addons?
WPMet is the company behind this revolutionary Elementor Addon. WPMet, a wing of XpeedStudio is a leading plugin development company from Dhaka. Starting from 2013 by Md. Ataur Rahman, WPMet released several plugins and some of them got huge popularity. For example, ShopEngine eCommerce Website Builder is a hugely popular plugin. Metform recently got 100k active installations.
Apart from those, WPMet released WP Fundraising, Wp Social (20k active installations), Wp Ultimate Review (10k active installations) plugins in the WordPress directory. So far, WP Fundraising Plugin is completely free. WPMet has recently begun work on Genie AI Writing Tools to assist content developers.
Editorial Note 🔔🔔
This blog covers all the possible information that you need to make your decisions. As a result, the blog becomes longer than the usually expected reviews. You can save the blog for later reading. Maybe you can just scan the headings and highlights if you are in rush!
How is the Community Response to ElementsKit?
As expected, ElementsKit best Elementor Addon got a lot of responses from the WordPress community. First of all, you are reading the review at Wptowp. ElementsKit has been highlighted for you. Moving forward, well-known sites such as AppSumo, HasThemes, WPML, Which-Addon, GreenGeeks, WPbuilt, DroidCrunch, and Elementor share reviews.
There are a number more websites that mention ElementsKit best Elementor Addon for coupon codes, offers, deals etc.
We also check the video platform and see a good number of channels talking about the ElementsKit best Elementor addon. GO TECH UG, WPTuts, themesCode, Geeky Ocean, and Suhail Ahmad reviewed the plugin.
How is ElementsKit Standing Out from the Crowd?

How did we say Elementskit is the best Elementor Addon? The plugin comes with a lot of unique features that make it stand out from the other Elementor Addons. Let's see some of the unique selling points of the plugin.
It provides the most advanced and easiest way to build the header and footer of your website. With the plugin, you can build a professional header and footer area, as you see on other established websites. You can even create a better header and footer with it.
Conditional Content
You can control your content visibility by applying advanced conditional. So, segmented users will get the specific content. Moreover, your different pages can contain different menus, headers, and footers.
From eCommerce to personal portfolio sites, nowadays, mega menus are a trend. And you can build any type of mega menu horizontal and vertical with the plugin. And with the conditional content features, you can show different mega menus on different pages.
Advanced Sticky
A sticky header can grow conversion and reduce bounce rate. It increases the user experience. Build sticky like content sticky, sidebar sticky, Menu sticky, footer sticky, and more with the plugin.
Widget Builder
Build your own widget's style and re-use it whenever you need it. You can copy and paste it with the copy-paste features. Here you can create your own custom widget and save it for future reuse.
Advanced Parallax
Parallax effects always attract visitors to browse the site. ElementsKit bets Elemetor Addons come with tilt, mouse move, on scroll, and CSS animation.
Cross Domain Copy Paste
Have you created multiple websites? Developers can do cross-domain copy-paste with the plugins. It helps to reuse Elementor content from one website to another within a second.
Advanced Table
The plugin comes with search, download excel, CSV as well as responsiveness too. It helps create the new table and update the old table too. No more headaches while building professional sites.
ElementsKit Free Features List
There are a lot of features, functions, and widgets available in the plugins. You can disable the elements you are not using on your site. That will disable all associated assets for those widgets to improve your site's loading speed.
ElementsKit Free Widgets
Here are the categories where ElementsKit best Elementor Addon widgets count.
| | |
| --- | --- |
| Category | Number |
| General | 26+ |
| Wp Posts | 5+ |
| Header Footer | 5+ |
| Form Widgets | 7+ |
| | |
The last update date is 2nd February 2023
ElementsKit Free Module and Tempalte
Let's see the module and ready template for one of the best Elementor addon in the city.
| | |
| --- | --- |
| Module | 5+ |
| Ready Template | 25+ |
| | |
The last update date is 2nd February 2023
Can You Build a Complete Website with ElementsKit Free?
In the free version of the ElementsKit, you will get 5+ free modules, 25+ ready templates, and 43+ free widgets! With all this, you can create a complete website for your agency and portfolio. You can start your own website and development business with the Elementskit and Elementor Pro versions.
What More Does ElementsKit Pro offer?
Apart from the free version of the plugin, Elementskit Pro offers a lot more. If you have a big agency and want to make a smooth development team, Elementskit's best Elementor addon is the plugin that can help you the most.
ElementsKit Pro Widgets
ElementsKit Pro includes additional widgets such as WooCommerce, Meetings, and Social Feed.
| | |
| --- | --- |
| Category | Number |
| General | 42+ |
| Wp Posts | 5+ |
| Header Footer | 6+ |
| Form Widgets | 7+ |
| Social Media Feeds | 6+ |
| Woocommerce | 4+ |
| Meeting Widgets | 1+ |
| Review Widgets | 2+ |
| | |
The last update date is 2nd February 2023
ElementsKit Pro Module and Template
And here are the statistics of the ElementsKit Pro module and template.
| | |
| --- | --- |
| Module | 17+ |
| Ready Template | 25+ |
| | |
The last update date is 2nd February 2023
When Should You Use ElementsKit Pro?

If you are a WordPress and Elementor user, then you can use Elementskit best Elementor addon at any time. You can use it to expand the features and functionality of Elementor Page Builder. However, we tried to identify some of the categories in which, we recommend you use ElementsKit.
Multiple clients ask for different features and functionality. No matter how tight their budget is, they will have a rush in most cases. With ElementsKit best Elementor Addon, you can develop any site within a few hours. You can use pre-made templates and widgets to meet the client's requirements.
As the agency owner, you will always have a heavy workload and need to offer a better ROI. Elementskit lets you create a WordPress website on a limited budget. You can maintain healthy reviews and ratings from customers by delivering fast websites.
In Elementskit's best Elementor Addon, you can edit the website in real-time and see how it looks. So, no worries, and no need to save the website and view it by reloading again and again.
Do you have a complex web UI and are worried? Use ElementsKit's best Elementor Addons 500+ widgets to create your dream websites. Bring your design thinking to reality with ElementsKit.
Are you new to the Elementor family? Have no prior experience? Then Elementskit's best Elementor addon can help you a lot. Their tutorial, documentation, live support, and community are ready to help you in all possible ways.
Are you developing your own site? No problem. If you are in a different profession and plan to create your own website for online identity, then ElementsKit best Elementor Addons can help you. You will get 25+ pre-made templates that you can import and upload your own content.
ElementsKit Best Elementor Addon Pro Pricing
Elementskit best Elementor addon comes with yearly and lifetime pricing. Under the three categories of Elementskit price, you can purchase the best Elementor addon for a single year or for a lifetime. No questions asked, you can get a refund for 14 days. The pricing of this best Elementor addon starts at 39/year for a single site license.
| | | | |
| --- | --- | --- | --- |
| ElementsKit Pro Pricing | | | |
| Personal, 1 Site | Professional, 5 Sites | Agency, Unlimited | Refunds Policy |
| 39$/year | 87$/year | 179$/year | 14 days |
| 119$/Lifetime | 259$/Lifetime | 489$/Lifetime | |
| | | | |
The last update date is 2nd February 2023
Pricing is subject to change and the full rights are held by WPMet. All prices are given in USD exclusive VAT. VAT will be charged depending on the destination country.
When You Should Not Use ElementsKit Pro?
There's no excuse to avoid Elementskit and not use your site. If you use Elementor then Elementskit is one of the best plugins you should use. However, in keeping with our tradition, we have included some categories in which ElementsKit should not be used. Do you have any other sarcastic reasons for not using Elementskit? Let us know.
Not Using Elementor Page Builder
Are you operating your WordPress site without Elementor? You are a fan of other page builders, or maybe you are using Gutenberg builders. In this case, Elementskit best Elementor addon is not the plugin for you. You need to use other builders that are suitable based on your base editor.
Leaving WordPress CMS
If you decide, not to use WordPress anymore, then you can leave ElementsKit too. As for now, Elementskit is available for only WordPress cms, so you will not be able to use it on other websites. 😁😁
Does ElementsKit the Best Alternative?
Elementskit, according to the editorial team, is the best Elementor addon and also the best alternative. Elementskit is the best alternative to Essential addons, Happy Addons, Ulitmate Addons, and other established Elementor addons.
Our Prediction for ElementsKit
That's a lot, given the rate at which elementskit is expanding. Even competitors are concerned, as we have seen. We found a great marketing activity while checking out ElementsKit. As a result, there is a good chance that it will reach 1 million or more active installations this year. In that case, 3rd Elementor addons with 1 million or more active users will be considered.
How to Get Started With ElementsKit?
Considering you already have a website ready on the WordPress platform. Or, you already have a website where you have installed WordPress and basic themes. You can now proceed with the steps below. But this is a generic direction. You are not bound to follow it while creating a new website with the best Elementor addon.
Install and Activate All Plugins
Start installing the required plugins ElementsKit, WooCommerce and Elementor. Remember, ElementsKit is depending on Elementor. So, in order to process everything, you will need to install the Elemetor plugin. Apart from the plugin, don't forget to install SEO plugins, Social media plugins and so on. Don't forget to activate all the plugins after installing them on the site.
As ElementsKit pro allows more features and polished websites, so you should buy the pro version of these plugins. You will get the ElementsKit pro version in the dashboard of your account on the WPMet website. Download and install it. If you are a free user, skip this step.
Create Template and Pages
Once all the plugins are ready, now it's time to create the necessary pages, such as the home page, blog page, shop page, cart, checkout, etc page. You can also create some templates, like the single product page to reuse them on different pages. ElementsKit allows you to create and customize pages, widgets and templates.
Customize Your Website
Finally, keep updating the real content, product name, descriptions, details, pricing, variations and so on. Keep updating and customizing until you are happy with the look and content of the website/store.
Roadmap Discussion for ElementsKit?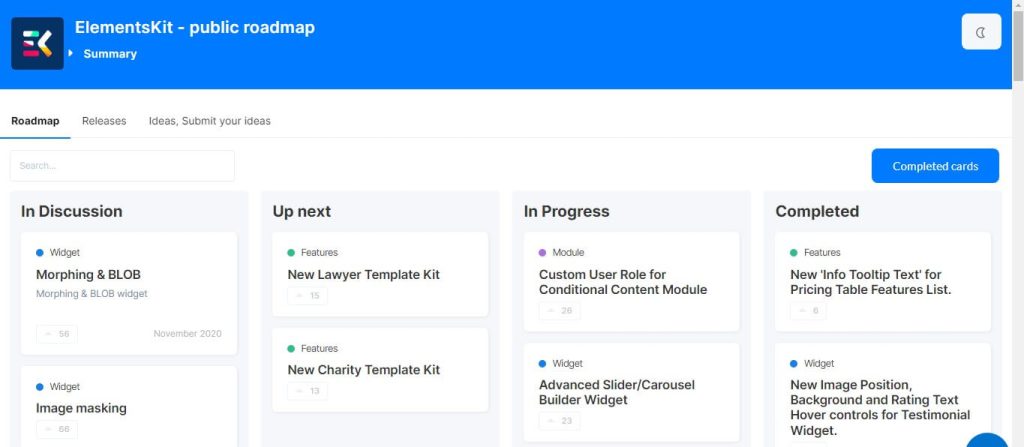 Elementskit already established itself as one of the best Elementor addon and is supposed to finish the development phase. You will be happy to know that, they are still adding new features and functions to the best Elementor addon. You can also contribute new ideas to their ideas page.
Currently, they are working on new features like "New Lawyer Template Kit," "New Charity Template Kit," etc. There are several features are in progress. For example, "Custom User Role for Conditional Content Module", and "Advanced Slider/Carousel Builder Widget" is now under development. Similarly, there are advanced features like BLOB and masking in the discussion.
Frequently Asking Questions About ElementsKit

Do you get any questions? We know you have! Here in this section, we added all the frequently asked questions by the different visitors. You can add more questions in the comment box and we will reply. We will also add the questions here for future visitors.
What is ElementsKit?
ElementsKit is an all-in-one advanced addon built to enhance the page builder with widgets and features. It includes the most comprehensive modules, such as Header Footer Builder, Mega Menu Builder, Layout Library, etc under the one hood. It has 43+ custom widgets such as a Pricing table, Team member, testimonial, Accordion, tab, Countdown Timer, etc to create any site with ease.
What is required to use ElementsKit?
Elements Kit is an all-in-one advanced addon built to enhance the page builder with widgets and features. Therefore, you will need to have the latest version of Elementor installed on your website to be able to use our addons.
Does ElementsKit require Elementor Pro?
No! You can use it with the free version of the elementor. If you need more extra features, then you can use elementor pro as well with our plugin.
Hey, we hope you enjoyed our blog on ElementsKit. We appreciate it if you can share ElementsKit Best Elementor Addon's blog on your favorite social media. Let's share the blog with your social friend and let them know about this amazing ElementsKit Best Elementor Addon review.
Now you know who wins in the battle of ShopEngine vs CoDesigner comparison. As a top WordPress resource site, we also published multiple ShopEngine vs CoDesigner review-related articles. Here in the following section, you can just click and get quick access to them. Moreover, you can check all the WooCommerce blogs here.
Acknowledgment 💯💯
🐾 Images – Images are in this blog have been collected from the CoDesigner website, blogs, landing page, HasThemes landing page, ShopEngine, ShopReady, CoDesigner page, ollzo website, WordPress directory, WPMet blog, landing page, ShopEngine page, XpeedStudio, Social site etc
🐾 Video – The video in this blog has been collected from the HasThemes, HappyAddons and WPMet youtube channels.

🐾 Affiliate Links – This blog contains several affiliate links. This means, that if you purchase any product through the link, we will get a commission without costing you extra. You can see affiliates disclosed here.
🐾 Data Source – All the data has been collected from various open-source. For example landing page, WordPress directory, youtube channel etc. Data can get changed at any time.

Editorial Staff
Our Editorial team consists of WordPress Expert/s, Analysts, Content Editors, Writers, Designers, SEO Experts, Outreach People and Developers! For each content, a highly expert and dedicated team led by Asadullah Galib, works together. We have only one motto, "Help you to make your final decisions!"