ElementsKit Review 😌 Fastest Growing Elementor Pro Addons (2023)
The plugin is loved by 800,000+ people already. And in this ElementsKit review blog, we'll go over everything that makes the plugin a popular choice among users. Before digging more deeply, just a piece of information: in a single year, ElementsKit includes 300,000 new active installations!
ElementsKit is continuously growing. Like in 2022, they grow from 500K to 800K. It's one of the fastest growth rates ever experienced in the Elementor family.
We started ElementsKit from the time we made our very first listing blog. Then we covered the holistic ElementsKit review that includes the plugin's history, community response, our predictions, and much more. Then we have decided to share a compact shorter review for you. So, here you are. Reading about ElementsKit review, the fastest growing Elementor pro addons!
ElementsKit Review – Introduction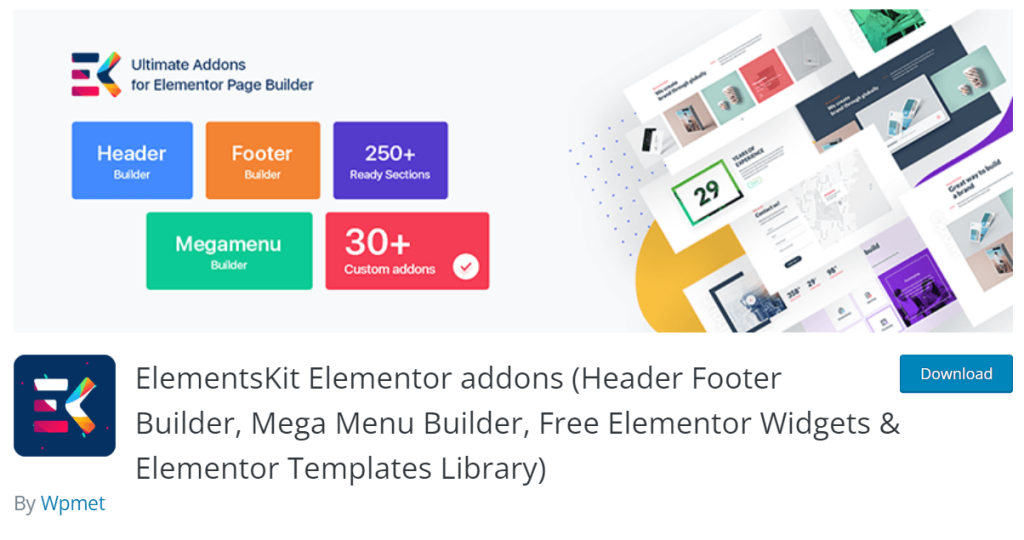 There are 30+ dedicated Elementor addons that extend the features and functionality of Elementor. Among all the Elementor addons, only 4 plugins have 500k+ active users. You can see, the total numbers of Elementor users are 5M+ and the top leading plugin is powering most of them.
Moving out of the statistics, ElementsKit is the plugin that can bring your website-building experience to the next level. If your website looks poor, you can update the design with ElementsKit. If you want to add a new section, or you may want to add a notice, you can do that with ElementsKit.
What is ElementsKit?

ElementsKit is a top-level Elementor Pro addon with over 800,000 active users around the globe. You can enhance your website building experience with the all-in-one addon pack for Elementor page builder.

ElementsKit is enriched with advanced widgets, modules, features, layouts, readymade homepages, a header footer builder, a mega menu builder, and everything else you need for creating a WordPress site by yourself. ElementsKit offers both free (lite) and pro versions.
Thanks to the growing library of Elementor addons, there's almost nothing you can't do with Elements Kit Elementor Addons! In this ElementsKit review, We'll explore the features of this plugin in more detail and demonstrate how simple it is to use.
Best Features of ElementsKit

Every Elementor Addons comes with a lot of widgets, templates, and features for its free and pro versions. So do the ElementsKit? Well, ElementsKit comes with 500+ Ready Blocks and 25+ ready pre-made templates. We do not want to make you boring with the complete feature list. However, here in this section, let's explore the top feature of ElementsKit.
1) On scroll Animation 💫 While scrolling the website, you can set up animation. It's one of the smart and trendy features of each website. It helps reduce the bounce rate dramatically.
2) Conditional Content 💫 Add a lot of content and display them depending on the users.
3) Advanced Table 💫 The table is one of the important features of any website. And for the table, there are dedicated plugins in the WordPress directory. But the good news is, with ElementsKit, you can add the advanced table on your WordPress site.
4) Google Map 💫 Add google Maps to share your exact locations.
5) Popup Modal 💫 There's a modal pop-up option available in ElementsKit.
6) Social Reviews 💫 You can add social media reviews to the site. It helps gain customers' trust as well as reputations.
7) Social Feed 💫 You can display your social post inside your WordPress website. You may be required to connect the social accounts before displaying the latest post.
8) Header Footer Builder 💫 Build and add an amazing header and footer with ElementsKit. You can set the conditional header footer as well. Different header footer on a different page is also possible with ElementsKit.
9) Megamenu Builder 💫 Mega-menu is another trendy feature that the new website should have. The good news is, ElementsKit has mega-menu builder features.
10) Countdown Timer 💫 You can add a countdown timer for FOMO and grow the sales.
11) Form Integration 💫 Multiple forms like MetForm, Ninja form, contact from 7, Mailchimp, etc integration are available in this plugin. You can collect your leads with your favorite form without depending on any other plugins.
Other important features of ElementsKit are in the following table. You can check the full list on the ElementsKit landing page as well.
| | | |
| --- | --- | --- |
| Sticky content | Background Image Parallax | Advanced Parallax Widget |
| Css3 Animation | SVG Shape Library | Widget Builder |
| Advanced Sticky | Cross Domain Copy Paste | Lottie Effect |
| Timeline | Woo Mini Cart | Woo Product List |
| Facebook Review | Header Offcanvas | Zoom |
| | | |
The latest data update date is 29th November 2022
ElementsKit Pro Pricing
Elementskit, the fastest growing Elementor pro addons, comes up with yearly and lifetime pricing. Under 3 categories of Elementskit price, you can purchase the best Elementor addon for a single year or for a lifetime. You can get a refund for 14 days, no questions asked. The pricing of this best Elementor addon starts at 39/year only for a single site license.
| | | | |
| --- | --- | --- | --- |
| ElementsKit Pro Pricing | | | |
| Personal, 1 Site | Professional, 5 Sites | Agency, Unlimited | Refunds Policy |
| 39$/year | 87$/year | 179$/year | 14 days |
| 119$/Lifetime | 259$/Lifetime | 489$/Lifetime | |
| | | | |
The last update date is 22nd July 2022
Pricing is subject to change and the full rights are held by WPMet. All prices are given in USD exclusive VAT. VAT will be charged depending on the destination country.
For theme developers who want an extended license, ElemenstKit has a new pricing plan for them. Extended license pricing starts from 119, you can go for different inner tires which end at 589 bucks. It has the same refund policy. You can check the pricing here.
ElementsKit Review Spotlight
In this section, we want to share some of the important factors that make ElementsKit a unique and market-leading plugin. And once you know about them, you will understand, why we are endorsing ElementsKit for your next Elementor-based website.
You can get flexible support from the ElementsKit company. Elementskit's best Elementor Addon can help you a lot. Their tutorial, documentation, live support, and community are ready to help you in all possible ways. You can get live support, ticket base support, social media and community, documentation, and video. All are free for the users.
The admin can translate the website site into their local langue which is based on ElementsKit. It's a great way to grab community customers.
Both ElementsKit free and ElementsKit Pro are backed by a highly expert and professional team. As a developer, you can use the ElementsKit plugin in your themes and build a features-full WordPress site without any technical issues. Even, if you are a WordPress plugin developer, still you can use ElementsKit in your various projects. You can simply override the theme page and post and develop your own projects.
Design is important for both administrative users and end users. A good design is easy to manage and motivates the admin to add more and more products while a better design at the front end reduces the bounce rate. As the ElementsKit team has experience designing a lot of themes, so they bring quality design to ElementsKit too.
Technology Used in ElementsKit
While you are checking the ElementsKit review, we love to share the back-end technology too. You can see how they are impacting and why they have been used to develop ElementsKit.
🏆 Javascript – The ElementsKit front-end part has been developed with javascript and it's a framework. It actually boosts the speed and user experience.
🏆 API – Different third-party API has been used in this plugin. It's important to get integrated and compatible with what ElementsKit handles with API.
🏆 PHP – PHP is the required language to develop the backend of the WordPress plugin.
🏆 WordPress – ElementsKit is based on WordPress CMS. You must install WordPress to get started with ElementsKit.
🏆 WooCommerce – ElementsKit is based on WooCommerce. You must install WordPress to get started with ElementsKit.
🏆 Elementor – ElementsKit was built to extend the functionality of Elementor. But recently they have released a Gutenberg version so you can avoid Elementor too.
ElementsKit Compatibility
There's no official update for ElementsKit compatibility. However, we did not found any issues with popular plugins so far. As of 800k+ people are using the plugins, so you can be relaxed about the compatibility.
Who can Use ElementsKit
If you are WordPress and Elementor user, then you can use Elementskit at any time. You can use it for expanding the features and functionality of the Elementor page builder. However, we tried to identify some of the categories in which, we recommend you use ElementsKit.
Work for Clients? 👉 ElementsKit Pro
Agency Owner? 👉 ElementsKit Pro
Want Live Editing? 👉 ElementsKit Pro
Need Perfect Design? 👉 ElementsKit Pro
New in Elementor? 👉 ElementsKit Pro
Small Technical Knowledge? 👉 ElementsKit Pro
Editorial Opinion for ElementsKit
The way Elementskit is growing, that's a lot. Even competitors are concerned as per we have seen. We found a great marketing activity while checking the ElementsKit review. So there is a high chance that it will get 1M+ active installations within this year. In that case, It will be 3rd Elementor addons having 1M+ active users.
FAQs About ElementsKit
Let's explore some of the most asked questions about ElementsKit. So that after reading this ElementsKit review, you can make your final decisions. If you don't find your questions, contact us and we will update it.
Does ElementsKit have any LTD deals?
What is required to use ElementsKit?
Elements Kit is an all-in-one advanced addon built to enhance the page builder with widgets and features. Therefore, you will need to have the latest version of Elementor installed on your website to be able to use our add-ons.
Can I use ElementsKit without Elementor?
As you have seen in the ElementsKit review, the plugin has been created based on Elementor. So you can not use the ElementsKit review without the Elementor plugin.
ElementsKit Review – Final Note
Kudos to you! It was a long blog, and you have finished it. Hey, we hope you enjoyed our blog about the ElementsKit review, especially the analysis part of the ElementsKit review in WordPress. We would appreciate it if you could share this on your favorite social media platform. Let's do it now and let your friend know about this amazing content.
ElementsKit was one of the successful LTD products on the AppSumo back in 2020. It received a huge response from the community and get 172 reviews from customers. Moreover, the plugin has 1050+ five-star ratings which are 93% in ratio in the WordPress directory.
Acknowledgment 💯💯
🐾 Images – Images in this blog have been collected from different websites, blogs, landing pages, plugin landing pages, WordPress directories, Social sites etc
🐾 Affiliate Links – This blog contains several affiliate links. This means, that if you purchase any product through the link, we will get a commission without costing you extra. You can see affiliates' declarations here.
🐾 Data Source – All the data has been collected from various open sources like landing pages, WordPress directories, youtube channels etc. Data can get changed at any time.

Editorial Staff
Our Editorial team consists of WordPress Expert/s, Analysts, Content Editors, Writers, Designers, SEO Experts, Outreach People and Developers! For each content, a highly expert and dedicated team led by Asadullah Galib, works together. We have only one motto, "Help you to make your final decisions!"