(Analysis) WPMet Bundle Deal: Should You Buy?
Planning to buy ShopEngine or ElementsKit? Any other product from the WPMet plugin list? You might seen the WPMet bundle deal on the pricing page. The WPMet team is offering a WPMet Agency bundle that comes with all the WordPress plugins except GetGenieAI. Now the question is, how is the bundle deal? Is worth buying it?
We will analyze the whole detail holistically in this blog! We have added mathematical analysis, experience-based analysis, and some expert opinions from the industry. If you are planning to buy any products from the WPMet plugin list, then give it a read before diving into the WPMet website. If you are looking to purchase from WPMet deals or WPMet offers, still read this blog before you make your decisions.
Other than the WPMet bundle deal, we have a dedicated review on ElementsKit, and ShopEngine in this blog. You can also look at the comparison between ElementsKit vs. Essential Addons, and ShopEngine vs. ShopLentor. Need something more? Reach out to Wptowp support here!
Important Note 😓😓
The WPMet Agency Bundle deal has no dedicated page. But if you check any plugin pricing page, you can see the deal options. In this blog, we will drive you to ShopEngin's pricing page. But you can get the same agency package on other products like the ElementsKit pricing page.
What's Included WPMet Bundle Deal?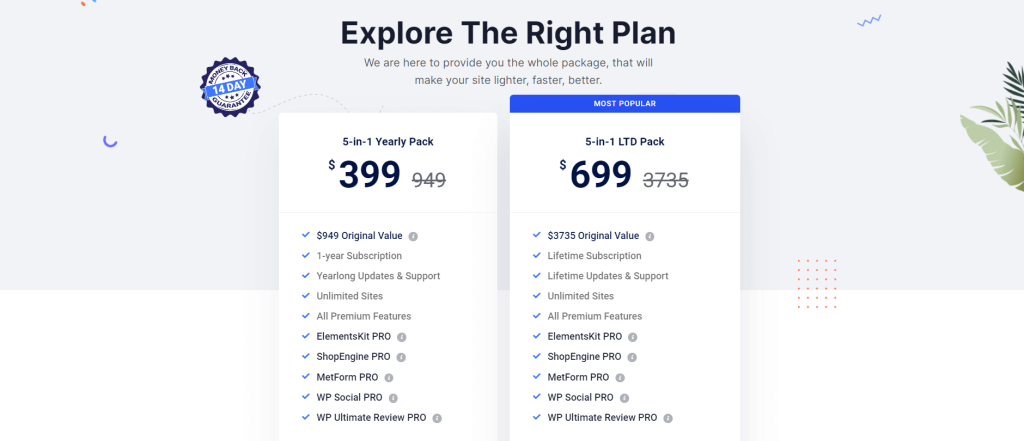 WPMet agency deal contains 5 pro plugins! You can enjoy all the plugins on an unlimited site either for a single year or for a lifetime depending on the subscription. You can get the Elementor-based addon, WooCommerce addon, Form builder, and social media plugin. Let's explore the list in short one by one.
ShopEngine – WooCommerce Builder for Elementor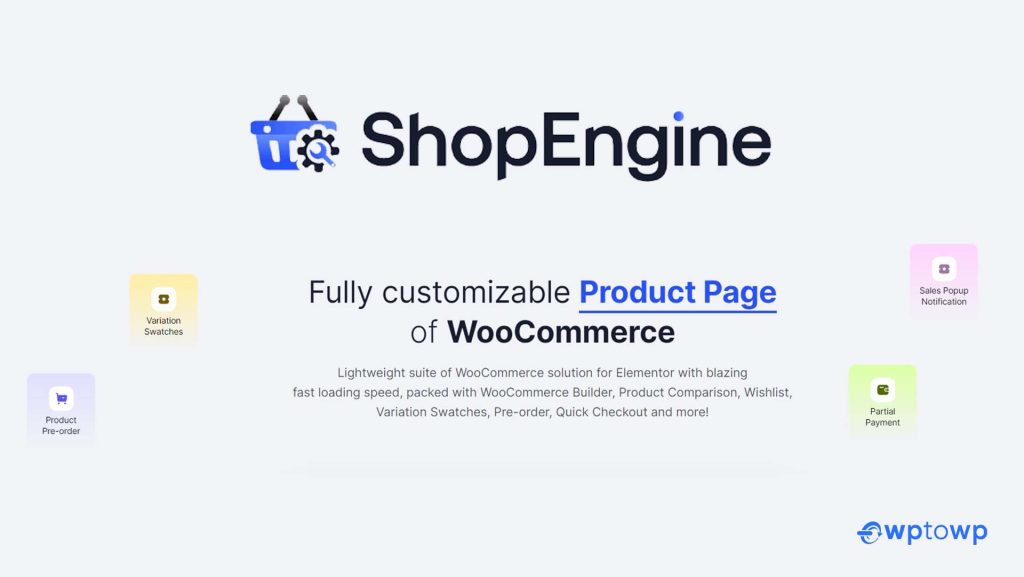 ShopEngine is a full-flagged WooCommerce builder for Elementor. You can create a complete professional WordPress eCommerce website with it. From the shop page to the home page, contact page, cart page, etc. is easy to build with the plugin. Pre-made templates made it easy to import and update the content. Different modules and addons help manage advanced eCommerce features without installing new plugins.
At this time (September 2023), ShopEngine is powering 30,000+ websites around the globe. They have 4.7 average ratings with 100+ five-star ratings from experienced users. The plugin already won multiple awards like the Monster Awards and the WP Weekly awards! You can check the ShopEngine details review here.
ElementsKit – Elementor Builder Addon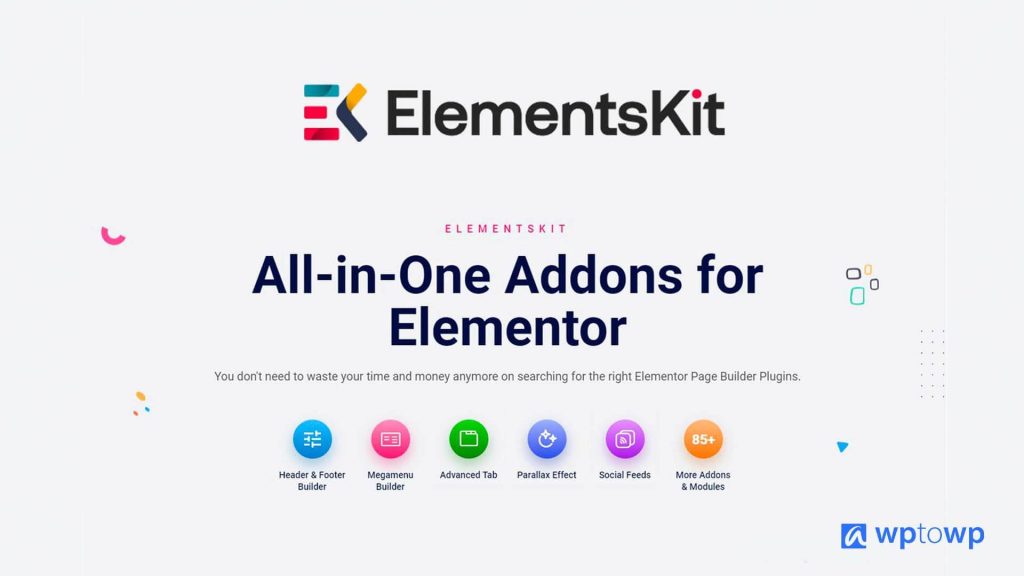 ElementsKit is a top-level Elementor Pro addon with over 1M+ active users around the globe. You can enhance your website-building experience with the all-in-one addon pack for Elementor page builder. ElementsKit is enriched with advanced widgets, modules, features, layouts, readymade homepages, a header footer builder, a mega menu builder, and everything else you need to create a WordPress site by yourself. ElementsKit offers both free (lite) and pro versions.
ElementsKit is one of the very few plugins that has 1M+ users. It has an average of 4.9 ratings in 1350+ five-star ratings available. You can check the details ElementsKit review here.
MetForm – Elementor Form Builder
MetForm, the drag-and-drop WordPress contact form builder is an addon for Elementor, that builds any fast and secure contact form on the fly with its drag-and-drop flexibility. It can manage multiple contact forms, and you can customize the multi-step form with an Elementor builder.
MetForm is not only a secure contact form plugin, but it is also a complete drag-and-drop form builder for Elementor. You can build any fancy contact form in just minutes with this real-time form builder. You don't even have to be, a programmer or developer. Because it is a perfect drag-and-drop WordPress contact form builder for WordPress beginners. Add as many fields as you want to make any multi-step form and after that, rearrange them according to your needs.
Wp Social lets you add social login, social counter, and social share buttons of different styles to your WordPress website. A website without traffic is lame, but a website that hates social media is doomed to extinction. WP Social is an advanced social media plugin with social login, social counter, and social share features. It brings all your social media channels together without much ado! It's another WPMet agency deal plugin. If you purchase the WPMet deal bundle, you will get the WP Social in it.
WP Ultimate Review plugin helps you to interact with your users with improve your blog comments. visitors submit reviews for different posts products, events or anything can write reviews. It's another WPMet agency deal plugin. If you purchase the WPMet deal bundle, you will get the WP Ultimate Review in it. you can expose your reviews in an easier-to-read way and will help you generate money by affiliates adding a buy now button in your post.
They also have another popular WordPress SaaS product called GetGenie AI. It's an AI-powered WordPress writing assistance tool. You can generate different kinds of copy with it. The best part is, that you can get limited numbers of free word generation each month. But GetGenie does not come with a WPMet deal. You will need to buy it separately. So, the WPMet deal is only for the above 5 plugins. By the way, you can check the GetGenie AI details review here.
How Much Can You Save Mathematically?
In the following section, we would like to examine, what the data says about the WPMet deal. As you know, the Wptowp team heavily depends on real-world data, so now let's explore some of the analysis. We will also add the information that's not coming out from the math. We are an experienced team you know!
Important Note 😓😓
We have made the following analysis based on the current (September 23) agency bundle price. But the price can be updated at any time. In particular, you can save more during the occasions like black Friday, cyber Monday, etc. Please check the latest WPMet deal on WPMet's website if you need it.
Plugin Name
Unlimited Site License
(Price/Year)
Unlimited Site License
(Price/Lifetime)
ShopEngine
$299
$599
ElementsKit
$179
$489
MetForm
$179
$489
WP Social
$129
$399
WP Ultimate Review
$129
$399
Total Price
(+) $915
(+) 2375
Agency License Price
(-) $399
(-) $699
Total Save
$516
$1676
The last update date is 16th September 2023
So, mathematically you can save around 56% for a yearly WPMet agency bundle and the final price is only 399 USD. It's +100 then ShopEngine unlimited license. Imagine, you will spend 100 more and get 4 extra plugins from the same company! For the lifetime agency bundle, you can save even more. Massive around 70% cost can be saved with 1676 USD reduced price from the original.
Who Should Buy the WPMet Agency Bundle?
Who should purchase the WPMet agency bundle deal 2023? Well, even though the deal brings great savings, not everyone needs the deal. In this section, we have identified some of the special categories of people who may buy the WPMet deal for future use. If you need more than one plugin or need more than one license then get the deal.
Elementor Dependent: Are you the person dependent on the Elementor page builder? Then you should seriously think about the WPMet deal. You can build a full-featured regular website, and eCommerce website and extend the feature with form builder. So, the deal is ideal for you.
Agency Owner: Elementor has 5M+ active users. So, chances are high that, your agency will have a lot of Elementor-based customers. So, in that case, having a strong hand like ElemenetsKit will give you great power. In the same sense, ShopEngine can give you the freedom to work with an eCommerce website.
Developer: If you are a developer who is making money by working, then we suggest you get the WPMet agency bundle. You can learn better with the premium version of that plugin. Also, you can deliver quality work to your regular clients.
Team: If you have a team of people working on the web, then you should also go for the WPMet deal. You can consider this as an investment for the future. This will help your team to deliver quality work in a fast time frame.
Who Should Not Purchase the WPMet Bundle Deal?
The WPMet agency bundle deal comes with huge savings! No doubt about it. But is the deal applicable to everyone? Well, the answer is NO! There are a number of people who should not get the deal. It would not be better for them. Who they are? Let's explore with the explanation.
Single Purpose: If you have a plan to work on a single website for your own, or maybe you need it once in a lifetime. In that case, you should get the single plugin only. If you take the bundle, your money will be ideal for them. You can't utilize it as you will not have a future project.
Along Developer: If you are a single developer, or maybe you are learning, then we suggest you not purchase the WPMet agency deal. You can try the free version from the WordPress directory. And as a developer, you can modify some of the factions if needed.
What Experts Say About WPMet Agency Deal?
You have seen, how we analyzed the whole deal! But we did not stop on our team only. Wen't out, talk with multiple people, show the packages, and get their voice. In this section, we will go through some of the comments of row WordPress knowledgeable person. First of all, we talked with Nazrul Islam Nayan, team lead of XPlainer! They have an FAQ plugin for users like you.
Very Impressive! Maximum WooCommerce solutions has been covered by this plugin. Smart thinking, quality modules, beautiful UI and one corner for WooCommerce lovers.

– Nazrul Islam Nayan
We also talked about another experienced WordPress developer, Rakib Hossain. He has multiple years of experience working with WordPress and Software engineering.
If you are a developing WordPress site which is based on elementor, then this bundle has everything you need. You can create beautiful websites with prebuilt elementor template as well as you can create a interactive forms with the metform. Also, You have the best woocommerce builder as well.

– Rakib Hossain
Wptopw Editorial Words for WPMet Bundle Deal
We have been working with WPMet for a long time. We are confident about the sustainability, better support, and quality of design. WPMet's parent company, XpeedStudio has been featured in our WordPress company listing blog. Now about the Agency bundle deal, if it matched with you then go for it. If you are confused, still go for the deal! 🐆 In case, you need more than a single plugin, then you should go for the agency deal!
But, if your plan is limited or you are a non-technical person having a single website only, then you should go for a single plugin only. Also, if you mostly love the free version and want to upgrade single plugin, then the WPMet Agency bundle deal is not better for you.
Last Words About WPMet Agency Deal Package
In recent times, many WordPress companies have been offering commutative agency bundles for users. The deal is simple, you can purchase the list of WordPress products with little more charges. The deal is ideal for big teams as they can buy one and use unlimited. This is also helpful for getting more users from a group of people. Especially, if any agency purchases any bundle, they will try to use all the plugins which a few of them may know.
The agency bundle is a win-win for both the company and the agency perspective. But for individuals, purchasing the deal is hard! And above comparison says, it will be a very big loss for purchasing a stand-alone plugin from those companies.
Do you like this analysis? Let us know your thoughts. If you enjoy the blog, share it on your favorite social media. Share your opinion with us on. Your comments will motivate the Wptowp team to do a more informative blog in the upcoming days.
Acknowledgment 💯💯
🐾 Images – Images in this blog have been collected from different websites, blogs, landing pages, plugin landing pages, WordPress directories, Social sites, etc
🐾 Affiliate Links – This blog contains several affiliate links. If you purchase any product through the link, we will get a commission without charging you extra. You can see affiliates' declarations here.
🐾 Data Source – All the data has been collected from various open sources like landing pages, WordPress directories, YouTube channels, etc. Data can be changed at any time.

Editorial Staff
Our editorial team consists of WordPress expert(s), analysts, content editors, writers, designers, SEO experts, outreach people, and developers! For each piece of content, a highly expert and dedicated team led by Asadullah Galib works together. We have only one motto: "We help you to make your final decisions!"