Why ShopEngine Pro? [11+ Excellent Reasons]
ShopEngine is one of the excellent WooCommerce builder plugins for WordPress. We have included ShopEngine Pro in our several listing blogs and individual ShopEngine reviews for long and Short versions. While reviewing the plugin, we found some reasons leading us to this blog. Here in this blog, we have added the top most important features which is why you should use ShopEngine pro in your following eCommerce website.
ShopEngine is one of the fast-growing Elementor WooCommerce builders. While we were reviewing the plugin, it grows from10,000+ users to a total of 20k+ active installations. There's more. Let's dig deeper without any further ado.
If you still don't know what is ShopEngine then you can see the short ShopEngine review here. Also, we have published details ShopEinge studies here that included details like ShopEngine history, community response, our predictions, and much more. By the Way, ShopEngine is the sibling of ElementsKit (900k active installations) so you can trust their quality.
1) ShopEngine Pro Features
The first reason is obvious ShopEngine pro's features. This is one of the best plugins with 69+ widgets, 20+ modules, and 16+ pre-made templates. More features are on the way recently they added a sticky fly cart and product size table features. Now, here are the top most important features for you.
📌 Product Share Option – Customers can share their favorite products on social media with a single click.
📌 Product Comparison – Shoppers can compare multiple products to make final decisions.
📌 Empty Cart Message – Admin can set an empty cart message for customers.
📌 Variation Swatches – The admin can add a different version of single products by size, color, root, etc.

📌 Wishlist Module – The admin can allow the customers to make a choice list.
📌 Currency Switcher (Pro) – Customers can change the pricing in a different currency.
📌 Pre-order and Back-order (Pro) – Admin can allow back-order and pre-order on their site.
📌 Product Size Charts (Pro) – Admin can add variations of size in a table.
📌 Sticky Fly Cart (Pro) – Admin can set the fly cart features and the cart will be sticky on the shopping site.
📌 Quick Checkout (Pro) – Admin can allow customers to checkout without multiple steps.
📌 Multiple Badges (Pro) – Admin can define the products under different badges.
📌 Partial Payment (Pro) – Admin can allow customers to pay partially for any order.
📌 Flash Sale Countdown (Pro) – Admin can display a flash share countdown to create fear of missing out.
📌 Pre-Designed Templates (Pro) – You can import ready-to-use pre-designed templates to your website.
There are much more features that we said already. A full list can be found on the ShopEngine landing pages. We kept the list short to give you a better reading experience.
2) ShopEngine Pro Roadmap
ShopEngine got regular updates and they maintain a public roadmap for the upcoming feature. The good news is, as a user, you can submit the feature request to the ShopEngine eCommerce website builder plugin team.
In progress, Module is Sticky/Side cart, Widget Woo Mini Cart, Module Fly cart, Module Product Size Charts, and much more. And if we talk about up next features then Up next Module is the Multi-Step Checkout Wizard, Widget Shopify Style Checkout, Customize one-page checkout similar to Shopify, Module Details Review, Module WooCommerce Email Template Customizer, etc. You can check the live roadmap here.
3) It's Based on Elementor
ShopEngine is WooCommerce and Elemetor-based eCommerce website builder plugin. So you can create a complete eCommerce site with drag-and-drop features. You can bring your dream design to reality without having any coding knowledge. You can use the plugin as an individual entrepreneur. At the same time, you can also use it as a freelancer, and developer for your clients.
4) Gutenberg Version Availablity
Recently ShopEngine launched the Gutenberg versions. If you love Gutenberg, then it's a piece of great news for you. Already 100+ people are using Gutenberg ShopEngine. So do you? There are many cases we know that, just because of the plugin, many users can't switch from other builders to Gutenberg. But with ShopEngine, you are good to go.
5) ShopEngine Pro Code Quality
Both ShopEngine free and ShopEngine Pro are backed by a highly expert and professional team. WPMet started the business back in 2013 and till now they are developing high-quality products. Their ElementsKit is now near 1M users (800k+) worldwide. You can see the structure from the free version of ShopEngine.
As a developer, you can use the ShopEngine plugin in your eCommerce themes and build features-full WordPress themes without any technical issues. Even, if you are a WordPress plugin developer, still you can use ShopEngine in your various projects. You can simply override the theme page and post and develop your own projects.
👉 Related Resource – You can check the ElementsKit review made by wptowp editorial. In that blog, we have covered the history, ElementsKit features, integrations, analysis, and much more.
6) ShopEngine Pro Resource
Are you a technical guy who hates reading tutorials while set-up a new plugin? No Worry! ShopEngine's self-explanatory features and functionality are good to go. On the other hand, for those who of you like to read, a little non-technical, you will have the detailed ShopEngine documentation. You can read and set up your eCommerce website step by step. No technical and developer hiring is required.
You will also get video tutorials [They are uploading new tutorials nowadays, blogs including tutorials, social media and community posts. And off-course the premium quality support for free.
7) ShopEngine Pro Support
WPMet, the company behind ShopEngine is famous for its great support. While other popular plugins provide limited support and you will need to extra pay for better support. ShopEngine users get priority and fast support for fully free. Live support, ticket base support, social media and community, documentation and video. All are free for the users. Even, if you are a free version customer, you will get all the support for free.
8) ShopEngine Pro Update
It's not even 2 years since that ShopEngine eCommerce website builder launched but the update? 30+ update comes in the free version of ShopEngine. You can expect regular updates and issues fixed within the month of the issues raised. Regular new features, tweaks, and updates will help you develop a better online store.
9) ShopEngine Pro Pricing Policy

ShopEngine Pro offers one of the best pricing. Compared to the other Elementor WooCommerce builder, you are getting a better design, more features, functionalities, and integration at a cheaper price. You can get started with 59$ only. In some cases, you can get less than this. Another best part is, you have the option to pay a ShopEnigine lifetime deal. Pay once and use the plugin for the rest of your life.
| | | | |
| --- | --- | --- | --- |
| ShopEngine Pro Pricing | | | |
| Single | 5 Sites | Unlimited | Refunds Policy |
| 59$/year | 149$/year | 299$/year | 14 days |
| 149$/Lifetime | 249$/Lifetime | 599$/Lifetime | |
| | | | |
The last update date is 14th February 2023
There is 14 days time for you to test the premium version of the plugin. And as a developer, if you want to use ShopEngine pro, you can get some exposure and support from the team.
10) ShopEngine Pro Compatibility
ShopEngine is compatible with all the popular themes. So any WordPress thems is good to go with ShopEngine. There are popular themes like Bascart, Bajaar, etc have been published based on ShopEngine. Fun fact 😜 ShopEngine has 15+ pre-made templates so you do not need to worry about themes.
You can be relaxed using necessary other plugins for SEO, payment getaways, and inventory management. ShopEngine is fully compatible with RankMath, Yoast, and SEOPress plugins. You can use WooCommerce payment getaways, and PayPal getaways to process the sale. Currency Freaks, Fixer is also compatible with ShopEngine.
11) ShopEngine Pro Translation Option
The translation is important, especially for grabbing the local community. English is fine but there are many other popular languages. With them, you can reach their local community. Here at the ShopEngine-based eCommerce site, the admin can translate the eCommerce site into your local langue and grab the community shoppers.
12) ShopEngine Pro Trusted by Top Marketers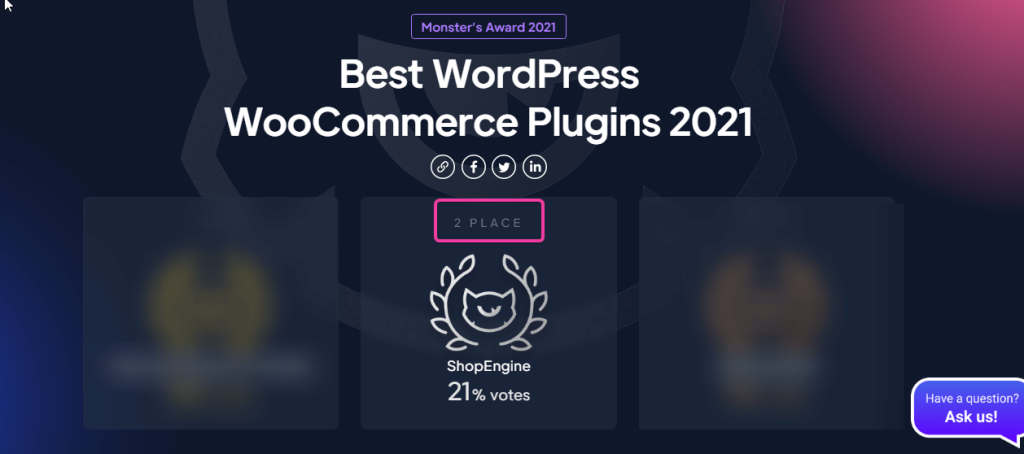 ShopEngine is trusted by top marketers and users. You have seen the plugin has maintained overall 4.6 ratings with a 82.41% five-star rating ratio. Also, ShopEngine got endorsed by the popular MarTech LTD community. As part of the popularity reflection, it owns 3 consecutive awards.
Monster Award 🏆 ShopEngine has won the second prize at this year's Monster awards in the WooCommerce plugin category. This WooCommerce addon beat its competitors to win the second with a 21% vote.
The WP Awards 🏆 ShopEngine has been awarded as one of the best WooCommerce tools in the WP Awards 2021. The plugin has successfully unlocked second place at this competition.
The WP Awards 🏆 ShopEngine has been awarded as one of the best WooCommerce tools in the WP Awards 2022. [New]
13) ShopEngine Pro Made by WPMet
WPMet is the company behind this revolutionary eCommerce website builder plugin. WPMet, a wing of XpeedStudio is a leading plugin development company from Dhaka. WPMet released several plugins and some of them got huge popularity. For example, Elementskit Elementor Addons have 900k active installations and 1000+ fives star reviews. Metform recently got 100k active installations.
WPMet team is highly professional and expert. You can see the reviews and users' feedback praising the team. They are in the business for almost 10 years and you can trust them.
Should You Use ShopEngin Null or ShopEngine Pro Null?
The question is, Should you use the ShopEngine null or ShopEngine pro null version? Recall, ShopEngine has a free version that's available in the WordPress directory. You can get the widget, templates and modules. They are enough to get started and set up a basic eCommerce element website. So why do you need ShopEngine pro null?
A null plugin is always risky for any website, especially if it's a tread for an eCommerce website. Since there's a free version available, it's always wise to use the free version. And if you can make money, then the premium version should be purchased. It's ethical and secure.
Test ShopEngine Pro on Your Next eCommerce Website
We highly recommend ShopEngine pro to use and build your next robust eCommerce website. We, the editorial, believe that ShopEngine will be the best eCommerce website builder for Elementor and WooCommerce.The plugin will be the first plugin to have 100k active installations for Elementor WooCommerce builder. Join us to be the winner.
Acknowledgment 💯💯
🐾 Images – Images in this blog have been collected from the Themewinter's website, blogs, landing page, Eventin landing page, Arraytics page, ollzo website, WordPress directory, WPMet blog, different landing page, Social site etc
🐾 Affiliate Links – This blog contains several affiliate links. This means, that if you purchase any product through the link, we will get a commission without costing you extra. You can see affiliates disclosed here.
🐾 Data Source – All the data has been collected from various open-source. For example landing page, WordPress directory, youtube channel, etc. Data can get changed at any time.