WPFunnels WordPress Funnel Builder – An Honest Review by Wptowp Editorial (2023)
There are around 60,000 plugins in the WordPress directory, and it's been growing dramatically in recent years! Among the plugins, WPFunnels is one of the few that will help you grow sales. The best part of this WordPress funnel builder is that once you set everything up properly, you can start sleeping. WPFunnels will take control of the system and increase your sales! Really?
WPFunnels is the first-ever canvas-based drag-and-drop sales funnel builder for WordPress. Anyone can use it without any prior funnel-building experience. Let's dive into an in-depth review of WPFunnels, a WordPress funnel builder plugin. We will not only share the necessary information but also provide additional tips for you. Moreover, we will provide related links that help you learn more.
LTD pricing of WPFunnel Builder going away soon. Buy WPFunnel LTD before it leaves the town.
How did The Story of WPFunnels Begin?
It was the year 2020 when Mr. Lincoln Islam (Founder & CEO at WPFunnels) challenged his team to come up with a better solution that could help avoid using so many tools, especially for WordPress, where funnel creation is always challenging. Transitioning from a service business to a product wasn't easy, and there were moments when you thought of giving up and killing the project.
But as a team, Lincoln's team believed in the idea and made it live. After a year of hard work and sweat, the Canvas-based next-generation sales funnel builder for WordPress was released.
This is how WPFunnel comes to light! Let's take a quick look at WPFunnels' current state.
WPFunnels was established on February 26, 2021. It currently has over 3,000 active users and over 80.5k downloads. 33 five-star ratings from 35 total user ratings are in the WordPress directory. It's updated and fully compatible with PHP 7.4.8 and WP 6.1.1 versions.
Editorial Note 🔔🔔
The story was discovered by our team in Lincoln Islam's social media post! We quoted the details here without his concern. We love our visitors more than the others do. We always add exclusive information to our content.
Who are the People Behind WPFunnels Funnel Builder?
Even though WPFunnels is an individual product/company, the backend team is "Coderex". Coderex is a full-featured software company with the tagline "A Team that Can Be Trusted"! They provide services like custom web design and development, eCommerce web design, branding and UX/UI enhancement, enterprise-level web development, website security and maintenance, WordPress development, Shopify and WooCommerce development, and many more. Since the year 2012, Coderex has been providing quality service around the globe.
RexTheme has multiple plugins, such as Cart Lift (over 2,000 active installations). WooCommerce and EDD abandoned cart recovery, WP VR (10k+ active installations). 360 Panorama and Virtual Tour Builder for WordPress, Product Feed Manager (9000+ active installations) WooCommerce to Google Shopping, Ideal, Social Catalogs, and Checkout Field Editor—Checkoutify plugins. They have 20k+ happy users, 398k+ downloads, and 20+ team members!
Where does WPFunnels WordPress Funnel Builder Feature?
As a new WordPress funnel builder plugin, WPFunnels got some responses from the community. Our team found the following website from a Google search. They are bloggerpilot, ltdhub, droidcrunch, toolonomy, saasmaster, saaspump and bloggernations. The product is found on both AppSumo and Product Hunt. The features are reviews, tutorials, and, in some cases, offers.
Popular WordPress influencer channel WPTuts talks about these WordPress funnel builder plugins. He explains and compares it with other popular WordPress funnel builders. Moreover, YouTubers MAK, Legit Marketing Reviews, and Techevoke Reviews share their reviews of WPFunnels.
Why WPFunnels is Better Than Others?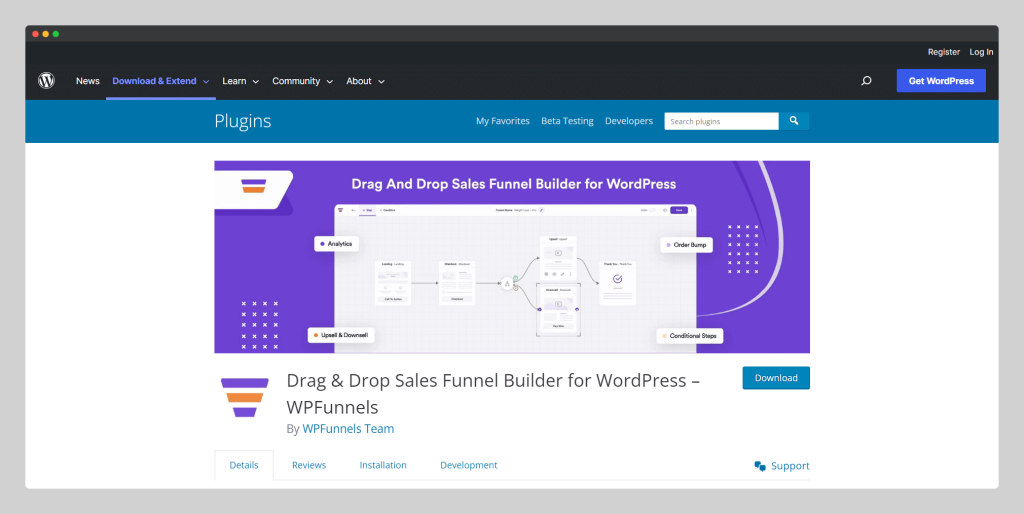 How do we claim the plugin is better than others? What are the features and functionalities that WPFunnel offers that are unique? Let's explore them in the following section.
Design
WPFunnels is one of the best WordPress funnel builders when you are thinking about design. The Canvas-based visual funnel-building feature will allow both technical and non-technical users to design their own sales funnel that grows sales. The drag-and-drop canvas gives you full control when planning and mapping your funnel steps without leaving your WordPress dashboard. It is by far the simplest funnel builder available in WordPress.
Resource
Another thing that impresses us about WPFunnels is the resources. They are providing you with complete documentation, video tutorials, and whatnot. You can see all the details in the website copy. They have added a special semi-landing page for all the big features. You can also see the public roadmap and changelog on the site.
Support
They are providing ticket-based support for the customers. You can email them, reach them via social channels, and talk to them via live chat. What more do you want? And the best part is, that all of their support channels are fully free.
Pricing
Compared to the other market-leading WordPress funnel builder, WPFunnels, they ask for better pricing. The features and functionality provided by WPFunnels are adequate.
WPFunnels Free Features List
Let's explore the features of WPFunnels, the WordPress funnel builder. But unlike other WordPress Funnel Builder reviews, we are keeping this feature section short. You can always check the details and features at the WPFunnels WordPress Funnel Builder website.
| | |
| --- | --- |
| Feature Name | Description |
| Visual Drag & Drop Funnel Builder | Experience the most unique sales WordPress funnel builder that makes funnel planning more meaningful. |
| | |
| Order Bump Offers At The Checkout | Maximize your sales revenue with attractive upsell or down-sell at the checkout and get an instant boost in your ROI. |
| | |
| One-click Upsell & Downsell Offers | Make the buyer's journey more exciting with attractive one-time offers after checkout using upsells or down-sell. |
| | |
| Pre-made Funnel Templates | Get pre-made funnel templates that you can import to create funnels on the go without any exclusive coding or designing skills. |
| | |
| Conditional Steps Control | Set strategic conditions to control what offers your buyers will see based on their actions in your sales funnel. |
| | |
| Popular WordPress Page Builders Support | Whether you use a page template, or simply want to create funnels from scratch, use your preferred page builder to design the funnel pages in WPFunnels. |
| | |
| Detailed Funnel Analytics | See traffic & conversion stats, Revenue earned per offer, and Detailed stats for every step from the WordPress Funnel Builder analytics. |
| | |
| Opt-in Form For Lead Generation | Generate more leads with an Opt-in form. |
| | |
| Google Tag Manager, Facebook Pixel, UTM | Manage your marketing with Google tag management, analytics, and user behavior with Facebook pixel and track sales with UTM. |
| | |
| FluentCRM Integration | Get the leads including email addresses, names, phone numbers, etc in the FluentCRM. Then utilize them as like as you want. |
| | |
| Global Funnels For WooCommerce | You can create sales funnels with conditional offers and custom checkout for your WooCommerce website. |
| | |
| Webhooks to Send Data | WPFunnels WordPress funnel builder provides Webhook URL. And you integrate your sales funnel with Pabbly, Zapier, and other similar tools. |
| | |
The last update date is 13th January 2023
When Should You Use WPFunnels Pro?
WPFunnels is a great plugin, and we have no doubt about it. But still, the plugin may not be for you. Look, every plugin is not for everyone. As a result, our editorial team investigates and compiles a list of potential users of WPFunnels.
If Consultant? Use💥WPFunnels
If you are a consultant for anything, like a software consultant, or marketing consultant, then you can use WPFunnels as a WordPress funnel builder. You can use your clients as leads and manage them to convert or update them.
If Online Coach? Use💥WPFunnels
Are you an online coach? As well, you can use your students and potential students as leads and manage them.
If Legal Advisor? Use💥WPFunnels
As a legal advisor, you can have different types of clients. They can be from different areas and different levels. Add them to the canvas and manage them.
If Software Firm? Use💥WPFunnels
In a software company, you will have many clients in normal circumstances. You can add them as leads and convert them into permanent customers by using WPFuneels, and WordPress Funnel Builder.
If Digital Marketer? Use💥WPFunnels
Are you a digital marketer? So, you probably have clients from different industries. Some are technically sharp and smart and some are not. No matter what they are, you can manage all of them by using the WordPress funnel builder WPFunnels.
If Marketing Tutor? Use💥WPFunnels
Are you creating future marketers by teaching? Manage your students with WPFunnels.
If eCommerce Shop? Use💥WPFunnels
Customers are different for every e-commerce shop, and segmentation is also important. With WPFunnel builders, you can handle all of your customers. You can convert potential customers to permanent and permanent promoters.
If Educational Portal? Use💥WPFunnels
Are you managing the education portal? If yes, then grow the sales and conventions with WordPress funnel builder WPFunnels.
If Marketing Strategist? Use💥WPFunnels
You understand how to convert potential customers into long-term customers if you have marketing strategies. WPFunnels can help you convert by lead management.
If Online Fitness Trainer? Use💥WPFunnels
Are you teaching fitness-related courses online? Grow the customer base and control them without any hassle with WPFunnels.
If Fitness Product Supplier? Use💥WPFunnels
Like eCommerce, as a fitness product supplier, you can have multiple leveling customers. Also, you have customers from different locations. Add each customer to the WPFunnels and do marketing with the best WordPress funnel builders.
If Health Supplement Provider? Use💥WPFunnels
As a health supplement provider, WPFunnels can help you with canvas-based lead management. Just add your customers to the funnels and set the condition. Automate your marketing tasks.
WPFunnels eCommerce Website Builder Pro Pricing
WPFunnels provides flexible pricing options for users. You can pay once per year or once in a lifetime to the WordPress Funnel Builder. They are offering three tiers of pricing for small, medium, and large organizations.
| | | | |
| --- | --- | --- | --- |
| WPFunnels Pricing | | | |
| Small | Medium | Big | Refunds Policy |
| 97$/year | 147$/year | 237$/year | 15 days |
| 237$/Lifetime | 237$/Lifetime | 737$/Lifetime | |
| | | | |
The last update date is 13th January 2023
Please be aware that, pricing is subject to change, and Funnel WordPress Funnel Builder holds the full right to change the price at any time. You can check the latest price from the website.
When You Should Not Use WPFunnels Pro?
The editorial team identifies some of the stages when you should not use WPFunnels for growing your conversion. Remember, any time you fix the below-mentioned issues, you can start using sales funnels.
No Plan to Grow Your Sales
If you are not looking to grow the net earnings of your website, or maybe you are planning to shut down your business. If you are in this phase, then we recommend not using any sales funnels on your websites.
Your Website is Not Ready Yet
If your website is not ready yet, it's better not to use any funnel. Initially, when you have started any website, finish the development and content phases. Check and update the website copy that attracts customers. And then go for the WordPress funnel builder.
Not Interested in Track and Analysis
If you don't want to track your sales and analyze the business, then don't go for the WordPress funnel builder. Maybe you have made enough and are not interested in seeing your business grow. Then WPFunnels is not applicable to you.
Can WPFunnels be an Alternative Funnel Builder?
WPFunnels is a new WordPress funnel builder. But it's getting a great response already from the community. The popular LTD marketplace AppSumo enlisted the plugins. So, the editorial team believes, it can be a great competitor to established funnels.
WooFunnels Best Alternative?
WooFunnels is popular and supported by the popular WordPress leader Syed Balkhi. So, it is expected to see a bounce in the growth rate of the plugin. However, even though WPFunnels are new to the market, they come with some great features. It could be a better WooFunnels alternative soon.
CartFlow Best Alternative?
CartFlow is another WordPress funnel builder backed by Brainstorm Forach and Astra. We also expect to see CartFlow as a great product. It's not possible to compare between CartFlow and WPFunnels, but still, if you are looking to test a new builder, then WPFunnels is the one you should try.
Editorial Prediction for WPFunnels
The canvas-based funnel design impressed us. It will also impress non-technical people. Also, the CEO of the plugins, Mr. Lincoln Islam, has a great reputation in the community. There are marketing copies that are also nice. The editorial team expects to see great growth rates in the plugin and it could be a threat to the market-leading WordPress funnel plugins.
How to Get Started With WPFunnels?
In order to start with WPFunnels, you will follow the basic 3 steps. Similar to the other plugins, you can go. Assuming, you have the domain and hosting in hand,
Configure WordPress Site
First things first, install WordPress on your host and install basic themes. Update content and designs like logos, sliders, etc. Whatever you want. Prepare the site for regular selling. For example, if it's an eCommerce site, then prepare it. If it's an event management website, then install the relevant plugins and make the site ready.
Create Your First Funnels
Once your site is OK, you are now ready to start your first funnel. With WPFunnels, you can create custom funnels or create funnels from templates. Just set your logic on the canvas and save it. You are good to go.
Create More Funnels
Once you are happy with the basic funnels, you can experiment with more funnels. You can add advanced logic, up-sell, or cross-sell anything. WPFunnels will help you in all possible ways to grow your sales and revenues.
Roadmap Discussion for WPFunnels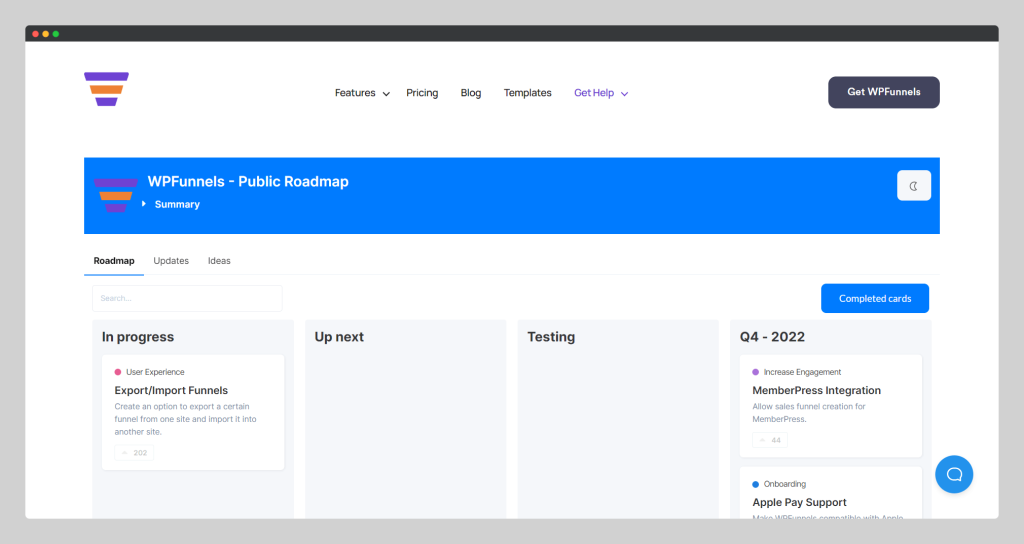 WPFunnels already released Q4. It seems the plugin is stable. At this moment, they have the export-import option under development. You can see the WPFunnel roadmap here. Also, you have good news. The good news is that, as a user and well-wisher, you can also submit ideas and upvote existing ideas.
Frequently Asking Questions About WPFunnels
Did you get some questions about WPFunnels, another WordPress funnel builder plugin? Hey, we've got to. Our editorial team compacted all the FAQs about the WPFunnels and here is the answer. While checking, if you don't get your answer, ask us in the comment box. We are waiting for it.
What is WPFunnels?
WPFunnels is the very first canvas-based, Drag and Drop sales WordPress funnel builder in WordPress that anyone can use Without any prior funnel-building experience. If you want to track the visitors and convert them to permanent customers then WPFunnels is the plugin you need.
How do I use WPFunnels?
In a ready WordPress site, you can install WPFunnels like as other WordPress plugins. From the plugin section, install the free version of the WordPress funnel builders and get the pro from the website.
After the initial setup, start creating funnels with the logic you want. You can use the template or you can build the customer funnels.
Yes. WordPress has multiple WordPress funnel builder plugins such as WPFunnels, WooFunnels, CartFlows, etc. You can check the full in-depth reviews of WPFunnels in this blog.
How do I create a funnel in WordPress?
Once you finished setting up WordPress Funnel Builder, you will see the submenu in the WordPress admin panel. Simply click on the menu and it will direct you to create your own funnels. If you have any confusion, check the documentation.
What is a funnel builder?
You may set up the many components your sales funnels will require using a tool called a sales-to-funnel builder, a landing page with an email sign-up form or pop-up windows to get people to join your email list, automated email campaigns and email sequences.
Can I use WPFunnels without WooCommerce?
Yes! You can use WPFunnels without WooCommerce plugins. But in that case, you will need to install and activate the LarnDash plugin.
Can I use WPFunnels with Elementor?
Yes! You can use WPFunnels with the popular page builder Elementors. Moreover, you can use WooCommerce to extend the selling functionality of your website.
So, you know all the details and are ready to start creating your first sales funnel with the WordPress funnel builder. Awesome! Can you help your friend by sharing this blog on your favorite social media? It will help us too! We are also your friends.
Spend a moment to share this blog on the social channel. It will help your friend to learn about the WordPress funnel builder WPFunnels and explore the plugin as you did. At the same time, it will create an authority in the social community. You can also read it in the future from your accounts.
Acknowledgment 💯💯
🐾Images in this blog have been collected from the WPFunnels website, blogs, WPFunnels landing page, ollzo website, and WordPress directory.
🐾 Affiliate Links: This blog contains several affiliate links. This means, that if you purchase any product through the link, we will get a commission without costing you extra. You can see the affiliates disclosed here.
🐾All the data has been collected from various open sources. For example, landing page, WordPress directory, YouTube channel, etc. Data can get changed at any time.
🐾 Gratitude – We are thankful to WPFunnels for allowing us to review and affiliate with their products.

Editorial Staff
Our Editorial team consists of WordPress Expert/s, Analysts, Content Editors, Writers, Designers, SEO Experts, Outreach People and Developers! For each content, a highly expert and dedicated team led by Asadullah Galib, works together. We have only one motto, "Help you to make your final decisions!"