Mail Mint Review | New WordPress Email Marketing Plugin 2023 (New)
The litmus says, "On average, email drives an ROI of $36 for every 1$ spent, higher than any other channel!" Missing this opportunity? Meet Mail Mint, Your go-to hand for unlocking email marketing potential for your business. If you need a WordPress Email Marketing plugin, then this would be a better solution for you!
Mail Mint is an effortless WordPress email marketing plugin on WordPress built for funnel hackers. You can power up your funnels with it.It's new but creative tools for WordPress users.

Made by the same team of WPFunnel
In this blog, we have added all the ins and outs of information about Mail Mint. We will start with a basic introduction and then talk about the best features, pricing, integration, and add-ons. We will also add the free vs pro comparison, Mail Mint FAQs, our own prediction, and roadmap discussion. It's going to be exciting. You will learn about a new plugin today. Let's get started now.
Mail Mint Review – Introduction
Mail Mint is a new but promising Email marketing plugin made by the trusted WPFunnels team. The plugin comes to helps you optimize your marketing campaigns. It's a simple tool that is easy to use for managing leads, running targeted email campaigns, and simplifying automation flows.
No matter whether you are an expert marketer or not, you can use the plugin to power up your sales. The best part of this plugin is, you can boost your sales funnels too. The integration for Mail Mint with WPFunnels lets you plan and create email marketing automation for your funnels on the same visual canvas. We will dig into more details but now, let's move on to the features section of this new WordPress email marketing plugin.
Best Features of Mail Mint Plugin
Since Mail Mint is a new WordPress email marketing plugin, so we wanted to see the features first. And we got a good number of features. The features can help you get more sales. Let's explore the list in this section.
| | |
| --- | --- |
| Features Name | Features Activities |
| Easy Contact Management | Content management becomes easier with Mail Mint. You can start by importing unlimited contacts and organizing them into lists, tags, or segments, on a clutter-free UI. |
| Advanced Email Builder | You can create eye-catching & effective emails for quickly converting more prospects using our advanced email builder. |
| Strategic Email Sequences | You can set up well-planned email sequences with strategic delays. It helps you to nurture and convert leads into sales. |
| Simplified Automation Flows | You can trigger automation workflows based on specific actions or events. It saves time and increases efficiency. |
| Real-time Analytics | Actionable analytics is also available to help you make data-driven decisions. With data analysis, you can optimize your campaigns. |
| Dynamic Segmentation | You can segment your leads based on any contact data. Send personalized emails for greater results. |
| Stunning Email Templates | Impress your subscribers with visually appealing email templates to get more opens and clicks. |
| WooCommerce Integration | You can keep your customers informed and engaged with personalized campaigns. It will also grow sales and increase customer loyalty. |
| EDD Integration | Automate email campaigns available for your digital products. So, with Mail Mint, do better customer communication and increased sales. |
| Custom Lead Form | Convert visitors into leads and run targeted email campaigns. Make sure to convert them into permanent customers. |
| Gravity Forms Integration | Connect your Gravity forms to Mail Mint. Trigger effective automation flows to increase conversions. |
| WPFunnels Integration | You can set up automation flows on the visual canvas for your funnel journey and increase your sales. |
| | |
Please keep in mind that, Mail Mint just got released and the features should consider MVP. It will bring more features in the upcoming days. For more details, you can see the live changelog. Also, there you can ask for new features.
Mail Mint Pro Pricing
The plugin comes with two types of pricing like other regular WordPress plugins. You can pay once and use the rest of your life. Or, you can purchase Mail Mint yearly subscriptions. According to the website, the LTD pricing is limited and at any time, it can leave your city. All of your money is packed within 15 days no question asked money back guarantee.
Mail Mint Pro
Small, 1 site
Medium, 5 sites
Large, 50 sites
Unlimited Sites
$149.99/year
$249.99/year
$399.99/year
$289.77/ltd
$499.99/ltd
$1,197.99/ltd
$1,999.99/ltd
Mail Mint Pro
+ WPFunnels
$239.99/year
$419.99/year
$769.99/year
$679.99/ltd
$929.99/ltd
$1,917.99/ltd
$3,999.99/ltd
The last update date is 3rd March 2023
You can purchase Mail Mint as a stand-alone plugin. Then you will need to pay a lower price. As Mail Mint is a new WordPress email marketing plugin, you can power up your email marketing activities. If you are a funnel fan or plan for visual funnel design, then WPFunnels and Mail Mint together are good options. You can get both of the plugin pro versions at a comparatively cheaper price.
Mail Mint Review Spotlight (USPs)
Mail Mint email marketing plugin is new. But still, we found some interesting factors that can grab your attention too. Here in this section, we have talked about the USPs that we found in our research.
(01) Advanced Email Builder: If you check other email lead management plugins, the email builder is not included. And in some cases, the email builder is complex to use. But the Mail Mint comes with an advanced email builder. You can design clear and trendy designs and send to users. Email CTR depends on email design. And a better design can bring extra sales.
(02) WPFunnels Integration: If you use WPFunnels already, then you know, how easy to build a sales funnel in WordPress. And Mail Mint comes with WPFunnels builder integration. So, the leads you are capturing through funnel, you can nurture them and make maximum reveniews.
(03) EDD Integration: EDD integration in Mail Mint makes it easy to handle digital download products. For the products sellers, you can make funnels with WPFunnels, manage leads with Mail Mint now.
What is on the Way to Mail Mint?
— No public roadmap found for Mail Mint's new email marketing plugin.
WordPress Email Marketing Plugin Starting
CODE REX (the team behind plugins like WPVR & WPFunnels) has just launched an exciting new tool. It's an effortless email marketing automation solution for WordPress. The plugin's name is Mail Mint. It's a new WordPress email marketing plugin, still, we are endorsing it because of the team behind this plugin. They are a well-experienced and expert team.
From the initial plan to the beta release, we have to keep a close look at the update. And after the beta release just a month back, we tested. And finally, we are here to share our insights with you.
Where did the Mail Mint Get Mentioned?
Mail Mint WordPress Email Marketing Plugin is a brand new solution made by WPFunnel. The team just released the free and pro versions of the plugin. We are happy to say, we are the first website that are featuring Mail Mint. There will be other websites that will do the same. We will update the list from time to time.
Mail Mint Free vs Pro Comparison
Most of the features are available in Mail Mint free version. You can manage a whole leads management with it. If you are looking for advanced features like contact custom fields, Webhooks etc then you will need to get Mail Mint pro. Apart from the features, we want to say something more. Mail Mint is just released an email marketing plugin. The early bird pricing is too much cheaper. The plugin will bring a lot more premium features in the upcoming days. So, if you like the basic plugin, grab it today and save money in the future.
Editorial Prediction for Mail Mint
While we are publishing the Mail Mint review, it is just a few months after the release. But we have seen the success of WPFunnels. This plugin is now powering 4,000+ websites. So, Wptowp editorial believes, Mail Mint will get similar support from the community. And most importantly, it will help you grow your sales.
WordPress Email Marketing Plugin FAQs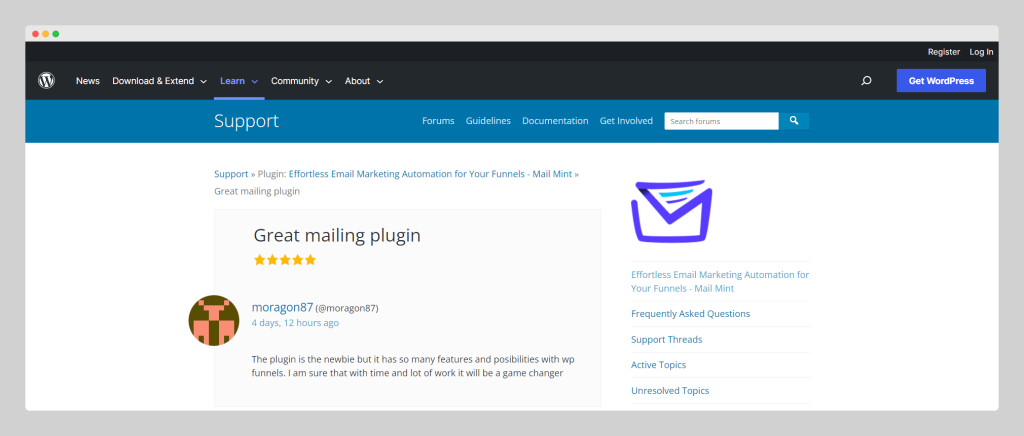 In the above part of the Mail Mint review, we tried to cover all the topics. Still any questions? Maybe we got it too. Here in this section, we have added all the common questions along with the answer. If you do not get your questions, contact us and we will add them asap.
Any LTD Offer at Mail Mint?
Yes! For a limited time, Mail Mint is offering LTD pricing. If you are interested in Mail Mint LTD, grab it today before it leaves town.
Is Mail Mint Free?
Mail Mint is a freemium plugin that comes with both free and premium versions. You can test the free version from the WordPress directory. You can see the details from the Mail Mint landing page and purchase the pro if needed.
Is Mail Mint GDPR compliant?
Yes, Mail Mint is a GDRP complaint. You will get all the necessary features to meet GDPR compliances, such as double opt-in email, email preference, unsubscribe link, anonymizing IP, and the option to request the removal of data.
Mail Mint Review – Final Notes
Thanks for reading the full blog. We are happy to publish a review blog about the new WordPress email marketing plugin. You can get the Mail Mint pro version to power up your business. Moreover, don't forget to share feedback on this plugin. And it would be great if you can share this blog on any social channel. Just click on the following icon and share. It will make our day and help us to grow.
Acknowledgment 💯💯
🐾 Images – Images in this blog have been collected from different websites, blogs, landing pages, plugin landing pages, WordPress directories, Social sites etc
🐾 Affiliate Links – This blog contains several affiliate links. If you purchase any product through the link, we will get a commission without charging you extra. You can see affiliates' declarations here.
🐾 Data Source – All the data has been collected from various open sources like landing pages, WordPress directories, YouTube channels etc. Data can be changed at any time.

Editorial Staff
Our editorial team consists of WordPress expert(s), analysts, content editors, writers, designers, SEO experts, outreach people, and developers! For each piece of content, a highly expert and dedicated team led by Asadullah Galib works together. We have only one motto: "We help you to make your final decisions!"