7+ WordPress Food Menu Plugin Battle in 2023
Planning to get a WordPress food menu plugin? You got the right blog. In this blog, we have added a comparison between the top 7+ WordPress food menu plugin in 2023. We also added the basic introduction of each plugin. Moreover, we will add relevant information that might help you make your purchase decisions. And as regular, our blog is Bhi-brother effects free.
In this blog, we will talk about 8 total plugins. We added the selection procedure at the bottom of this blog. Now, just let's quickly check the plugin list with active installations. The last date for collecting installation numbers is 02/23
Restaurant Menu (10,000+)
Five Star Restaurant Menu (9,000+)
WPPizza (2,000+)
Food Store (2,000+)
Food Menu (2,000+)
There are 13+ WordPress food menu plugin available at this moment. But some of the plugins have just been released. Few other WordPress food menu plugin has very little numbers of active installations. Since we wanted to give you the top WordPress food menu plugin comparison, we have element them from this list.
A few days back, we published a complete list blog about the WordPress Food Menu Plugin 2023! We have converted everything there except the comparison. Comparison between all the food menu plugins for WordPress might make that blog less readable. Here in this blog, we will go through details analysis-based comparisons. We will have multiple tables for showing data in an organized way.
If you search online, you will notice, most of the blogs are biased. The ranking, comparison whatever you check, they said better about their own products. We felt the same. We started with the food menu listing blog and then the analysis blog. In this blog, we keep the top 7 food menu WordPress plugins.
We will start with the pricing comparison, then check the installation, and finally, we will check the ratings. A section with a basic plugin introduction was also added for those of you, who missed details food menu blog. Let's get started.
Let's explore the pricing table of the top food menu plugin. We checked the website and collect the pricing manually. Some of the plugins do not have well-organized pricing. We added as much as possible.
Plugin Name
1 Site
/year
10 Sites
/year
Unlimited
/year
1 Site
/LTD
10 Sites
/LTD
Unlimited
/TD
WPCafe
$59
$149
$279
$149
$279
$489
Restaurant Menu
$19-$59
—
—
—
—
—
Five Star Menu
$67
$247
—
—
—
—
Restaurant Menu
by MotoPress
$49
+ $49
—
$99
+ $99
—
—
—
WPPizza
€199
—
€449
—
—
—
Food Store
$14.99
-$59.99
—
—
—
—
—
Food Menu
$24
$75/5s
$149
$99
$199/5s
$299
Orderable
$149
$399
$499/25s
The last update date is 21st February 2023
From the pricing comparison table, you can see the most organized pricing plan is available at WPCafe and Food Menu. You can access both of the plugins for a single year and LTD. The pricing is also flexible for single users and agencies. No other plugin in this table offers an LTD pricing plan. And Orderable has the highest pricing plan among all top food menu plugins.
Active Installation and Ages Comparison
Let's see how many users are using the following plugin. How are their ages? It helps us to understand how many years they are servicing the users. Also, what is their growth rate in the food industry?
| | | |
| --- | --- | --- |
| Plugin Name | Active Installation | Plugin Ages |
| WPCafe | 6k+ | 3+ Years |
| Restaurant Menu | 10k+ | 5+ Years |
| Five Star Menu | 8k+ | 9+ Years |
| Restaurant Menu | 4k+ | 7+ Years |
| WPPizza | 1k+ | 10+ Years |
| Food Store | 2k+ | 3+ Years |
| Food Menu | 2k+ | 7+ Years |
| Orderable | 2k+ | 2+ Years |
| | | |
The last update date is 21st February 2023
Orderable is the youngest food menu plugin. It started the journey 2 years ago. After orderable, WPCafe and Food Store are the youngest plugins. But the matter of fact is, WPCafe gained 6k+ users within 3+ years. WPPizza is the oldest plugin having the lowest active installation numbers.
Restaurant Menu is the only plugin that has 10k+ active installations. No other food menu plugin has 2 figure thousand active installations so far. WPCafe and the Five-star menu have the second-highest installation. The way, WPCafe growing, we think, it will have 10k+ active users soon.
Ratings come from experienced users. Either they have a better experience or the worst. So, from the rating table, we can get an idea about real users' experience. This is why we come up with the rating table of best food menu plugins. Let's check it.
| | | | | |
| --- | --- | --- | --- | --- |
| Plugin Name | Total Ratings | Total Rated Users | Five Star | Five Star Ratio |
| WPCafe | 4.5 | 28 | 23 | 82.14% |
| Restaurant Menu | 4.5 | 51 | 39 | 76.47% |
| Five Star Menu | 4.6 | 95 | 83 | 87.36% |
| Restaurant Menu | 4.6 | 14 | 11 | 78.57% |
| WPPizza | 5.0 | 55 | 53 | 96.36% |
| Food Store | 4.8 | 41 | 37 | 90.24% |
| Food Menu | 4.9 | 14 | 13 | 92.85% |
| Orderable | 4.5 | 20 | 16 | 80.00% |
| | | | | |
The last update date is 21st February 2023
From the table, you can see WPPizza has nearly 100% perfect ratings. Among 55, they have 53 five-star ratings. Walaa. Now, other than WPPizza, no one gets better ratings. Orderable has the lowest five-star ratings ratio, unfortunately. Restaurant Menu and WPCafe have low five-star ratings ratios. WPCafe, Restaurant Menu, and Orderable have low ratings on WordPress directory.
We consider 4 important parameters during our analysis. Our team collects all the data from the wordpress.org plugin directory and wphive and then makes a calculation. Here is what we consider and how we make the calculation. Once we have done all of them, we element a few plugins from this list. They might not update regular basis or maybe they do not have over 1k active users.
Would you like to know the Wptowp ranking system? You can see the whole details of our system from the link. If you have time limitations, you can skip this part too.
| | | |
| --- | --- | --- |
| SL | Name | Consideration |
| 01 | Active Installation | 40% |
| 02 | Plugin Resource | 30% |
| 03 | Plugin Ratings | 20% |
| 04 | Plugin Age | 10% |
| | Total | = 100% |
| | | |
First, we build the ranking then we start researching the features. We want to include exclusive information. Keeping the blog length readable and adding the information that you need were our main goals. In this article, the details feature is not included. In case, if you are interested to know, all the links are clickable. You can check the details feature from the directory of each plugin. Click and check from the plugin directory.
Let's recall the basic overview of each WordPress food menu plugin before ending this blog. Also, you can see the WordPress directory's images. If you want to read details including statistics, please check our restaurant menu list blog.
WPCafe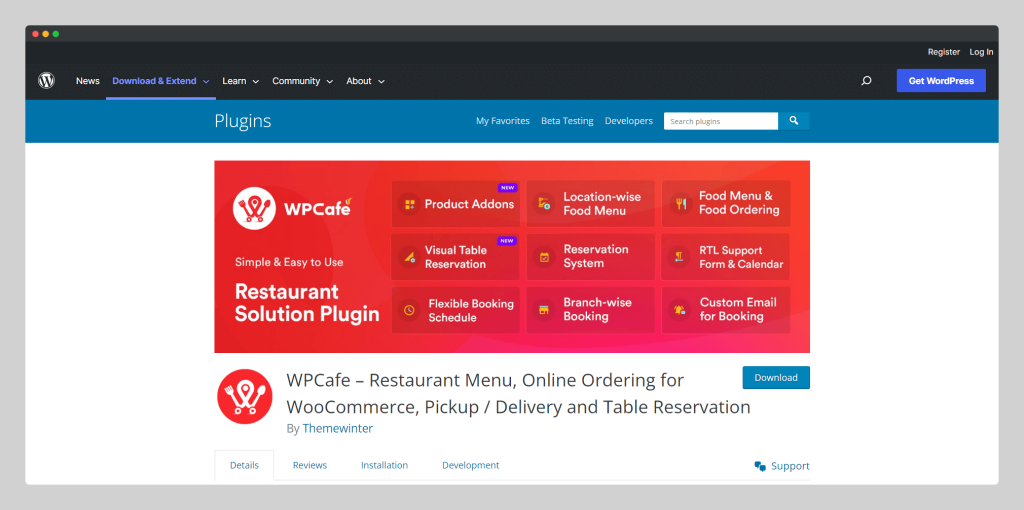 WPCafe is a full-featured WordPress food menu plugin that brings multiple solutions under a single umbrella. You can use the plugin for not only the food menu but also reservation and pickup delivery. For the food menu, you can display it in delicious ways that your customers feel more hungry. Advanced features like product add-ons, location-based food menus, advanced search, discount options, etc can help you're growing your business at a faster speed.
From the analysis, you can see, how WPCafe dominates all other top WordPress food menu plugin. We keep WPCafe at the top of the list due to its quality and features.
Editorial Note 🔔🔔 ThemeWinter, the company behind WPCafe, also published Restaurant and Cafe mobile app backed by WPCafe. The app is fully white label and cheaper price. You can see the App landing page for more details. To grab mobile phone users and grow their reputation, WPCafe Mobile App is your go-to handler.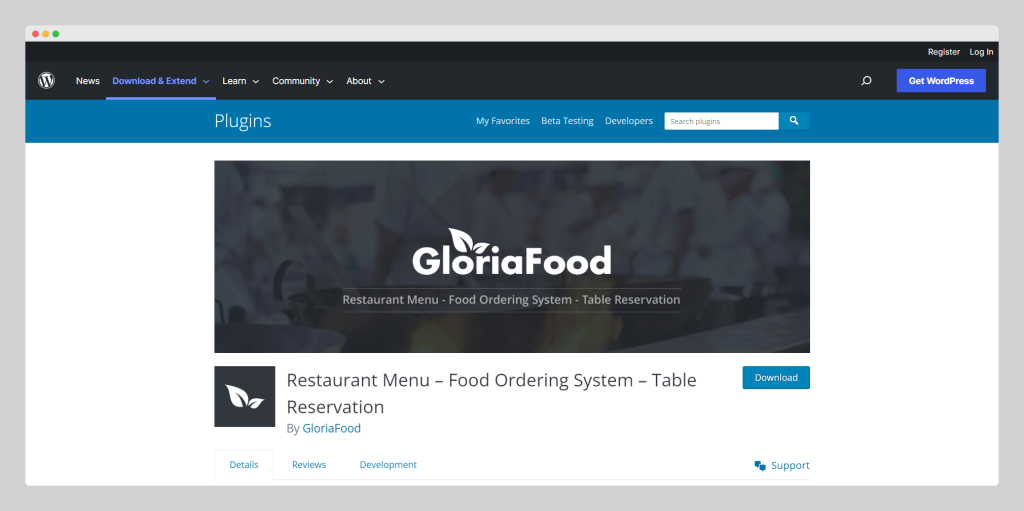 Restaurant menu by Gloriafood is another best WordPress food menu plugin. The plugin has been acquired by Oracle. The best part of the plugin is, it's free for most features. With the free version of the plugin, you can manage your restaurant website easily. The restaurant menu plugin has both food menu and table reservation support. So, you can convert your regular website into a restaurant website within a short time.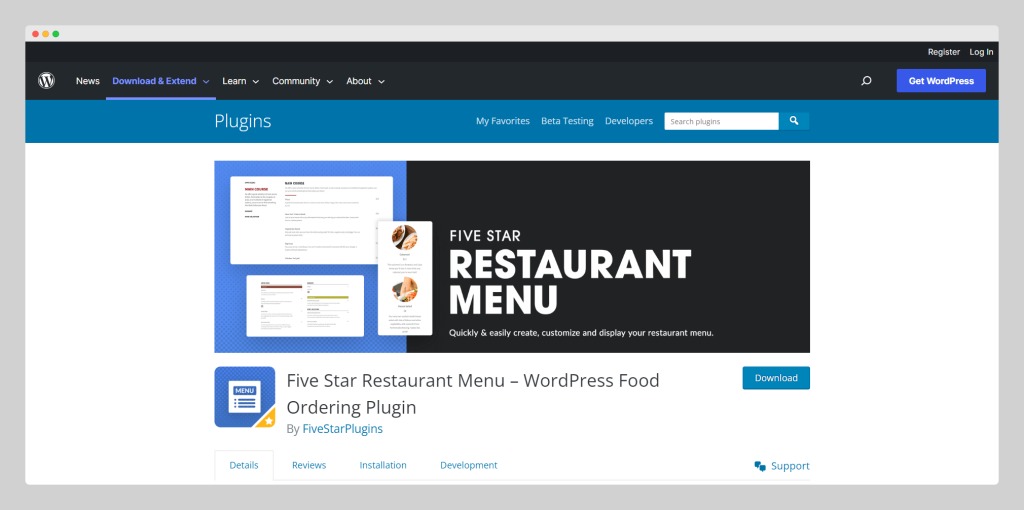 Five Star Restaurant Menu is another top WordPress food menu plugin. The plugin allows users to set up a restaurant management website without any technical knowledge. With the easy-to-use menu builder, and the included layout and customization options, you'll have your menu set up in no time. With the shortcode and Gutenberg block, you can use the plugin with multiple page builders.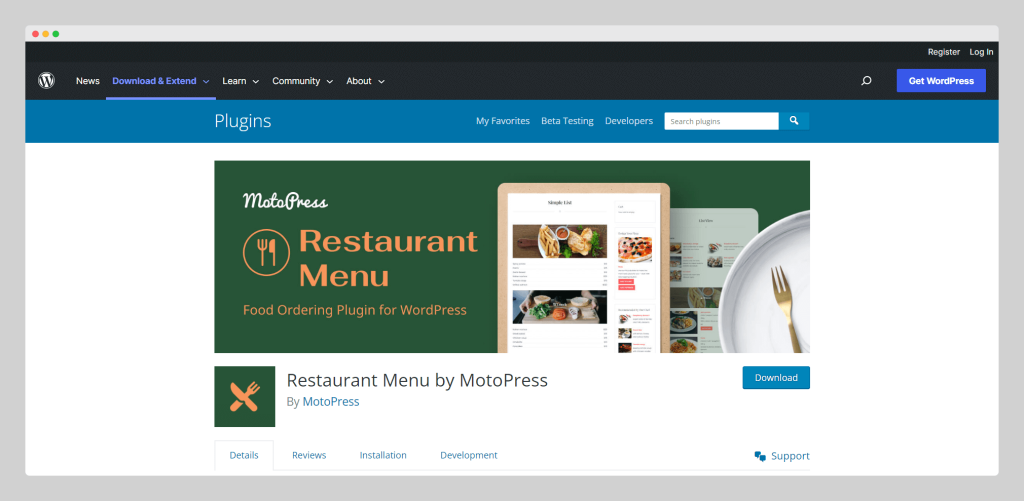 Restaurant Menu by MotoPress is a full-fledged WordPress food ordering system that can be smoothly integrated with your restaurant or cafe website. It's an easy-to-manage WordPress food menu plugin that allows you to create a categorized database of menu offerings with different prices and offer your customers a simple and quick ordering process.
WPPizza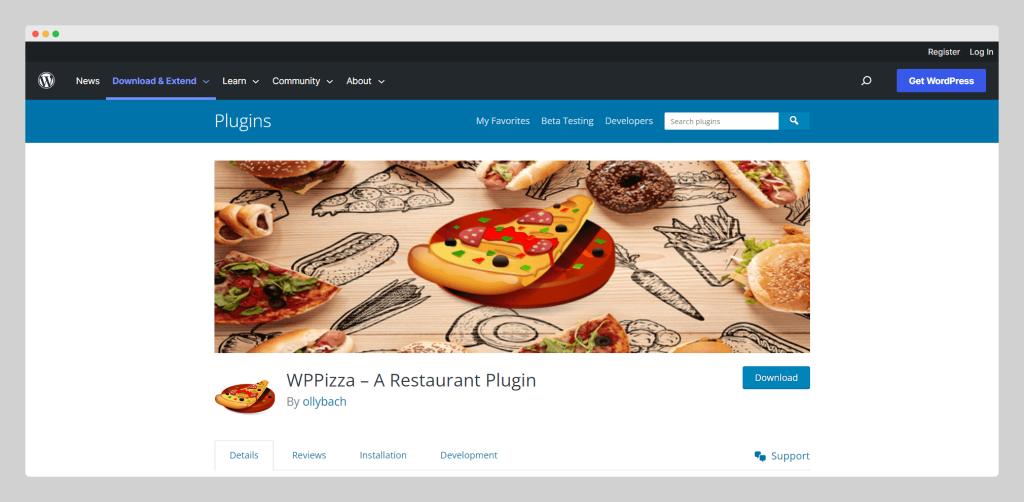 From the name you can understand, "WPPizza" is a food menu plugin focusing on Pizza websites. But you can use the same plugin for representing the food menu on the site. You can maintain your restaurant menu online and accept cash on delivery orders.
Food Store

The food Store plugin is created by extending the core functionalities of WordPress and WooCommerce, which makes it very minimal, clutter-free, and very familiar to use. All your WooCommerce Categories, Settings, and ease of setting up the store and moving around the settings panel are still there.
Food Store gives you the option to convert your restaurant into instant food ordering hub. You can open it for customers to show your available menu online and let them pick it up at a suitable time they prefer.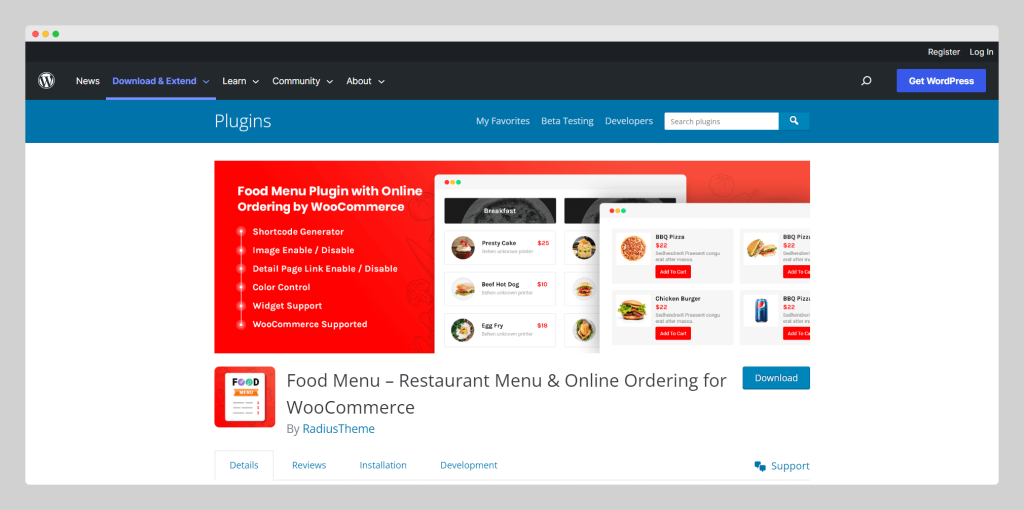 Food Menu by RadiusTheme is a simple WordPress restaurant menu plugin based on WooCommerce. If you are looking for displaying your food items as WooCommerce products, then this plugin can help you. With both Shortcode and block support, you can use the Food menu plugin with all the major page builders. Ajax pagination, advanced filtering, variable pricing, etc are some of the important features of this WordPress food menu plugin.
Orderable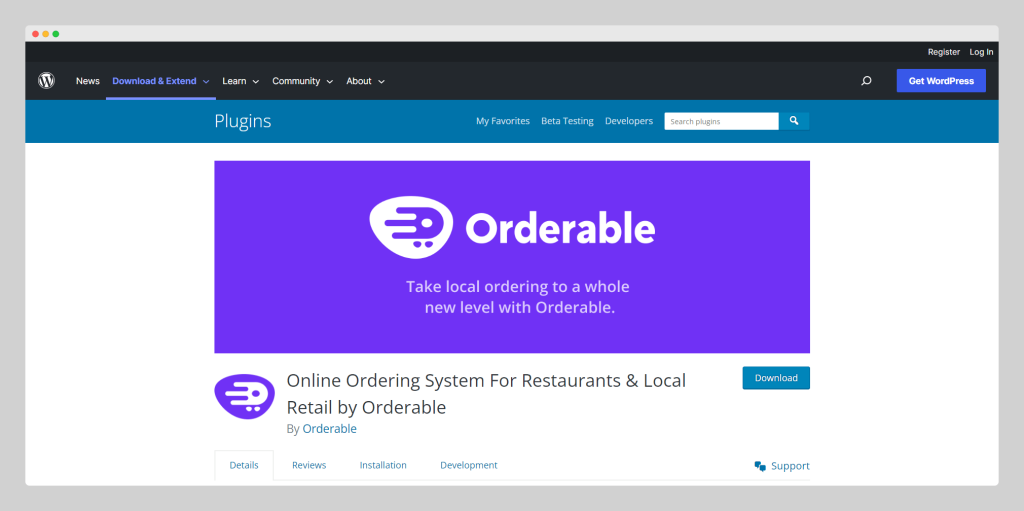 Orderable is the newest edition on the list. Orderable has been developed in order to support local food businesses. The plugin is on the basis of WooCommerce. It is also supported by top marketers. You can take online ordering to a new level with Orderable. Accept pickup/delivery orders for food, goods, and more from your business location. The plugin allows you to manage your restaurant, your way!
We hope, you have enjoyed the blog about the WordPress food menu plugin. Which plugin is your top pick from the analysis? If you have any questions, contact us. You can share the blog on your favorite social media to encourage our work. Read relevant blogs like top restaurant menu plugin, WPCafe reviews etc.
Acknowledgment 💯💯
🐾 Images – Images in this blog have been collected from different websites, blogs, landing pages, plugin landing pages, WordPress directories, Social sites etc
🐾 Affiliate Links – This blog contains several affiliate links. This means that if you purchase any product through the link, we will get a commission without charging you extra. You can see affiliates' declarations here.
🐾 Data Source – All the data has been collected from various open sources like landing pages, WordPress directories, YouTube channels etc. Data can be changed at any time.

Editorial Staff
Our editorial team consists of WordPress expert(s), analysts, content editors, writers, designers, SEO experts, outreach people, and developers! For each piece of content, a highly expert and dedicated team led by Asadullah Galib works together. We have only one motto: "We help you to make your final decisions!"