7+ Best WooCommerce Wholesale Plugins Comparison 2023
After publishing the Wholesale plugin's listing blog, we are ready to analyze them. And guess what, we did it already. In this blog, we will show a comparison between the top WooCommerce Wholesale plugins. We will also add some exclusive information available on the web. We have a section with a small description recalling all the top WooCommerce wholesale plugins in 2023.
Best WooCommerce Wholesale Plugins 2023
In this comparison blog, we will talk about the top 7 WooCommerce wholesale plugins. These plugins already show potentiality and establishment. The list is given below. And the data has been collected up to 02/23.
Wholesale Suite (20,000+ active installations)
B2BKing (5,000+ active installations)
Whols (1,000+ active installations)
Premmerce Wholesale Pricing (800+ active installations)
Wholesale For WooCommerce (700+ active installations)
Wholesale Market (600+ active installations)
There are over 11 Wholesale marketplace plugins in the WordPress directory. But as we wanted to publish a comparison between all the toppers, we have to eliminate some of them. We usually update our blogs regular basis. So, once the eliminated products show potential, we will include them here.
WooCommerce Wholesale Plugins Introduction
The Wholesale trade industry is $12.3tr in 2023. Can you imagine, how big the industry is? It's out of the imagination! And as WordPress is powering 40%+ so WordPress is not out of the context. WordPress comes with multiple plugins for powering Wholesale business. We wanted to do your analysis task and we did it. After reading this blog, you can understand which is the leading WooCommerce wholesale plugin and why it is better!
We will start with the pricing comparison of WooCommerce wholesale plugins, then we discuss plugin ages and active installations numbers, and after that, we will see the ratings of the plugins. Every time, we display a data table, we will analyze them too.
Pricing Comparison of WooCommerce Wholesale Plugins
What comes to your mind when you think of a premium plugin? That's pricing. How is the price and how will be the ROI. So, we will check the pricing and compare them. We will also talk about what the data missed to speak.
Plugin Name
1 Site
/Year
5 Sites
/Year
Unlimited
/Year
1 Site
/LTD
5 Sites
/LTD
Unlimited
/LTD
WholesaleX
$149
$279
$389
$349
$449
$999
Wholesale Suite
$297
—
$597
—
—
—
B2BKing
$179.5
$299.5/3s
$399.5
$679
$1,249/3s
$1,449
Whols
$79
$149
$249
$199
$299
$499
Premmerce Wholesale Pricing
$99.99
$299.99
—
$299.99
$999.99
—
Wholesale For WooCommerce
$99
—
—
—
—
—
Wholesale Market
$79
—
—
—
—
—
The last update date is 25th February 2023
If you take a close look at the table, you will see, for any kind of package, Whols is the champion. They come with the lowest pricing ever compare to all other WooCommerce wholesale plugins. If you are looking for the cheapest solutions, then Whols should be your choice. In terms of pricing, WholesaleX has the second-best pricing packages. And you can also purchase the plugin at 10% cheaper.
In the comparison, Wholesale Suite has the highest pricing while B2BKing has the second highest pricing plan.
Active Installation and Ages Comparison
The active installation reflects how the users accept the plugin. The more active installation means the better the plugin is. At the same time, older plugins should have more active users than younger plugins. So, we have added both the active installation numbers and the ages of each plugin.
| | | |
| --- | --- | --- |
| Plugin Name | Active Installation | Plugin Ages |
| WholesaleX | 30+ (New) | 4+ Months |
| Wholesale Suite | 20,000+ | 8+ Years |
| B2BKing | 5,000+ | 2+ Years |
| Whols | 1,000+ | 2+ Years |
| Premmerce Wholesale Pricing | 800+ | 5+ Years |
| Wholesale For WooCommerce | 700+ | 6+ Years |
| Wholesale Market | 600+ | 7+ Years |
| | | |
The last update date is 25th February 2023
WholesaleX has the lowest active installations. It is the youngest plugin at 4+ months of age. Compare to the other plugin, WholesaleX has given us a good vibe to us. Wholesale Suite has the highest number of active users. It is also the oldest Wholesale plugin in the list. B2BKing has the 2nd highest active installations but the age of this plugin is just 2+ years.
Both B2B and Whols are now 2+ years of their age. They are the youngest plugin other than the WholsaleX. Wholesale Market is the only plugin that has the second highest age but the active users are the lowest on the list.
Quick Rating Comparison of Best Wholesale Plugins
Ratings come from experienced users. Normally after using the plugin for a certain time, users share their experience. No matter whether it's good or bad, they have options to share. The better ratings mean after-sale service is better.
| | | | | |
| --- | --- | --- | --- | --- |
| Plugin Name | Total Ratings | Total Rated Users | Five Star | Five Star Ratio |
| WholesaleX | 5.0 | 1 | 1 | 100% |
| Wholesale Suite | 4.8 | 450 | 419 | 93.11% |
| B2BKing | 4.8 | 31 | 29 | 93.54% |
| Whols | 5.0 | 4 | 4 | 100% |
| Premmerce Wholesale Pricing | 5.0 | 2 | 2 | 100% |
| Wholesale For WooCommerce | 5.0 | 5 | 5 | 100% |
| Wholesale Market | 4.8 | 20 | 18 | 90.00% |
| | | | | |
The last update date is 25th February 2023
A total of four plugins WholesaleX, Whols, Premmerce Wholesale Pricing, and Wholesale For WooCommerce have the perfect 100% ratings. So, are they the best WooCommerce wholesale plugins? Well, it's not possible to conclude them as best or worst on the basis of ratings. If you notice, their total rating numbers are very low.
Wholesale Suite has the highest number of rated users and they also maintain 4.8 ratings in the WordPress directory. They have genuine ratings according to Wptowp editorial's feedback. Other than this, WholesaleX is a very new plugin but still has a single rating. It shows the potential of the plugin.
How Did We Select the Wholesale Plugins?
Started with the best Wholesale plugins listing blog. We consider 4 important parameters during our analysis. Our team collects all the data from the wordpress.org plugin directory and wphive and then makes a calculation. Here in the table is what we consider and how we make the calculation. Once we have done all of them, we eliminate a few plugins from this list. They might not update regular basis or maybe they do not have over 1k active users.
Would you like to know the Wptowp ranking system? You can see the whole details of our system from the link. If you have time limitations, you can skip this part too.
| | | |
| --- | --- | --- |
| SL | Name | Consideration |
| 01 | Active Installation | 40% |
| 02 | Plugin Resource | 30% |
| 03 | Plugin Ratings | 20% |
| 04 | Plugin Age | 10% |
| | Total | = 100% |
| | | |
First, we build the ranking then we start researching the features. We want to include exclusive information. Keeping the blog length readable and adding the information that you need were our main goals. In this article, the details feature is not included. In case, if you are interested to know, all the links are clickable. You can check the details feature from the directory of each plugin. Click and check from the plugin directory.
Basic Introduction of WooCommerce Wholesale Plugins
After that analysis part, we would like to recall all the featured WooCommerce wholesale plugins. It is just a small description of each plugin. The link is available for those of you who want to know more details.
WholesaleX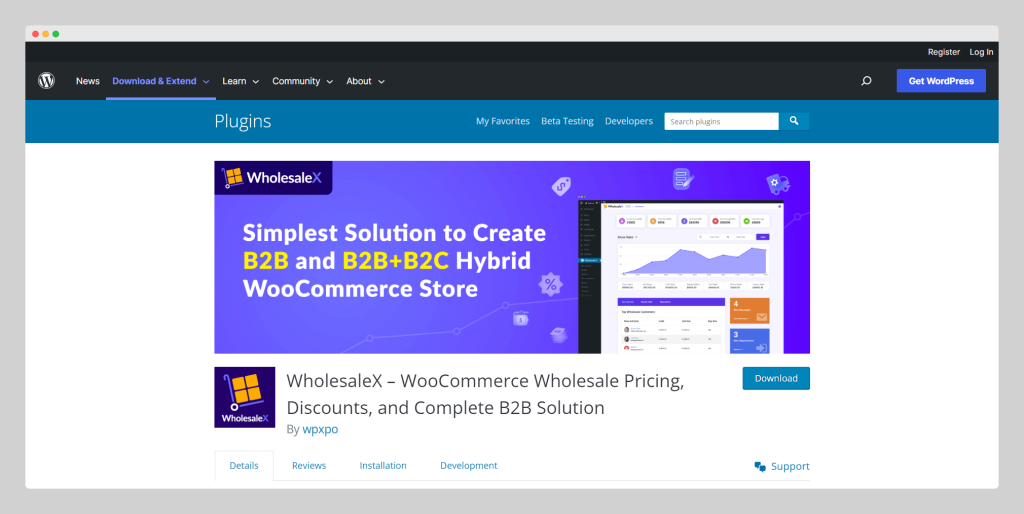 WholesaleX is the easiest and most complete solution to start wholesaling marketplace with WooCommerce. Starting from the basic features like wholesale pricing, then moving to the dynamic discount rules, multiple pricing tiers, form builder, and control shipping methods makes the plugin undoubtedly a better competitor among all the similar wholesale plugins. WholesaleX brings the wholesale wallet to make your money management easier. 
Wholesale Suite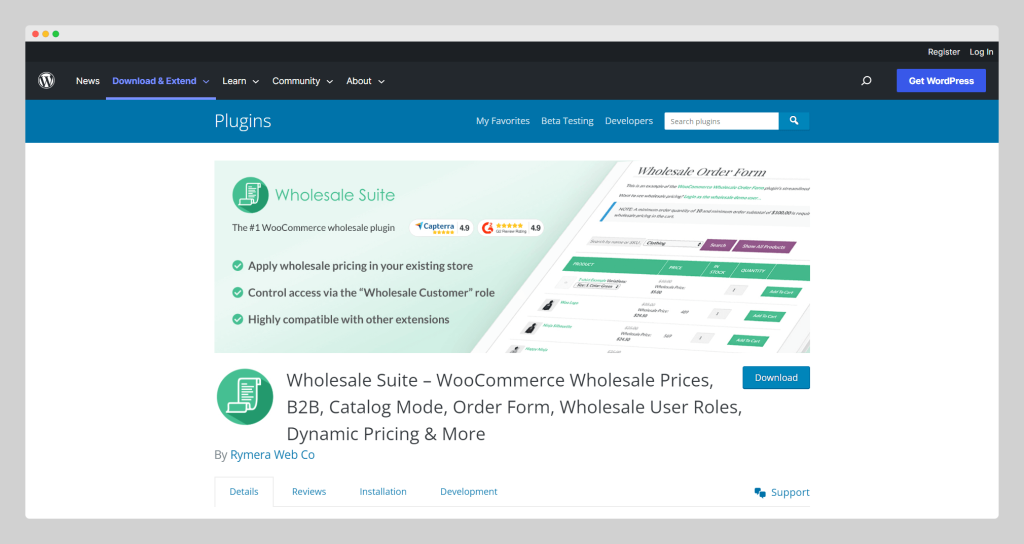 Wholesale Suite is statically the number #1 WooCommerce wholesale plugins powering more than 20,000 websites. The plugin comes with wholesale prices, B2B, catalog mode, order form, wholesale user roles, dynamic pricing, and more. 148+ features and integrated with top WooCommerce extensions make it a better B2B WooCommerce wholesale plugin.
B2BKing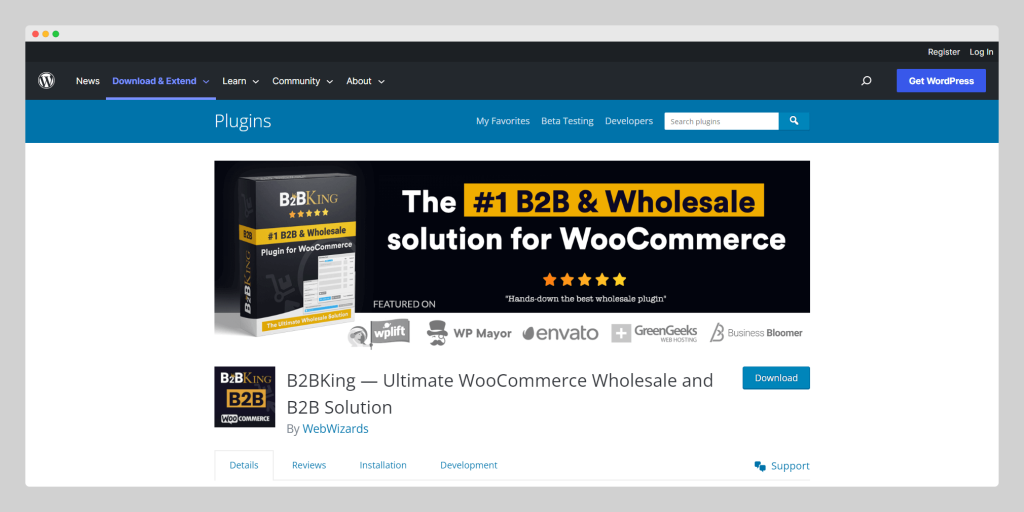 For B2B, B2C, and Hybrid wholesale marketplace, B2BKing is another better solution. The plugin is fully translatable, supports all the major themes, compatible with all the popular plugins. It also works with a popular page builder like Elementor, WPBakery, etc.
Whols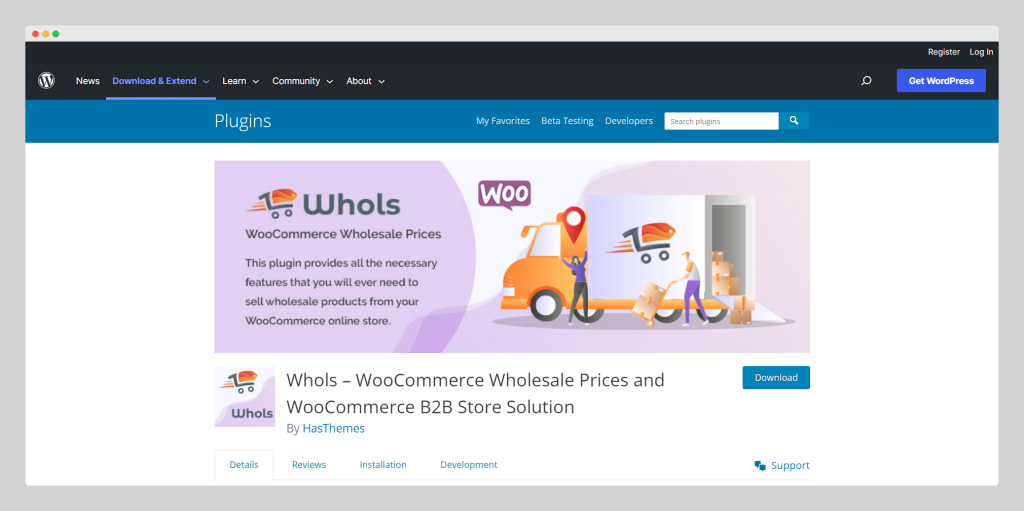 Whols is a WooCommerce wholesale plugins made by HasThemes. It is a robust and easy management solution for WooCommerce B2B websites. It helps you turn your WooCommerce store into a fully functioning B2B or B2C store. You can also operate B2B and B2C hybrid marketplace with the help of Whols.
Premmerce Wholesale Pricing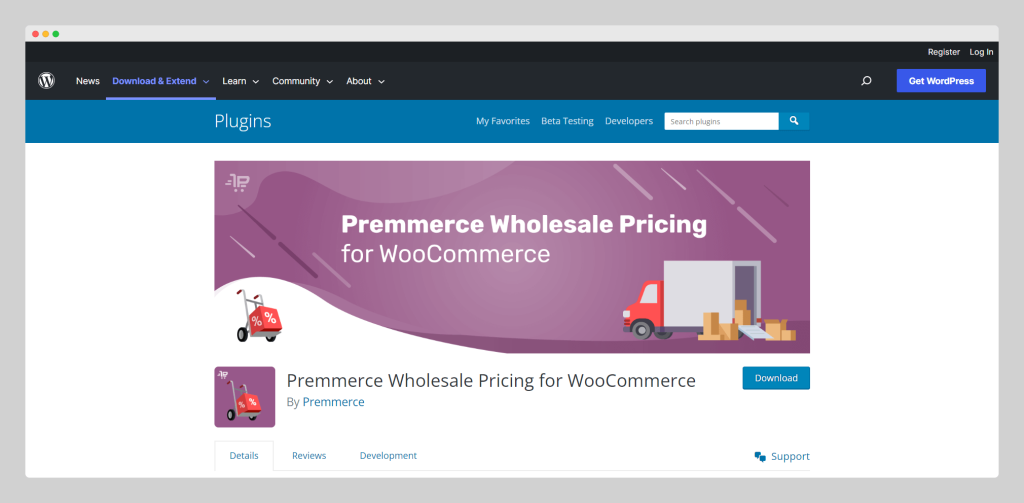 Premmerce Wholesale Pricing for WooCommerce is another B2B WooCommerce wholesale plugin. It will allow you to add wholesale prices and to adding custom prices. This plugin effectively works with the premiere user roles plugin that allows you to easily create additional users' roles directly from the dashboard.
Wholesale For WooCommerce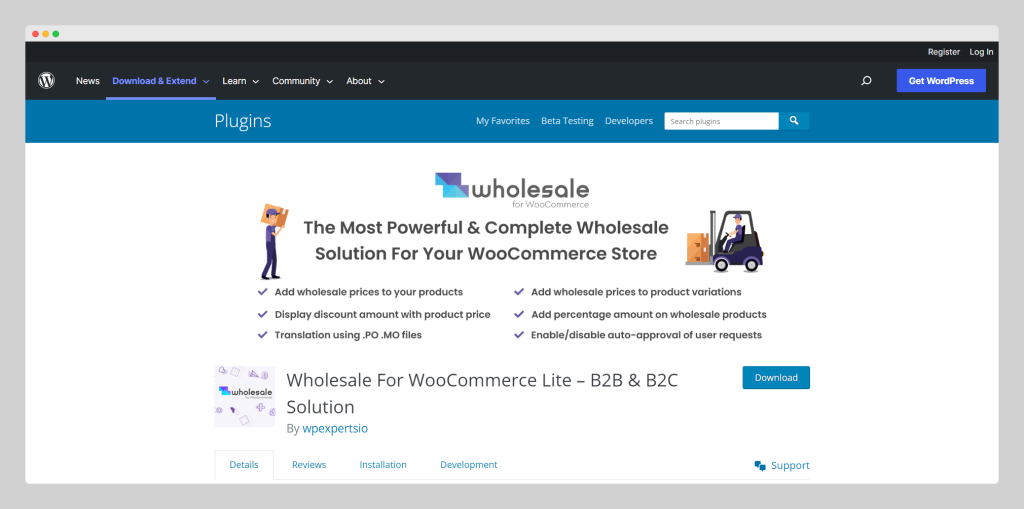 Wholesale For WooCommerce is another wholesale marketplace plugins for you. You can control everything you want to sell to your wholesale customers through the Wholesale for WooCommerce plugin. It lets you manage your eCommerce store's wholesale pricing, multiple wholesale user roles, and much more.
Wholesale Market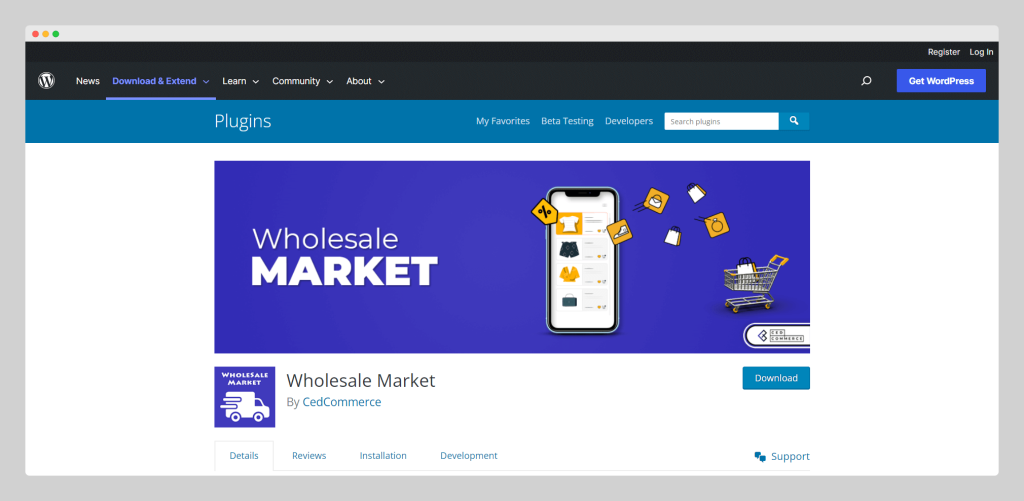 Wholesale Market WooCommerce plugin that allows you to manage your shop with the capability to create wholesale users. And give special privileges to them by setting the product's wholesale price. The plugin has both free and pro versions. CedCommerce is the company that develops this plugin.
Wait up! We have details listing blog about the top wholesale marketplace plugin. Check it here to know more details about the above wholesale plugin.
End Notes of Best WooCommerce Wholesale Plugins
Hey, thanks for reading the full blog about WooCommerce wholesale plugins. We hope, you have enjoyed the blog. We have started with the B2B wholesale marketplace plugin and then we come here to show you the comparison. We also have a details review blog about WholesaleX. If you have anything to share, use our contact form options today.
Last, of all, you can share the blog on your favorite social media channel. You can click on any icon of the following list and share it with your friends. It will encourage us to publish more blogs. It will also help us to grow fast.
Acknowledgment 💯💯
🐾 Images – Images in this blog have been collected from different websites, blogs, landing pages, other plugin pages, WordPress directories, Social sites etc
🐾 Video – The video in this blog has been collected from the different plugin channels.
🐾 Affiliate Links – This blog contains several affiliate links. This means, that if you purchase any product through the link, we will get a commission without charging you extra. You can see affiliates disclosed here.
🐾 Data Source – All the data has been collected from various open sources. For example landing page, a WordPress directory, a YouTube channel, etc. Data can be changed at any time.

Editorial Staff
Our Editorial team consists of WordPress Expert/s, Analysts, Content Editors, Writers, Designers, SEO Experts, Outreach People and Developers! For each content, a highly expert and dedicated team led by Asadullah Galib, works together. We have only one motto, "Help you to make your final decisions!"