11+ Great Reasons to Use WPCafe Pro in 2023
Do you want to know why you should use WPCafe Pro? Well, here you go. In this blog, we have added 11+ valid and meaningful reasons for you. How did we get the following points? We have published a complete WPCafe review. From the time, the editorial was digging into WPCafe, they found the plugin had tremendous potential. Thus, they have decided to publish this blog.
WPCafe is a WooCommerce-based all-in-one restaurant management plugin that can help you to manage restaurants and food businesses. Its basic functions include creating fully responsive food menus and creating restaurant booking schedules with managing orders will always you handle the business smoothly.
Within 2 years of publishing, WPCafe becomes one of the popular restaurant management plugins. It received 92K+ Total Downloads, 6000+ active users, and 16+ five-star ratings. Even, Darrel Wilson endorsed WPCafe.
1) Three Solutions in One Plugin
There are 3 major parts for each restaurant management website. They are food menu, reservation, and food ordering. If you go for another WordPress food plugin, you will need 3 separate plugins. But here at WPCafe, you will have all the features under a single umbrella.
33+ food menu templates that you can use instantly. Just import and update content to display your food items. You can add unlimited food items along with the add-ons. Make more hunger of your website visitors and grow your sales today.
2. Reservation
You can take reservations from your own website. There are reservation options and visual reservation options. Visual reservations allow users to select the restaurant spot. There is also a food with a reservation option available. Where users can select the food items while placing a reservation.
3. Food Ordering
You can manage your food ordering from the same plugin. Pickup/delivery option available. Also, you can use Shipday local delivery plugin for tracking and managing local delivery persons.
2) Outstanding Features at WPCafe Pro
WPCafe Pro is standing out from the most of other restaurant management plugins by its unique features and functionalities. You can increase sales and conversion with promotional offers. You have the option to track sales with in-depth analytics. At the same time, you can set up multi-store and revenue-sharing options. WPCafe is one of the best restaurant management plugins that bring sales.
✌️ Food Menu Templates – Menu presentation is one of the most challenging issues for any restaurant website. You can lose potential customers due to poor design. But if you have the WPCafe restaurant management plugin, you can select the perfect template for your food menu that fits your restaurant style and brand. The plugin comes with over 30 pre-made templates.
✌️ Instant Admin Live Order Notification – After each order placement, all the customers start waiting for food. So, preparation and delivery play vital roles to get repeated orders from the same customers. At WPCafe, an instant notification system gives you updates on recent orders that help you start working and delivering on time.
✌️ Tipping Option for Orders – You can allow happy customers to add tips to their orders. It is easier for them to reward your customer service.
✌️ Accurate Location-based Food Menu – For the multiple branches or marketplace, food items availability depends on locations. You can create different menus for different restaurant branches. It makes it easy for your staff to manage orders.
✌️ Seamless Pickup/Delivery System – Customers can prefer pickup or delivery and you can allow both for them. Set custom order and delivery timing or showcase your food delivery and pickup time to your customers.
✌️ Flexible Single/Multi Slot Reservation – You have complete flexibility in setting single/multiple days custom reservation slots with fixed seat capacity.
✌️ Special Day Schedule – Special items for the special day? Like to offer customers a special menu? No worry. You can create exceptional schedules for holidays to update customers on changes in pickup/reservation schedules.
✌️ Accessible Branch-wise Reservation – Manage your restaurant reservations one branch at a time. Let customers select their preferred branch during reservation.
✌️ Maintain Reservation Seat Capacity – Worry about seating and arrangement capacity? No uneasiness. You can set the maximum seat capacity for each reservation with seat capacity management and seamlessly manage your guests.
✌️ Simply Modify the Reservation Form – Do you need special information for future marketing? Want to offer treats on the birthday of your potential customers? Simply add the date field in the reservation form. Create reservation forms with extra/dynamic fields and set field conditions to make personalized reservation forms.
✌️ Multiple Product Addon – Product addon features are our favorite. As you can increase sales by giving customers multiple options to choose from as add-ons with their orders.
✌️ Food Ordering with QR Code – Give the ultimate smart solution to your customers with a QR Code food menu. No staff or middleman is required to take any order. Create a food menu with the restaurant management plugin, generate QR Code, print it, and use it anywhere you want.
✌️ Visual Table Reservations – Restaurants become meeting places in recent days. Thus placement becomes an important factor for many customers. Display the visual locations of your restaurants including chairs and tables. Let customers allow their preferred locations.
3) WPCafe Pro Integration
WPCafe is one of the best restaurant management plugins while we are talking about integrations. WPCafe pro comes with 5+ major page builder support which is the first of its kind among the other restaurant management plugin. Moreover, the plugin provides multivendor plugin integration, CRM support, delivery based on distance, instant updates, and much more. Let's have a look at the list which is growing from time to time.
WooCommerce 👍 Enjoy all the features available for WooCommerce with WPCafe.
Gutenberg 👍 Edit your restaurant website with the block-based Gutenberg editor and WPCafe restaurant management plugin.
Elementor Page Builder 👍 You will get ready widgets under the Elementor page builder while editing any page with Elementor.
ElementsKit Elementor Addon 👍 Use ElementsKit for creating header footers and other widgets.
DIVI Page Builder 👍 WPCafe restaurant management plugin shortcodes support DIVI Builder.
Dokan Multivendor 👍 WPCafe supports Dokan multivendor for the customer.
Pabbly 👍 Use Pabbly with the WPCafe restaurant management plugin to take care of all your sales & marketing needs.
Zapier 👍 Use Zapier to allow end-users to integrate the web applications they use.
ShipDay 👍 All-in-one local delivery software for small businesses that you can use with WPCafe.
Oxygen Page Builder 👍 Use WPCafe with Oxygen to visually design your site, from header to footer, without needing to write any code.
Visual Composer Builder 👍 Build your Restaurant website with the popular Visual Composer Builder along with WPCafe.
Beaver Builder 👍It makes designing your restaurant website simple and easy.
WPBakery Page Builder 👍 Design your restaurant website easily with WPBakery Page Builder.
FluentCRM 👍 WPCafe FluentCRM integration allows users to get the leads in CRM directly and use them for future marketing campaigns.
The last update date is 14th October 2022
4) WPCafe Pro Addons
You can get 2 dedicated addons plugins at WPCafe pro. They are WPCafe restaurant addons and oxygen addons. An interesting fact is, you can use them with the free version too. But with WPCafe pro, you can get all the features and functionality.
WPCafe Multivendor Restaurant Addon for Dokan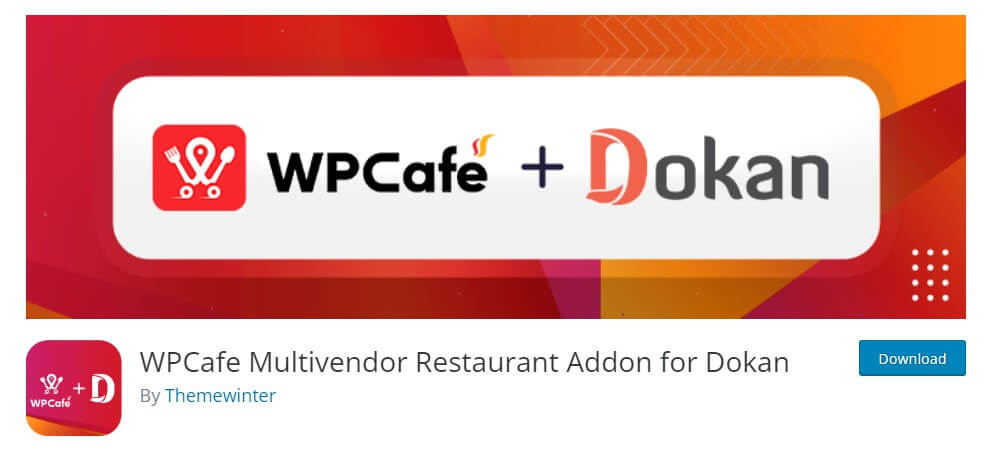 Convert your Restaurant Website into a multivendor restaurant and food-selling marketplace with WPCafe Multivendor Addon. If you want to transform your restaurant websites into a Multivendor food-selling marketplace then here is the WPCafe Multivendor Restaurant Addon. WPCafe offers Dokan Multivendor plugin support that allows vendors to sign up and creates their restaurant profile. It helps you to build a food-selling marketplace and earn a commission from every sale.
WPCafe Restaurant Addon for Oxygen Builder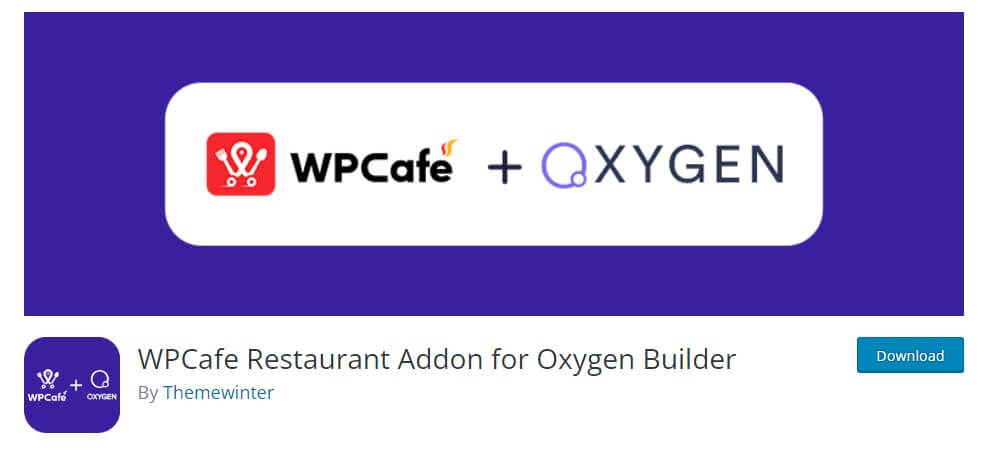 WPCafe oxygen addon is published for the Oxygen builder users. You can get the same features as shortcode and use it on your oxygen builder website. Oxygen Builder elements are available for food menus and reservations for creating cafe and restaurant websites. If you are an Oxygen builder user then you do not need to worry about restaurant management plugins. Use WPCafe and build your next food-selling website.
WPCafe mobile app is under development. Once it's get lived, it will be one of the best news for all the resturant business owner. There's very few restaurant management plugin available that has mobile app too.
5) WPCafe Pro Pricing Policy
WPCafe Pro comes with flexible pricing. You can pay them either yearly or as LTD. The package started from 59 bucks only. They have 14 day of the money-back guarantee, so you can use the plugin and test for this period of time. The price is lower compared to other WordPress restaurant management plugins available in the market. Especially, WPCafe comes with a lot of advanced integrations and addons without extra cost.
| | | | |
| --- | --- | --- | --- |
| WPCafe PRO Pricing | | | |
| Standard, 1 Site | Premium, 10 Sites | Agency, Unlimited | Refunds Policy |
| 59$/year | 149$/year | 279$/year | 14 days |
| 75$/Lifetime | 279$/Lifetime | 519$/Lifetime | |
| | | | |
The last update date is 13th February 2023 
The price can be ups and down at any time as ThemeWinter holds the right to change the pricing at any time. You are requested to check the latest update on their websites.
Did you notice, you can get started with 59 USD only and enjoy all these amazing features? Even the basic package unlocked all the premium features. What more do you need?
6) Shortcodes and Elementor Widgets
WPCafe comes with both the shortcodes and Elementor widgets. You can use Shortcode not only Gutenberg but also other page builders including Elementor, Oxygen, and Beaver builder. WPCafe pro Elementor widgets allow users to create and manage restaurant management websites inside Elementor. So, you do not need to hire any developer for your next restaurant website.
7) WPCafe Pro Code Quality

WPCafe pro plugins offer you tons of features. But still, the plugin is fast and takes a limited amount of resources. According to the WPHive test, WPCafe uses 252.66 KB resources and 0.09 second loading time. In both cases, the WPCafe is better than 99% of similar plugins. This all happens due to its quality code.
If you are a plugin or theme developer, you can use WPCafe for your restaurant website. Extends the features and functionality easily from the plugin.
8) WPCafe Pro Resource
WPCafe pro users get flexibility while using the plugin due to the resource provided by the company. You can read regular blogs, and tutorials. You can see the latest update from the changelog blog. There is detailed documentation that contains every single feature tutorial. You can see the video and social updates.
If you use WPCafe, you will have the update. No matter whether you use a single platform or multiple.
9) WPCafe Pr Support
You can access WPCafe's team through multiple support channels. Ticket base support is the main channel. However, there are plenty of other options. You can see the videos on YouTube and can access them from the live chat as well. For support, you can post the ThemeWinter community and send them messages over social media.
One best part of their support is their fast response. Even if you are a free user and make comments on the WordPress directory, still you will get a quick response from the team. Check their WordPress directory's ratings. Many clients said they are the best at their support.
10) WPCafe Pro Update
WPCafe release's earliest date was November 2020 in the WordPress directory. And the version was 1.2.0. It feels like, it was the initial stable release of the plugin. Moreover, the premium version was published on 14 August 2020 at Codecanyon marketplace. As the plugin got approved in the Codecanyon marketplace, so you can trust the code and design quality.
WPCafe gets the update released on a frequent basis. This year, the plugin has been 21+ released already. The release comes with new features, tweaks, and fixes. So, if you have any issues, you can expect to solve them within a few weeks.
11) WPCafe Pro Roadmap
Already they are working on Multivendor addons 2nd phase and mobile apps 2nd phase. So, we can expect them updated soon in near future. The application will be for both the android and IOS versions, as per we know. There are multiple other features are there under the in-discussion phase.
Customers can choose both the time of collection, Variation Image Swatches, and multiple timeslots for pickup/delivery will go under development soon. You can also submit your ideas to the board and you can vote on the existing ideas too.
12) It's Based on WooCommerce
WPCafe pro was created based on WooCommerce. This is why WooCommerce is a required plugin for WPCafe. If you use WPCafe, you can get all the features of WooCommerce. You can use all the payment getaways of WooCommerce, selling features, product management features, etc. You can use all the WooCommerce addons and builders. You can use ShopEngine WooCommerce builder as well.
13) WPCafe Pro Translation Option
There is one more impressive option available at WPCafe and WPCafe pro is translation options. You do not worry about local restaurants and the local language. WPCafe is fully translatable and you can translate your shops into your own language. With WPCafe pro, you can create a food website for your favorite language without any uncertainties.
14) WPCafe Pro Trusted by Top Marketers
WPCafe Pro is trusted by World's top marketers. We have found the plugin was in the MarTech LTD community. Multiple webinars and posts are available. From the promise to deliver, they did it very well. From the start, the MarTech community loves the plugin. And the team has delivered their promised features already.
15) WPCafe Pro Made by ThemeWinter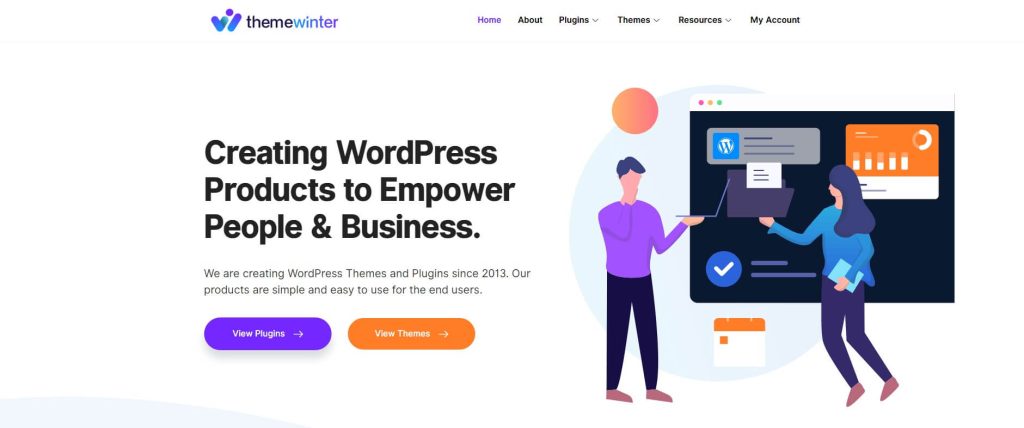 When it's about updating, you can choose ThemeWinter team. Need better support, you can trust the same team. These compliments are not from our team. We found them on different social media from leading marketers. ThemeWinter team is experienced and ambitus. Their main motto is helping business owners.
ThemeWinter started working back in 2013 and from then on now, they are 11th-level authors at the Envato marketplace, they have established plugins like Eventin. They also have WPCafe, a complete restaurant management plugin. Operating from Dhaka with 20+ people, they are providing support to 120+ countries around the globe.
So, Over to You!
So, want us to say thank you for this informative blog? Happy with all the WPCafe pro highlights? Contact us now. Also, we are open to sharing more about it if needed. Now the social part. As you know, sharing is caring. You can share this blog with your social friends to support our work. Also, your share will motivate us. It will not make our day, actually, it will make our weeks.
So, you know all the best parts of WPCafe pro. Why not you share it with your friends too? A social share will take a moment from you. But it will help us to grow and we will be motivated. Just click on your favorite social icon and share.
Acknowledgment 💯💯
🐾 Images – Images in this blog have been collected from the ThemeWinter website, blogs, WPCafe landing page, Social site, etc
🐾 Affiliate Links – This blog contains several affiliate links. This means, that if you purchase any product through the link, we will get a commission without charging you extra. You can see affiliates disclosed here.
🐾 Data Source – All the data has been collected from various open sources. For example, a landing page, a WordPress directory, a YouTube channel, etc. Data can be changed at any time.

Editorial Staff
Our Editorial team consists of WordPress Expert/s, Analysts, Content Editors, Writers, Designers, SEO Experts, Outreach People and Developers! For each content, a highly expert and dedicated team led by Asadullah Galib, works together. We have only one motto, "Help you to make your final decisions!"