WPCafe Restaurant Management Plugin – Honest Review (2023)
Are you looking for the best Restaurant Management Plugin? Meet WPCafe, an all-in-one solution in the city for making your life more convenient than ever! In this blog, we will walk through the insight of the plugins and share honest in-depth reviews.
If you are planning to develop any restaurant websites, or if you are thinking to bring your restaurant business online, then WPCafe is your go-to helping hand. We are expecting that you will be able to make your decisions by reading this blog.
Not just your self-business, with the plugin, you can power up others' businesses by creating a multi-vendor food-selling marketplace. WPCafe multivendor addons for the dokan will allow you to create a multi-seller food marketplace. Coming to the details in the blog later. Now the question is, how did we get connected with WPCafe?
Well, we were working on Eventin for long days. From the listing blog to individual reviews, comparison then featured eventin at Event creating a series blog. WPCafe is the product carried you by the same company. We were impressed by Eventin so do the WPCafe. without further ado, let's dive into the main blog.
How did The Story of WPCafe Begin?
We did not find the starting date or the initial release of WPCafe! We also did not get any introductory blog. However, the WPCafe release's earliest date was November 2020 in the WordPress directory. And the version was 1.2.0. It feels like, it was the initial stable release of the plugin. Moreover, the premium version was published on 14 August 2020 at Codecanyon marketplace.
As the plugin got approved in the Codecanyon marketplace, so you can trust the code and design quality.
Those days, WPCafe was a kid with some basic features like Ajax add to cart, Product single page, RTL layout support, some shortcodes, and Elementor widgets. Fast forward to 2023, WPCafe is an all-in-one restaurant management solution covering all major parts of management. Reservation, food menu, food ordering and pickup delivery.
Within 3 years, WPCafe becomes one of the popular restaurant management plugins. It received 108K+ Total Downloads, 6000+ active users, and 23+ five-star ratings. It's now loved by 120+ countries people. WordPress influencers like Darrel Wilson endorsed WPCafe.
Who Builds WPCafe, Revolutionary Restaurant Plugin?
ThemeWinter [the same team behind Eventin] brings this plugin into the marketplace. ThemeWinter is a WordPress product development company from Dhaka. They started their business at Envato marketplace back in 2013 as a theme and template developer. And in the year 2019, they start building WordPress niche-based plugins.
Apart from Eventin, they have WordPress event management solutions, Cafesio, Bizxpo and Newseqo themes. They also have a restaurant management mobile application that can be used with WPCafe. They become the 11th Level Author on Envato Market with 35,000+ customers worldwide which is growing every day.
ThemeWinter got featured on lots of news and WordPress websites like aThemes, elegant themes (DIVI), Envato, etc. As part of the giving responsibility, they also provide sponsorship towards WordPress and tech events.
How is the Community Response to WPCafe?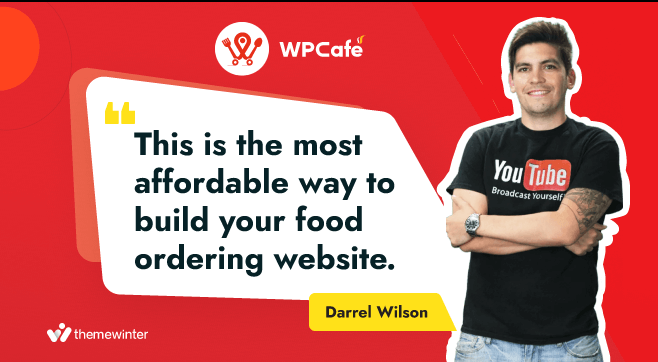 Darrel Wilson, one of the highest-known WordPress individuals, supported WPCafe. Darrel made a complete food ordering and restaurant management video where he used WPCafe as the main plugin. As you know, Darrel made videos for non-tech people and made step-by-step videos. Not just he, but other youtube channels like La Máquina, and Tech Trigger also talks about WPCafe.

We also checked the blog mentioned for WPCafe. Envatotuts, themejunkie, ThemeGrile, WPLeaders, WPLift, ollzo, WPHive, WPMet, kingtechtricks, RadiusTheme mentioned the plugin. Some of them enlisted WPCafe as part of their listing blog and some others made a complete review of it.
Why WPCafe is Better Than Other Restaurant Plugins?
WPCafe is standing out from the most of other restaurant management plugins by its unique features and functionalities. You can increase sales and conversion with promotional offers. You have the option to track sales with in-depth analytics. At the same time, you can set up multi-store and revenue-sharing options. WPCafe is one of the best restaurant management plugin that brings sales.
✌️ Food Menu Templates – Menu presentation is one of the most challenging issues for any restaurant website. You can lose potential customers due to poor design. But if you have the WPCafe restaurant management plugin, you can select the perfect template for your food menu that fits with your restaurant style and brand. The plugin comes with over 30 pre-made templates.
✌️ Instant Admin Live Order Notification – After each order placement, all the customers start waiting for food. So, preparation and delivery play vital roles to get repeated orders from the same customers. At WPCafe, an instant notification system gives you updates on recent orders that help you start working and delivering on time.
✌️ Tipping Option for Orders – You can allow happy customers to add tips to their orders. It is easier for them to reward your customer service.
✌️ Accurate Location-based Food Menu – For the multiple branches or marketplace, food items availability depends on locations. You can create different menus for different restaurant branches. It makes it easy for your staff to manage orders.
✌️ Seamless Pickup/Delivery System – Customers can prefer pickup or delivery and you can allow both for them. Set custom order and delivery timing or showcase your food delivery and pickup time to your customers.
✌️ Flexible Single/Multi Slot Reservation – You have complete flexibility in setting single/multiple days custom reservation slots with fixed seat capacity.
✌️ Special Day Schedule – Special items for the special day? Like to offer customers a special menu? No worry. You can create exceptional schedules for holidays to update customers on changes in pickup/reservation schedules.
✌️ Accessible Branch-wise Reservation – Manage your restaurant reservations one branch at a time. Let customers select their preferred branch during reservation.
✌️ Maintain Reservation Seat Capacity – Worry about seating and arrangement capacity? No uneasiness. You can set the maximum seat capacity for each reservation with seat capacity management and seamlessly manage your guests.
✌️ Simply Modify the Reservation Form – Do you need special information for future marketing? Want to offer treats on the birthday of your potential customers? Simply add the date field in the reservation form. Create reservation forms with extra/dynamic fields and set field conditions to make personalized reservation forms.
✌️ Multiple Product Addon – Product addon features are our favorite. As you can increase sales by giving customers multiple options to choose from as add-ons with their orders.
✌️ Food Ordering with QR Code – Give the ultimate smart solutions to your customers with a QR Code food menu. No staff or middleman is required for taking any order. Create a food menu with the restaurant management plugin, generate QR Code, print it, and use it anywhere you want.
✌️ Visual Table Reservations – Restaurants become meeting places in recent days. Thus placement becomes an important factor for many customers. Display the visual locations of your restaurants including chairs and tables. Let customers allow their preferred locations.
WPCafe has two dedicated addons for Multivendor Restaurant management and Restaurant Addons for Oxygen Builder. We have added the details later in this blog. Moreover, we also added the extensions and integration details to this blog.
WPCafe Free Features List
Let's have a look at the plugin. First, we will explore the free features and examine much they are offering in the free version. As with our blog structure, we are not going to add the descriptive list. A simple list that can scan within moments. You can also check the complete feature list from the WPCafe landing page.
| | |
| --- | --- |
| Restaurant Reservation System | Restaurant Menu System |
| Stylist Food Menu List | WooCommerce Food Menu |
| WooCommerce Food ordering | Ordering System for Takeaway/Delivery |
| Ajax Mini cart | Design and customize Mini-Cart |
| Make and Cancel a Reservation | RTL Support |
| Gutenberg Block (partial) | Elementor Widget (partial) |
| | |
The last update date is 4th February 2023 
How Much Can You Do with WPCafe Free Version?
WPCafe restaurant management plugin offers menu design and pickup delivery features in its free version. Unlike other restaurant management plugin, here at WPCafe, you are getting all the basic elements to get started in your food business. You can use the plugin as both the Gutenberg restaurant management plugin and the Elemenetor restaurant management plugin. Some of the widgets and features are limited which is expected as WPCafe is a freemium plugin.
You have the option to utilize 12+ major elements on the free version and make your initial website. Also, you can get support for any kind of clarification while using the plugin.
What More Does WPCafe Pro offer?
WPCafe pro restaurant reservation plugin unlocked the complete reservation part as well as multiple features in food ordering and pickup/delivery. If you are a developer or restaurant owner, we recommended you use the WPCafe pro restaurant reservation plugin. Here's the list of features that you can get at WPCafe pro.
| | |
| --- | --- |
| All the WPCafe Free Features+ | |
| Food Menu Tab, Slider, Lists, etc | Multi-style Food Menus |
| Customizable Confirmation Email | Customizable Cancellation Email |
| Food Menu Based on Location | Discount on Menu Items |
| Food Menu Based on category | Live Search |
| Reservation details pdf | Advanced Reservation Form |
| Gutenberg Block | Elementor Widget |
| Oxygen Builder Block | Reservation Export to CSV file |
| Quick View For Variable Product | Live Order Notification |
| Tipping Option for Orders | Multiple Product Addon |
| Food Ordering with QR Code | Discount Options on Food Menu |
| Food Selection During Reservation | Visual Table Reservations |
| | |
The last update date is 4th February 2023 
With all the features, you can get 2 dedicated addons plugins. They are WPCafe restaurant addons and oxygen addons. An interesting fact is, you can use them with the free version too. But with WPCafe pro, you can get all the features and functionality.
WPCafe Multivendor Restaurant Addon for Dokan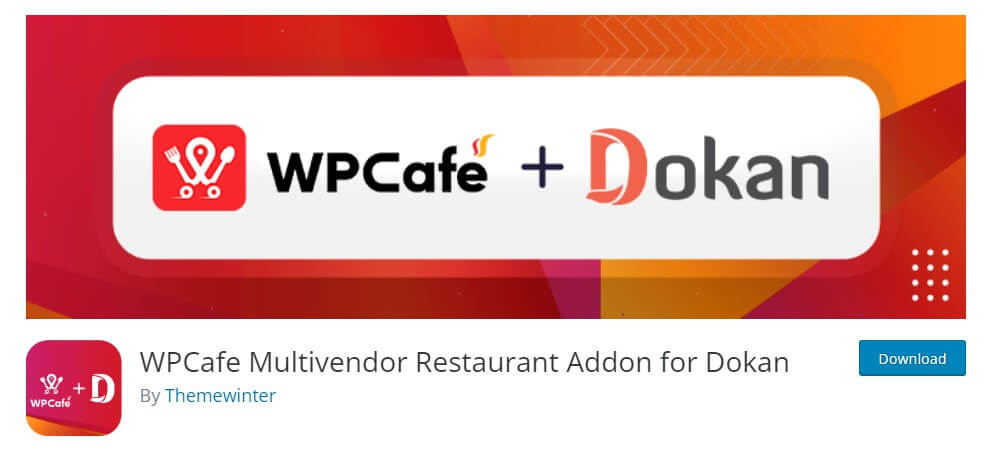 Convert your Restaurant Website into a multivendor restaurant and food-selling marketplace with WPCafe Multivendor Addon. If you want to transform your restaurant websites into a Multivendor food-selling marketplace then here is the WPCafe Multivendor Restaurant Addon. WPCafe offers Dokan Multivendor plugin support that allows vendors to sign up and creates their restaurant profile. It helps you to build a food-selling marketplace and earn a commission from every sale.
WPCafe Restaurant Addon for Oxygen Builder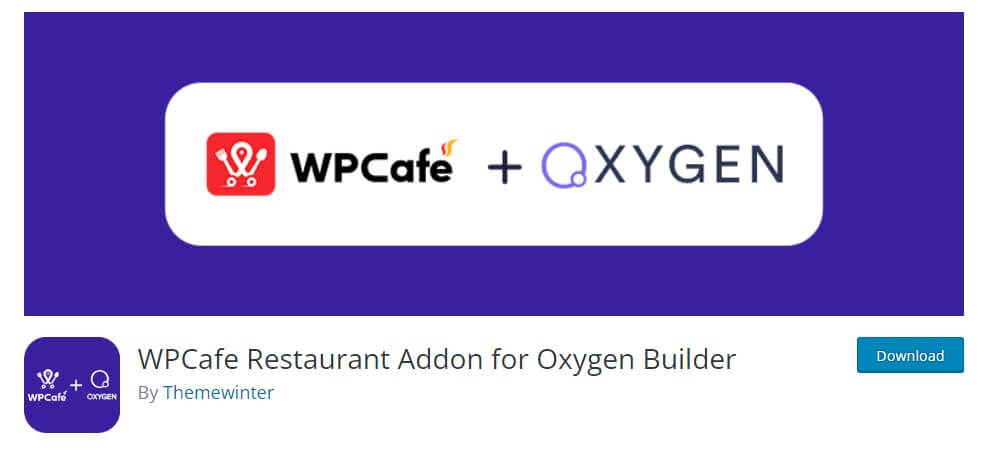 WPCafe oxygen addon is published for the Oxygen builder users. You can get the same features as shortcode and use it on your oxygen builder website. Oxygen Builder elements are available for food menus and reservations for creating cafe and restaurant websites. If you are an Oxygen builder user then you do not need to worry about restaurant management plugins. Use WPCafe and build your next food-selling website.
WPCafe mobile app is under development. Once it's get lived, it will be one of the best news for all the resturant business owner. There's very few restaurant management plugin available that has mobile app too.
Notable WPCafe Integrations
WPCafe is one of the best restaurant management plugin while we are talking about integrations. WPCafe comes with 5+ major page builder support which is the first of its kind among the other restaurant management plugin. Moreover, the plugin provides multivendor plugin integration, CRM support, delivery based on distance, instant updates, and much more. Let's have a look at the list which is growing from time to time.
WooCommerce 🤙 Enjoy all the features available for WooCommerce with WPCafe.
Gutenberg 🤙 Edit your restaurant website with the block-based Gutenberg editor and WPCafe restaurant management plugin.
Elementor Page Builder 🤙 You will get ready widgets under the Elementor page builder while editing any page with Elementor.
ElementsKit Elementor Addon 🤙 Use ElementsKit for creating header footers and other widgets.
DIVI Page Builder 🤙 WPCafe restaurant management plugin shortcodes support DIVI Builder.
Dokan Multivendor 🤙 WPCafe supports Dokan multivendor for the customer.
Pabbly 🤙 Use Pabbly with the WPCafe restaurant management plugin to take care of all your sales & marketing needs.
Zapier 🤙 Use Zapier to allow end-users to integrate the web applications they use.
ShipDay 🤙 All-in-one local delivery software for small businesses that you can use with WPCafe.
Oxygen Page Builder 🤙 Use WPCafe with Oxygen to visually design your site, from header to footer, without needing to write any code.
Visual Composer Builder 🤙 Build your Restaurant website with the popular Visual Composer Builder along with WPCafe.
Beaver Builder 🤙 It makes designing your restaurant website simple and easy.
WPBakery Page Builder 🤙 Design your restaurant website easily with WPBakery Page Builder.
FluentCRM 🤙 WPCafe fluentCRM integration allows users to get the leads in CRM directly and use them for future marketing campaigns.
The last update date is 4th February 2023
WPCafe Pro is Best Suited for Whom?
WPCafe restaurant management plugin can be used for various places. Our editorial finds some specific category where the plugin is fully fits and brings your business out of the competitor.
🐆 Foodpreneur? Are you a food entrepreneur, looking for a perfect business solution that can remove your digital stress? Well, WPCafe is for you. WPCafe restaurant management plugin builds in such a way that it fits with all the niche-based food businesses. You can use the plugin for businesses like Fast Food, Seafood Restaurants, bakeries, burgers, Coffee Shops, and Pizza Shops Websites.
🐆 Restaurant Owner? Delete multiple plugins for reservation management, food ordering, menu display, and delivery. With WPCafe, you can do everything. Multiple solutions under one umbrella. Do the management more efficiently with lesser cost.
🐆 Have Food Business? Have a local food shop like organic food, seafood, or anything similar? Want offline business to online? WPCafe is the solution for you.
🐆 Chef and Food Blogger? While you start making blogs and content relevant to foods, WPCafe can be used in multiple places. For the receipt, you can use pre-made templates and display delicious ways. You can take appointments through reservation forms and so on.
🐆 Street Food Personal? Are you from the street food business? Well, you can grow with the plugin. The plugin is fully responsive and can be used from your mobile phone. So, you can manage your online part with the phone which can help you grow fast.
🐆 Building Food Marketplace? if you are building a food marketplace, WPCafe can be your ideal solution. Loyal multivendor addons with all the food-relevant widgets can be your go-to solution.
🐆 Developer? Develop food-related themes and import the full features by utilizing WPCafe features. It will save you time and make your life easy. WPCafe's developer-friendly support will always help you become stress-free.
🐆 Freelancer Agency Owner? Freelancers and agency owners can use WPCafe for their clients. The plugin offers referral commissions for them. And as usual, you will get free support too. Moreover, there's LTD licensing available. So you can buy it once and use lifetime for all of your clients.
If you have something relevant to foods and restaurants, you can use WPCafe restaurant management plugin on your website.
WPCafe Restaurant Management Plugin Pro Pricing
WPCafe Pro comes with flexible pricing. You can pay them either yearly or as LTD. The package started from 59 bucks only. They have 14 day of the money-back guarantee, so you can use the plugin and test for this period of time. The price is lower compared to other WordPress restaurant management plugin available in the market. Especially, WPCafe comes with a lot of advanced integrations and addons without extra cost.
| | | | |
| --- | --- | --- | --- |
| WPCafe PRO Pricing | | | |
| Standard, 1 Site | Premium, 10 Sites | Agency, Unlimited | Refunds Policy |
| 59$/year | 149$/year | 279$/year | 14 days |
| 149$/Lifetime | 279$/Lifetime | 489$/Lifetime | |
| | | | |
The last update date is 4th February 2023
The price can be ups and down at any time as ThemeWinter holds the right to change the pricing at any time. You are requested to check the latest update on their websites.
Did you notice, you can get started with 59 USD only and enjoy all these amazing features? Even the basic package unlocked all the premium features. What more do you need?
When is WPCafe Pro Not Recommended?
You can use the WPCafe restaurant management plugin anywhere in your project and there's no boundary for that. However, we can't recommend some of the specific times. But be aware that, if you want to progress then WPCafe is for you. If you don't then you can go on with others.
Need a Slow Website? 😜 If you want to install multiple plugins for different functionality and features which will make your site slow, then you can go to other plugins. WPCafe brings 3 major modules under a single umbrella you will need more than 3 other plugins. Moreover, you will need to update them separately on a regular basis.
Like to Spend More? 😜 Would you like to spend more rather than save? Well, as WPCafe has less price than others so, you can avoid WPCafe spending more.
Predictions for WPCafe Restaurant Management Plugin
As WPCafe is a restaurant and food business-specific niche plugin, so the total numbers of users are less. So, it's quite common that not any other plugins have millions of installations, and so does the WPCafe. However, WPCafe already manages 6,000+ active installations. Which is better in our opinion.
Wptowp editorial believes that the "WPCafe restaurant management plugin" will have 10,000+ active installations next year and it will become more popular. Especially, once the app is accessible to the users, the plugin will beat other popular plugins in the market.
What's Comming at Restaurant Management Plugin?
Already they are working on Multivendor addons 2nd phase and mobile apps 2nd phase. So, we can expect them updated soon in near future. The application will be for both the android and IOS versions, as per we know. There are multiple other features are there under the in-discussion phase.
Customers can choose both the time of collection, Variation Image Swatches, and multiple timeslots for pickup/delivery will go under development soon. You can also submit your ideas to the board and you can vote on the existing ideas too.
Frequently Asking Questions About WPCafe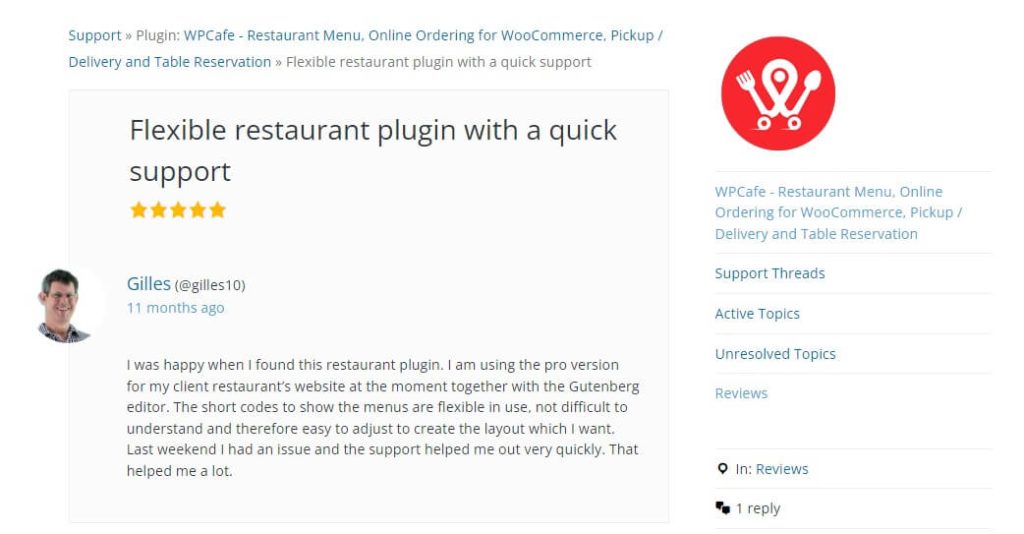 Have any queries after reading this complete WPCafe restaurant management plugin review? Well, we believe, you can have some questions. Let's clear up your latest confusion about the restaurant management plugin. See if you can find your answer from our list of frequently asked questions. If we missed your question, feel free to ask us. You can reach us on our social media channel too.
What is WPCafe?
WPCafe is a WooCommerce-based all-in-one restaurant management plugin that can help you to manage restaurants and food businesses. Its basic functions include creating fully responsive food menus and creating restaurant booking schedules with managing orders will always you handle the business smoothly.
WPCafe is a restaurant management plugin that has a restaurant menu displaying option, order management, and a pickup/delivery option as well as a reservation option. So, if you use WPCafe, you will get a restaurant menu show-up option too. Moreover, the WPCafe restaurant management plugin offers 30+ premade food menu templates that you can use to show your foods in delicious ways.
Does WPCafe have QR Code for Food Ordering?
Yes! WPCafe has a QR Code option for food ordering. You can create QR Codes for different menus and then use them to take orders. You can update the menu from the back-end without re-generate or changing the QR Code.
Can I use WPCafe without WooCommerce?
Mostly No! WPCafe is a complete WooCommerce-based restaurant management plugin that handles the items stocks and reservations through WooCommerce. So, you will need WooCommerce to use the WPCafe restaurant management plugin.
Can I use WPCafe with Elementor?
Yes! WPCafe restaurant management plugin comes with all the features and widgets as Elementor widgets and you can use them in your Elementor editing panel. Moreover, you can use shortcodes too in the same editing panel.
What are the Payment Getaways WPCafe Support?
As we said, WPCafe handles the payment and selling part through WooCommerce. Thus, you can use any payment getaways that are supported by WooCommerce in this restaurant management plugin.
That's the complete review of the WPCafe restaurant management plugin. Hope you can now make your final decision about purchasing the restaurant management plugin for your next project. We are happy that you have finished reading the blog. Would you like to support us a little more?
You share it with your friends by clicking on the following social icons. A social share will take a moment from you. But it will help us to grow and we will be motivated. Just click on your favorite social icon and share. Your one share will not make our day, it will make our week actually.
Acknowledgment 💯💯
🐾 Images – Images in this blog have been collected from the Themewinter's website, blogs, landing page, WPCafe landing page, ollzo website, WordPress directory, Social site etc
🐾 Video – The video in this blog has been collected from the Themewinter channels.
🐾 Affiliate Links – This blog contains several affiliate links. This means, that if you purchase any product through the link, we will get a commission without costing you extra. You can see affiliates disclosed here.
🐾 Data Source – All the data has been collected from various open-source. For example landing page, WordPress directory, youtube channel, etc. Data can get changed from time to time.

Editorial Staff
Our Editorial team consists of WordPress Expert/s, Analysts, Content Editors, Writers, Designers, SEO Experts, Outreach People and Developers! For each content, a highly expert and dedicated team led by Asadullah Galib, works together. We have only one motto, "Help you to make your final decisions!"