Orderable 👉 Best Restaurant Plugin for WooCommerce 2023
Looking for an easy but best restaurant plugin for WordPress 2023? Meet Orderable, a better restaurant plugin for WooComerce! The plugin is ideal for local food businesses, food delivery, and restaurant business. In this blog, we will share the whole details so that you can know Orderable ins and outs. We will add the data that will help you make your purchase decisions.
Check the WPCafe review! A better alternative to Orderable. WPCafe provides solutions for Food menus, Food Ordering, Reservation, and Pickup/Delivery.
Orderable Review – Introduction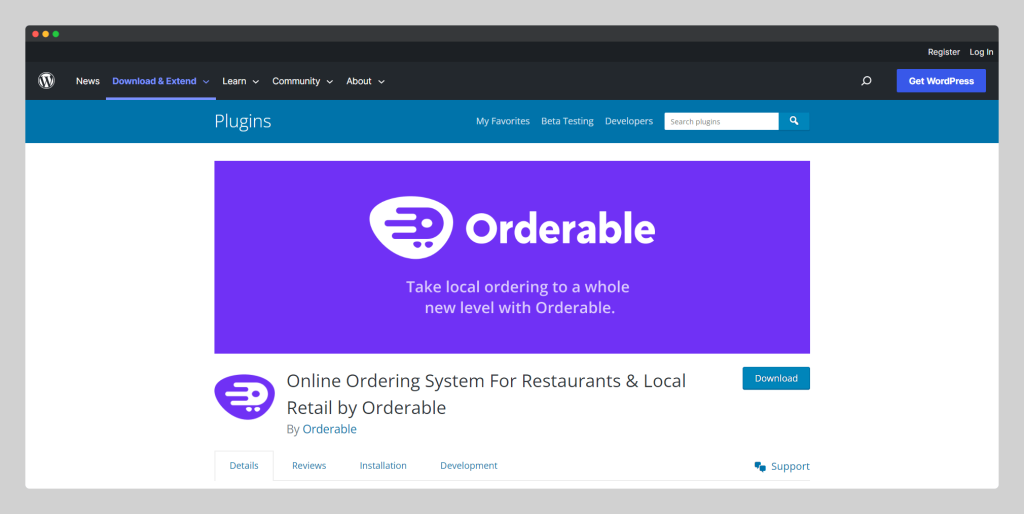 Would you like to pay once and do business for a whole year? Tired of sharing revenue for every order in your restaurants? Well, Orderable is here to help in your food business. Orderable is a food ordering and restaurant menu plugin for local delivery. You can set up a complete WordPress website with the plugin. And guess what, you will need to pay once for the whole year. No commission for every order through the website.
Orderable is one of the best restaurant plugins for local delivery and food ordering. It comes with advanced features to bump up your revenue. You can handle the order and stock through WooCommerce, accept payments and get details analytics on how the sales going on. It's a comparatively young plugin but growing so fast.
Best Features of Orderable Plugin
Let's explore the important features and functionalities of this new addition to the food plugin. In this section, we have added all the important features with small descriptions. Please note that we have collected all the features from the plugin website as well as we have installed and tested the free version from the WordPress directory.
| | |
| --- | --- |
| 👉 Zero Fees | You can say goodbye to giving 30% – 40% commission on each transaction to 3rd-party apps and websites. Pay once and use it the whole year. |
| 👉 Mobile-First Design | It looks great on any device, so your site and menu are always easy to use no matter which size screen your customer use to order. |
| 👉 Easy Ordering | You can give your customers a smooth ordering process with our app-like, one-page design. |
| 👉 Product/Menu Layouts | Its flexible layouts let you create great-looking menus fast, so you can get your restaurant up in minutes. Without coding, a non-technical person can handle the website with Orderable. |
| 👉 Product Labels | The plugin panel has beautifully designed product labels to keep your customers informed. You can add tags like vegan, new, popular, spicy, and more. |
| 👉 Product Addons | You can allow customers to add toppings, make a dish vegan, or add a side with product add-ons. You can also include additional fees or add images to help customers make a decision. |
| 👉 Order Bumps | While closing the purchase, you can suggest additional menu items, sides, or sauces as a customer adds items to their cart to increase your average order value. |
| 👉 Time Slots | Take control of your schedule and set when you're able to deliver or accept orders for pickup. Customers can then select when they would like their order based on your schedule. |
| 👉 Holiday Scheduling | Off days are different and the menu should be occasion basis. You can easily create one-off or recurring holiday schedules for your business to make sure orders only come in when you're there. |
| 👉 Full Checkout Control | Set your own fees for delivery, include payment methods you choose, and add optional tip prompts to your checkout to complete the process. |
| 👉 Order Management | Be instantly notified when new orders come in and easily change the order statuses as you start processing. |
| 👉 Timed Products | You can choose when your products or product categories are visible in your store. Perfect for lunch menus. |
| 👉 Checkout Tipping | Add tip prompts to your checkout to boost revenue. With it, you can allow your customers to share their happiness and satisfaction. |
| 👉 WhatsApp & SMS Notifications | Let's notify the customers when their order is on the way. |
| 👉 Custom Checkout | Experience our custom checkout, optimized for quickly processing local delivery and pickup orders. |
| 👉 Table Ordering | You can use QR codes to automatically assign table numbers to orders. |
| | |
Orderable recently added some other features. Let's check the list only to keep this blog length readable. You can always check the details from the Orderable website as well as from the WordPress directory of the Orderable plugin.
| | |
| --- | --- |
| Delivery Days calculation | New filters for service types |
| Edit the product after adding it to the cart | Option to open Quickview when the card is clicked |
| Allow users to manually change the quantity | Allow admin to override the live view audio notification |
| Ability to remove/clear any repeatable settings row | Allow users to manually change quantity in the side cart |
| Product Information accordion added to quick view | — |
The last update date is 19th March 2023
Orderable Pro Pricing
Orderable, the best restaurant plugin, comes with a flat yearly pricing plan. You can get all the features for single to multiple domains. Orderable pro will cost $149 for a single website license, for the 10-site license you will need $399 and for the 25-site license, you will need $499. If you're not completely satisfied with Orderable Pro, you can request a full refund within 30 days of purchase.
| | | | |
| --- | --- | --- | --- |
| One Site | 10 Sites | 25 Sites | Refund |
| $149/Year | $399/Year | $499/Year | 30 day |
The last update date is 19th March 2023
The plugin owners hold the right to update/change the product price at any moment. You are requested to check the final price before making the purchase of this plugin.
Orderable Plugin Integration
No public information was found on the integration list of the Orderable plugin.
Orderable Plugin Addons
No public information was found on the addons list of the Orderable plugin.
Orderable Review Spotlight (USPs)
Orderable has been buzzing since it's got released. And the plugin is growing fast. Become 2,000+ active installations within 2+ years. So, we checked what are the unique selling points that users loved in this plugin. Let's check them at a glance.
Better UX 🧐 The plugin comes with extremely simple UX. If you can just use WordPress then you can use the plugins. You will hardly need to use the documentation and videos.
Not Features Creep 🧐 It has no extra features that might be confusing for the users. No features creep, only necessary features that need to manage local food business. Unlike other plugins, it has advanced functionality to help users with repetitive tasks.
Made by Strong Team 🧐 The plugin is made by a highly expert team and it reflects the code quality, features, and function of this plugin. You can trust the team due to its track record.
Light Weigh and Fast Loading 🧐 As there is no features creep and no extra features, it becomes lightweight. The average memory usage is -0.42 KB. This is fewer than 99% of plugins. The average page loading time is increased by 0.07s. This is faster than 99% of plugins.
What is on the Way to Orderable?
No public information was found for the roadmap of the Orderable plugin. However, if you are a premium user, you can ask them for the Orderable roadmap. To be clear, there are no extra charges for anything listed above and they won't ever add a feature to Orderable that you don't get access to as a Pro customer.
When did Orderable Start Its Journey?
10 Jun 2021, 2+ years back from now!
Orderable get soft release with v0.1.0. From then to now, the plugin is continuously updating and made its history towards the success of many businesses. It has 19+ releases so far. 4.5 average ratings, 16+ five-star ratings, and 23k+ total downloads from the WordPress directory make their own history for restaurant business owners.
Who are Behind the Best Restaurant Plugin?
Our study found StellarWP is the company behind the best Restaurent plugin. If you still don't know them, StellarWP is a Liquid Web brand. One of the most popular hosting companies for WordPress. And the company produced some of the famous WordPress plugins. The Events Calendar is their innovation. At this moment, the Events Calendar is powering 800k+ active events organizers.
LearnDash is a leading WordPress and Cloud-based learning management system. This is also their product. iThemes Security plugin is powering 1M+ websites. It's also made by StellarWP. The same team as Orderable. Restrict Content plugin for content management with 10,000+ active users, Kadence multi-purpose WordPress theme with 200k+ active users, GiveWP WordPress Donation Plugin with 100k+ active users, iconicwp is for power-up your eCommerce store is their products.
If you notice, each and every plugin that is made by StellarWP is super successful. The orderable restaurant plugin is made by such a strong team.
Where did Orderable Get Mentioned?
The plugin is new but got mentioned in many popular blogs. Multiple youtube also featured this plugin. And the reason is the backbone team of the Orderable plugin. In this Orderable review blog, let's see the website and video channel list that talks about and endorses this restaurant plugin for WooCommerce.
WPMayor published a review about the Orderable. LayerWP, JotForm, BetterStudio, WPMet, Sitesaga, WPDoze, WPdetector, ThemeWinter, WPdexigner, competethemes, WPLeaders, gersonseven, ICONIC, themegrill, agilestorelocator, businessbloomer, worldpressit reviewed, enlisted and mention Orderable in different content. The fun fact is, Orderable is placed on top of the list in most of the list-type blogs. The coupon and deals website also featured this plugin.
WPCrafter published multiple videos as tutorials of the Orderable. Other popular YouTube channels that published videos are JD Web Services, Stratos Tutorials, Alexis FH, WP Origami, WPSinhala, etc.
Orderable Free vs Pro Comparison
Checking the Orderable free vs pro comparison for this blog. The free version of Orderable comes with some basic features. You can set up the basic delivery site with the help of WooCommerce. Moreover, you can test the features and how it works from the free version. In the Orderable pro version, you can get advanced features, support, and update.
| | | |
| --- | --- | --- |
| Orderable Free | Orderable Pro | |
| | | |
| Intuitive Product Layouts | All Free Features | Product Labels |
| One-Page Ordering | Product Addons | Order Bumps |
| Holiday Scheduling | Time Slots | Order Flow |
| Floating Cart Widget | Custom Checkout | Checkout Tipping |
| Efficiently Process Orders | Timed Products | SMS & WhatsApp |
| Mobile First and Responsive | Custom Order Statuses | Nutritional Information |
| | Table Ordering | Allergen Info |
| | | |
The last update date is 19th March 2023
Editorial Prediction for Orderable
If you already know StellarWP and know the Orderable is backed by the same team, then you know the future. The plugin has been launched for 2+ years and gained 2,000+ active users. They will be the leading restaurant management plugin in the upcoming days. And the Wptowp editorial believes that Orderable will gain 10,000+ active users within 2-3 years (2025)!
Orderable become the threading competitor for many regular WordPress restaurant management plugins. And in the upcoming days, with more releases and new features, it will become the market-leading WordPress food-ordering plugin.
Best Restaurant Plugin FAQs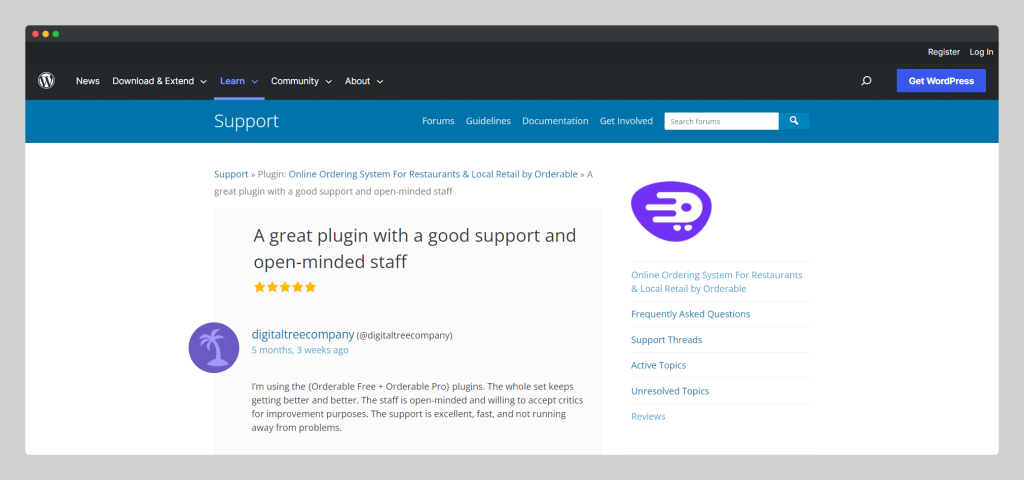 Got some questions about the plugin? No worries. We have the answers for you. In this section, we have added the most asked questions. Hope you will see your questions with the answers. If we missed it, no worries. Just ask us and we will reply to you as soon as possible. And we will also add the question-answer here for future readers.
Will Orderable work with my page builder?
The plugin works with all page builders. You simply create your ordering layout and use the provided shortcode in your page builder. It also comes with a Gutenberg Block that you can use.
Does Orderable charge a percentage of each order?
One of the benefits of using this plugin is you are not charged additional fees on each transaction, unlike other ordering systems.
Can I use Orderable on client sites?
Yes, you certainly can, however, your client won't have direct access to our support. All support requests would need to come through the license purchaser.
What's required to use Orderable?
It is a WordPress plugin that uses WooCommerce for the checkout. In order to use it, you must have a self-hosted WordPress site.
What payment gateways does Orderable support?
This is where it is a solution for everyone. Any payment gateway for WooCommerce will work with this plugin. So, you can use any payment getaways that are support by WooCommerce will also support by the plugins.
Do you offer refunds?
If you're truly not happy and you're sure there's nothing they can do to help, then you can request a full refund within 30 days of purchasing. But we recommend you check the features and functions before making the purchase decision.
Is this an annual subscription?
Yes, it will renew each year. You can cancel your subscription and the plugin will continue to work when your license expires, however, you will no longer receive updates or support.
Are discounts applied to annual renewals?
No, discounts on annual licenses apply to the first year only.
Orderable Review – Conclusion
Thanks for reading the full blog. The Wptowp team is truly thankful to you. Would you like us to support little? You can share this blog in your social handle. This way, your friends may know about these amazing products. And we will get some more visitors. Sharing is easy. Just select the icon in which you want to share and click share now to confirm sharing.
Acknowledgment 💯💯
🐾 Images – Images in this blog have been collected from different websites, blogs, landing pages, plugin landing pages, WordPress directories, Social sites, etc
🐾 Affiliate Links – This blog contains several affiliate links. If you purchase any product through the link, we will get a commission without charging you extra. You can see affiliates' declarations here.
🐾 Data Source – All the data has been collected from various open sources like landing pages, WordPress directories, YouTube channels, etc. Data can be changed at any time.

Editorial Staff
Our editorial team consists of WordPress expert(s), analysts, content editors, writers, designers, SEO experts, outreach people, and developers! For each piece of content, a highly expert and dedicated team led by Asadullah Galib works together. We have only one motto: "We help you to make your final decisions!"