The Events Calendar Review 2023 (All Solutions in 1-plugin)
If you ask us, What is the best Event Calendar plugin? We will say "The Events Calendar" before you finished your words! You will be amazed to know that, we have similar answers for multiple other questions. In The Events Calendar Review 2023, we got them coved all. Let's check some other questions that are the answer is "The Events Calendar"!
👉 What is the best event tickets plugin?
👉 What is the best virtual event WordPress plugin?
👉 What is the best community event plugin?

👉 What is the best event automator WordPress plugin?
👉 What is the best event Aggregator plugin?
👉 What is the best event marketing WordPress plugin?

There are many more! But we keep it short for this blog. And the answer is, "The Events Calendar!"
The Events Calendar started its journey 13 years ago. When most of our editorial team was kids, having no computer literacy. From time to time, it grows and establishes its features and functionality. They have 8,00,000+ active installations whereas the second-best WordPress events plugin has 100,000k+ users! But are these our matrics saying the best of the events plugin?
No! We have analyzed the plugin and fetched all the information. We have compared technical and user experience. And then we come to know it's the best. There are multiple other Events plugins like Eventin, Events Managers, etc. But if you have a better budget, The Events Calendar is the plugin applicable to you.
This blog will discuss all the features that make the plugin stand out. We will share exclusive information with analysis. But we warn you, The Events Calendar Review 2023 blog will be long. You will have to scroll the blog to complete the reading. If you already know the plugin and have ideas, Go to the website and purchase today.
The Events Calendar Review – Introduction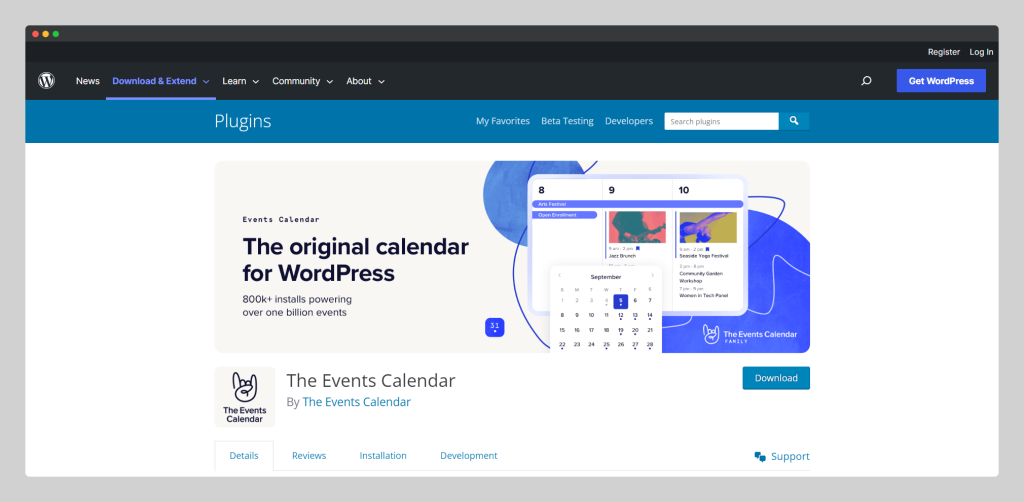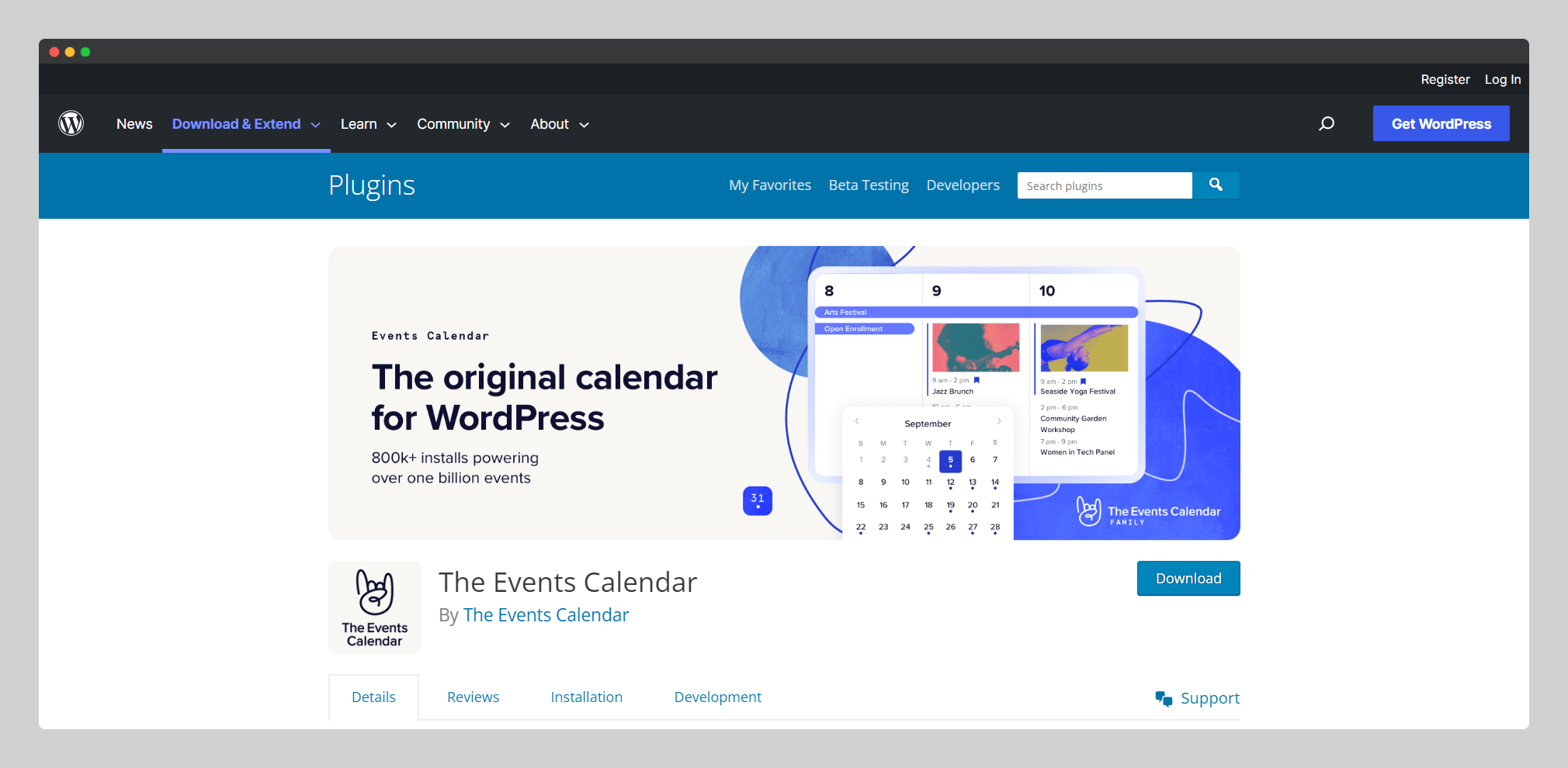 Remember the year 2010, WordPress becomes 4 years old kids. And our editorial peoples were high school kids having no computer literacy. From then to now, 13 years, many plugins born and shouted down. But there is one exception. That is the Events Calendar plugin.
It's born, grows from time to time, becomes stable, makes progress, updated the technology, and leads the market. This is the scenario of the Events Calendar plugin. It plugin has the highest active installations, the highest rated users and five stars, the highest reviews, and the highest price too. It's the number one events calendar plugin on WordPress. Calendars, ticketing, marketing, and powerful WordPress tools to manage your events from start to end.
The best part of the plugin is, it will help you not only create and manage events but also market them. From the single plugin, you can get started and make extra bucks.
Best Features of The Events Calendar Plugin
The plugin has a total of 6 premium modules which you can buy in a package or separately. They have different features and functionality. Let's check the module name first and then in the table, we have added the features name. If you are interested to know more details, check the plugin landing page.
Events Calendar 💥 Power your events for free with The Events Calendar, or upgrade to Pro to unlock recurring events, views, premium support, and more.
| | | |
| --- | --- | --- |
| Subscribe to Your Calendar | Time Zone Support | Multiple Views |
| Featured Events | Recurring Events | Additional Views |
| Premium Support Access | Week View | Recurring Events and Series |
Event Tickets 💥 Manage ticketing and RSVPs for free with Event Tickets, or upgrade to Plus to unlock custom registration fields, advanced widgets, premium support and more.
| | | |
| --- | --- | --- |
| eCommerce Integration | Attendee Registration Forms | Mobile Ticketing App |
| Shortcodes | Ticket Stock Countdown | Custom Ticket Tiers |
| Ticket Management | Ticket Insights | Email Confirmation |
| Online Event Registration | Display Attendees | Attendee-only Content |
Promoter 💥 Email event communication made specifically for The Events Calendar. Google, Meetup, Eventbrite and a CSV file icon integrating with a calendar date.
| | | |
| --- | --- | --- |
| Marketing Automation | Shortcodes | Custom Template |
| Triggered Messages | Dynamic Content | Timeline |
Event Aggregator 💥 Effortlessly fill your calendar with events from Meetup, Eventbrite, iCal, Google Calendar, and more.
| | | |
| --- | --- | --- |
| Import From Multiple Sources | Bulk imports | Publishing Controls |
| Group and Individual Imports | Filters | Import Categories |
| Automatic and Manual Imports | Smart sync | Migration Made Easy |
Filter Bar 💥 Filters let users search events by category, venue, organizer, day of the week, and more.
| | | |
| --- | --- | --- |
| Add Filters to Your Calendar | Appended URL | Custom Filters |
| Flexible Layout | Responsive Design | Display Controls |
| Virtual Events | Customizable | |
Virtual Events 💥 Highlight virtual events on your calendar and integrate them with your favorite online meeting tools.
| | | |
| --- | --- | --- |
| Create Zoom meetings from WP | Indicate Events as Virtual | Require Tickets or RSVP |
| Highlight Virtual Events on Calendar | Indicate Events as Hybrid | "Display link" Button |
| Manage Events from WordPress | Enhanced Google SEO | Schedule Live Streams |
| Schedule Video Links | Livestream embed | |
Community Events 💥 Add an event submission form to your website so users can submit events to your calendar.
| | | |
| --- | --- | --- |
| Event Submission Form | Standard Event Fields | Publishing Control |
| Registered User Settings | Editing Listings | Categories and Tags |
| Saved Venues and Organizers | Spam Protection | Email Notifications |
Community Tickets 💥 Extend the functionality of Community Events and Event Tickets Plus. Let users create and sell tickets for events they submit to your calendar.
| | | |
| --- | --- | --- |
| User Ticketing Platform | No Admin Access Required | Attendee Management |
| Sales Reports | Collect Ticket Fees | Split Payments |
| eCommerce Integration | Automated Payouts | |
With the Eventbrite Tickets plugin, you can connect your WordPress calendar with the leading ticket platform and drive sales for your events.
Event Automator 💥 Automate your workflow and save time for what matters most by connecting to your favorite third-party apps and tools.
| | | |
| --- | --- | --- |
| Zapier Trigger Support | Lead Management | Communication Outreach |
| Internal Processes | Data Management | Filters and Paths |
The Events Calendar Features Explain
Tired of reading the features list of the plugin? Well, you have more to know. We have added the main features of the plugin in the above sections. And if we add all the features split then the list would be 100-150! It would be almost impossible to read. So, to keep the blog readable, we have added only the main features.
Like you, admins were tired to add the features too. The Evenst Calendar has readlly a looot of features in their bag.
Did you notice, we have added multiple links in the above sections? This is because, if you are interested to know the details and features of any module, you can click and know instantly. Hope that will help you.
The Events Calendar Pro Pricing
So, a lot of features they are providing. But how about the Events Calendar pro pricing? To be unbiased, they are doing monopoly business with higher prices. As they have the highest user base and better features so it's fine to do this kind of business.
At the Events Calendar pro, there is no LTD plan. You will have to renew the subscription yearly. Starting from 700$, the price will be up to 3,700$. Your money will be backed by 14 days refund policy. And you can test the free versions at any time.
| | | | | | |
| --- | --- | --- | --- | --- | --- |
| The Events | Calendar | Pricing | | | |
| 1 Site | 3 Sites | 10 Sites | Multisite | Unlimited | Refunds Policy |
| 699$/year | 1199$/year | 1999$/year | 1999$/year | 3699$/year | 14 days |
| | | | | | |
The last update date is 3rd February 2023
The Events Calendar holds the full rights to change the pricing of the plugin. If you plan to purchase the pro, please check the latest pricing from the official website. Moreover, you can always get different pricing depending on the license numbers and packages.
The Events Calendar Plugin Integration
Integration is another important thing to be considered while purchasing the plugin. As events need collaboration from different perspectives, so we have collected the integration list of the Events Calendar. Let's explore the list now.
Integration List of Themes
The Events Calendar comes with all the popular theme integration such as Avada, Astra, Divi, etc. You can also use the Bizxpo events WordPress theme. It has been developed with the thinking of online event management functionalities.
| | | |
| --- | --- | --- |
| Avada Website Builder | Basel Theme | Divi Theme |
| Enfold Theme | Genesis Framework | Event Submissions |
| Genesis Framework & Tickets | Hello Elementor Theme | Kadence Theme |
| | | |
The last update date is 16th March 2023
Integration List of Performance Plugins
One of the major WordPress concern is caching and lagging. A lot of B2B avoid WordPress due to its performance. But in recent days, multiple plugins are helping to improve the WordPress experience. And the best part is, the Events Calendar comes with multiple optimization plugin integration.
| | | | |
| --- | --- | --- | --- |
| Autoptimize | Breeze Cache | LiteSpeed Cache | SiteGround Optimizer |
| W3 Total Cache | WP Engine | WP Fastest Cache | WP-Optimize |
| WP Rocket | WP Super Cache | | |
| | | | |
The last update date is 16th March 2023
Integration List of Translations Plugins
Why do not use a single WordPress website for multi-language people? You have options. With the Events Calendar and Translation plugin, you can host your next event in a different language.
| | |
| --- | --- |
| WPML Translations | Loco Translate |
| | |
The last update date is 16th March 2023
Integration List of eCommerce Plugins
The event comes with a selling opportunity. And the multiple plugins including WooCommerce enable selling features for any website. There are some more plugins in WordPress that are relevant to eCommerce and come on the Events Calendar integration.
| | | |
| --- | --- | --- |
| PayPal | Tribe Commerce | GiveWP |
| WooCommerce | Easy Digital Download | |
| | | |
The last update date is 17th March 2023
Integration List of Marketing Plugins
Lead management and marketing come with the opportunity to make better revenue. We were checking the marketing integration of this plugin and found the following list.
| | | | |
| --- | --- | --- | --- |
| Jetpack | Social Media Feather | Mashshare | HubSpot |
| WP Fusion | Uncanny Automator | WooCommerce | BuddyBoss |
| SEO Press | Yoast SEO | | |
| | | | |
The last update date is 17th March 2023
Integration List of Memberships Plugins
Let's explore the recurring events and repetitive events with membership. It will allow you to make a monthly recurring revenue. And the good news is, the Events Calendar comes with multiple membership plugin integrations. You can utilize them and make money from regular events.
| | |
| --- | --- |
| BuddyPress | MemberPress |
| Restrict Content Pro | WooCommerce Memberships |
The last update date is 17th March 2023
Integration List of Page Builders
Drag and drop page builder allow users to create beautiful events page. Even if the users are new and non-technical, still they can create and manage events with the help of WordPress page builder. And guess what, events calendar plugin comes with 5+ page builders at this time.
| | | |
| --- | --- | --- |
| Avada Website Builder | Elementor Page Builder | Slider Revolution & Essential Grid |
| Oxygen Page Builder | Beaver Builder & Themer | |
| | | |
The last update date is 16th March 2023
The Events Calendar Review Spotlight (USPs)
As the leading WordPress events plugin, it does not need to have a lot of USPs. People can trust as the others did. However, as per our Wptowp's blog pattern, we have checked and listed the following USPs of the Events Calendar plugin.
🧐 One Solution for All: From managing events to growing sales, anything you need, the plugin has all the solutions. There are multiple modules that have been developed in order to help you market the events.
🧐 Highest Integration: You can use this plugin with any other popular themes and plugins. And you can also use a lot of external apps.
🧐 Highest User Base: It has 800k+ active users which is 700k+ more than the 2nd popular events calendar plugin.
🧐 Extensive Customizable: Depending on the user's themes and events, users can customize it as they need,
🧐 Support and Documentation: They provide fantastic support and fast response. If you dislike creating support tickets, the knowledge-based documentation can help you move into the next steps.
What is on the Way to The Events Calendar?
We did not find any public roadmap for the Events Calendar plugin.
When did The Events Calendar Start Its Journey?
The plugin was born and start growing in the year of 2010! And we got the Events Calendar premium release blog v1.1 on Jul 09, 2010! It was an update to the WordPress premium Events Calendar plugin. From then to now, the plugin is bringing updated continuously. At this moment, they are releasing 4.10.4!
Who are Behind the Oldest Events WordPress Plugin?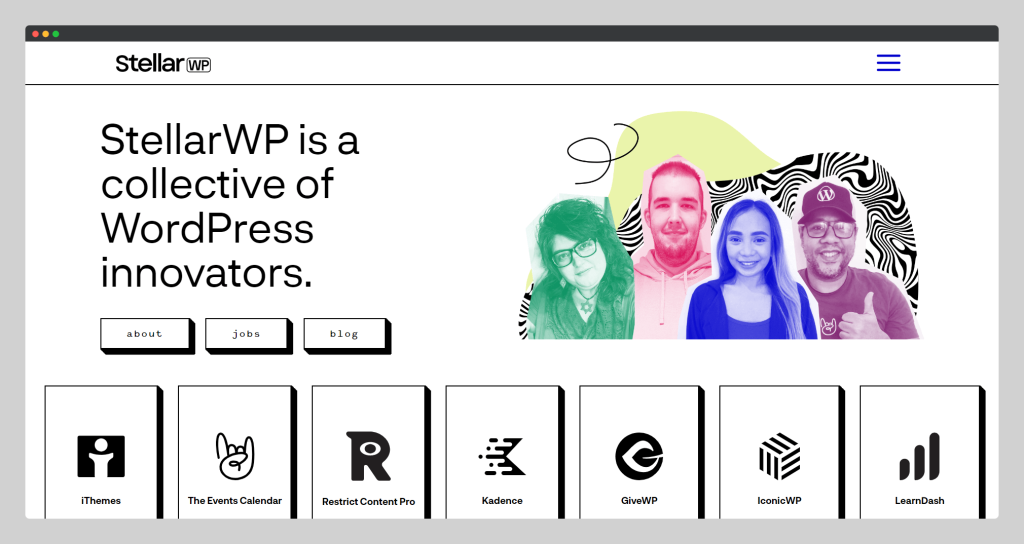 StellarWP is the company behind the best WordPress Events Plugin. If you still don't know them, StellarWP is a Liquid Web brand. One of the most popular hosting companies for WordPress. And the company produced some of the famous WordPress plugins. The Events Calendar is their innovation.
LearnDash is a leading WordPress and Cloud-based learning management system. This is also their product. iThemes Security plugin is powering 1M+ websites. It's also made by StellarWP. The same team as Orderable. Restrict Content plugin for content management with 10,000+ active users, Kadence multi-purpose WordPress theme with 200k+ active users, GiveWP WordPress Donation Plugin with 100k+ active users, iconicwp is for power-up your eCommerce store is their products.
If you notice, each and every plugin that is made by StellarWP is super successful. The orderable restaurant plugin is also made by such a strong team.
Where did The Events Calendar Get Mentioned?
They are the top and most famous WordPress events plugins. So, they don't require to get mentioned on different sites. Rather, they can endorse other products for the users. Still, our team checked online and found the following websites that talk about this plugin. The following names are not limited to if you check, you may get more names too.
We try to look out what the websites talk about the reviewed product. Our motto is to show, how the community endorsed the plugin. This way, we feel confident, and so do our users. But the case of the Events Calendar is totally different.
| | | | |
| --- | --- | --- | --- |
| aThemes | WP Marmite | wpfusion | elegant themes |
| bloggingwizard | time.ly | Be theme | Kinsta |
| WooCommerce | WP Event mANAGER | Barn2 Plugins | LearnDash |
| Qode Interactive | wpbeginner | Colorlib | GreenGeeks |
| Themeisle | webnus | hostinger | Oxygen Builder |
| Acy Mailing | SearchWP | roundup wp | CommoNinja |
| Liquid Web | BuddyBoss | WP Forms | billerickson |
| wpdevdesign | HappyAddons | elementor | gamipress |
| | | | |
The last update date is 14th March 2023
There are tons of other websites which talk about the Events Calendar plugin. They listed it, linked it inside the blog, and published a comparison. If you search on google, you can see them too.
Let's look at the YouTube channel list that advocated the Events Calendar. IdeaSpot, Kori Ashton, WPGlob, Launchbay Creative, themesCode, Web Monkey, How To 1 Minute, etc made and published videos about the plugin.
The Events Calendar Free vs Pro Comparison
At every premium module of the Events Calendar, both the free and pro versions are available. You can test the free version and the plugin is available in the WordPress directory. The pro version will unlock advanced features as expected. However, the Eventbrite Tickets module does not have any free options now.
Editorial Prediction for The Events Calendar
The Events Calendar plugin is already leading and they will keep loading the next decode. They are now 800k+ (850k+ according to tools) and have chances to become 1M+ dream figures within the following year. The price is a bit higher but compare to features, it's one of the best events WordPress plugins for agencies. And in the upcoming days, it will keep helping the events agencies.
If there are any other plugins that come with the same features but a great marketing team, then the Events Calendar might lose some active users. But the chances are very poor according to Wptowp editorials. So the Events Calendar will keep leading the WordPress events website.
The Events Calendar Plugin FAQs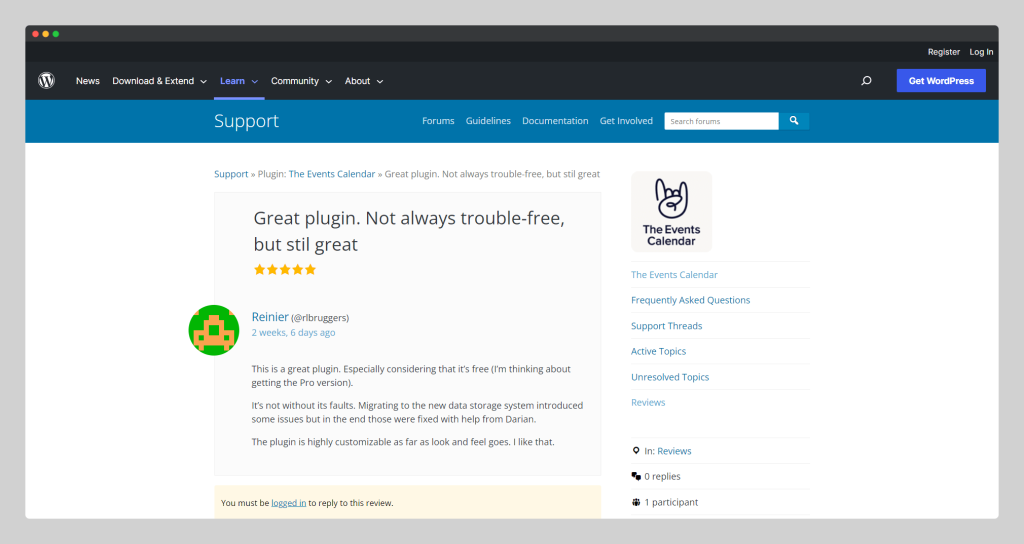 You have got the questions while reading this blog? No worries. In this section, we have added all the frequently asked questions with the answer for you. And if we missed your questions, contact us today. We will add the answer to help future visitors.
Is The Events Calendar Free Plugin?
The Events Calendar plugin is a freemium plugin that offers both the free version and premium versions. You can download the free version from the WordPress directory while the pro version of The Events Calendar is available on their website.
Is it Amelia Alternative Plugin?
You can use The Events Calendar plugin for everything related to events management and events marketing. Since the module has similarities with the Amelia booking plugin, you can use it as an alternative to Amelia. But to get a better booking experience, Amelia can beat it.
Additionally, you can check the newly released WordPress booking plugin Timetics. We have published the review here.
What is the Best Calendar for WordPress?
The plugin was born and grow along when there were no other events plugins. Now there are 13+ events plugins but still, it has the highest active users, ratings, and price. If you are happy to pay a better price then it's undoubtedly one of the best Events plugins for WordPress websites.
How to Check the Events Calendar Features?
The best way to check the WordPress event plugin's features is by downloading the free version from the WordPress directory. Then you can check the free features. For the premium features, you can check the plugin's landing page, documentation, and WordPress descriptions.
The Events Calendar Review – Final Notes
You can now stop searching for WordPress event plugins to show your upcoming events on the site. With the blog, you already know the features and modules that will allow you to go quickly manage events. Even if you face any problem, the documentation of the detail and video tutorial will work as a bridge and help you keep going.
Hope you have enjoyed the blog. Do you want to support us, and at the same time, want to let your friends know about this amazing plugin? Click on the following social media logo and share the blog. A few clicks will motivate us to do more for you.
Acknowledgment 💯💯
🐾 Images – Images in this blog have been collected from different websites, blogs, landing pages, plugin landing pages, WordPress directories, Social sites, etc
🐾 Affiliate Links – This blog contains several affiliate links. If you purchase any product through the link, we will get a commission without charging you extra. You can see affiliates' declarations here.
🐾 Data Source – All the data has been collected from various open sources like landing pages, WordPress directories, YouTube channels, etc. Data can be changed at any time.

Editorial Staff
Our editorial team consists of WordPress expert(s), analysts, content editors, writers, designers, SEO experts, outreach people, and developers! For each piece of content, a highly expert and dedicated team led by Asadullah Galib works together. We have only one motto: "We help you to make your final decisions!"