[Review] Eventin – WordPress Event Management Plugin in 2023
Ladies and gentlemen, please fasten your seatbelts. We are preparing for takeoff! In this review blog, we will be talking about Eventin, a WordPress event management plugin that brings not only event features but also many more. Eventin is a new plugin compared to the other established plugins, but the features are not!
Eventin is a plugin that maintains 97.14% positive and fives star ratings in the WordPress directory still now [3+ years].
Eventin features are mature, easy to use, and bugless. The product will help you to manage and grow your events. Even you can create an event-selling marketplace too. Sounds interesting? I guess yes. The editorial team was excited to share the blog and let's fly now. Remember, we are happy for the review but will keep it unbiased and Bhai-brothers effect free.
Eventin WordPress event management plugin did not rank top in our event listing blog. Even if it's not in leading positions! Eventin has reached 8000+ active installations. Then what makes us so excited about the plugins? Curious? Keep reading, after the end of the blog, you will love the plugin, that's our belief.
If you are an event organizer, event host, or meetup person then the blog is for you. Not just this, if you are someone related training professional, educator, freelancer, and developer, eventin can help you[details included inside blog]. As a digital marketer and agency owner, you can use this plugin too. If you are someone related to WordPress, you can keep reading.
Editorial Note 🔔🔔
This blog covers all the possible information that you need to make your decisions. Hence, the blog became longer than the regular expected reviews. You can bookmark the blog for later reading. Maybe you can just scan the headings and highlights if you are in a rush!
When did Eventin Start Its Journey?
Eventin's initial stable release was November 05, 2020! According to the WordPress changelog, it had some of the basic functionality and features in those days. Speakers, schedules, and ticketing were the main features. From then on now, Eventin become one of the best Event management plugins so far with 8k+ active users. The plugin got 138k+ total downloads, 34+ five-star ratings (97.14%), serving more than 120+ Countries.
Who are Behind the WordPress Event Management Plugin?
ThemeWinter, a WordPress product development company from Dhaka, is the company behind Eventin WordPress event management plugin. ThemeWinter started its business at Envato marketplace back in 2013 as a theme and template developer. And in the year 2019, they start building WordPress niche-based plugins.
Apart from Eventin, they have restaurant management plugin WPCafe, Cafesio, Bizxpo and Newseqo themes. They also have a restaurant management mobile application that can be used with WPCafe. They become the 11th Level Author on Envato Market with 30,000+ customers worldwide which is growing every day.
ThemeWinter got featured on lots of news and WordPress websites like aThemes, elegant themes (DIVI), Envato, etc. As part of the giving responsibility, they also provide sponsorship towards WordPress and tech events.
Where did Eventin Get Mentioned?
Eventin has been featured on DIVI (Elegant theme) website, popular marketplace AppSumo, and WordPress resource blog ollzo. Our team found the name on the Envato website, a different listing blog too. WP All Import, source force, weDevs blog. There are youtube channels like Saas master, appsumo, ollzo, and saas team which talk about this plugin.
How did Eventin Stand Out from the Competitor?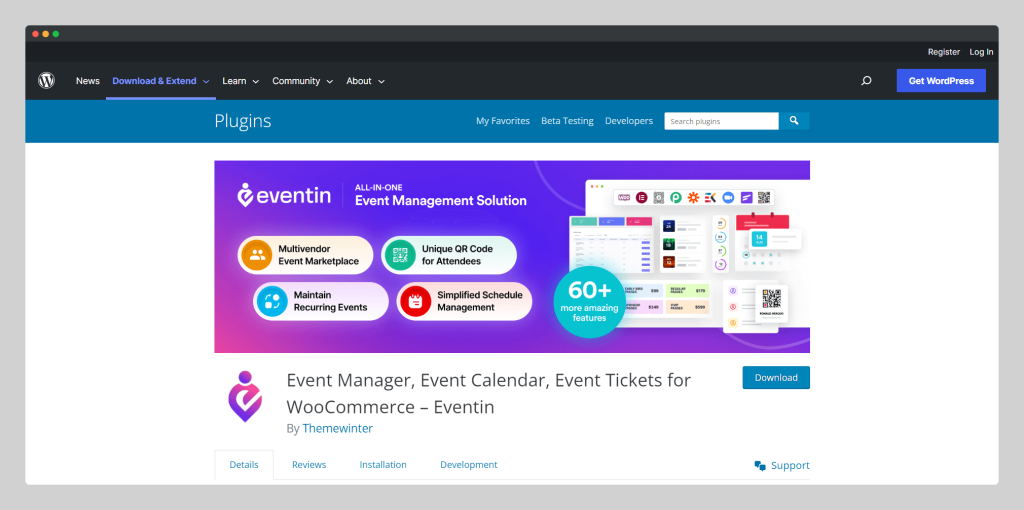 Eventin is new but comes with some USPs that are better than its competitors. Eventin also has more features and functionality than the other well-known WordPress event management plugins. Eventin is famous for one more reason. Their support is first-class. If you check the Eventin ratings, many of the users mention the support. Here are the unique selling points of the plugin.
✌️ Multivendor Event Marketplace – You can convert your event management website into a multivendor event and ticket-selling marketplace by Eventin with Dokan.
✌️ Unique QR Code for Attendees – You can create unique QR codes for guests who buy tickets and scan these QR codes at the event entrance to easily manage guests. It can be single and multi-steps scanning.
✌️ Maintain Recurring Events – You can create repeated events for daily, weekly, monthly, and annually with additional options for each till the specified period.
✌️ Event Calendar View – You can display events with daily, weekly, monthly and annual views with Event Calendar to help attendees register for multiple events.
✌️ Simplified Schedule Management – Plan events by creating multiple custom schedules and repeat them for multiple events by adding them under one or multiple speakers.
✌️ Showcase Speakers/Organizers – Add and use dedicate a single page for speakers and organizers to share their names, short bio, social media links, company URLs, and more.
✌️ Unlimited Single/Multiple Events – You can create an event with a single starting and ending date or add multiple events with multiple starting and ending dates.
✌️ Multi-tier Ticket Pricing – You can create multiple types of tickets for events such as 'Early Bird', 'Regular', and 'VIP' and set different prices for different tickets.
✌️ Unique Attendee Management – Eventin give attendees unique ticket IDs and track their attendance for individual events by filtering their data from the admin dashboard.
✌️ Detailed Analytics Report – You can also track event guests with unique attendee tickets for each event attendee and view total ticket sales at a glance.

✌️ Custom Field for Attendee Form – Get full control over the registration form by creating custom registration forms for attendees with unlimited extra fields.
✌️ WooCommerce Payment System – Allow users to pay through WooCommerce-supported payment gateways to purchase event tickets.
✌️ Groundhogg & FluentCRM Integration – Maintain customer relationships using Grounghogg and FluentCRM to automate your marketing campaigns that save time.
✌️ Event Venue with Google Maps – When creating an event, add and display your event venue on Google Maps. Make it easier for guests to find your event location.
✌️ Purchased Event Details on User's Dashboard – Show event details with an overview of the user's panel. All of the purchased event details are now available on the user's dashboard.
✌️ WooCommerce Coupon for Events – You can create multiple types of coupons like percentage discounts, fixed cart discounts, or fixed product discounts that apply to your events.
✌️ Stripe Payment System – Eventin supports the Stripe payment system. So users can pay with Stripe to buy their event tickets.
✌️ Dokan and DIVI Builder Addon – Use Divi to create the perfect event management website. And you can also create a multivendor event marketplace by using Eventin multivendor features integrated with Dokan multivendor.
Eventin Free Features List
Eventin has a lot of features and functionality that you can see hardly in other similar WordPress event management plugin. While we were testing the features, we listed the following notable free features that you can use. You can see the latest features list from the Eventin landing page.
| | | |
| --- | --- | --- |
| Event Features | | |
| Multi Event and Single Event | Event filtering on archive page | Event Listing |
| Trendy Unlimited Schedule | Timezone support for the event | |
| | | |
| Speaker and Attendee Features | | |
| Emails notification for zoom events | Multi-Speaker Functionality | Speaker Listing |
| Variable ticketing system | Unique attendee ticket for attendee | Speaker Single Page |
| Purchaser update details directly email | Download attendee tickets | |
| | | |
| Integrations | | |
| Zoom webinar | WooCommerce coupon | Pabbly compatibility |
| Pabbly compatibility | WooCommerece Payment System | Zoom Meetings |
| Ticket stock with Woocommerce | RTL Language Support | Make event taxable |
| Elementor Builder Shortcode | | |
| | | |
The last update date is 4th February 2023
How Much You Can Do with Eventin Free Version?
Eventin is a plugin that provides a complete solution in its free version. You can do almost everything with the free version of the plugin. From creating unlimited events to speakers, schedules, and ticketing can be done on Eventin's free version. As you can see from the above table, a lot of features they are providing in the free eventin. 31+ major features are available in your favorite WordPress event management plugin.
What More Does Eventin Pro offer?
With all the free features, you will get way more in Eventin pro. As we said, Eventin is a complete WordPress event management plugin so do its features. We added the shortlist with notable features so that you can get ideas about it.
| | |
| --- | --- |
| Eventin Free Features+ | |
| Event search widget | Event-specific banner and logo |
| Events list/slider widget | Add unlimited F.A.Q |
| Speakers list/slider widget | Company logo and website URL |
| Unique QR code | QR Code segment |
| Generate Unique ID | Export sorted & filtered attendee report |
| User notification | Resend purchase-related emails |
| Attach event details | Fluent CRM |
| Grounghogg CRM | Stripe payment gateway |
| Event location on google map | Print/Download Invoice |
| Calendar view | |
The last update date is 4th February 2023
Eventin DIVI Addons for DIVI Events
Enjoy the Eventin features and functionality with DIVI builders. Use Divi to create the perfect event management website. Eventin's integration makes it easier for Divi users to manage events from their websites.
Eventin Dokan Integration for Event Marketplace
The multivendor event marketplace is an on-premises marketplace platform for events. It allows individuals or vendors to manage sales functionality in their very own micro event services with all the necessary business features.
Eventin brings a multivendor event marketplace feature. The most unique features — the first of its kind! For this solution, Eventin integrated with Dokan multivendor at Eventin. It creates a win-win opportunity for both the event organizer and the marketplace owner by sharing profits and commissions.
Remarkable Eventin Integrations
Eventin is famous for its extensions and integrations. All the integrations will allow its users to not only manage but also do event marketing without facing any issues.
WooCommerce – Sell tickets and manage stocks with WooCommerce
Gutenberg – Create an Event with Gutenberg blocks
Elementor – Use Elementor widgets to create and manage events
Stripe – Sell tickets with stripe payment getaways
Dokan – Create a multivendor event marketplace
ElementsKit – Extends your Elementor event websites
Zoom – Host online meetings and webinars as online events
Visual Composer – Use a visual composer to create and manage events site
FluentCRM – Do events marketing automatically with CRM
BeaverBuilder – Create an events site with beaver builder
Twilio – Provide SMS updates with Twilio SMS
Pabbly – Provide updates to the attendees with Pabbly
Oxygen – Use oxygen builder to create events site
Zapier – Use zapier to manage your leads and marketing
Bricks – Use bricks builder to create events site
DIVI – Use DIVI builder to create and manage events on the DIVI theme
Groundhogg – Do marketing to your potential attendees and purchasers
As you see the long list, it will grow more. As eventin is still working and bringing more integrations. You can never see much more integration in any other WordPress event management plugin on the planet. Interesting?
When Should You Use Eventin Pro?
Eventin is a WordPress event management plugin that can be used from a different perspective. Let's explore the categories for more details.
🐆 Event Organizers – All-in-one WordPress event management plugin to create and manage events, sell tickets and do event marketing.
🐆 Online Tutors – Create sessions as specific events or recurring events and sell tickets to the students. Zoom is available for online tutoring.
🐆 Conference Organizers – Showcase conference details including speaker and sponsor details, schedule, etc on the dedicated page. Sell tickets too.
🐆 Meetup Host – Manage to gather people with free ticketing systems. You can manage stock with WooCommerce.
🐆 Fitness Trainer – Create sessions as events and sell tickets. Showcase the schedule and other information on the dedicated schedule page.
🐆 Agency Owner – Provide quick development service for the event's website without any technical issues and extra cost.
🐆 Freelancer – Provide quality service within the deadline using Eventin, and WordPress event management plugin.
🐆 Digital Marketer – Sell your valuable time and schedule to the customers. An event can be considered as your consultancy time.
🐆 Theme Developer – Develop an event management theme with complete functionality. You have overriding options in the WordPress event management plugin Eventin.
🐆 Music Instructors – Sell your weekly schedule and training session through events. You can use one-time or recurring events to manage your schedule.
Eventin Pro Pricing
Eventin WordPress event management plugin comes with flexible pricing. You can pay them either yearly or as LTD. The package started from 59 bucks only. They have 14 days of the money-back guarantee, so you can use the plugin and test for this period of time. The price is lower compared to other WordPress event management plugins available in the market. Especially, Eventins comes with a lot of advanced integrations and addons without extra cost.
| | | | |
| --- | --- | --- | --- |
| Eventin Pricing | | | |
| Standard, 1 Site | Premium, 10 Sites | Agency, Unlimited | Refunds Policy |
| 69$/year | 169$/year | 289$/year | 14 days |
| 169$/Lifetime | 289$/Lifetime | 519$/Lifetime | |
| | | | |
The last update date is 4th February 2023
The price can be ups and down at any time as ThemeWinter holds the right to change the pricing at any time. You are requested to check the latest update on their websites.
When You Should Not Use Eventin Pro?
Eventin is impressive and the editorial team's number #1 choice on the WordPress event management plugin list. There is no reason not for using it at this moment. Even if, you already have any booking plugins or any other WordPress event management plugin, still you should use Eventin.
Editorial Predictions for Eventin Event Management Plugin
Eventin is growing. Within the last few months, it grows from 5,000 to 8,000+ and it will grow more. They will grow more due to the features they are providing. We have been observing their LTD campaign at MarTech and AppSumo. Whatever they promise, they are delivering. Giant marketers like them so do our editorial.
Our prediction is, Eventin will grow faster in the upcoming days. And within the next year, they have a high chance to grow up to 50,000+ active users in the WordPress directory. Surely they will grow up their positions at our WordPress event management plugin's listing blog.
Upcoming Features and Integrations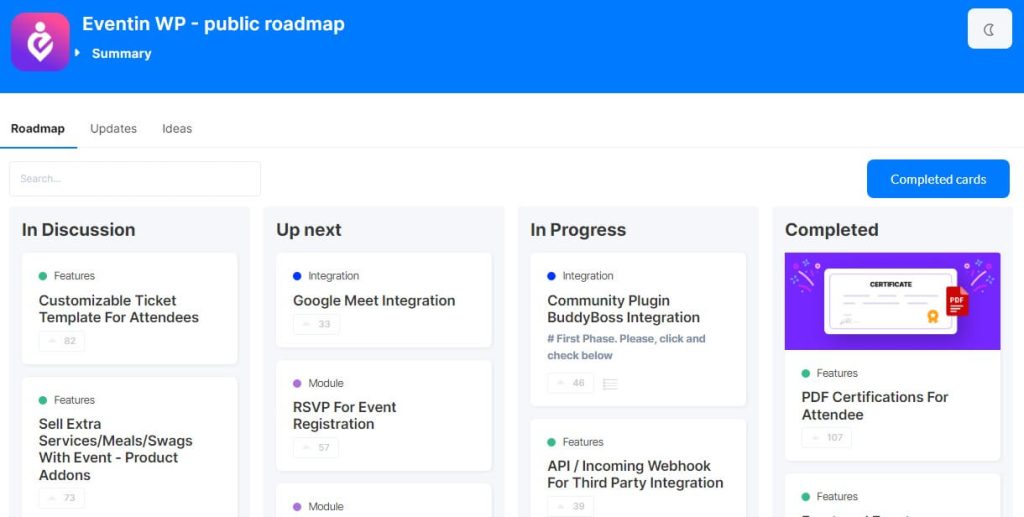 Recently they released some of the flagships features like Multivendor marketplace integrations, DIVI integrations, PDF certifications for attendees, recurring events, and so on. We checked their upcoming list. At this moment, they are working with BuddyBoss integration, WebHook. They also have a plan for google meet integration, and mobile application development soon. You can submit your own ideas to their website to make this WordPress event management plugin better.
Frequently Asking Questions About Eventin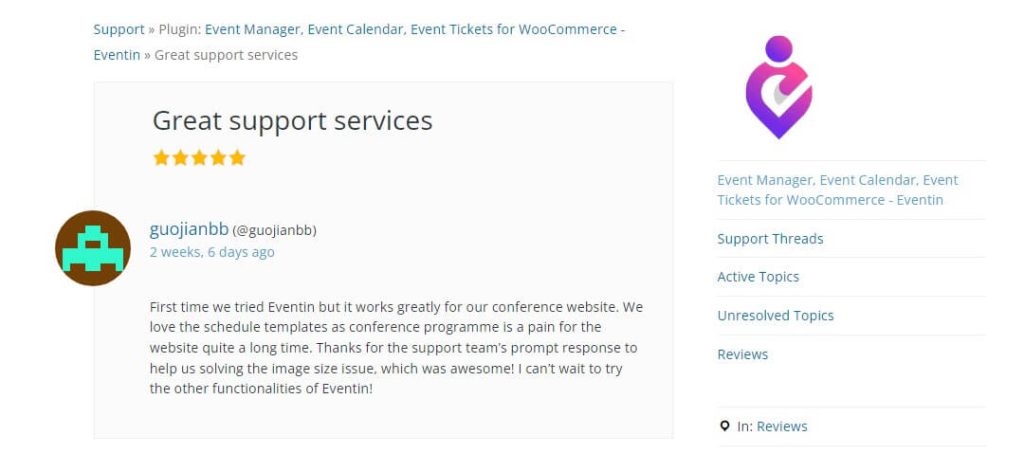 Got some quick questions? No problem! Check Eventin's best WordPress event management plugin-related FAQs. Hope you will get your answers. Moreover, you can contact us with your questions. We will update you and add the answer here too.
What is Eventin?
Eventin is an all-in-one WordPress event management plugin that lets you create and manage events and sell tickets. You can grow your online event management business with Eventin, a WordPress event management plugin.
Can I use Eventin without WooCommerce?
Yes! You can use Eventin WordPress event management plugin without WooCoomerce. In that case, you will need to use stripe payment getaways in this WordPress event management plugin.
What are the Payment Getaways Eventin Support?
Eventin WordPress event management plugin made with WooCommerce. So, any payment gateways supported by WooCommerce are also supported by Eventin. Moreover, recently, Eventin added stripe as an independent payment gateway and you can use strip with this plugin.
Can I use It for Free Ticketing System?
Yes! You can arrange a free ticketing system with this WordPress event management plugin. In that case, you will need to keep the ticket price at zero. Hanse, users will signup through the WordPress event management plugin but they need not pay any charges.
So, you know everything about the WordPress event management plugin Eventin. Why not you share it with your friends too? A social share will take a moment from you. But it will help us to grow and we will be motivated. Just click on your favorite social icon and share.
Acknowledgment 💯💯
🐾 Images – Images in this blog have been collected from the Themewinter's website, blogs, landing page, Eventin landing page, Arraytics page, ollzo website, WordPress directory, WPMet blog, landing page, Social site etc
🐾 Video – The video in this blog has been collected from the Themewinter channels.

🐾 Affiliate Links – This blog contains several affiliate links. This means, that if you purchase any product through the link, we will get a commission without costing you extra. You can see affiliates disclosed here.
🐾 Data Source – All the data has been collected from various open-source. For example landing page, WordPress directory, youtube channel, etc. Data can get changed at any time.

Editorial Staff
Our Editorial team consists of WordPress Expert/s, Analysts, Content Editors, Writers, Designers, SEO Experts, Outreach People and Developers! For each content, a highly expert and dedicated team led by Asadullah Galib, works together. We have only one motto, "Help you to make your final decisions!"