13+ Great Reasons to Use Eventin Pro in 2023
Eventin Pro and Free became an editorial favorite when we enlisted it in the WordPress event management plugin's listing blog. We are unbiased and our listing blog follows a publicly posted ranking system. Thus, Eventin was spotted in the middle of the list. However, Eventin seems massive potential for many reasons. We got more in-depth proof of our complete review development. And the post leads us to write this blog.
We assume, you already have ideas about Eventin and now you would like to get more reasons to purchase Eventin pro. If you are looking for the reasons, you are in the right place. Please be aware that Eventin has reached 8000+ active installations. It also maintains 100% positive ratings in the WordPress directory.
Event management and ticket selling become more popular day by day. The global event industry is projected to generate revenue of $1,457.2 million by 2028. Eventin can be your go-to helper to manage your next events. We found many handy features that allow users, even non-tech people to handle events smoothly. However, we will add the key features in this blog. You can see Eventin in-depth review here in this blog.
1) Eventin Pro Features
When we were looking back at Eventin's features list, we got a long list. Anything and everything is available in this plugin already. Let's see some of the notable features of Eventin pro. The features are the flagship features in the editorial's eyes. You can check the full list of Eventin's features on the Eventin landing page. [Spoiler 🦥 You are going to fall in love with the landing page]

Showcase Speakers/Organizers – You can add and use an unlimited dedicated single page for speakers and organizers to share their names, short bio, social media links, company URLs, and more.
Simplified Schedule Management – Plan events by creating unlimited custom schedules and repeat them for multiple events by adding them under one or multiple speakers.
Unlimited Single/Multiple Events – Eventin will not limit you to creating ten to thousands of events. You can create an event with a single starting and ending date or add multiple events with multiple starting and ending dates.
Maintain Recurring Events – You can create repeated events daily, weekly, monthly, and annually with additional options for each till the specified period. Recently eventin updated recurring event's logic to give you a better experience.
Unique Ticketing System with QR Code – You can create unique QR codes for guests who buy tickets and scan these QR codes at the event entrance. It can be single and multi-step scanning. Moreover, each ticket will have unique numbers and relevant information.
Event Calendar View – You can display events with daily, weekly, monthly, and annual views with Event Calendar to help attendees register for multiple events.
Multi-tier Ticket Pricing – You can create multiple types of tickets for events such as 'Early Bird', 'Regular', and 'VIP' and set different prices for different tickets.
Unique Attendee Management – Eventin give attendees unique ticket IDs and tracks their attendance for individual events by filtering their data from the admin dashboard.
Detailed Analytics Report – One of the best features at Eventin is an analysis report. You can also track event guests with unique attendee tickets for each event attendee and view total ticket sales at a glance.
Event Venue with Google Maps – When creating an event, add and display your event venue on Google Maps. Make it easier for guests to find your event location.
Front-end Event Management – You can allow your own people to create and manage events at your site. They can just submit the events from the front end of their dedicated panel. They can sell tickets too.
PDF Certificate Builder – With the plugin, you can design and issues PDF certificate to the attendees. It's just a matter of a few clicks.
2) Eventin Pro Integration

For the integration to extend the service of a plugin, Eventin is one of the best plugins without any doubt. Eventin has integrated 7 drag and drop page builders, 2 popular CRM, payments getaways, and much more. You can use WooCommerce and get payments with all the WooCommerce-supported payment getaways. Dislike WooCommerce then you can use stripe too! Let's see the Eventin's integrations.
| | | |
| --- | --- | --- |
| WooCommerce | Gutenberg | Elementor |
| Oxygen | Stripe | Groundhogg |
| Dokan | ElementsKit | DIVI |
| Zoom | Visual Composer | Bricks |
| FluentCRM | BeaverBuilder | Zapier |
| Twilio | Pabbly | BuddyBoss |
| | | |
| | | |
The last update date is 12th February 2023 
3) Eventin Pro Addons
The next feature we want to talk about is addons. Eventin's has DIVI builder dedicated addons. So you can use Eventin's inside Divi theme. Also, eventin has Dokan integrations so you can create a multivendor event marketplace.
Multivendor Event Marketplace
Multivendor event marketplace is an on-premise marketplace platform for events. It allows individuals or vendors to manage sales functionality in their very own micro event services with all the necessary business features. You can convert your event management website into a multivendor event and ticket-selling marketplace by Eventin with Dokan.
Eventin DIVI Builder Addon
Eventin supports DIVI, the most popular WYSIWYG builder. Design with DIVI to create the perfect event management website. You can use Divi to create the perfect event management website.
Eventin Bricks Builder Addons
Eventin brings complete addons for Bricks builder users. With the Eventin Bricks Builder, you can do everything as native bricks widgets from now.
4) Eventin Pro Code Quality
Eventin has a dedicated development team. Unlike other plugins, Eventin is always careful about code quality. While our editorial team checks the free version, we found better code quality. [Those who don't know about our editorial, we have a team including a developer too]
As a theme developer and plugin developer, you can use Eventin in your personal and professional projects. Especially if you have events related project then eventin is a good choice. You can override templates with template overriding options. Also, you can extend the features and functionality by adding hard code to this plugin.
5) Eventin Pro Resource
When you use an established plugin, you always feel confident as the plugin company provide all kinds of support and resource. Why not you feel the same with Eventin? A plugin that comes with all the necessary resources. You can see the written and video documentation which describes all the features and modules of Eventin.
You can read the ThemeWinter blog to see the latest release and features-related tutorial blog. There is some blog with comparison among similar plugins too. Moreover, you can get an email and social updates too.
6) Eventin Pro Support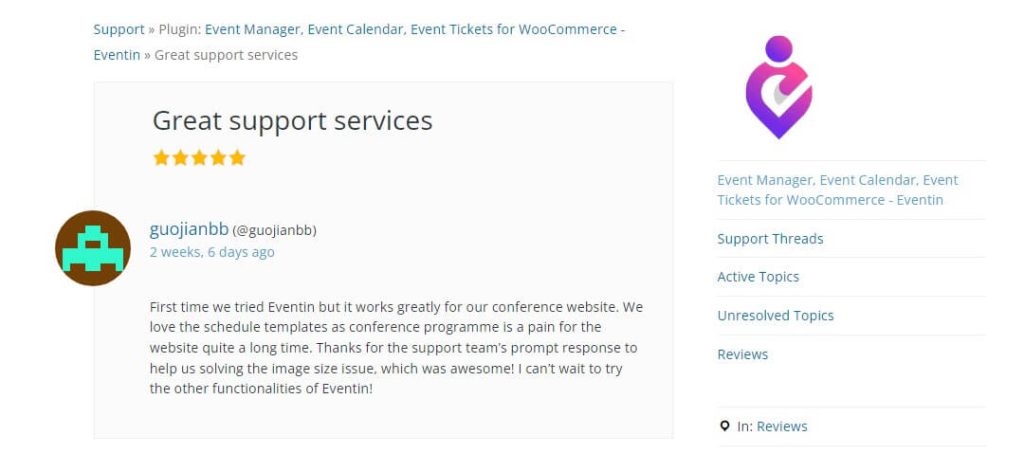 Facing any problems while using the plugin? Does any pre-sell question arise in your head? Reach out Eventin team on live chat, social media, community groups, and email too. There's ticket-based support for you that can be used to get technical support. You can also use WordPress directory support threads.
Eventin team is famous for their support. If you see the WordPress directory ratings, you can see many satisfied customers there. No matter whether you are a free or premium customer, you can get fast support from the team. And the best part is, eventin support is fully free.
7) Eventin Pro Update
Do you know how many updates this plugin got so far? Let's not count all the updates. 31+ update has been made by the team this year so far (first 9 months). All the updates changelog is available on the website as well as WordPress directory. If you have some issues, you can expect the fix sooner within a few days
8) Eventin Pro Roadmap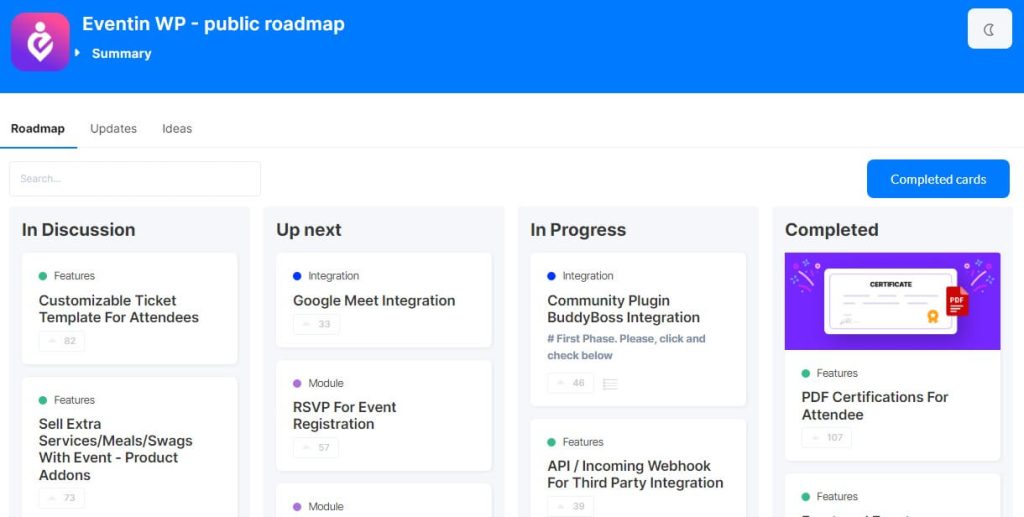 One of the best parts we found about eventin is transparency. You can see what's going on and coming soon in this plugin from the public roadmaps. You can submit new ideas and upvote the old ideas too. As Eventin team always releases new features, let's not talk about this. It can happen that while we are publishing the future list here, the features may get released.
We are excited about the upcoming mobile application. Eventin android and ios applications available at its roadmap. We are hoping to see them live soon. And the mobile application is going to be the game changer for sure.
A fun fact is, now you can use your mobile phone to scan the tickets and manage checked in smoothly. The eventin plugin is mobile-friendly too.
9) Eventin Pro Pricing Policy
Eventin Pro comes with flexible pricing. You can pay them either yearly or as LTD. The package started from 59 bucks only. They have 14 day of the money-back guarantee, so you can use the plugin and test for this period of time. The price is lower compared to other WordPress event management plugins available in the market. Especially, Eventin comes with a lot of advanced integrations and addons without extra cost.
| | | | |
| --- | --- | --- | --- |
| Eventin Pricing | | | |
| Standard, 1 Site | Premium, 10 Sites | Agency, Unlimited | Refunds Policy |
| 69$/year | 169$/year | 289$/year | 14 days |
| 169$/Lifetime | 289$/Lifetime | 519$/Lifetime | |
| | | | |
The last update date is 12th February 2023 
The price can be ups and down at any time as ThemeWinter holds the right to change the pricing at any time. You are requested to check the latest update on their websites.
Did you notice, you can get started with 59 USD only and enjoy all these amazing features? Even the basic package unlocked all the premium features. What more do you need?
10) It's Based on WooCommerce
Eventin plugin is based on WooCommerce. So while you will use the plugin, your stock will manage through WooCommerce. Each event will be considered as a product that makes selling options easier. You can avail of all the WooCommerce features on your event management website. WooCommerce brings the ultimate flexibility and made it secure for you.
11) Eventin Pro Payment Getaways
Eventin support both the WooCommerce payment getaways and Stripe payment getaways. Any payment gateway supported by WooCommerce can be used in your event management website. Moreover, if you want to avoid WooCommerce on your site then you can use stripe as an independent payment getaway.
12) Eventin Pro Translation Option
There is one more impressive option available at Eventin and Eventin pro is translation options. You do not worry about local events and the local language. Eventin is fully translatable and you can translate your events into your own language. With eventin pro, you can create events for your favorite language without any uncertainties.
13) Eventin Pro Trusted by Top Marketers

Eventin Pro is trusted by World's top marketers. We have found the plugin was in the MarTech LTD community. Multiple webinars and posts are available. From the promise to deliver, they did it very well. Eventin was in AppSumo as well. Where there are 25+ tacos (ratings) who were fully happy. Not just this, Eventin also owns the prize at Monster awards 2021. The plugin secured 2nd best position in that contest.
14) Eventin Pro Made by ThemeWinter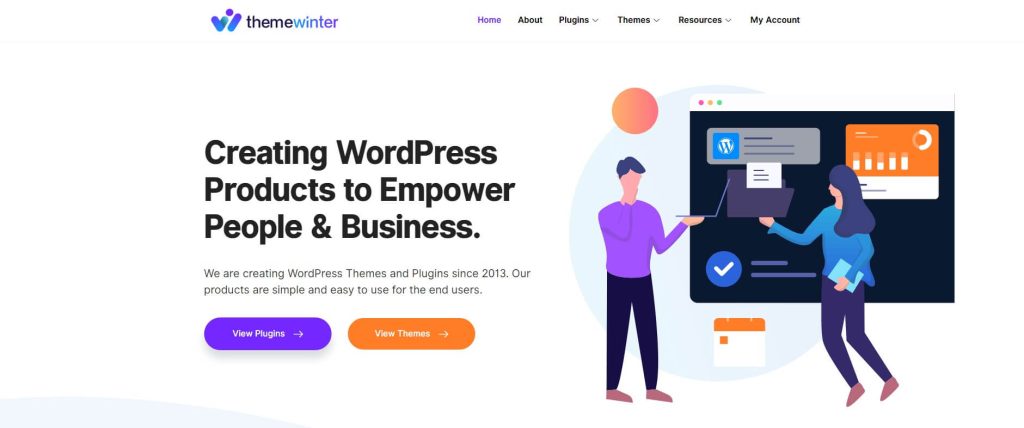 When it's about updating, you can choose ThemeWinter team. Need better support, you can trust the same team. These compliments are not from our team. We found them on different social media from leading marketers. ThemeWinter team is experienced and ambitus. Their main motto is helping business owners.
ThemeWinter started working back in 2013 and from then on now, they are 11th-level authors at the Envato marketplace, they have established plugins like Eventin which we are talking about. They also have WPCafe, a complete restaurant management plugin. Operating from Dhaka with 20+ people, they are providing support to 120+ countries around the globe.
So, Over to You!
So, want us to say thank you for this informative blog? Happy with all the Eventin pro highlights? Contact us now. Also, we are open to sharing more about it if needed.
Now the social part. As you know, sharing is caring. You can share this blog with your social friends to support our work. Also, your share will motivate us. It will not make our day, actually, it will make our weeks.
So, you know all the best parts of Eventin pro. Why not you share it with your friends too? A social share will take a moment from you. But it will help us to grow and we will be motivated. Just click on your favorite social icon and share.
Acknowledgment 💯💯
🐾 Images – Images in this blog have been collected from the Themewinter's website, blogs, landing page, Eventin landing page, Arraytics page, ollzo website, WordPress directory, WPMet blog, landing page, Social site etc
🐾 Video – The video in this blog has been collected from the Themewinter channels.
🐾 Affiliate Links – This blog contains several affiliate links. This means, that if you purchase any product through the link, we will get a commission without costing you extra. You can see affiliates disclosed here.
🐾 Data Source – All the data has been collected from various open-source. For example landing page, WordPress directory, youtube channel, etc. Data can get changed at any time.

Editorial Staff
Our Editorial team consists of WordPress Expert/s, Analysts, Content Editors, Writers, Designers, SEO Experts, Outreach People and Developers! For each content, a highly expert and dedicated team led by Asadullah Galib, works together. We have only one motto, "Help you to make your final decisions!"