Promising 👉 Droit Addons for Elementor Review 2023
We came to know about "Droit Addons for Elementor" while building our best Elementor Addons blog. As part of our analysis, we were digging through the listed blogs and noticed that there's a new Elementor addon. It's promising and user-friendly. We also talked about support. Total experience drives us to write an in-depth review of this plugin.
If you are someone who is looking for new Elementor Addons, then this blog is for you. Also, if you have a website-building business, or agency, or have worked with Elementor, then keep reading. doing something else? Keep reading, you are awesome. Please keep in mind that we (the WPTOWP editorial team) purposefully avoid discussing the pros and cons of these plugins. Wptowp aims to provide positivity to the WordPress community.
When Did Droit Addons for Elementor Release?

In one of his social posts, Md. Shahadat Hussain, Founder & CEO at DroitThemes, stated the story of Droit Addons. Let's see it first. But for you, we translated it into the English language.
Starting a career as a designer, then moving to the product business, and then continuing the business was really challenging.

We started our product business with WordPress themes. But we always have a dream of developing WordPress plugins. At the end of 2020, we started "Droit Addons For Elementor".

We knew the niche was highly competitive, but we started for two main reasons. First of all, it has a big user base, so the market is. And the second reason was, that if we have the plugin, it will help us make our themes. It will save us time, too.

We released the pro version in the year 2021, in November. We got a positive response from the community. Most of the happiness was from winning the Monster's Award 2021 by TemplateMonster. We were in first place in the elementor category. The plugin was shared on Elementor's Facebook community and got a nice response too.

— Md Shahadat Hussain, Founder & CEO at DroitThemes
In summary, Droit Addons for Elementor development started in the last quarter of 2020 and was released on November 25th, 2020. Then, after a year of development, the Pro version comes to light in November 2021.
Editorial Note 🔔🔔
This blog covers all the possible information that you need to make your decisions. Hence, the blog became longer than the regular expected reviews. You can bookmark the blog for later reading. Maybe you can just scan the headings and highlights if you are in a rush!
Who Brings Droit Addons for Elementor into the Light?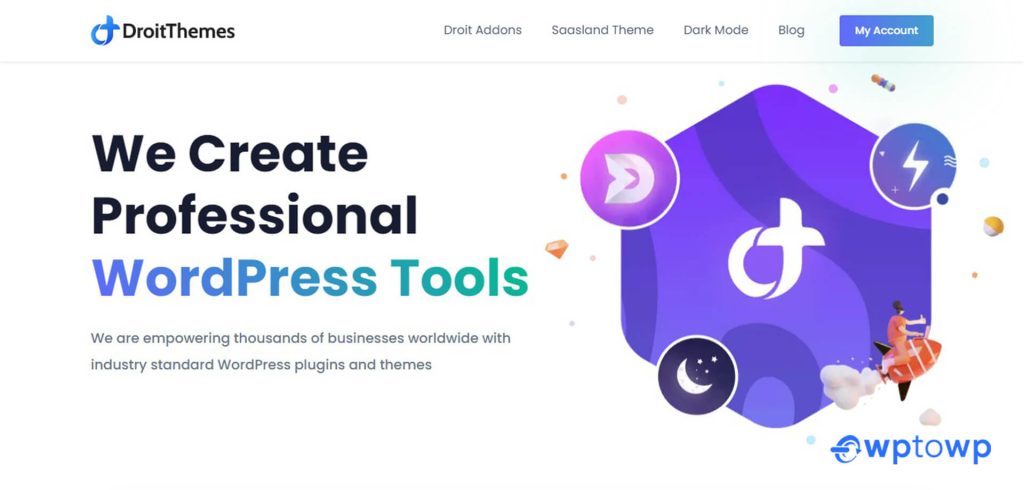 This plugin was developed by Droit Themes, a Dhaka-based WordPress product company developed this plugin. Basically, Droitthemes is popular for WordPress themes. Since 2012, they have been developing multi-purpose themes. They achieved the Elite Authors badge on the Envato marketplace and got 16500+ sales.
One of the most popular themes from the company is Saasland. It's a multi-purpose WordPress theme for SaaS startups that has 7500+ sales already and counting more every day. Faded is another one. The Responsive App Landing Page WordPress Theme.
Apart from the Droit Elementor Addons, they have another plugin called "Droit Dark Mode". More than 400 people are using this plugin at this moment. The Droit Dark Mode Plugin provides a great way to easily and effectively create a stunning dark version of your website and dashboard.
How the Community Response to Droit Elementor Addons?
Due to its active users, Droit Addons ranked lower in our listing blog. It's natural for all the newborn Elementor addons. However, we are truly surprised to see the WordPress community's response to the plugin. Most of the leading blogs and review sites mention them. You can see multiple dedicated review blogs too.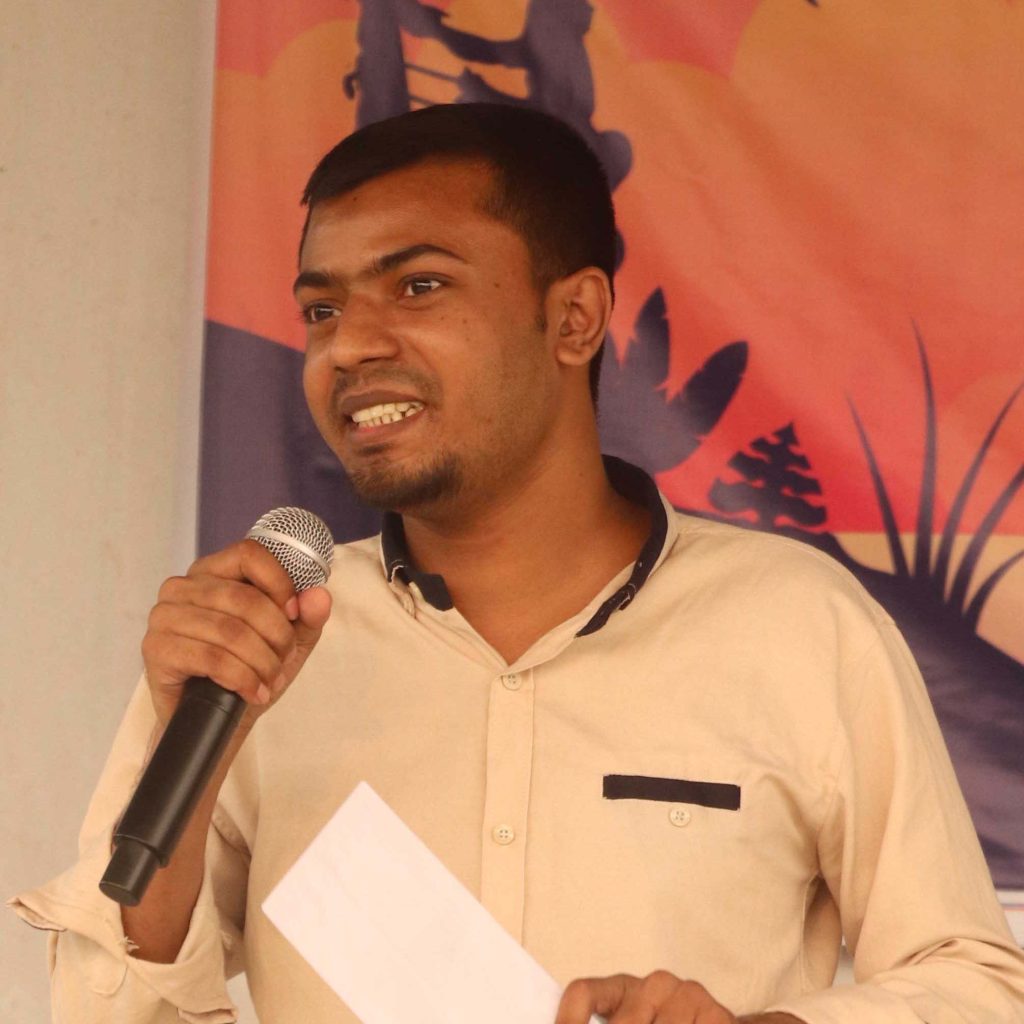 Hello from Wptowp
Asadullah Galib, the guy behind Wptowp. We're trying to provide you with WordPress resources through unbiased data analysis and analytics that help you to make your final decisions. In case, if you see any mistakes, please let us know. We will update/take down our content based on your feedback and truth analysis.
Sites like WPism, Which Addon, Astra-India's top WordPress company, droidcrunch, wpexplorer, kasareviews, kinsta, WP Page Builders, tootreecorp, WPklik, hashthemes, Element How, cyberpanel, wpeverestbackup, wbcomdesigns, wpaos and many more talk about the plugin.
Another surprise came when we checked the video review for the plugin. There's no mentionable youtube channel that talks about Droit Addons for Elementor. However, their own channel has a number of videos and tutorials. I will get to them later in this blog.
Notable Features and Functionality
Droit Addons for Elementor are a new Elementor library, but still, they have some fantastic features. Here's the list that you can explore and understand their quality. However, the features are included but not limited to. We are adding free and pro features later in this blog.
🟠 Beautifully Crafted Elements Library 〰️ A lot of ready-made elements. If you need something, they prepare it all ready for you.
🟠 Powerful Widgets With Ultimate Options 〰️ From the widgets and elements box, you can choose any and make them fit with your own site. You will need to wait or ask for another developer.
🟠 Fully Responsive Block 〰️ Mobile users will get the same feelings as web users. There are no broken pages or anything that appears to be a shambles. You are a safe man.
🟠 A lot of Ready Templates 〰️ They offer more than 250 pre-made templates in addition to elements and widgets.
🟠 Powerful And Versatile Controls 〰️ Control logical widgets and make a trendy website. There are plenty of powerful controllers available for you.
🟠 Unlimited Section Nesting 〰️ Don't worry about nesting. Keep nesting until you fall asleep! Ops, we mean, you can add nested blocks as many as you need.
🟠 Blazing Fast Loading 〰️ You don't need to add another plugin to speed up your site. Your site will always load fast with the Droit Addon for Elementor.
🟠 On-Demand Asset Loading 〰️ Avoid adding multiple unnecessary assets to your site. You can add specific assets for specific locations.
🟠 Header & Footer and Mega Menu Builder 〰️ Header, footer, and menu can not create any headache till you have Droit Addons for Elementor.
🟠 Advanced Animation 〰️ Beatify your website with advanced animation options from Droit Addons for Elementor.
Droit Addons for Elementor Free Features
Let's have a look at the free elements, widgets, and modules provided by the addons. It's just a list. You can find more details on their landing page.
Elementor Free Elements by Droit Addons
| | | | | | |
| --- | --- | --- | --- | --- | --- |
| Accordion | Alert | Animated Text | Blog | Info Box | Icon Box |
| Blog List | Card | Countdown | Faq | Pricing | Process Bar |
| Tab | Table | Team Member | Image Carousel | Timeline | Testimonial |
| Twitter Feed | Ninja Form | weForm | Contact Form 7 | Caldera Form | Gravity Form |
| WPForm | Product List | Bar Chart | Product Grid | Progress Bar | Skill Bar |
| Title | Google Map | Share Button | News Sticker | | |
| | | | | | |
| | | | | | |
The last update date is 11th February 2023
Droit Addons for Elementor Free Modules
| | | | |
| --- | --- | --- | --- |
| Template Library | Sticky Section | Tooltip | Background Parallax |
| Icons | Section Link | Custom Column | |
| | | | |
The last update date is 11th February 2023
Droit Addons for Elementor Free API
Mailchimp and Google Maps use the free API key for Droit Addons for Elementor users.
What is the free version of Droit Addons for Elementor?
When we are talking about the free version, you can check it from the WordPress directory. Let's have a look at the statistics now.
| | | |
| --- | --- | --- |
| Name | Free | Pro |
| Elements | 34 | Free + 42 |
| Modules | 7 | Free + 12 |
| API | 2 | Free + 2 |
| | | |
The last update date is 11th February 2023
You are getting 34 elements, 7 modules, and 2 APIs. It's really interesting to see that, they provide you with a free API too. Moreover, other elements and modules are nice to get started with the Elementor website.
The premium version normally offers something extra, more independence for building your next website. It's time to dive into the Droit addon's pro features, including the elements list and module list.
Droit Addons for Elementor Pro Elements
| | | | | |
| --- | --- | --- | --- | --- |
| Advanced Accordion | Post Grid | Advanced Button | Breadcrumbs | Dual Button |
| Card Pro | Fun Fact | Image Compare | Advanced Tab | Team Pro |
| Testimonial Pro | Subscriber | Pricing with Switch | Advanced Slider | Video Popup |
| Pricing Pro | Animated Image | Process Pro | Timeline Pro | Timeline Slider |
| Animated Title | Post Slider Pro | Post Filter Pro | Twitter Feed Pro | Pinterest Feed |
| Dribble Feed | Comparison Table | Google Map Pro | Flip Box | Popup Modal |
| Woo List | Woo Slider | Woo Filter | Mini Cart | Woo Checkout |
| Woo Cart | Line Chart | Pie/Doughnut Chart | Radar Chart | Polar Area Chart |
| Banner Slider | Parallax Image | | | |
| | | | | |
The last update date is 11th February 2023
Droit Addons for Elementor Pro Modules
Animated Gradient
Background
One/Full Page
Scroll
Header/Footer
& MegaMenu
Woocommerce
Swatch
Droit Clone
CSS Effect
CSS Transform
Custom CSS
Parallax
Popup Builder
Live Copy/paste
Lottie
The last update date is 11th February 2023
Droit Addons for Elementor Pro API
| | | | |
| --- | --- | --- | --- |
| Get Response | Facebook | Twitter | Dribbble |
| | | | |
The last update date is 11th February 2023
Droit Addons for Elementor Pricing Plan
Let's see the pricing of Droit Addons for Elementor. They are offering 3 tiers of pricing that you can purchase on either a yearly basis or a lifetime basis. The price comes with a 14-day money-back guarantee.
| | | | |
| --- | --- | --- | --- |
| Droit Addons For Elementor | | | |
| Pro, 1 Site | Premium, 10 Sites | Agency, 1000 Sites | Refunds Policy |
| $35/year | 65$/year | 139$/year | 14 days |
| $69/Lifetime | $199/Lifetime | $179/Lifetime | |
| | | | |
The last update date is 11th February 2023
Pricing is subject to change at any time. Droit Addons for Elemetor can change the subject at any time. The most recent pricing information can be found on their website.
When Should You Use Droit Addons Pro?
So, you now have the basic ideas about Droit Addons for Elementor, and it's time to check who should use the Elementor plugin. We added some of the generalized categories. However, if you are interested but not on the list, you can still use the add-on.
Love Pixel Perfect Design? 💥 Droit Addons Pro
Droit theme is the company back on the Droit Elementor addons. As a theme company, they know how to design pixel-perfect elements and layouts. There are plenty of templates and all of them have been designed with pixel-to-pixel consideration. If you are someone who always prefers a perfect website then the addon is for you.
Want to Test a New Addon? 💥 Droit Addons Pro
Compared to the other established Elementor Addons, Droit Elementor Addons are new. However, the addons come with a great library of templates, elements, widgets, and modules. If you want to start a new Elementor website, then you can test it. It will give you a different test of website design.
Want to Support New Addon? 💥 Droit Addons Pro
If you are the kind of person who loves to support plugins and products in their early stages, then you should check the add-ons. It deserves support from industry leaders. Already the plugin was in product hunts and monster awards. It secures first place on both platforms.
Looking for Award-Winning Plugin? 💥 Droit Addons Pro
The Droit addon won the Monster Awards 2021, one of the most popular product competitions in the WordPress industry. Moreover, it secures a top place in the product hunt too. Want to use the award-winning product? The Droit Elementor Addons are here for you.
When Should You Use Droit Addons Pro?
You can use the plugin anywhere, depending on your website's needs. But the editorial team suggests you avoid the plugin under the following circumstances.
Already Using Established Elementor Addons?
If you are already using established Elementor Addons like ElementsKit, and Happy Addons, then we do not recommend you switch. As the established plugin, it has better stability, fewer bugs, and a big community. So you can keep using them.
Operating a Site that has Huge Traffic?
Are you operating any sites with high traffic? Especially if you have an eCommerce website, then use Elementor eCommerce addons rather than using flat Elementor Addons. eCommerce dedicated Elementor Addons will give you more flexibility to build your eCommerce website.
Droit Addons for Elementor Roadmap Discussion

Droit Addons for Elementor currently focusing on more templates like Saas template, the charity template, the medical template, etc. See also the mini cart, WooCommerce template, grid template, and so on. Google Maps and multiple charts are on their upcoming list. You can see the live Droit Elementor Addon roadmap here.
Our Prediction for the Droit Addons for Elementor
Recently, they finished their LTD campaign with a positive response from the community. They were at the top of the product hunt campaign. wins the prestigious Monster Awards. Moreover, they update the plugin on a regular basis with new templates. The most impressive thing about the plugin is that its strong marketing team impresses us a lot.
Even though the addons are new but we feel it's promising.
How to Get Started with Droit Addons for Elementor
You can get started by following 4 simple steps. Nothing complex, nothing technical.
1️⃣ Purchase Domain Hosting 👨‍🏫 First of all, make sure you have a website domain and hosting. You can download and install the addons on the local host for testing purposes.
2️⃣ Setup WordPress 👨‍🏫 From the hosting control panel, install WordPress in the root directory. Then install your favorite theme. It's better to install an Elementor-supported theme. Start by installing the required plugins: WooCommerce and Elementor. Don't forget to install SEO plugins, social media plugins, and so on. Don't forget to activate all the plugins after installing them on the site.
3️⃣Droid Addons Plugin 👨‍🏫 Install the Droit Addons for Elementor free version from the WordPress directory. If you have the pro version of the plugin, then install it too.
4️⃣Create and Update Page 👨‍🏫 Create the pages from the sketch or from the premade template. Add the content and publish the page.
Droit Elementor Addons FAQs
Got any questions about Droit Addons for Elementor? We have got to. Here's the answer. If you do not find your answer, contact us or comment below. We will include an answer to the question.
What is Droit Addons for Elementor?
Droit Elementor Addons is an extension for the Elementor Page Builder Plugin. It will amplify your web design experience. It comes with resourceful widgets, a preset library, on-demand asset loading, and more.
Can I use Droit Addons without Elementor?
No! You can not use Droit Addons for Elementor without Elementor. The plugin works based on the Elementor page builder.
Can I use Droit Addons without Elementor Pro?
Yes! You can use Droit Elementor Addons without Elementor Pro. However, Elementor Free version is required for using the addons.
Can I use Droit Addons without WooCommerce?
Yes! You can use the addons without WooCommerce. But in that case, you can not sell products on your website. You will miss the eCommerce functionality.
We are happy to see that you have kept reading and are now here. A big thumbs up to you for completing the blog. Now you know the details about the Elementor newborn plugin. I hope, you can make your own decisions too.
Let's help ourselves a little before closing the tab. Share this blog on your favorite social media site. Let your friends know about the Droit Addons. It will help us grow. When we see anyone sharing our content, we feel super motivated. Sharing content on social media is really easy. From the below box, click on your favorite social media. And keep clicking next.
Acknowledgment 💯💯
🐾Images in this blog have been collected from the Droit Addons website, blogs, Droit Addons landing page, and WordPress directory.
🐾 This blog contains several affiliate links. This means, that if you purchase any product through the link, we will get a commission without costing you extra. You can see the affiliates disclosed here.
🐾All the data has been collected from various open sources. For example, landing page, WordPress directory, YouTube channel, etc. Data can get changed at any time.
🐾 Gratitude – We are thankful to Droit Addons for allowing us to review and affiliate with their products.

Editorial Staff
Our Editorial team consists of WordPress Expert/s, Analysts, Content Editors, Writers, Designers, SEO Experts, Outreach People and Developers! For each content, a highly expert and dedicated team led by Asadullah Galib, works together. We have only one motto, "Help you to make your final decisions!"