Exclusive Addons for Elementor 2023 (Honest Review)
Exclusive Addons for Elementor become the editorial favorite while making our best Elementor Addons listing blog. What's more, it was not listed at the top of the list, nor was it added to the top 10 of the list. Among the 43+ Elementor Addons, Exclusive Addons are posted at 13 number positions. Still, we, the editorial team, love the plugins.
At the time we were analyzing Elementor Addons, we noticed semi-new addons named Exclusive Addons. The landing page seems organized and informative, and the page contains all the information that we were looking for. Overall, it impressed us. New but professional—that's what we said while submitting the analytics.

Wptowp Editorial
Overall, its features look promising, and it comes with a lot of extensions that allow you to customize them for beautiful design elements. Custom positioning and custom CSS are also interesting. We started digging deeper as we wanted to share a complete review with Wptowp visitors.
Note 👉 The name of the Elementor Addons is Exclusive. It's not the adjective 🦥, it's noune🐴. "Exclusive Addons for Elementor" is a Noun! 😂😂 The name of the semi-new Elementor Addons.
If you are planning to build a professional website or a site for personal use, you will most probably love this blog. If you are a developer, a WordPress person, an Elementor lover, or anyone who has an interest in the web, this blog is for you. We will explore the holistic details of the addons so that you can make your own decisions about buying the plugin.
Editorial Note 🔔🔔
This blog covers all the possible information that you need to make your decisions. Hence, the blog became longer than the regular expected reviews. You can bookmark the blog for later reading. Maybe you can just scan the headings and highlights if you are in a rush!

* A small part of this article has been collected from the Exclusive Addons team. However, we did verify them before publishing them.
When did the Exclusive Addons for Elementor Start?
The wptowp editorial team always tries to add some exclusive background information for in-depth reviews. While we were checking the social feeds, we got a post from the CEO of DevsCred (the parent company of Exclusive Addons for Elementor). Here's what it was!
It's been a few months since we've been working on "Exclusive Addons Elementor", which is an Addon Bundle for Elementor.

It's already on WordPress.org.
I just figured out I never shared this with the public.

Still a Work in Progress. Let's see how long it goes on.

It's completely free. Try and give us your valuable feedback.

Muntasir Mahmud-July 20, 2019
After a year of hard work, on November 28, 2020, they released the premium version of Exclusive Addons for Elementor. We came to know that the plugin got some nice and unexpected responses from the WordPress community.
Currently, Exclusive Addons for Elementor have 108+ Widgets & Extensions, 64+ Templates, Over 900 Section Blocks, and 11+ extensions available. The plugin got an active installation of 40k+ within the last 4 years. It maintains ratings of 4.8 from 37 users and a five-star rating of 34 (91.89%). Seems interesting? 
Who are the People Behind Exclusive Addons for Elementor?

Devscred is the company behind Exclusive Addons for Elementor. They are a WordPress plugin and theme development company from Bangladesh. The company also has an "Exclusive Team for Elementor" plugin with over 2000 active installations. And their "Credence WordPress Theme" is a complete WordPress free theme.
Exclusive Addons is the newest addition to the DevsCred family. Their thought process is simple, provide quantity but won't compromise with quality.
Lots of Elementor page builders are already there, then why do you need another one? Well, when you will use it, this question won't exist anymore. Exclusive Addons are not just another one. It's FAST, it's LIGHTWEIGHT. INCREDIBLY CUSTOMIZABLE and EXCLUSIVELY DESIGNED.
It's Different from Others!! They provide variation, flexibility, and most importantly, Efficiency. Not everybody comes with all of this at once. If you are looking for a clean, lightweight, minimal, and fully customizable WordPress theme, we've got that for you.
How is the Community Response to Exclusive Addons?
Even though Exclusive Addons for Elementor is a semi-new plugin, we still noticed a number of sites that refer to the plugin. Elementor officially recognizes the addons on their listing page. Popular LTD marketplaces like AppSumo and KenMoo also featured them and listed them on the site.
Apart from this, other websites like Astra, WPML, themesinfo, wpexplorer, olonsal, hasThemes, wpmains talks about the plugin. Popular hosting provider Kingsta features exclusive addons for Elementor. Flycart, droidcrunch, wppagebuilders, WPMet also listed the plugin in their blogs.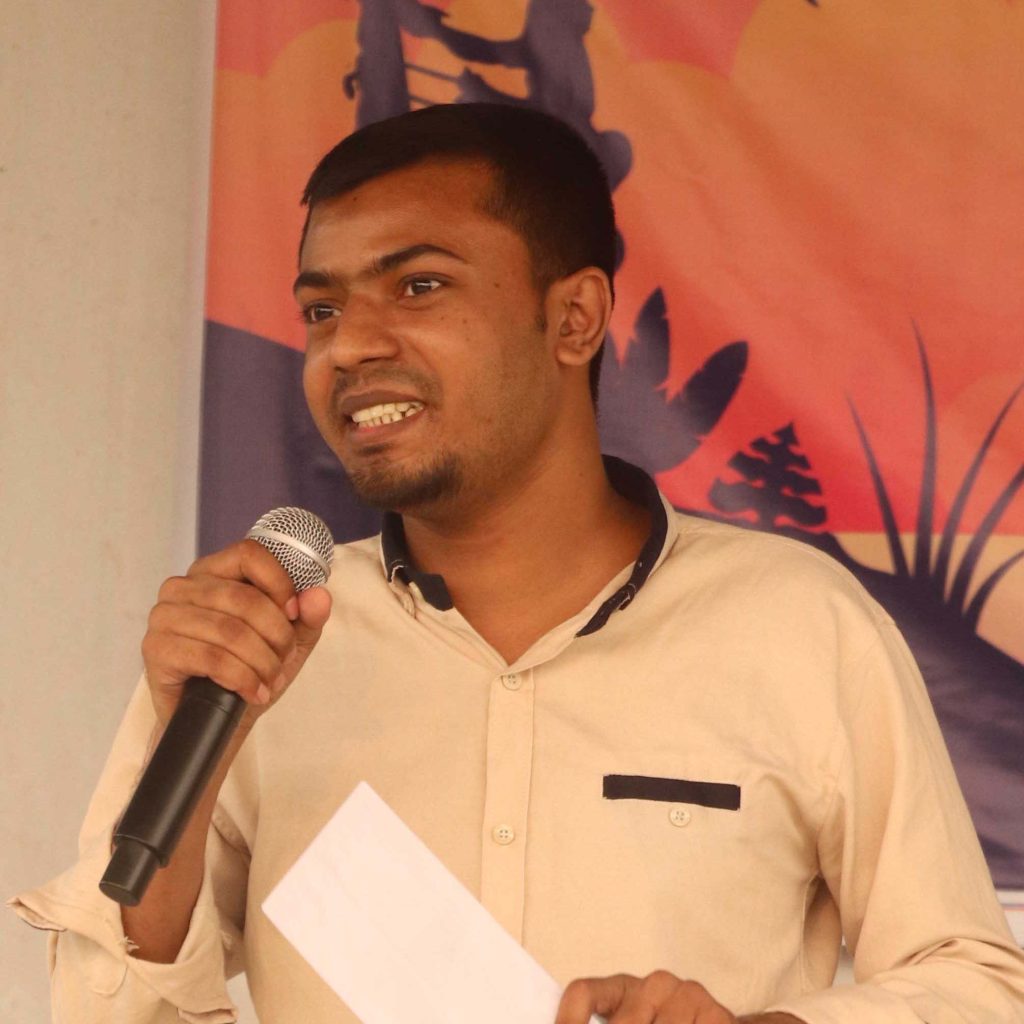 Hello from Wptowp
Asadullah Galib, the guy behind Wptowp. We're trying to provide you with WordPress resources through unbiased data analysis and analytics that help you to make your final decisions. In case, if you see any mistakes, please let us know. We will update/take down our content based on your feedback and truth analysis.
We also found some of the YouTube channels that have made videos on exclusive add-ons for Elementor. Websites 4 Beginners, Elementor360, WP Venture, Design School by Wpalgoridm, Web Squadron, and WordPress Tutorials – WPLearningLab are the YouTube channels that share reviews and comparison-type videos for Elementor Exclusive Addons.
Features that You Can Use to Build Next-Generation Website
In order to build the next-generation website, you need the ultimate handler. You can get the all-handler from Exclusive Addons for Elementor. Let's see all the notable features that come with Exclusive Addons.
🟠 Design Stylish Header & Footer 〰️ Need a header and footer? Need to make it different for multiple pages? No problem. You can do it with the Exclusive Addons.
🟠 Lottie Animation Widget 〰️ Animation always helps the site engage with the users and visitors. You can get more clicks and return visitors by using Lottie Animation widgets.
🟠 Cross-Site Copy Paste 〰️ If you have multiple WordPress sites, then build one and copy the site to others. Cross-domain copy-paste feature will help you to copy the content and style from one to another without losing anything. It helps save a lot of time. Handy features for agency owners, developers, and freelancers.
🟠 Demo Content Previewer 〰️ Have any draft content? You can see the demo as a live page.
🟠 Sticky Menu and Content 〰️Keep the menu or specific part of the website sticky. So, you can push any message to the users without any hassles.
🟠 Mega Menu Builder 〰️ A mega menu is a trend now. From eCommerce to products and personal sites, the mega menu seems fitting. If you want to add a mega menu, Exclusive Addons is for you.
🟠 WooCommerce Widgets 〰️ Want to create an eCommerce website? You can use Exclusive Addons for Elementor and ShopEngine to build a perfect eCommerce website. You can also check our eCommerce Elementor Addons blog to see the latest Elementor WooCommerce Addons.
🟠 Gradient Animation 〰️ Gradient animation features are also available in the Exclusive Addons. Create dazzling designs for your website with beautiful background gradient animation. A trendy design, that can help to make your site look eye-catchy.
🟠 Dynamic Post Widgets 〰️ Around half a dozen post widgets are waiting for you. Show dynamic posts on your website in different styles with these fully functional widgets.
🟠 Section Particles 〰️ A sparkling design concept you can use as a section background. Floating particles with interactive interfaces can spike user engagement on your site.
🟠 3000+ Free Icons 〰️Did you notice Wptowp blogs? It contains a lot of emojis. We try to keep the users relaxed while reading the blog. A perfect icon is always helpful for any kind of content. With Exclusive Addons for Elementor, you can get 3000+ free icons which are really great. It's not a unique selling point we guess, but it's helpful for the website creators.
We have the most customization options that will help you design any kind of Website even if it's a bit weird to look at. We have a very large number of Addons in our Plugin which might help you design versatile websites with ease including some unique elements like Demo Previewer, Campaign widget, Animating Gradient background, and so on. We're proud of our support team. We'll know how helpful we're if you just take a look at our ratings here.

Rifat Nawaz, SEO Analyst & Content Strategist, Exclusive Addons
Exclusive Addons Free Features List
Exclusive Addons for Elementor come with free widgets, extensions, and WebGL. In the free version, as expected the features are limited. Let's see the list of them at a glance. You can see their full list on the website.
| | | |
| --- | --- | --- |
| Free Widgets | | |
| Modal Popup | Infobox | Accordion |
| Alert | Animated Text | Button |
| Call To Action | Card | Covid-19 |
| Countdown Timer | Dual Button | Dual Heading |
| Filterable Gallery | Flip Box | Google Map |
| Image Comparison | Image Magnifier | Logo Box |
| Logo Carousel | Heading | News Ticker |
| Pricing Menu | Pricing Table | Progress Bar |
| Tabs | Team Member | Testimonial |
| Tooltip | 3000+ Fonts Icons | List Group |
| Google Review | Filterable Post | |
| | | |
| Post Grid | Post Timeline | Facebook Feed |
| Contact From 7 | | |
| | | |
| Extensions | | |
| Post-Duplicator | Sticky | Glassmorphism |
| | | |
The last update date is 11th February 2023
How is the Free Version of Exclusive Addons for Elementor?

The free version of Exclusive Addons comes with 36+ widgets, 3+ extensions and other basic elements. If you are a starter, you can build your website with the free version. Keep in mind, that the development phase is still going on and you can expect some more free widgets in the upcoming days.
There are no WebGL elements in the free version. It's one of the sad parts for the free users. But you have options to ask them over live chat or feature requests. Based on the user's demand, you may see some of the WebGL elements in the free versions in near future.
If you purchase Exclusive Addons for Elementor Pro versions, you will get WebGL extra extensions as well as a lot more widgets and features. 70+ extra widgets in premium versions. Let's see the list at a glance.
| | | |
| --- | --- | --- |
| Pro Widgets | | |
| Breadcrumb | Business Hours | Chart |
| Comparison Table | Cookies Consent | Counter |
| Demo Previewer | Floating Animation | Animated Shape |
| Icon Box | Image Hotspot | Instagram Feed |
| Mailchimp | Off Canvas | Campaign |
| Slider | Source Code | Team Carousel |
| Navigation Menu | Testimonial Carousel | Login Form |
| Table | Social Share | Image Mask |
| Content Switcher | Image Carousel | Mega Menu |
| Lottie Animation | Template | |
| | | |
| Post Slider | Post navigation | Post Carousel |
| News Ticker | Author Box | Gravity Form |
| | | |
| Woo Widgets | | |
| Product | Category | Mini Cart |
| Checkout | Cart | Product Carousel |
| My Account | Product Title | Product Image |
| Product Price | Product Add to Cart | Product Rating |
| Product Meta | Product Stock | Product Tabs |
| Product QR Code | Related Products | Short Description |
| Product Upsell | Breadcrumb | Product Navigation |
| Cross Sell Products | Thank You Page | Thank You Order Details |
| | | |
| Site Tagline | Page Title | Header Footer Demo |
| Site Title | Search | |
| | | |
| Extensions | Header Footer | Cross-Site Copy Paste |
| Gradient Animation | Section Particles | Section Parallax |
| | | |
| WebGL Widgets | | |
| Content Scroller | Image Hover | Text Image Hover |
| Hamburger Menu | Cursor Follower | Image Revel Hover |
| Magnetic Effects | | |
| | | |
The last update date is 11th February 2023
When Should You Use Exclusive Addons for Elementor Pro?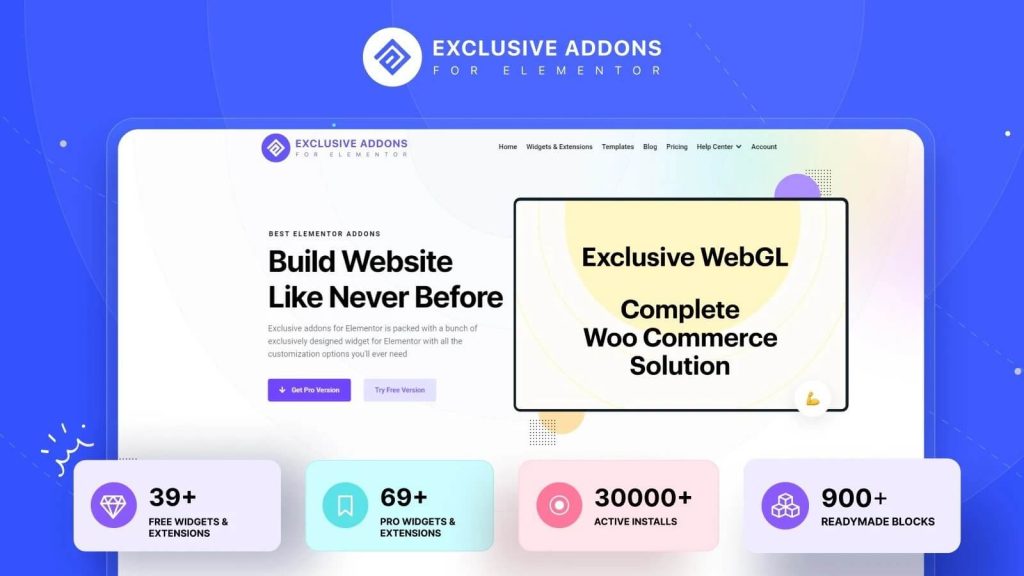 You can use Exclusive Addons for Elementor at any time on any of your sites. If you are an Elementor user then you have the full freedom to use Exclusive Addosn at your site. However, our editorial team added some special categories to these sections. Let's check it now.
Have you planned for a new Elementor-based website? Or you are starting with Elementor? Then our recommendation is to go with Exclusive Addons for Elementor. The plugin is semi-established but you will get many more updates in the upcoming days.
Do you want to try new but promising Elementor Addons? There are 33+ Elementor Addons and around 20s are newborn Elementor Addons. But our recommendation for you is to try Exclusive Addons at this moment. Specifically, WebGL looks quite interesting to us. So do you?
If you love to give back to the community then Exclusive Addons is the plugin, you should try. Born in 2019 and released the premium version in 2020, the plugin shows great growth. You can support them by purchasing the premium version and also ask them for new features.
Are you on a tight budget? No worry, still you can get experience with Elementor-based full-featured website building. Exclusive Addons pricing started at 29$ per year which is 69 USD for one-time LTD deals.
Exclusive Addons for Elementor Pricing Plan
Let's see how the pricing plan of Exclusive Addons for Elementor. They have both yearly and LTD pricing which has 3 categories. Starter for single sites and exclusive for 15 sites. You can also get agency business tires with 1000 sites. No unlimited licensing here. Your money can be full refund within 21 days of purchase.
| | | | |
| --- | --- | --- | --- |
| Exclusive Addons for Elementor | | | |
| Starter, 1 Site | Exclusive, 15 Sites | Business, 1000 Sites | Refunds Policy |
| 39$/year | 99$/year | 189$/year | 21 days |
| 109$/Lifetime | — | 499$/Lifetime | |
| | | | |
The last update date is 11th February 2023
Exclusive Addons for Elementor hold the full rights to change the pricing plan at any time. You are recommended to check the latest pricing from their official websites. Moreover, we do not have any information on whether they have any special pricing plan for theme developers or not.
When You Should Not Use Exclusive Addons Pro?
We already said you are not bounded to buy the Exclusive Addons for Elementor. However, under the following cases, we recommend you to not use Exclusive Addons at this moment. We are saying it from our experience to help you do better.
Using Established Plugins?
If you are already using any established Elementor Addons then keep using that. Please be aware that, Exclusive Addons is still in the development phase and you will need to wait some days to get the established versions.
Are You Agency Owner?
Agency owners have normally a lot of clients. Even if some agencies have less number of clients but the images are the same. Client's do not want to listen, they want their work done. Now, with the established Elementor Addons, you can have the finished website but for the Exclusive Addons, you may face some difficulties and limitations.
What's Coming Next at Exclusive Addons?
Recently they finished some of the social feeds and WooCommerce widgets. And they are looking for the following widgets. Content Restrictions, Event Calendar, Twitter Feed, Widget, LearnDash Course Grid, Widget, and Single Blog Post. You can ask for your features through their idea submission form as well.
Editorial Comments for the Exclusive Addons
They have organized their website copy in professional ways. Their blogs and other promotional activities are nice. You can see that a lot of popular blogs and listing content are referring to them. Overall they are keeping the balance between promotions. But as Elementor Addons is a highly competitive niche, so they need to focus on features development.
The editorial team believes that, if Exclusive Addons for Elementor developed some features with more speed, they can grow fast. Depending on upcoming features, they have chances to grow the plugins by 100k nearly in the future. However, it's just our editorial team's predictions.
Getting Started Guide for Exclusive Addons
Getting started with Exclusive Addons for Elemetor is as like starting others. Just purchase a domain and host. Activate the hosting panel and install WordPress there. Make sure you select the correct domain. As it's the online presentations of you/business.
Once you have WordPress, log in to the WordPress admin panel and install the necessary themes and plugins. You must install the Elementor as Exclusive Addons for Elementor works based on Elementor. If you have the plan to start an eCommerce website then install the WooCommerce plugin too. Install Exclusive Addons and Exclusive Addons pro.
Edit the pages with Elementor and from the left side panel, drag and drop the elements and update the content. Once you are happy with the content and style, save. You have done it.
Exclusive Addons for Elementor FAQs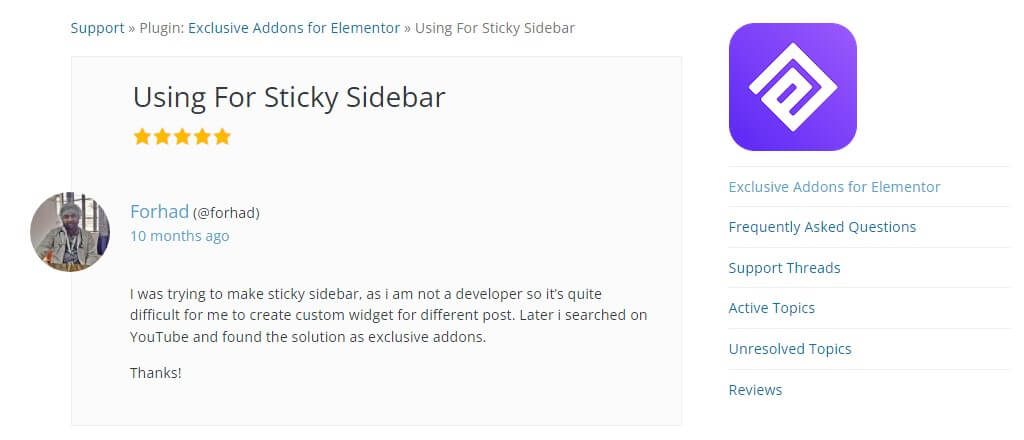 Did you get some questions about Exclusive Addons for Elementor? No worry. We added the answers too. If we missed any answer that you are looking for, please contact us. We will update your answers. It will help us and future visitors too.
What is Exclusive Addons for Elementor?
Exclusive Addons is one of the best Elementor Addons which brings you the most modern and trendy design to your Elementor page-building experience. Along with all the regular features and functionality, you can get WebGL features at the plugins.
Can I use Exclusive Addons without Elementor?
No, you can not use Exclusive Addons without Elementor. Please be aware that, Exclusive Addons work based on the Elementor and it depends on different Elementor's classes and codes.
Can I use Exclusive Addons without Elementor Pro?
Yes! You can use Droit Elementor Addons without Elementor Pro. However, Elementor Free version is required for using the addons.
Can I use Exclusive Addons without WooCommerce?
Yes! You can use the addons without WooCommerce. But in that case, you can not sell products on your website. You will miss the eCommerce functionality.
We are happy to see that you have kept reading and are now here. A big thumbs up to you for completing the blog. Now you know the details about the Exclusive Addons Elementor plugin. I hope, you can make your own buying decisions too.
Let's help ourselves a little before closing the tab. Share this blog on your favorite social media site. Let your friends know about the Droit Addons. It will help us grow. When we see anyone sharing our content, we feel super motivated. Sharing content on social media is really easy. From the below box, click on your favorite social media. And keep clicking next.
Acknowledgment 💯💯
🐾Images in this blog have been collected from the Exclusive Addons website, blogs, Exclusive Addons landing page, and WordPress directory, AppSumo website.
🐾 This blog contains several affiliate links. This means, that if you purchase any product through the link, we will get a commission without costing you extra. You can see the affiliates disclosed here.
🐾All the data has been collected from various open sources. For example, landing page, WordPress directory, YouTube channel, etc. Data can get changed at any time.
🐾 Gratitude – We are thankful to Exclusive Addons for allowing us to review and affiliate with their products.

Editorial Staff
Our Editorial team consists of WordPress Expert/s, Analysts, Content Editors, Writers, Designers, SEO Experts, Outreach People and Developers! For each content, a highly expert and dedicated team led by Asadullah Galib, works together. We have only one motto, "Help you to make your final decisions!"