(New) WholesaleX 👉 B2B Wholesale Marketplace in WordPress 2023
WholesaleX is a B2B wholesale marketplace plugin for WordPress! It's a brand-new product of WPXPO. We discussed the company and its products (PostX and ProductX) numerous times. So, when we notice WholesaleX's new announcement, we start digging. Even though the product is new and has no installation (less than 10 now), we still tested it. And here's what we have found for you!
The market size, measured by revenue, of the wholesale trade industry is $11.4 trillion in 2022. Want to join them there? Your friend is 👉 WholesaleX, a B2B wholesale marketplace plugin!

Source – ibisworld
WholesaleX plugin and its review can be beneficial for those who want to grow their business in a bigger industry. Wholesale is a bigger marketplace, and if you want to enter it, WholesaleX can help you. WholesaleX B2B wholesale marketplace plugin is a no-code solution for B2B wholesale marketplaces in WordPress.
WholesaleX reviews a shorter version that is also available for you. You can either read that or keep reading the current blog. This blog is a holistic review that contains history, community response, getting started, and so on!
What was the Start of the WholesaleX Story?
♨️ Quick Note –The 7th of November, 2022! Jakir Hasan, CEO of WPXPO, posted an announcement!
It started with the social media post, "Coming soon!" First social post, then CEO's announcement, and then 10 November! WholesaleX, the newest B2B wholesale marketplace plugin in WordPress, has come to light. Wptowp editorial got early access to test the plugin. The team tested, and here we will share the insights with you.
As with WPXPO's other products PostX and ProductX, we hope that WholesaleX, the WordPress B2B wholesale marketplace plugin, will mature with new features on a regular basis. We have analyzed all the wholesale WordPress plugins for our listing blog. From that experience, it feels like WholesaleX roadmap is promising.
Editorial Note 🔔🔔
This blog covers all the possible information that you need to make your decisions. As a result, the blog becomes longer than the usually expected reviews. You can save the blog for later reading. Maybe you can just scan the headings and highlights if you are in a rush!
Who are the People Behind WholesaleX?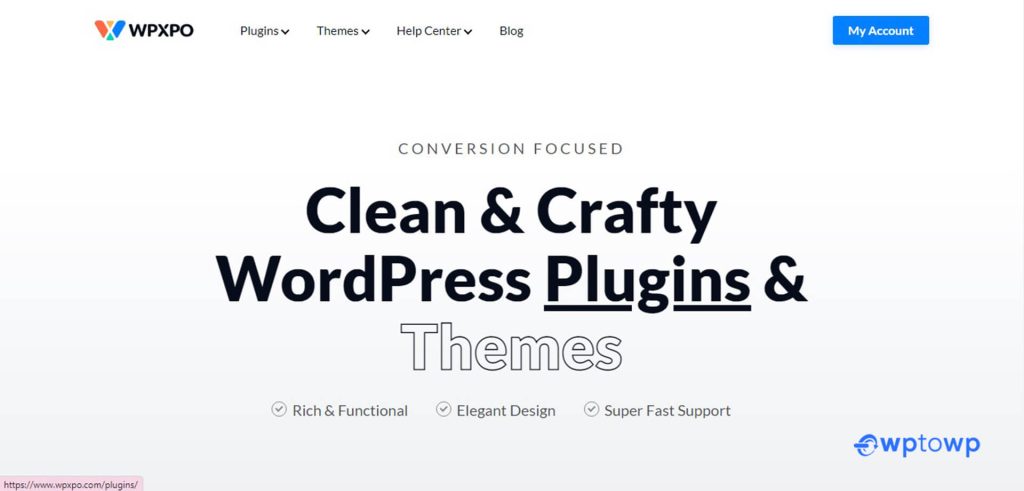 WhaolesaleX is backed by the Bangladeshi software company WPXPO. Starting in 2019, they have already established their two flagship products: PostX, Gutenberg's post block editor, and ProductX, Gutenberg's WooCommerce solutions. PostX is currently powering 20,000+ websites worldwide, while ProductX is also growing, with more than 2,000 active installations.
WPXPO won the prestigious national ICT awards in Bangladesh in 2022. Their product, PostX is the BASIS National ICT Awards-2022 "Winner". Additionally, PostX ran an LTD campaign in the MarTech community, where they received a lot of feedback from the top marketers in the industry.
How is the Community Response to WhaolesaleX?
WholesaleX just got its initial release. We are excited to share, we are the first website from the community who are writing about the plugin. We started taking care of the content from the initial announcement. Thus, we become the starter for this product.
What Makes WholesaleX Plugin Standout?
WholesaleX is new, but we are still recommending this plugin for your next wholesale marketplace. Here in this section, we have added 10+ important points that make WholesaleX B2B wholesale marketplace plugin stand out from its competitors.
Trendy Design 🤝 Here at WholesaleX, you can expect a trendy design. The plugin is new and has just been published. So, the design should also be the latest. Isn't it?
Better Support 🤝 You can expect better support through live chat, tickets, and social channels. Moreover, they have video and written documentation too.
Company Reputation 🤝 WholesaleX, B2B wholesale marketplace plugin, is a plugin made by WPXPO. So far, the company has a better reputation. Their PostX and ProductX are already loved by 25,000+ people around the globe.
Quick Support 🤟 WPXPO always provides better support. We are confident because we have their backing. We are their affiliate partner, so several times we have connected with them. [We are their affiliate partner, but that doesn't influence us while writing! We write what the data says and what the test results we found!]
All-In-One Solution 🤟 You are getting multiple solutions, like B2B marketplace and B2C marketplace options, under a single umbrella. No extra plugin, and no extra cost, either.
Manage Rules Globally 🤟 Another big option here at WholesaleX is to rules once and apply them to the whole marketplace. The global settings option will help you manage the settings efficiently.
Effective User Roles 🤟 You can create an unlimited number of user roles. And depending on the user role, you can assign different pricing and discounts. You can also control the user-role-based pricing and discounts.
B2B + B2C Hybrid Store 🤟 You can keep the hybrid marketplace or develop a dedicated B2B marketplace. From the WholesaleX B2B wholesale marketplace plugin, you can see all the features already.
Maintain Contact with Customers 🤟 You have the option to start a conversation, you can offer a potential price, and can take requests. It feels like the ultimate independence for managing a marketplace.
Best Features of WholesaleX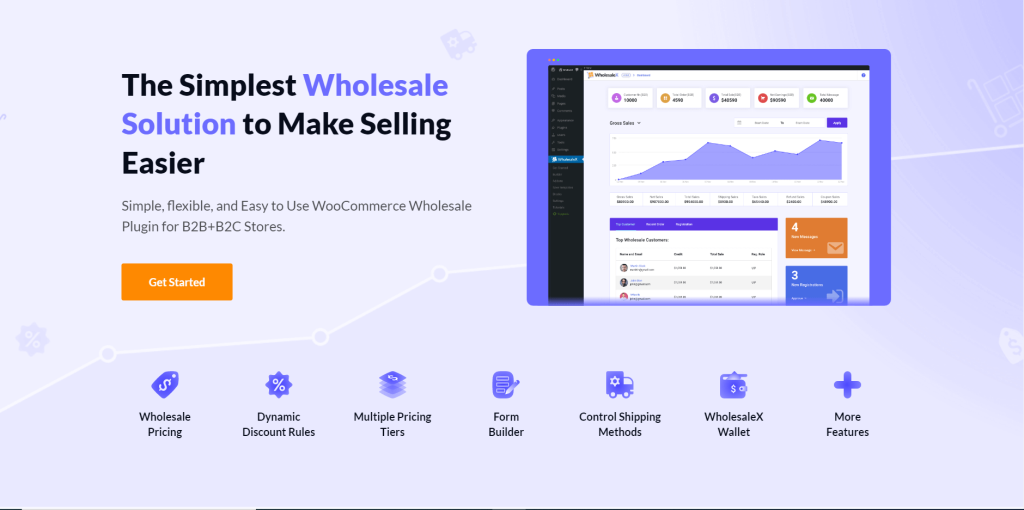 While you are checking WholesaleX B2B wholesale marketplace plugin and its features, please be aware that, WholesaleX just got its initial release. The plugin will add new features from time to time. Like we have seen on PostX and ProductX.
WholesaleX offers all the features that need to start a dedicated wholesale marketplace. You are getting wholesale pricing, dynamic discounts based on pre-set rules, multiple pricing tires, form builders, shipping methods, and many more. However, the following list is only the major features. You can check the full features list here.
📌 Wholesale Pricing – Wholesale means a lot of quantity, different pricing models, and discount models. It seems hard to get everything under a single rudder. But WholesaleX, B2B wholesale marketplace plugin, made it for you. You can set your logical pricing from the panel. You can add the given type of pricing 👇👇
Quantity-Based Discounts
Minimum Order Quantity
User-Based Pricing
Payment Method Discounts
Quantity or Value-based Discounts
Category-Based Discounts
You will get the ultimate flexibility to set your pricing. Flat and percentage type pricing, on-product, on-sale, and person-specific pricing are possible. You can display and hide the tax from the pricing label.
📌 Registration Form Builder – "Selling management" and "better delivery" depend on how you collect purchasers' and users' information. At WholesaleX, B2B wholesale marketplace plugin, you can create both the B2B and B2C registration forms, customize the form and keep important fields mandatory, automatically and manually approve the registration, and last but not least, you can use the registration form at any place via shortcode.
📌 Users Role Management – Like the pricing system, you can create unlimited user roles, and depending on the role, you can apply the pricing. You can also add wallet credit limit, payment methods, and shipping methods depending on user roles.
📌 Wallet Management – No more headaches with the balance details. You have the option to display payment details from the WooCommerce account page. Manual funds adding option, show and hide tax option is also there for you.
📌 Conversation System – Get the customer's opinion with the quote options. You can also communicate with potential customers via a conversation system.
✌️ There are 10+ more features that are counting more now in the WholesaleX. Let's just have a look at the additional WholesaleX B2B wholesale marketplace plugin features!
| | | |
| --- | --- | --- |
| Multiple Payment Method | Dynamic Discount Rules | Tax Exemptions |
| Custom Fields in Form | Tiered Pricing System | Price Range |
| Email Notifications | reCAPTCHA | Free Shipping |
| Minimum Purchase Rules | | |
The last update date is 10th November 2022
The best part of WholesaleX is, you can maintain a hybrid marketplace. If you already have a regular eCommerce website, you can convert it into a dedicated wholesale marketplace or you can extend the website with wholesale features.
WholesaleX Free vs Pro 😊 Self Battle
Would you like to know WholesaleX is free vs pro? Here in this table, we have displayed the free and pro features. The table will be updated by a minimum 6-month interval. You can check the latest update on WholesaleX B2B wholesale marketplace plugin landing page.
| | | |
| --- | --- | --- |
| WholesaleX Features | Free | Pro |
| | | |
| Analytics | ✅ | ✅ |
| Users Count | ✅ | ✅ |
| reCAPTCHA | ✅ | ✅ |
| Wallet | ❌ | ✅ |
| Conversation | ❌ | ✅ |
| User Role | ✅ | ✅ |
| New User Email | ✅ | ✅ |
| New User Registration | ✅ | ✅ |
| User Registration Approve | ✅ | ✅ |
| User Registration Declined | ❌ | ✅ |
| User Registration Pending | ❌ | ✅ |
| Email Verification | ✅ | ✅ |
| Dynamic Rules | ✅ | ✅ |
| General Form | ✅ | ✅ |
| Billing Form | ❌ | ✅ |
The last update date is 10th November 2022
From the table, you can see, almost 75% of features are available in WholesaleX free version. However, WholesaleX pro will unlock 25% extra features that include some of the major modules for any B2B wholesale marketplace.
When Should You Use WholesaleX?
You can use WholesaleX in your projects at any time, depending on your business needs. However, we have identified some special groups of people to whom we strongly recommend WholesaleX, a B2B wholesale marketplace plugin for WordPress.
If you are currently operating a b2b wholesale marketplace, then you can start using WholesaleX as your new tool. You can purchase the plugin at an affordable price as an early purchaser and boost your marketplace performance.
Planning for establishing a new WordPress wholesale marketplace? In that case, WholesaleX is your go-to plugin. Download the free version and get the pro version. Your half of the headache is gone now. In the entire WholesaleX review, you have seen all the amazing features and now it's your time to use them on your marketplace.
If you have an eCommerce site on the WordPress platform and have the plan to extend it into a wholesale area, then it's time. Get WholesaleX B2B wholesale marketplace plugin and extends your eCommerce site. You have the option to keep hybrid b2b and b2c marketplace so you worry to lose your current customers.
If you are a freelancer or developer and reading the WholesaleX review, you can use WholesaleX for your clients. No more hard coding and complex structures. Just install the WholesaleX which gives instant-ready features for you. An update will come from the company so you can relax.
If you have a lot of clients, you can use WholesaleX for making their marketplace. WholesaleX uses WordPress and WooCommerce at the back end. It actually brings a lot of features in affordable solutions.
WholesaleX Pro Pricing
WholesaleX Pro offers an affordable price that you can pay either yearly or once in a lifetime. You will also have 14 days refund options.
| | | | |
| --- | --- | --- | --- |
| WholesaleX Pro Pricing | | | |
| Single | 5 Sites | Unlimited | Refunds Policy |
| 149$/year | 249$/year | 349$/year | 14 days |
| 249$/Lifetime | 399$/Lifetime | 799$/Lifetime | |
| | | | |
The last update date is 11th November 2022
Apart from the table, they also have bundle pricing which starts 429$ for 2 plugins and 554$ for all 3 plugins. As a matter of fact, the agency bundle is for unlimited sites and for a lifetime. It's a good deal!
Editorial Prediction for WholesaleX
Wptowp editorial tested both the free and pro versions of the plugin. Moreover, we have analyzed other wholesale plugins. You can see our best wholesale plugin listing blog. On the basis of the data we have, WholesaleX can be the top plugin for the wholesale marketplace within 1-2 years. If they can deliver their promised features and keep updating, it has a chance to grow dramatically.
Plugin like Dokan Multivendor bring a lot of SAAS customers to WordPress and we belive, WholesaleX can do the same in near future.
How to Get Started with WholesaleX?
Getting started with WholesaleX B2B wholesale marketplace is one of the easy processes ever experienced. No coding and no technical skills are required.
Purchase Domain Hosting ✔️ Start with the domain and hosting. Make sure, you have a suitable domain name for your B2B wholesale marketplace. And since B2B wholesale marketplace required a lot of visitors and transactions, takes high-quality hosting. You can use Exonhost. our trusted hosting partner. Make sure, you are taking SSL with the hosting.
Setup WordPress and Basic Plugin ✔️ Once you have the domain and hosting, install WordPress from the hosting control panel. Most of the providers now provide 1-click installation options. You may use it to save time. After the WordPress settings, set up the basic plugins for the site such as SEO plugin, CRM marketing plugin, security plugin, and so on.
Install and Setup WooCommerce ✔️ WooCommerce is required for WordPress eCommerce sites as well as WholesaleX. So, install and setup the plugin in this step. Make sure, you are adding valid business information while setting up WooCommerce.
Buy WholesaleX Pro ✔️ Now, finally install the WholesaleX and WholesaleX Pro. Set up all the basics and upload the pricing and bundle. Set up and grow your own B2B wholesale marketplace.
What is on the Way on WholesaleX?
You can be happy to see the upcoming features of the WholesaleX plugin. There are multiple big and actionable features are under development. Here are WholesaleX review, we are adding the list. You can see the live list here.
Request a Quote
Bundle Discount
Stock Management
Restrict Product Visibility
Sub-Account Management
Bulk Order Widget
Gift [Dynamic Rules]
Minimum Order [Dynamic Rules]
Back Order Addon
Budget Management
Maximum Order [Dynamic Rules]
Dokan Marketplace Integration
Sub-Account Approvals
WCFM Marketplace Integration
—
Buy 1 Get 1 Free
[Dynamic Rules]
Cart Total Bargaining
via Conversation
Buy X Get 1 Free
[Dynamic Rules]
The last update date is 11th November 2022
WholesaleX FAQs
If you have any questions about WholesaleX B2B wholesale marketplace plugin, we have the answer too. Here in this section, let's have a look at the latest FAQs. If we miss any, let us know through the contact us page.
Any Discount on WholesaleX?
Yes! A big discount going on WholedsaleX! As an early bird purchaser, you can avail of up to 70% off all the packages. Moreover, there is a bundle package from WPXPO that saves more for you.
Can I Add WholesaleX to Existing Site?
Yes! You can add WholesaleX to your running site as well as a new site. The plugin is compatible with all the popular plugins so you don't need to worry about it.
Can I Run a B2B and B2C Site Together?
WholesaleX supports a hybrid marketplace so you can operate both B2B and B2C marketplace from the same domain. No need to create a separate marketplace for double service. We have covered the hybrid features in WholesaleX B2B wholesale marketplace plugin.
Can I use WholesaleX without WooCommerce?
Unfortunately NO! WholesaleX B2B wholesale marketplace plugin works based on WooCommerce. So in order to build your WordPress eCommerce wholesale marketplace, WooCommerce is a required plugin.
B2B Wholesale Marketplace Plugin – Final Notes
Thanks for reading the full WholesaleX B2B wholesale marketplace plugin. We hope you have enjoyed the WholesaleX B2B wholesale marketplace plugin blog and got the information you were looking for. We have already shown our support for the plugin and hope, it will help you too. Let us know how your experience with WholesaleX has been. Would you like to share the blog on your favorite social channel? It won't make our day, but it will make our week.
Acknowledgment 💯💯
🐾 Images – Images in this blog have been collected from the WPXPO website, blogs, Wholesale landing page, Social site, etc
🐾 Affiliate Links – This blog contains several affiliate links. This means, that if you purchase any product through the link, we will get a commission without costing you extra. You can see affiliates disclosed here.
🐾 Data Source – All the data has been collected from various open-source. For example landing page, WordPress directory, youtube channel, etc. Data can get changed at any time.

Editorial Staff
Our Editorial team consists of WordPress Expert/s, Analysts, Content Editors, Writers, Designers, SEO Experts, Outreach People and Developers! For each content, a highly expert and dedicated team led by Asadullah Galib, works together. We have only one motto, "Help you to make your final decisions!"