WP Social Ninja Review 2023 | A Better Social Plugin for WP
Starting with spoiler alert! WP Social Ninja review is a long blog as the plugin comes with a lot of social features. We will cover all the features and analytics so the blog helps you make your own decisions. Now the question is, how did we get connected with WP Social Ninja? Well,
WP Social Ninja is a product of WP Manage Ninja. FluentCRM, Fluent Form, and multiple popular WordPress plugins have been published by the company. When we were looking at WP Social's (another social media plugin for WordPress) competitors, we found WP Social Ninja. The editors checked the features and immediately made the decision to share details about the plugin with you.
As part of our process, we went through an in-depth analysis, tested, and checked reputations. Now, er are here to publish a complete WP Social Ninja review with you.
WP Social Ninja gets its initial release at the start of 2020 and since then, it manage 8,000+ active installations. Even though the numbers are not grabby, we are impressed with the features. Thus, we are writing the WP Social Ninja review. We believe the plugin will help you so no matter what its current statistics, we are writing about it.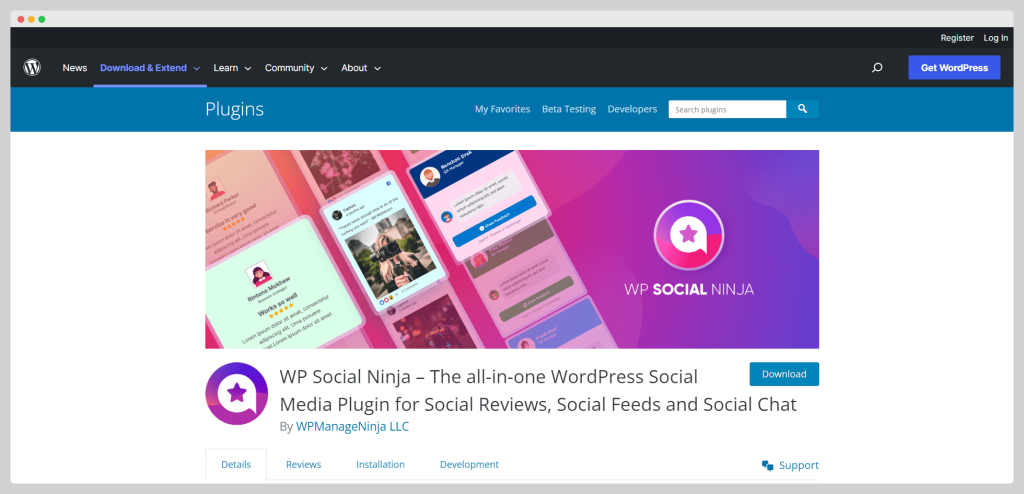 There are a lot of social media plugins for WordPress. According to our preliminary research, more than 20 plugins are currently providing service. But among all the social media plugins, there are few that provide complete solutions. You can even count the numbers. This WP Social Ninja review blog will help you understand the quality and need of this plugin for you.
WP Social Ninja is a WordPress social plugin that enables all the social features on your WordPress website. The plugin comes with a lot of handy fetaures that help you to grow your website traffice and sales.