MasterStudy LMS Review – Best LMS WordPress Plugin 2023
So, we were analyzing all the LMS plugins to get the best LMS WordPress plugin! And guess what? We investigate 17+ of the best LMS plugins. And MasterStudy has become the second-best LMS WordPress plugin among them. The plugin has become an editorial favorite. And it prompted us to conduct an in-depth review at wptowp.
The free version of MasterStudy was released four years ago, in 2018. So far, it has been downloaded 500,000+ times from the WordPress directory.
Thinking of creating a WordPress LMS website? Then this blog can help you. We are going to talk about why Master's Study LMS is the perfect choice for you. You can also use the plugin to create a learning management marketplace. The reviews also include a lot of data and quotes.
MasterStudy has both the LMS theme and the LMS plugin. And they're both well-liked in the neighborhood. However, in this blog, we will talk about the MasterStudy LMS plugin only. If you want us to review the MasterStudy theme and mobile app, contact us here.
History of MasterStudy LMS Initialization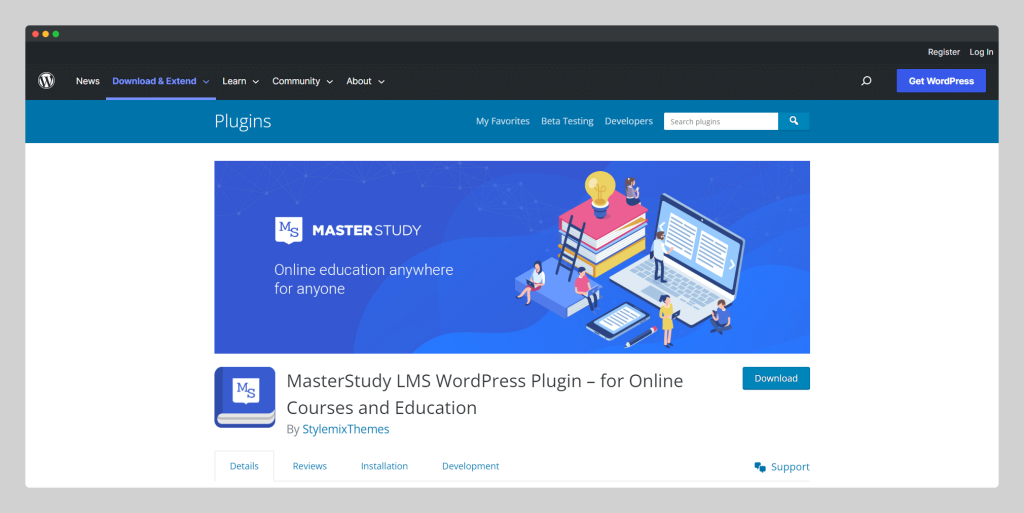 The story of MasterStudy LMS initialization is unknown. However, the earliest date we found on the WordPress directory is 2020-12-09. That's from version 2.4.7. According to WPHive, the plugin has been released 4 years back.
So, we're guessing the story started in 2019! From then to now, MasterStudy best LMS WordPress plugin has grown by over 10 thousand! Powering LMS businesses around the world and maintaining a 75%+ five-star rating ratio.
Who Builds MasterStudy LMS, Best LMS WordPress Plugin?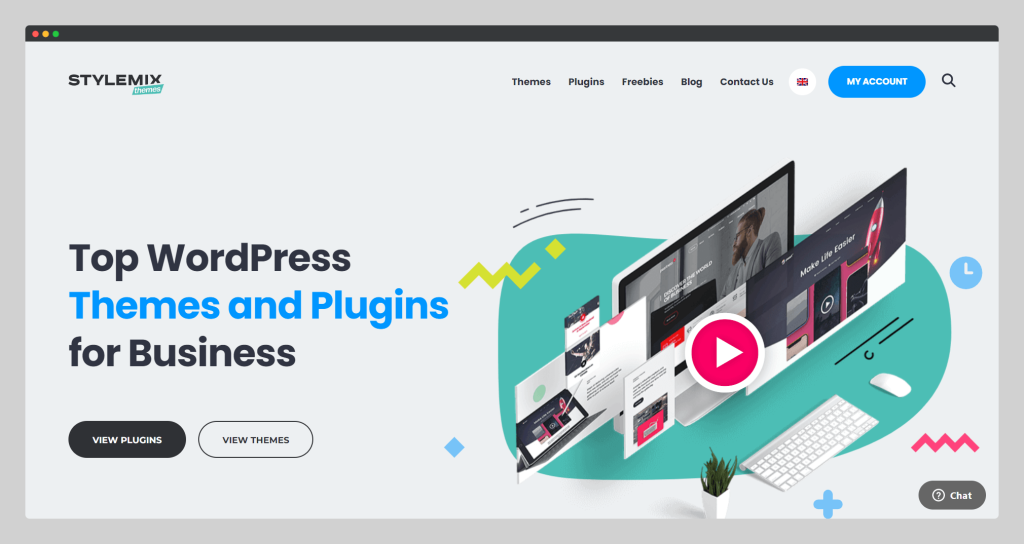 Stylemix Themes is the company that builds MasterStudy WordPress LMS plugins. They are a popular WordPress product development company from the United Arab Emirates. They made 5M+ from Envato marketplace, holding 14th-level authors. 1st time we are talking about a product from one of the top authors on the marketplace.
They also have a lot of popular themes like Consulting – 24k+ sales, Motors, and MasterStudy Themes – 17k+ sales. Can you imagine, how popular they are? Their WordPress product lineup is very very strong. BookIt, eRoom, has 10k+ active installations, and Cost Calculator has 20k+ active installations.
How is the Community Response to MasterStudy LMS?
While we are talking about MasterStudy LMS, a lot of other websites have already talked about it. The best LMS WordPress plugin has been featured on leading hosting sites cloudways, wpexplorer, greengeeks, wpmayor, and wpexplorer. AppSumo has LTD deals for the plugin which have over 36 tacos. MasterStudy LMS was also reviewed by Kasareviews. Websites such as Helpie WP, The Tech Edvocate, Pressidium, and MH Themes all mention the plugin on their blogs. There are a number of coupon websites that mention the plugin too.
Our team investigates the video platform. We found webseotips, Appzone, TOP Digital Products, themesCode, Saas-Guru, Techno BK, and Web Technical Tips in videos on the MasterStudy LMS. Even, Envato Tuts+ featured MasterStudy on their YouTube channel.
How is MasterStudy LMS Standing Out from the Crowd?
What features make MasterStudy one of the best LMS WordPress plugin? Wptowp editorial checked and found the following features. Some of them are regular LMS features. Others are the distinctive LMS features. Let's take a look at them.
1) Student Management: Student management is the basic feature of any learning management system. Here at MasterStudy LMS, you will get single- and group student management systems. Group auto-creation, licensing, and importing from CSV are available. You can also change the email template that's used to notify students. The best part is that you have the option to add a co-instructor.
2) Advanced Quizzes: You can feel the real-life quiz experience at MasterStudy LMS. There are advanced options like multiple question types, playing with images and text, reviews, timers, limited attempts, retaking, using a question bank, and whatnot. The quiz monetization option is also available here. You can use a quiz as a course assignment.
3) Page Builders: The Elementor page builder is available. You can get all the elements as widgets to develop your LMS website. At the same time, WP Bakery and DIVI Builder are also available.
4) Zoom and live streams: For eLearning and online courses, Zoom is one of the most popular platforms to use. Both students and teachers love it. Due to its free and flexible pricing option, Zoom has become popular all around the globe. Live streaming, live chat, and course material can be provided through the module. You don't need to log into Zoom again and again. MasterStudy's best LMS WordPress plugin comes with a synchronized zoom module.
5) Online Lessons: How do you want to take the class? Audio, video, or slide? All the options are available at MasterStudy best LMS WordPress plugin. Create and manage courses easily and track the student's performance with a course tracker. Teachers can share real-time knowledge. They can embed 6 video sharing platforms.
6) Drip Content: Develop and release content in such a way that students come back again. The drip content option allows you to create multi-layer content for learners.
7) Monetization: Sell courses, sell memberships, and sell courses for life at a time. All the options are available to you. Moreover, you can do an affiliate program like Udemy with MasterStudy best LMS WordPress plugin in 2023.
8) Custom Certificates: Provide recognition certificates to the course completion students. A dedicated certificate builder is available in the plugin. With it, you can create a high-quality certificate for the learners.
9) Course Builder: Full course creation, FAQ and resource sharing, preparing quizzes, etc are easier than ever with the MasterStudy LMS plugin. As the plugin offers multiple source options, integration, and so on.
MasterStudy LMS Free Features List
In this part, we will look at the free feature list. We have added the features name only. It wasn't easy to fetch all the feature lists from the panel. But, our admin panel did this just for you. We love you more than the others do. You can check every detail by installing the free version and purchasing the pro version of MasterStudy best LMS WordPress plugin.
Featured course
Course views
Course level
Current students
Duration info
Video Duration
Quiz Frontend
description
Lesson frontend
description
Not included in
membership
Time limit
Price and sale price
Announcement
FAQ
Course materials
Lesson type
Lesson duration
Lesson preview
Lesson materials
Status
One-time purchase
Quiz questions
Question banks
Show correct answer
Quiz Style
Quiz duration
Import/Export
Passing grade (%)
Allow instructors to
create new categories
Question result
explanation
Points total cut
after re-take (%)
Question type
Randomize questions
Question Answers
Course Reviewed
User Review mark
User Reviewed
Course category
Question category
Order information
Currency Position
Instructor request
Main color
Thousands Separator
Currency symbol
Secondary color
Decimals Separator
Number of decimals
Enable Guest Checkout
Deny Instructors
Enable Preloader
Category parent slug
Courses Page
Disable Featured Courses
Number of Featured Courses
Enable Archive Filter
Course Tabs
Lesson Page Style
Course levels
Redirect to Checkout
Privacy Policy Settings
Allow Presto Player
Source for Instructors
Allow instructors to create
new question categories
Shortcodes Settings
Preferred Video Source
Enable bottom sticky panel
Enable related courses
Disable default image
Failed courses
Passed courses
Quiz Style
Media Type
User Account
Wishlist
User Public Account
Checkout
Payment Methods
Google API
Profiles Settings
The last update date is 11th January 2023
MasterStudy LMS Free vs Pro Version
78+ free features are available at MasterStudy best LMS WordPress plugin. Building an LMS website is not matter like drinking water. But MasterStudy makes it easier than ever. If you have a budget issue, or if you do something volunteer, the MasterStudy LMS free version is fine. If you want something professional, MasterStudy Pro is the solution you need.
At MasterStudy Pro, you will get extra 13+ features, a certificate builder, and payment method integrations. You can get over 20 pro addons to bring your LMS website to the next level. Our opinion is, to start with MasterStudy free and then go for the pro version. So, you can understand the MasterStudy LMS Free vs Pro difference in more detail.
What More Does MasterStudy LMS Pro offer?
Now, it's time to explore the pro advancement of MasterStudy best LMS WordPress plugin features. What are the extras you are getting at MasterStudy Pro?
| | | |
| --- | --- | --- |
| Enterprise price | Affiliate course | Sequential drip content |
| Prerequisite Course | Prerequisite passing percent | Certificate builder |
| Enable WooCommerce Checkout | Instructor earnings | Number of free features |
| Enable course pre-registration | Certificate threshold | Certificate settings |
| Paypal payout settings | | |
| | | |
The last update date is 11th January 2023
The above list seems very small. But if you notice the feature list, they are the most important feature. In order to get the true LMS experience, you should have the above features. Moreover, MasterStudy best LMS WordPress plugin comes with 20+ premium addons. For the professional university site, the add-ons play a vital role. We have added the list in the below section.
MasterStudy LMS Divi Modules: For the DIVI users, MasterStudy LMS released dedicated addons. You can download it from the WordPress directory. DIVI themes and MasterStudy LMS DIVI addons are a perfect combination for the DIVI LMS website.
MasterStudy LMS Pro Addons
Apart from the features and addons, MasterStudy's best LMS WordPress plugin offers a number of addons. Here is a list of addons that will provide you with a premium LMS development experience. Purchase them and break free from the constraints of your next Udemy-like website.
| | | |
| --- | --- | --- |
| SL | Name | Descriptions |
| 1 | Statistics and payouts | It gives you to perform analytics and sets up payments to your instructors. |
| 2 | Udemy Importer | You can import courses from Udemy and sell them on your website. |
| 3 | Prerequisites | Set unlock courses as the users complete them. Complete one to unlock the next video/content for each course. |
| 4 | Online Testing | Use the shortcode of any quiz to paste it on any page and test in online mode. |
| 5 | Trial courses | You can specify the course as a trial and demo for newcomers. |
| 6 | Drip Content | You can restrict access to the lessons until the start date or course progress. |
| 7 | Co-instructors | Add more than one instructor to the specific course. |
| 8 | Point System | Award points to students for different activities and boost motivation. |
| 9 | Assignments | Let's challenge the students to upload projects or write an essay. |
| 10 | Gradebook | It will allow you to track the enrolled students' performance and progress. |
| 11 | Live Streaming | The addons allow you to schedule and stream live lessons on Youtube. |
| 12 | Group Courses | Sell your courses to groups, teams, and communities. |
| 13 | Email Manager | Customize your own email message templates. Spice up the email to attract more students to your course. |
| 14 | Course Bundles | Collect courses into the packages and sell them at one discounted price. |
| 15 | Google Classrooms | Import your classes from your Google Classrooms account to your website. |
| 16 | Zoom Conference | Teach with Zoom lessons, meetings, and webinars directly on your website. |
| 17 | SCORM | Load pre-built e-learning content by using the specification standards. |
| 18 | Certificates | Design your certificate template using the modern and easy-to-use builder. |
| 19 | LMS Forms Editor | Customize the forms on your website with a user-friendly editor. |
| 20 | File Upload Manager | Include and manage unlimited types of files in your courses and lessons. |
| | | |
The last update date is 5th January 2023
MasterStudy LMS Integrations List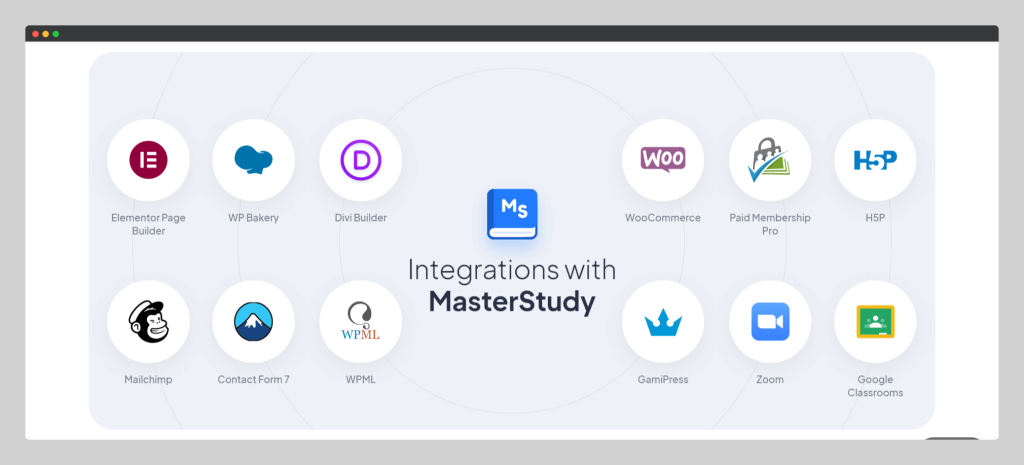 Integration plays a vital role in any learning management system. This is why users take care of the integration list before choosing their best LMS WordPress plugin. There is a lot of integration at MasterStudy LMS. Let's take a look at the list. Please be aware that, it's a long list.
| | |
| --- | --- |
| Elementor Page Builder | Automator WP |
| WP Bakery Page Builder | Uncanny Automator |
| Divi Page Builder | If>So |
| WooCommerce | GrassBlade |
| Membership Pro | WPML |
| H5P | Contact Form 7 |
| GamiPress | MailChimp |
| Zoom | Google Classrooms |
| | |
The last update date is 5th January 2023
If you look at the above table, there are multiple page builders that allow you to create an LMS website with them. You can also get video sharing and online class-related integration. You have a contact form and membership plugin integration. With all the integration, MasterStudy will meet your needs.
Who Should Use MasterStudy LMS?
For the eLearning industry, MasterStudy's best LMS WordPress plugin can be used anywhere. Anyone can use it to group people together for a single creator. The WordPress CMS is an ideal solution to create a site like Udemy, Audacity, eDex, etc. In this blog, we have mentioned some of the dedicated professionals that can use MasterStudy LMS.
Need LMS Solutions
So, want to sell your skills to teach people? You plan to go beyond your limitations and now need a ready website. Now you need MasterStudy's best LMS WordPress plugin. It's an all-in-one, easy-to-use learning management solution for WordPress.
Development Agency
A development agency usually has a lot of clients. They need to provide quick and quality solutions. MasterStudy LMS has arrived. It has an agency LTD plan. You can purchase them for unlimited use. Then you can handle all your clients without any kind of technical difficulty.
New eLearning Entrepreuner
If you are new to eLearning, our recommendation for you is MasterStudy LMS. Because the plugin has a great user interface and user experience. Self-explanatory tags and captions can help you set up your own site. Ultimately, you will not be required to hire another technical person to set up this plugin.
Looking for Ready Made Solutions
The plugin offers free themes. So, if you purchase the plugin, you will have a well-designed theme. Purchase, download, and install your WordPress LMS website instantly.
MasterStudy LMS Pro Pricing
MasterStudy best LMS WordPress plugin comes with affordable pricing for both single users and agency owners. In fact, they also provide an LTD package, which allows you to pay once and use it for the rest of your life. The price starts at only 59 USD. You will get a 14-day money-back guarantee from MasterStudy best LMS WordPress plugin.
| | | | |
| --- | --- | --- | --- |
| MasterStudy LMS Pricing | | | |
| Single | 5 Sites | Unlimited | Refunds Policy |
| 59$/year | 149$/year | 299$/year | 14 days |
| 149$/Lifetime | 299$/Lifetime | 799$/Lifetime | |
| | | | |
The latest data update date is 6th December 2022
When You Should Not Use MasterStudy LMS Pro?
There's no reason to avoid MasterStudy LMS plugin. If you want to do something related to learning management systems then you should go with it. Still, we figure the following category in which users may avoid MasterStudy LMS.
Using SAAS LMS: If you are already in the SAAS learning management system then you can avoid MasterStudy best LMS WordPress plugin. Remember, MasterStudy is best for the WordPress platform. So, for the other type of CMS and websites, MasterStudy is not recommended.
Planing Not to Grow: Leaving course industry? Then MasterStudy is not recommended for you.
Predictions for MasterStudy LMS
MasterStudy LMS is already one of the best LMS WordPress plugins. And the editorial team believes, MasterStudy can grow more and get the second-highest installation this year. However, it will depend on the marketing and content team of the company.
Get Started With MasterStudy LMS
Getting started with MasterStudy LMS is easy. At the start, take your final decisions about whether you want an eLearning marketplace. Or do you want to sell the course alone? Once you decide, you can follow the steps given below.
Get the Domain and Hosting: Buy the domain and hosting. Try to purchase better hosting that provides the fastest speed. There are some providers who sell WordPress-dedicated hosting. You can buy them. Confirm your SSL also.
Install WordPress: From the control panel, install WordPress. In most cases, you will get 1-click installation options. Get advantage of it. Make sure, you install it in the root directory.
Install Themes and Plugins: In this step, install a theme. You can choose the MasterStudy LMS theme as well. Then install all the basic plugins such as SEO, Spam protector, email marketing, CRM, etc. Set up the basic site. Update the terms and condition page, and other necessary pages.
Buy MasterStudy LMS Pro: Now install the MasterStudy LMS free version from the WordPress directory. If you want to get advanced features, we recommend you use MasterStudy LMS pro version.
Create and Sell Course: You are now ready to get started. From the MasterStudy panel, create your first course and sell them. By the way, you will require to set up your own payment gateway before you get the payment from the course selling.
Some people use the MasterStudy LMS null version to save money. We strongly advise against using MasterStudy LMS null. It can cause you to hack. Also, using the best LMS WordPress plugin in its null version is ethically wrong.
What's Coming at MasterStudy LMS
😌😌 We do not have any roadmaps about MasterStudy best LMS WordPress plugin.
Frequently Asking Questions About MasterStudy LMS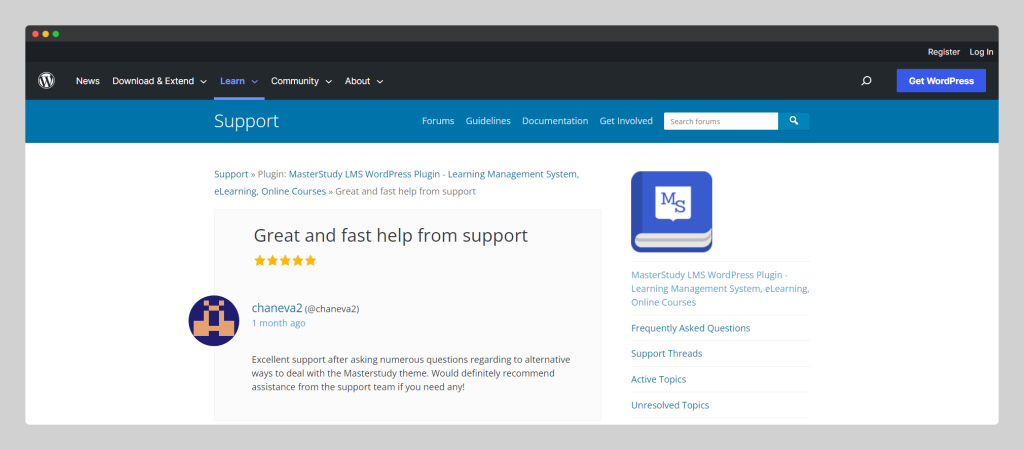 Have some questions after reading the blog? We have got the answer too. In this section, we have added all the necessary MasterStudy LMS FAQs for you. If you don't get your answer, please contact us. We will update it soon in this section.
What is MasterStudy LMS?
MasterStudy LMS is one of the best LMS WordPress plugin. It has been published by stylemix themes. At this moment, MasterStudy LMS powering over 10 thousand eLearning websites around the globe.
Is MasterStudy Theme free?
No! The MasterStudy theme is not free for users. You will be required to purchase the theme in order to use it on your LMS website. However, if you purchase the MasterStudy LMS, the best LMS WordPress plugin, then you might avoid buying the theme. As the plugin comes with multiple starter packages for eLearning entrepreneurs.
How to Install MasterStudy WordPress?
Installing MuasterStudy best LMS WordPress plugin is as same as installing another plugin. You can download and install the plugin from the WordPress directory. If you are a premium user, then you can get the plugin file as a ZIP from the website. Check your account';'s download sections.
Does MasterStudy LMS Nulled Available?
You can see some of the websites are providing MasterStudy LMS nulled versions. We highly recommend you avoid the MasterStudy LMS nulled plugin. First of all, MasterStudy null plugin will bring security threads to your website. It can have some of the script and bugs. The second fact is, you will not receive an update from the null MasterStudy plugin. Last but not the least, it's unethical to use the null plugin.
Where can I Get Masterstudy LMS Documentation?
You can get the MasterStudy LMS documentation from the website. Just check this link and you will see the detailed documentation of the best LMS WordPress plugin.
What is the Masterstudy LMS pricing?
MasterStudy LMS pricing starts from 59$ for a single year. We have added the in-detail pricing on the above blogs. And you can check the best LMS WordPress plugin from the MasterStudy LMS landing page.
Extra 1: MasterStudy LMS Theme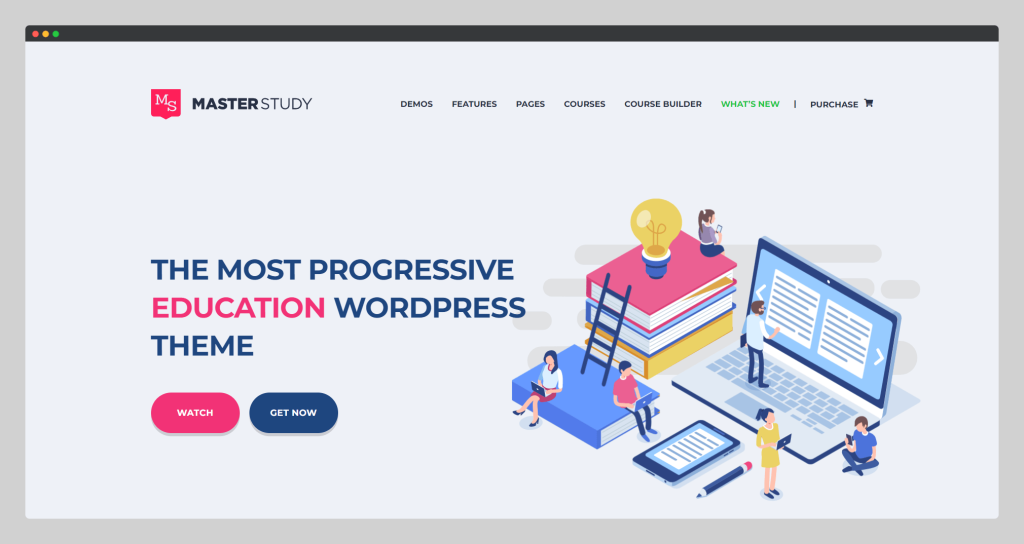 MasterStudy best LMS WordPress plugin has a dedicated LMS starter theme. You can purchase the theme with the plugin and start the site instantly. MasterStudy LMS themes provide you with demo data and the good structure of LMS environments. As the theme has been developed by the same team as MasterStudy, so you can expect a smoother experience on your new LMS website.
Sometimes it's confusing! Does MasterStudy LMS theme or plugin? Yet, MasterStudy has both the dedicated LMS themes and plugin. You can test the MasterStudy LMS plugin for free but them is a full premium theme.
Extra 2: MasterStudy LMS Mobile App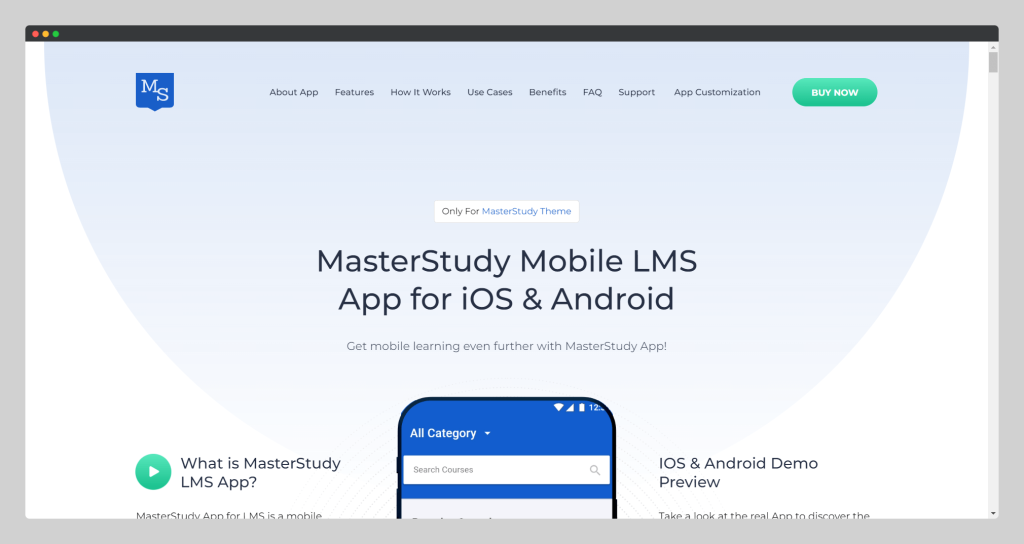 MasterStudy best LMS WordPress plugin has a mobile application too. Flutter-based android and IOS apps can help you grab mobile users. But please be aware that the mobile application is a premium option. To check and test the app, you must first purchase it.
Help us to Grow Wptowp
Thanks for finishing the full blog. We are happy to see you are still here. We hope you have enjoyed the blog. How about helping us a lot with little effort? You can simply share the blog on your favorite social media handle. It will grow our traffic, and your friends can learn about this amazing plugin. And most importantly, it will help us establish. What are you waiting for? Click on the social icon and finish sharing now.
Acknowledgment 💯💯
🐾 Images – Images in this blog have been collected from the stylemix themes's website, blogs, landing page, MasterStudy LMS landing page, WordPress directory, Social site etc
🐾 Video – The video in this blog has been collected from the stylemix themes' YouTube channels.
🐾 Affiliate Links – This blog contains several affiliate links. This means, that if you purchase any product through the link, we will get a commission without charging you extra. You can see affiliates disclosed here.
🐾 Data Source – All the data has been collected from various open sources. For example landing page, a WordPress directory, a YouTube channel, etc. Data can be changed at any time.

Editorial Staff
Our Editorial team consists of WordPress Expert/s, Analysts, Content Editors, Writers, Designers, SEO Experts, Outreach People and Developers! For each content, a highly expert and dedicated team led by Asadullah Galib, works together. We have only one motto, "Help you to make your final decisions!"