Cost Calculator Review | Price Estimation Plugin 2023
Selling services through the website but did not face any conflict with clients is rare. Most entrepreneurs suffer from it due to the lack of a price estimation plugin. Specially small and mid-level company which has limited budgets face it lot. But giving a better cost estimation can reduce the headache at a glance. You can offer better quotes and keep better sleep same time. And guess what, Cost Calculator review can help you do this for your WordPress website.
In this blog, we will start with a cost calculator pricing estimation plugin overview, best features, addons, integration, and pricing discussion. We will also see some interesting information such as the background team, our prediction, and so on. We also add the unique selling points of this price estimation plugin. Let's get started.
Editorial Note 🔔🔔
This blog covers all the possible information that you need to make your decisions. As a result, the blog becomes longer than the usually expected reviews. You can save the blog for later reading. Maybe you can just scan the headings and highlights if you are in a rush!
Cost Calculator Review – Introduction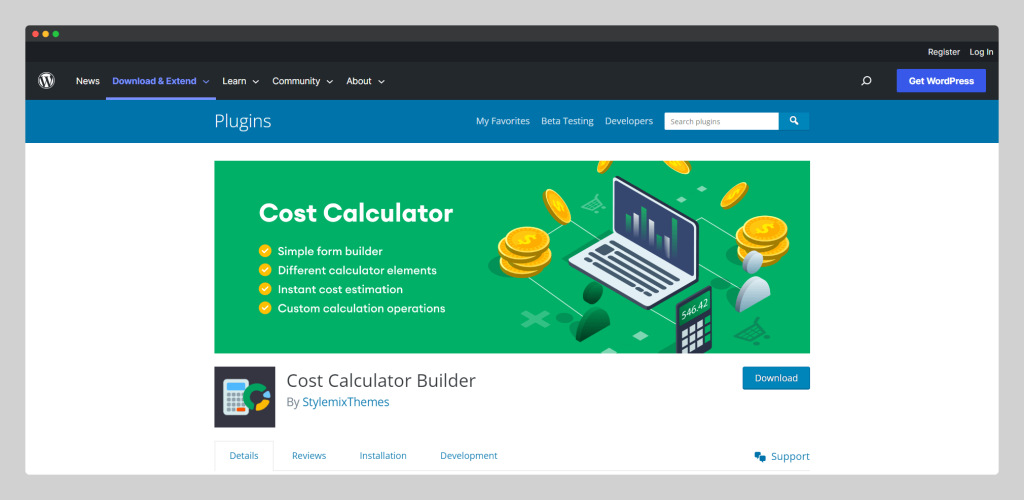 Expressing a proper pricing plan is one of the most important things for starting a new business. Even if the business is old, cost presentation matters. Losing hundreds of bucks for displaying unclear pricing is a common case. And you can avoid the trap with the help of the Cost Calculator plugin made by StylemixThemes.
The Cost Calculator plugin is an easy-to-use WordPress price estimation plugin. It allows you to create any type of price estimating form in just a few steps. You can send quotes to your client through email, import and export data generated by the plugin, and get unlimited customization options with the necessary fields. The ReCaptcha features allow you to prevent spammers.
If you're looking for a simple price estimation plugin, it's hard to beat Cost Calculator Builder for your WordPress website.
Best Features of Cost Calculator Plugin
Now the most important part! What are the features and functions you are getting from the price estimation plugin? Well, the list is long. The Cost Calculator plugin's features are way more then it's expected. And it shows how the become one of the leading price estimation plugins in the market. As regular with Wptowp's tradition, we never disturb our users with a long list of feature descriptions. Here is the features name only.
| | | |
| --- | --- | --- |
| Estimation forms | Calculation Builder | Unlimited Customization |
| Compatibility | Instant Estimation | Intuitive Interface |
| ReCAPTCHA | Contact Form 7 | Calendar field |
| Payment Methods | Calculator View | Required Fields |
| Logical Conditions | Orders Dashboard | Product Calculator |
| PDF Entries | Several forms on one page | Mobile View |
| Form Templates | Image Checkbox & Radio | Fully Translatable |
| Instant Cost Estimation | Image Dropdown Element | Email Quotes |
| User-friendly Interface | File Upload Custom Element | Calculation Formula |
| Vertical View | Page Builders Compatibility | Horizontal View |
| Two Columns view | Currency Options | Calculator Duplicate |
| Quick Tour | Calculator Import & Export | Conditional System |
| WooCommerce Checkout | Premium Calculator Templates | Stripe Integration |
| Calculator Builder | Multi-Range Slider Element | PayPal Integration |
| Orders Dashboard | Date Picker Custom Element | Unlimited Forms |
| | | |
The last update date is 10th March 2023
If you are interested to know more about all the above features, then click here and visit the landing page of the plugin. You will see all the feature descriptions and other relevant features.
With the above features, anyone from freelancers to individuals, contractors, agencies, and developers can show the estimated price. Especially, if you are planning to show business details with a pricing structure for booking websites, car rentals, venue rentals, and delivery services then getting the plugin will be the right choice for you.
Cost Calculator Pro Pricing
Let's check the details pricing plan of the Cost Calculator WordPress plugin. Luckily, they still have LTD pricing for different packages. You can pay once and use it for the rest of your life. You can also pay yearly subscriptions. The price started from only $59 to $799 in the highest package.
| | | |
| --- | --- | --- |
| Cost Calculator Pro | | |
| 1 Site | 5 Sites | Unlimited |
| $59/year | $79/year | $299/year |
| $159/ltd | $299/ltd | $799/ltd |
The last update date is 5th March 2023
Please note that cost calculator pro is a product of Stylemixthemes. They can change the price of the product at any time. You are requested to check the latest price from the website before purchasing it.
Cost Calculator Review Spotlight (USPs)
The Cost Calculator plugin has many features. We have discussed them already. Now, what features make them stand out from the crowd? Let's check some of the most used and demanding features of this plugin.
PDF Entries 🧐 Your clients will be able to receive a detailed invoice with costs for services. They will be able to download, print, or send an invoice via email. Apart from it, all pdf documents will be stored in a special section of the Cost Calculator for the website owners too.
Form Templates 🧐 With the library of 100+ booking and pricing form templates, you'll have everything you need to create a professional-looking form that meets your business needs.
Orders Dashboard 🧐 All active orders from your clients can be viewed directly from your dashboard. Track, operate, and confirm your customers' orders. You can easily view, filter, and confirm all the details of pending arrangements from the price to the date for each built calculator separately.
Conditions Feature 🧐 The conditional system allows form fields to show, hide, or be disabled based on conditions being met. Let customers interact only with the fields they need to use and create handy and valuable estimation forms.
Unlimited Attaching Files 🧐 There are various files that can be attached to the WordPress Cost Calculator plugin: images, documents, audio, video, and tables. Define the maximum size and number of files depending on your intention. Moreover, you are able to monetize the element, which incredibly fits every business.
Image Checkbox & Radio 🧐 Using our Image Checkbox feature, you can simply and easily customize the image field to your advantage. You can now add checkboxes and radio buttons with images!
WooCommerce Price Calculator 🧐 You can add a calculator to all WooCommerce products in any category, so there is no need to manually insert the calculator into the product page.
Calculator for Variable Products 🧐 Add extra options to the product calculator. So customers could make their inputs, and see the total price estimated automatically.
The above list has been made by the Wptowp editorials. Some of the content has been collected from the plugin's landing page. We tried our best to bring the most important features in front of you. However, you may find other features important too!
What is on the Way to Cost Calculator?
— No public roadmap founds for the Cost Calculator plugin.
When Did the Cost Calculator Start Its Journey?
According to WPHive, the Cost Calculator started its journey 4+ years back in 2018! At the starting release, they come with a basic form. And the first few releases, they kept fixing bugs and made them stable. Later they added so many features to make your life easier.
Where Did the Cost Calculator Get Mentioned?
Even though the Cost Calculator is a leading price estimation plugin, still the community response is little. The editorial team expects more mentions but gets fewer. WPKlik, Formidable Forms, BDThemes, bloggingwizard, and site saga talks about the plugin. Moreover, tutsplus (Envato), armemberplugin, wpdoze, etc listed this price estimation plugin in the blog.
We found few youtube channel that also talks about the Cost Calculator price estimation plugin. Among them, Techno BK, Foysal Ahmed, and Design Schools are the main ones. By the way, StylemixThemes itself has a YouTube channel where it published details tutorials about the Cost Calculator price estimation plugin.
Cost Calculator Free vs Pro Comparison
We take a look at the Cost Calculator free vs pro comparison. There is a total of 31+ features to power up your website. Among them, 14+ features are available in the free version. With the free version of this plugin, you can do all the pricing basic operations. While the Cost Calculator pro will unlock advanced features.
Cost Calculator Uses Segmentation
Who should use the Cost Calculator? Well, if you have something relevant to data and price, Then the Cost Calculator can be helpful for you. Selling many kinds of business required this plugin. Let's have a look at the category name, who can use the Cost Calculator for growing their business. You can see the user's live usability example on the plugin landing page.
| | | |
| --- | --- | --- |
| Printing Service | Designing Service | Car Rental |
| Any Kind of Loan | Beauty Salon | Renovation Cost Calculator |
| Car/Bike Wash | Delivery Service | Dental Service |
| Medical Service | Tuition Fees | Electrician Services |
| Venue Rental | Wedding Planner | Mass Index |
| Fabric Company | Energy Consumption | Internet Marketing |
| Tax Calculator | Domain & Hosting | Trucking |
| SEO Service | Freelancing | Consultancy |
Editorial Prediction for Cost Calculator
The Cost Calculator is already a leading price estimation plugin. But the editorial feels lacks marketing. We strongly believe the plugin can do way better with proper marketing and collaboration. The plugin is fantastic. Especially for people who have just started an agency-type business and service-selling businesses. And with better marketing, it can reach more users.
With better marketing and promotion, we believe, it can get 50,000+ active installations within this year (2023).
Cost Calculator Plugin FAQs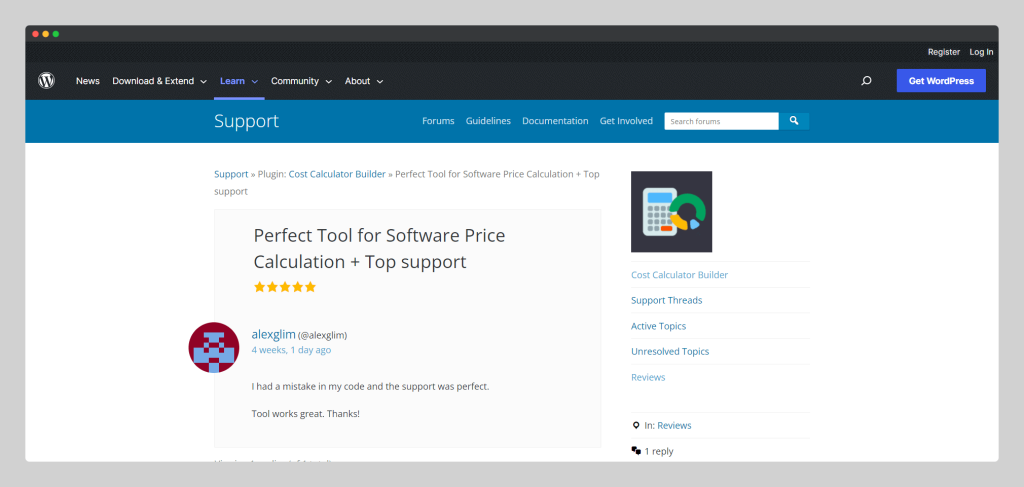 We are almost end of the Cost Calculator price estimation plugin review. Before ending up the blog, let's check some of the frequently asked questions. If you have any questions, we might get that in this section. You can also contact us for more answers.
How do I create a price estimate in WordPress?
It wasn't easy to display the pricing for service-based and agency companies. But multiple price estimation plugins made it easy. The Cost Calculator is one of them. With the Cost Calculator price estimation plugin, you can prepare and set the pricing.
How do you create a price formula?
Depending on your business and niche, you can do R&D and then prepare an analysis. Once you are happy with the price quote, you need to talk with experts and experience people. And finally, you can display the price with the Cost Calculator price estimation plugin.
How do you write a price estimate?
Once you have all the quotes for your business, you can simply display them with the Cost Calculator plugin. If you have a variable price or logic-based different price, you can still use the plugin.
Which is the best Price Estimation Plugin?
There are multiple price estimation plugins in the WordPress directory. Depending on your business, it can be any plugin. However, after a full review and checking the price, we are confident to say, the Cost Calculator is one of the best price estimation plugins for WordPress websites.
Is the Cost Calculator a Free plugin?
The Cost Calculator is a freemium plugin that comes with both free and premium versions. You can test the free version and once you are happy with the features, you can upgrade. The Cost Calculator plugin pro will unlock advanced features that will help you growing business.
Cost Calculator Review – Final Notes
Thanks for reading the full blog. We hope you have enjoyed the blog and come to know all about the Cost Calculator plugin. You can give it a try today and grow your sales. Also, please share the blog on your favorite social media so that other friends from your social handle can know about this amazing plugin. Stay with us.
Acknowledgment 💯💯
🐾 Images – Images in this blog have been collected from different websites, blogs, landing pages, plugin landing pages, WordPress directories, Social sites etc
🐾 Affiliate Links – This blog contains several affiliate links. We will get a commission without charging you extra if you purchase any product through the link. You can see affiliates' declarations here.
🐾 Data Source – All the data has been collected from various open sources like landing pages, WordPress directories, YouTube channels etc. Data can be changed at any time.

Editorial Staff
Our editorial team consists of WordPress expert(s), analysts, content editors, writers, designers, SEO experts, outreach people, and developers! For each piece of content, a highly expert and dedicated team led by Asadullah Galib works together. We have only one motto: "We help you to make your final decisions!"