LifterLMS Review | A Better WordPress LMS Plugin 2023
Looking for a better WordPress LMS plugin that comes with the best support? Planning for starting your own LMS site with WordPress CMS? Close your eye and choose LifterLMS to lift up your LMS website. When we make 17+ top WordPress LMS plugin, LifterLMS rank 3rd. We have covered up basic information there. But the plugin has an even better story. Let's dig out them in this LifterLMS review blog. And we strongly believe, you will understand, why we are so confident with LifterLMS.
So, what have we included in this blog? The overview, all the top features, integration, module, and pricing discussion has been covered. There are some special sections like editorial prediction, USPs analysis, behind the company, and much more. Hey, wait up. We manage a LifterLMS coupon code for you too.
Looking for a fair review on the LifterLMS plugin? Or wondering if it's the best WordPress eLearning plugin? If that's so, then here's what you're looking for.
Editorial Note 🔔🔔
This blog covers all the possible information that you need to make your decisions. As a result, the blog becomes longer than the usually expected reviews. You can save the blog for later reading. Maybe you can just scan the headings and highlights if you are in a rush!
LifterLMS Review – Introduction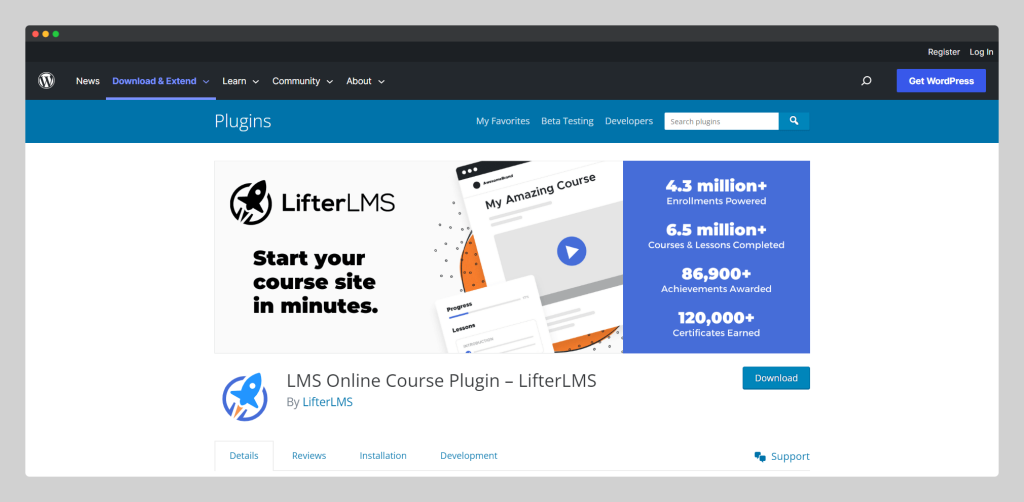 LifterLMS is a secure, feature-packed, and extensive WordPress LMS plugin. It allows you to easily create & sell courses online. You can transform your WordPress website into a professional eLearning platform with every feature you could possibly need from your LMS.
If you are a freelancer or under a tight budget, then WordPress LMS is the ideal solution for you. And LifterLMS made it easier than ever. You just need to do a basic WordPress website setup, install LifterLMS and start selling courses. With the help of the tutorial, you can do each and every step by yourself.
Building an eLearning website was never been easy. It's required techy struggle, a lot of investment, and much more. But LifterLMS take all the responsibility and bring it to your hands. If you are already in WordPress then it's a one-step matter for you.
What is the Story Behind LifterLMS?
Chris Badgett, the man after LifterLMS, was a successful consultant in the WordPress space who saw a gap in the market for a complete solution for creating and managing online courses. He found that existing options were either too complicated for non-technical users, or too basic for advanced users who needed more robust features and customization options. This inspired him to create LifterLMS.
LifterLMS is a platform that would provide a user-friendly and flexible solution for creating and selling online courses.
Badgett envisioned a platform that would be accessible to anyone, regardless of their technical background. LifterLMS was designed with an intuitive interface that makes it easy to create and manage online courses, while also providing advanced customization options for those who need more control. The platform also includes features like membership management, course quizzes, and analytics, so users can track student progress and success.
With LifterLMS, Badgett aimed to provide a solution that would allow anyone to create and sell online courses, no matter what their niche or background.
The platform has since evolved into a comprehensive solution for online course creators and trainers, with a growing community of users who appreciate its simplicity and flexibility. Whether you're a solo entrepreneur, a large corporation, or an educational institution, LifterLMS provides a platform that can meet your needs and help you achieve your goals of delivering quality online education.

[15% Off Verified Discount Code]
Best Features of LifterLMS Plugin
LifterLMS is one of the leading WordPress LMS plugins. It's because of the features they are providing to the users. However, to keep this blog more readable, we are adding the feature list only in this section. If you are interested to know the detailed features, please check them from the Lifter LMS landing page.
| | | | |
| --- | --- | --- | --- |
| Multimedia Lessons | Free Courses | Quizzes | Course Builder |
| Drip Content | Course Bundles | Prerequisites | Course Tracks |
| Assignments | Other Bundles | Quiz Timer | Student Dashboard |
| Multi Instructor | Offline Sales | Lesson Downloads | Course Import |
| Course Export | Preselling | Discussion Areas | Instructional Design |
| Form Integrations | Checkout | Graphics Pack | Course Reviews |
| Credit Card Payments | One-Time Payments | Recurring Payments | Payment Plans |
| Unlimited Pricing Models | PayPal | Subscriptions | Certificates |
| Private Coaching Upsells | Coupons | Bulk Sales | Affiliate Ready |
| Native Sales Pages | Social Learning | Personalized Email | eCommerce Dashboard |
| Customizable Enrollment | Private Coaching | Country & Currency | Achievement Badges |
| Credit Card Management | Text Messaging | Course Bundles | Payment Switching |
| Traditional Memberships | Payment Gateways | Private Group Discussion | Order Management |
| Members-Only Pricing | Email Marketing | Content Restrictions | Automatic Enrollment |
| Mobile Friendly | Forums | Bulk Course Enrollment | Members-Only Forums |
| Compatibility | Use Any Theme | CRM | Authoring Tools |
| Password Management | Restricted Access | Self-Hosted | Detailed Reporting |
| Gradebook | Email Notifications | Bulk Enrollments | Student Management |
| Access Management | Branding | LMS Roles | Security |
| Web Design Management | Typography | Require Terms | Scalable |
| Layout | Testing Tools | Technical Support | Live Office Hours |
| Dream Team | Free Training Courses | Setup Wizard | Experts |
| Dynamic Resources | Demo Course | System Analyzer | No-Risk Testing |
| User Community | Ecosystem | Feature Requests | Mastermind |
| Detailed Documentation | | | |
| | | | |
A long list of LifterLMS features. 😜😜 But we have more to talk about. Other than all the features, LifterLMS has special podcasts and success stories. We are mentioning both of them because they are helpful too.
LifterLMS Podcast LMScast
Chris Badgett invites industry experts to share their experiences. And guess what, you can learn from real industry experts from the LMScast. Almost 400 episodes published and the number is growing. Check LifterLMS LMScast today!
LifterLMS Success Stories
When you will be using LifterLMS, use it with the best confidence. There is a number of people who have used and got their success with the plugin. You can see the success stories in the LiferLMS success section. Get a read and grow your confidence now.
LifterLMS Pro Pricing
The pricing of LifterLMS pro starts from 149 bucks and ends at 1200 bucks. There is no LTD package for this plugin. You must renew every year to keep your LMS business live. For the yearly plan, pricing is generic for everyone. If you want something fancy, then LifterLMS should be your choice.
LifterLMS has special trial pricing. You can try 30$ of the premium LifterLMS for just 1$ 🤪🤪
| | | | |
| --- | --- | --- | --- |
| LifterLMS Pricing | | | |
| Single | 5 Sites | Unlimited | Refunds Policy |
| 149$/year | 360$/year | 1200$/year | 30 days |
| | | | |
The latest data update date is 4th February 2023
As with other WordPress LMS plugins, LifterLMS holds the full rights to update the pricing at any time without giving any notice. If you want to purchase LifterLMS, you are requested to check the latest pricing from their website.

[15% Off Verified Discount Code]
LifterLMS Plugin Integration
LifterLMS comes with tons of other plugin integration. If you use any other popular WordPress plugin, forget about the LifterLMS integration. Because there is a high chance that LifterLMS is already integrated with your current plugin. Here's the official list of LifterLMS plugin integration.
| | | | | |
| --- | --- | --- | --- | --- |
| Stripe | Twilio | Paypal | YouTube | WooCommerce |
| MailChimp | Ninja Forms | Gravity Form | WP Fusion | WISTIA |
| WP Forms | DIVI | Formidable | Astra | WordPress.com |
| AffiliateWP | Beaver Builder | Zapier | Google Analytics | Monster Insights |
| Vimeo | Elementor | Yoast | | |
| | | | | |
LifterLMS Plugin Addons
We were checking the LifterLMS addons list on the landing page. And guess what, there are 2 showcase pages for addons. So, what we are pointing out here is, LifterLMS has a lot of addons. Let's see the complete list of LifterLMS addons in this section. To keep better readability, we have added the list only. You can check more details on the LifterLMS landing page.
| | |
| --- | --- |
| LifterLMS Groups | LifterLMS Advanced Quizzes |
| LifterLMS Assignments | LifterLMS Advanced Videos |
| LifterLMS Social Learning | LifterLMS Private Areas |
| LifterLMS Custom Fields | LifterLMS PDFs |
| LifterLMS Stripe Extension | LifterLMS PayPal Extension |
| LifterLMS WooCommerce Extension | LifterLMS Authorize.Net Payment Gateway |
| LifterLMS MailChimp Extension | LifterLMS ConvertKit Extension |
| LifterLMS Gravity Forms Add-On | LifterLMS WPForms Add-On |
| LifterLMS Ninja Forms Add-On | LifterLMS Formidable Forms Add-On |
| LifterLMS Twilio Integration | LifterLMS LaunchPad |
| LifterLMS Office Hours Mastermind | LifterLMS Powerpack |
| | |
LifterLMS Review Spotlight (USPs)

LifterLMS is a powerful and user-friendly solution for creating and managing online courses, and it stands out from the competition in several ways.
One of the key USPs of LifterLMS is the quality of the code (01). Unlike many other LMS platforms, LifterLMS was built by highly skilled WordPress developers, not outsourced developers. This means that the code is well-written and optimized, providing a fast and stable platform that can handle even the most complex use cases.
Another advantage of LifterLMS is its security (02). LifterLMS has an active bug bounty program with platforms like BugCrowd, which means that security vulnerabilities are quickly identified and fixed. This helps to ensure that the platform is secure and protects both the course creator and their students' information. Furthermore, LifterLMS has stable releases that are free from bugs, unlike the buggy releases from some competitors.
Finally, LifterLMS offers high-quality support (03) that is second to none. Unlike some competitors, who see support as a cost center to be minimized, LifterLMS sees support as a feature of the product. They offer live calls with screen sharing, so users can get the help they need quickly and effectively. With LifterLMS, users can be confident that they will receive the support they need to succeed in their online course creation endeavors. This level of support is one of the reasons why LifterLMS has become a popular choice for online course creators and trainers.
So, your LMS will be secure, fast loading, and will get better support from the Lifter Team. This is how LifterLMS is standing out from the competitor LMS plugin.
What is on the Way to LifterLMS?
At this time (February 2022), LifterLMS is working on "LifterLMS Groups 2.0" as a priority development. They also have a plan for limited timing for courses and for coupon codes. Better quiz options, service fees, courses without enrollment, question banks, and many more features are also under their planning. You can see the roadmap, and ideas of others and vote for them. The best part is, still you can submit your own ideas and features here.
When did LifterLMS Start Its Journey?
LifterLMS started its journey seven (7) years back. They are one of the oldest LMS plugins among all the popular ones. They lead the LMS industry when you were kids. And now while you are reading the blog, still they are leading. The story started with Chris Badgett helping eLearning dreamers. Now it become the ultimate destination for all small to big entrepreneurs. And LifterLMS team is also growing 8+ supper active professionals backstage to support you in all possible ways.
Where did LifterLMS Get Mentioned?

LifterLMS got mentioned on a lot of popular websites as expected. Starting with Astra, then BuddyBoss, WP Engine mentioned LifterLMS. Other websites that mentioned LifterLMS are AutomatorWP, Automatorplugin, paymattic, WinningWP, Thimpress, coursemethod, wpgiz, wisdmlabs, the digital merchant, wpwebshop, wp-tonic, sitenerdy, accessally, imagestation. The big player like Cloudways, WPKUB, and WPCrafter published details review on their websites.
Ferdy Korpershoek published a complete video on his YouTube channel. Darrel Wilson also published another LifterLMS review video. You can also see other channels including RadiusTheme, Websites 4 Beginners, Jack Cao, WPCrafter, and BuddyBoss.
LifterLMS Free vs Pro Comparison
LifterLMS is a freemium WordPress LMS plugin. The free version is available in the WordPress directory. At LifterLMS all the addons are premium. If you want to check the pro features, you can also choose the "Try LifterLMS for 30 Days for $1" option.
Editorial Prediction for LifterLMS
We strongly believe, LifterLMS will grow and be the competitor of the MasterStudy LMS plugin. Both of the plugins have similar active installation, however, LifterLMS started in earlier days. LifterLMS roadmap seems greedy and if they implement based on the roadmap, then there are high chances to become 20,000+ users within this year.
LifterLMS Plugin FAQs
Got some questions? We have the answer too. In the following section, we added all the common questions and answers to the LifterLMS review. If you are reading the LifterLMS review from Wptowp then we love to help you with all the necessary information. If you don't get any answer, contact us and we will add them here.
Is LifterLMS free?
LifterLMS is one of the Better WordPress LMS plugin with free and pro versions. You can start with LifterLMS free version which is available in the WordPress directory. You can check LifterLMS pro version at 1$ for 30 days too.
Is LifterLMS good?
We have added all the necessary information that help you understand how the plugin is. If we want to say from our end, LifterLMS review is one of the better WordPress LMS plugin ever meet.
Which is better LearnDash or LifterLMS?
Both LearnDash and LifterLMS review is leading LMS plugin. And depending on your business and plan, any of them can fit better. You can read the whole blog and decide by yourself.
How do I install LifterLMS?
You can go to the plugin section from the WordPress admin panel. Then add a new one and choose the plugin. After that, click on install now.
LifterLMS Review – Final Notes
Before ending the LifterLMS review blog, we would like to address our experience with LifterLMS. In order to verify and collaborate, we talked with Lifter LMS support several times. And every time we ping them, they come up with solutions. Normally, other companies provide a generic response and forget you. But at LifterLMS, they come with a solution-oriented response.
Hope, you have enjoyed the blog. You can share it on your favorite social media. Your friends can know about this amazing review. Also, your social share will make our week.
Acknowledgment 💯💯
🐾 Images – Images in this blog have been collected from different websites, blogs, landing pages, plugin landing pages, WordPress directories, Social sites etc
🐾 Affiliate Links – This blog contains several affiliate links. If you purchase any product through the link, we will get a commission without charging you extra. You can see affiliates' declarations here.
🐾 Data Source – All the data has been collected from various open sources like landing pages, WordPress directories, YouTube channels etc. Data can be changed at any time.

Editorial Staff
Our editorial team consists of WordPress expert(s), analysts, content editors, writers, designers, SEO experts, outreach people, and developers! For each piece of content, a highly expert and dedicated team led by Asadullah Galib works together. We have only one motto: "We help you to make your final decisions!"