Tutor LMS Review – Finest LMS Plugin for WordPress 2023
There are more than 17 top LMS WordPress plugins. Only the two LMS plugin for WordPress have more than 50,000 active users. And guess what, Tutor LMS is one of the two. You read it right! Tutor LMS is powering 60,000+ tutors around the globe. That is the second-highest number of users among all the top LMS plugins for WordPress. That leads us to write a Tutor LMS review here.
In this blog, we are going to talk about an in-depth Tutor LMS review. The article contains all the necessary information, such as the best features, Tutor LMS's unique selling points, integration, addons, pricing discussion, etc. Moreover, we have added some historical information for the users. We also added some analysis that will help you make your purchasing decisions.
On ThemeForest, we discovered over 60 WordPress themes that are Tutor LMS-based. Those themes have been published by different top authors from the Envato Studio. That actually says something about the popularity and usability of this plugin. Sounds interesting?
Editorial Note 🔔🔔
This blog covers all the possible information that you need to make your decisions. As a result, the blog becomes longer than the usually expected reviews. You can save the blog for later reading. Maybe you can just scan the headings and highlights if you are in a rush!
Tutor LMS Review – Introduction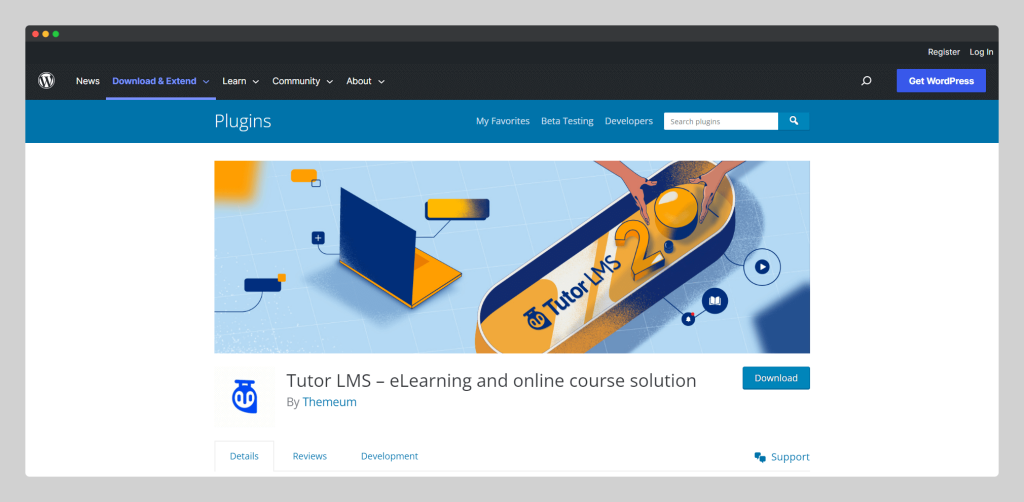 Tutor LMS's effective design makes it an easy-to-use learning management system. The label of this plugin is self-explanatory, and the documentation is rich. Moreover, the Tutor video tutorial is available for free to everyone. In a package, they make it super easy to use for both the individual creator and the eLearning entrepreneur.
It's a super-speedy plugin with an average page loading time of 0.17 seconds. It is faster than 99% of plugins. Dedicated 7+ tutor addons for different builders help niche-specific users build their LMS site. The pro addon and integration are also available [explained later in this blog] for Edu-pruners. So the plugin become the finest LMS plugin for WordPress.
Best Features of Tutor LMS Plugin
LMS websites require a number of features and functionality. And a better LMS site required way more. Tutor LMS has brought you all the features that you need to build your next WordPress LMS website. While the Wptowp editorial was checking, the list become long! We have added the top important features only in the below list. We also include all the features under a single table.
Some features like course building, membership, and certificate building are 🐶 UNLIMITED here at Tutor LMS. We tried to focus on readability so avoided a detailed view while writing the section.
As Tutor LMS is a freemium plugin, you will have to purchase the Tutor LMS pro for some of the mentioned features. You can see the free vs pro version on the Tutor LMS landing page. We've also added a table view of Tutor LMS features for your convenience. 💕💕 Alert: The list is long, we'll meet you there.
📌 Drag & Drop Course Builder: While building a new course, you should not worry about managing it. The drag-and-drop course builder escapes all the technical difficulties. It makes the course builder easily understandable for everyone. So, if you are a novice, still Tutor LMS is a good option for you.
📌 Course Detail & Listing: Course listings are important for CTR while the course details determine the purchase ratio. A beautiful course listing and course details grow and sell dramatically. This is where Tutor LMS can help a lot. As Tutor LMS comes with a beautiful and clean details page and listing page.
📌 Quizzes and Assignment: Asses the students in proper ways and give them a quality learning experience. At the Tutor LMS, you can add quizzes in multiple formats. You can add results and scores to the quiz. Moreover, you have the option to add assignments for the students.
📌 Multiple Payment Gateways: Payment processing is easy with Tutor LMS. It has multiple payment options like WooCommerce, Paypal, stipe, etc. You should not worry about your earnings that are made by your hard work.
📌 Analytics & Reports: See the performance analysis with Tutor LMS analysis and report. You can see the graph and indicator to see the latest sales data of your learning platforms. This way you can track your sales and earnings.
📌 PDF Certificate Builder: Provide the value of your course with a unique and pre-designed certificate. Design it like as you want and provide it to the students after completing the course. Canvas-based certificate design methods make it easy for non-tech guys. Moreover, multiple customizable templates can save you hours of work.
📌 Individual Dashboard: See your activity on the dedicated dashboard on your website. Your teachers and students can see the same. Which course they are doing, how is their status and how is their performance going on can be accessed from the dashboard.
📌 Update Notifications: For every step, send notifications to the students and teachers. Class notices, exams and quiz information, results, and offers can be sent through notifications. You can customize the email body based on your needs.
📌 Translation Ready: Want to do something for your local community and needs local language-based LMS? Use Tutor LMS as it's translation ready. You can easily translate it into your favorite language.
📌 Tutor Starter Theme: Tutor starter themes are ready LMS themes powered by Tutor LMS. Why spends hundreds of hours when you have the design ready? Use Tutor LMS starter themes to import the latest data and start your LMS now.
📌 Top-notch UI & Security: Security is a concern for every LMS. Students' results, assessments, payments, and a lot of sensitive issues. But with Tutor LMS's top-notch security, you can relax to launch your LMS website.
📌 Page Builder Support: No worry if you are a page builder lover. Tutor LMS review comes with multiple-page builder support.
📌 Gutenberg Compatible: Gutenberg's dedicated compatibility makes it easy to develop an LMS site on the Gutenberg website.
📌 Videos From Anywhere: There are tons of video platforms other than YouTube. If you want to design your site with a different video platform, no worries. Tutor LMS review allows you to add videos from tons of different sources.
📌 Migration From Other LMS: Already in other LMS websites and want to come to Tutor LMS? Tutor LMS review comes with migration tools.
📌 Multi-Instructor and Revenue Sharing: Revenue and earnings are the ultimate aims for eLearning websites. With Tutor LMS, you can add multiple instructors and share revenue among them easily. These features are helpful specially for the eLearning marketplace.
Let's learn about other features available at Tutor LMS. We'll have the feature table now in order to keep the list readable. You can always check the latest updates and details on the Tutor LMS landing page. Moreover, you can also see the Tutor LMS changelog here.
| | | |
| --- | --- | --- |
| Unlimited Courses | Course Content Protection | Course Rating & Review |
| Native Video | YouTube Video | Vimeo Video |
| Course Filtering Options | Public Course | Drip Course Content (Pro) |
| Course Preview (Pro) | Course Attachment Option (Pro) | Unlimited Students |
| Unlimited Instructors | Student & Teacher Q&A | Multi-instructor Ready (Pro) |
| Automated Student Grading (Pro) | Quiz Lite | Advanced Quiz Builder (Pro) |
| Detailed Quiz Report (Pro) | Quiz Export/Import (Pro) | Frontend Event Calendar (Pro) |
| Earning & Commission (Pro) | Single Course Selling Option (Pro) | Site-wide Membership (Pro) |
| Course Subscription (Pro) | Manual Enrollments (Pro) | |
| | | |
🐶 Important: Addons and Integration have not been added to the above table. We have a dedicated section for them in this blog. Moreover, it contains only the main features of Tutor LMS.
Tutor LMS Pro Pricing
Tutor LMS, one of the best LMS plugin for WordPress, comes with affordable pricing. The starting package price is 199$ while the agency's highest bundle is 1899$. You can choose the year of lifetime plan. All the packages come with a 30-day money-back guarantee.
| | | | |
| --- | --- | --- | --- |
| Tutor LMS Pricing | | | |
| Single | 10 Sites | Unlimited | Refunds Policy |
| 199$/year | 399$/year | 799$/year | 30 days |
| 499$/LTD | 899$/LTD | 1899$/LTD | |
| | | | |
The last update date is 22nd January 2023
Tutor LMS pricing is subject to matters of change. Themeum, the company behind Tutor LMS, holds the full rights to change and update the price at any time. You are requested to check the latest pricing from the Themeum website before purchasing the plugin.
Tutor LMS Plugin Integration
Tutor LMS comes with a lot of integrations. The list is long, more than 20 platforms plugins can be used with Tutor LMS. You can get the most advanced features on your LMS website with them. Here's the list of Tutor LMS integration.
| | |
| --- | --- |
| Bunny.net – Vidoe sharing platform | Google Meet – Free meeting software |
| PeepSo – Social networking plugin | Paymattic – A unique payment option |
| GrassBlade xAPI Companion – Smart tracker platform | Uncanny Automator – Automation tools for different features |
| FluentCRM – WordPress CRM | MyCred – Points and rewards system |
| Divi – Most popular visual Builder | AutomatorWP – Enable custom triggers |
| BadgeOS – Points and rewards system | GamiPress – Reward system and digital award |
| WP Fusion – Lead generation tools | Groundhogg – WordPress CRM software |
| Zoom – Free meeting software | Google Classroom – Student management system by Google |
| BuddyPress – Community plugin | Oxygen Builder – WordPress drag-and-drop builder |
| Elementor – The most popular WordPress builder plugin | Wishlist Members – Protect and monetize your course |
| Restricts Content Pro – Enable subscription-based monetization | Paid Memberships Pro – Enable membership model |
| EDD – Easy digital product selling plugin | WooCommerce – WordPress eCommerce plugin |
| WP Webhook – Enable embedding through hook | |
| | |
Tutor LMS Plugin Addons
Tutor LMS has 20+ addons to power up your learning management website. While we were adding the list, we have seen the addons had variations. The best part is, you are getting all the addons under the same pricing plan. No extra cost for addons. A lot of action is required to make a profitable eLearning business. And Tutor LMS, one of the finest LMS WordPress plugins comes with all the solutions you need today.
🦁 Certificate Builder – Design certificates that align with your eLearning brand and your students would love to show off!
🦁 Google Meet – Easily conduct video meetings for Tutor LMS courses and individual lessons with Google Meet.
🦁 Calendar – Let students see assignments' due dates, upcoming ones, and more in a wonderful event calendar.
🦁 Notifications – Get and serve notifications on assignments, quizzes, Q&A, enrollments, instructorship, and more.
🦁 WPML Multilingual CMS – Teach in any language by creating a multilingual eLearning site on WordPress with Tutor LMS and WPML
🦁 WooCommerce Subscriptions – Easily monetize your eLearning site with a subscription-based pricing model
🦁 BuddyPress – Create a community around your WordPress LMS website using BuddyPress integration.
🦁 Restricts Content Pro – Sell site-wide membership and restrict content within the members with RCP.
🦁 Google Classroom – Share classroom posts and other stream posts directly within the Tutor LMS course page.
🦁 Paid Memberships Pro – Create membership-based monetization plans and manage content easily.
🦁 Zoom – Host lives online classes. Students can attend live classes right from the lesson page.
🦁 Multi Instructor – Allow multiple instructors in the same course to improve collaboration. Scale the site up!
🦁 Quiz Export/Import – Save time by exporting and importing quiz data easily. Be more efficient!
🦁 Reports – Generate in-depth statistics of courses, sales, students, and more on your eLearning site.
🦁 Enrollments – Gain advanced and manual control over student enrollment on the LMS website.
🦁 Certificate – Generate verifiable certificates that the students get after their course completion.
🦁 Gradebook – Show student progress from assignments and quizzes. A great way to measure the impact!
🦁 Assignments – Create assignments to evaluate the understanding of the students and their perceptions.
🦁 Prerequisites – Specify which course(s) a student must complete before enrolling in a particular course.
🦁 Email – Send out automated and customized emails on various Tutor LMS-triggered events.
🦁 Course Preview – Set any lesson as a preview for potential students to try out before buying.
🦁 Course Attachments – Add unlimited attachments or private files to any of your Tutor LMS courses.
🦁 Content Drip –Schedule lessons, quizzes, and assignments for publishing at specified times.
Tutor LMS Review Spotlight (USPs)
We have described all the Tutor LMS' features, modules, addons, etc. But we would like to talk about some of the spotlights of the plugin. The following features are editorials handpicked. We strongly believe, these are the features and functionalities that make Tutor LMS stands out from the general LMS WordPress plugin.
👉 Fast Loading: We think, the fastest loading speed makes Tutor LMS one of the finest LMS plugin for WordPress. According to WPHive, Tutor LMS has an average page loading time increase of 0.17 seconds. This is faster than 99% of plugins.
👉 Mobile Learning: The mobile-friendly design will allow you to grab mobile customers. Specially high school and college students can use your LMS.
👉 Translation Friendly: You can create and sell courses in your local community. Translation-friendly LMS plugins for WordPress allow you to do that.
👉 Single Price Module: You will not need to pay extra for modules and addons. All pro features come with a single premium pricing plan for the LMS plugin for WordPress.
👉 Drag and Drop Course Builder: No need to be technical in order to start your course business. You can start drag-and-drop building with the Tutor LMS plugin for WordPress.
👉 PDF Certificate Builder: You can also recognize students with a beautiful certificate for course completion. Tutor LMS plugin for WordPress allows you to create your own certificate for the participants.
👉 Advanced Analytics & Reports: Sales and revenue analytics always make the job easy. Specially how the sales are going can be learned from the analytics.
👉 Multiple Payment Gateways: Seamless monetization option with multiple payment gateways makes it easy to get a profit. Moreover, you can add multi-instructors and make earnings and commissions by LMS plugin for WordPress.
👉 Single and Marketplace Solutions: Both marketplace and single LMS can be built with the Tutor LMS plugin for WordPress.
What is on the Way to Tutor LMS?
No data/board was found about Tutor LMS review roadmap.
When did Tutor LMS Start Its Journey?
February 6, 2019! On a sunny day, the sun was releasing its heat and light for mankind on earth. Themeum has released the Tutor LMS alpha version in the WordPress directory. And now, the sun is still providing light and hitting. And the Tutor LMS is serving 60,000+ creators around the globe.
Statistically, Tutor LMS has been downloaded over 1.2 million times. It has 16 dedicated addons and many integrations. 60,000+ eLearning innovators have used and loved Tutor LMS!
Can you recall the pandemic time? Tutor LMS started its journey almost similar time as the pandemic. The pandemic changes a lot of styles. Among them, online education is one affected category. The pandemic dies down but online education does not. So do the Tutor LMS. From time to time, the pandemic becomes weaker but Tutor LMS becomes stronger, more stable, and more popular. At this moment, Tutor LMS is one of the finest LMS plugin for WordPress!
Who are Behind the Finest LMS Plugin for WordPress?
Themeum published Tutor LMS, one of the finest LMS plugin for WordPress. Themeum is a Bangladeshi WordPress company leading in the world. If you know the #1 Joomla company Joomshaper then know, Themeum is the company under the same umbrella. Ollyo is the parent company under which Themeum and Joomshapper are operating the reactivity.
Themeum is a state-of-the-art WordPress theme and plugin development company on a mission to upgrade people's web experience with high-quality WordPress themes and plugins. Themeum is a sister concern of Ollyo.
Themeum Popular Products ⭕️⭕️ Even though they have a theme business history but we did not find any new data in the web search. And their support is not that much responsive, unfortunately.
Qubely 📌 Qubely is a full-fledged Gutenberg block toolkit with plenty of custom blocks, predefined sections and starter packs to create beautiful web pages.
Crowdfunding 📌 Crowdfunding is a revolutionary WordPress plugin that helps you create a fundraising or backer site with WordPress.
WP Mega Menu 📌 WP Mega Menu is a powerful WordPress drag-and-drop menu builder for anyone who wants to create awesome menus with all functionalities that a menu can have.
Where did Tutor LMS Get Mentioned?
Tutor LMS is one of the few plugins that have been recommended by market leaders. Influencers endorsed the plugin, talks, published videos, and so on. If you search on google, you will get tons of reviews and videos about the plugin. From the top influencers to new affiliate marketers, everyone talks about Tutor LMS.
aThemes published Tutor LMS review. Elegant Themes featured Tutor LMS on their website. Cloudways, popular hosting company, also published Tutor LMS review on their website. RankMath, one of the best WordPress SEO plugin mentioned Tutor LMS on their website. Elementor published a full dedicated blog about Tutor LMS. There are more and we have added in the following list.
| | | |
| --- | --- | --- |
| Paid Memberships Pro | CSS Hero | Wishlist Member |
| wisdmlabs | SiteNReady | WP Mayor |
| mainWP | WPFunnels | isotropic |
| WP COM Designs | wpfrontendadmin | bunny |
| AffiliateWP | Kasa Reviews | kinsta |
| webtoffee | Helpie WP | wpsmartpay |
| vipestudio | threatpost | plugindo |
| speckyboy | onlinecoursespecialist | pluginforthat |
| lms.org | | |
There are numbers of YouTube channel that talks about Tutor LMS. GoDady, the popular domain provider, published a video reviewing Tutor LMS on the early days. Ferdy Korpershoek, popular influencer and Darrel Wilson, another popular influencer also published Tutor LMS review on their YouTube channel. Other video channel that published Tutor LMS review are IdeaSpot, Muhammad Talha, WP Academy, WP Swings, webseotips, themesCode. Last but nit the least, Nayyar Shaikh also published Tutor LMS review.
Tutor LMS Free vs Pro Comparison
Tutor LMS is a freemium LMS plugin for WordPress and it has both free and paid versions. Let's see the table that contains free and pro comparisons statically.
| | | |
| --- | --- | --- |
| Name | Tutor LMS Free | Tutor LMS Pro |
| Create Courses Smartly | 6+ | 10+ |
| Manage Students and Instructors | 3+ | 5+ |
| Award Custom Certificates | 0 | 3+ |
| Test Students With Quizzes | 1+ | 4+ |
| Advanced Analytics | 0 | 4+ |
| Communications | 0 | 6+ |
| Monetization | 0 | 5+ |
| Addons | 0 | 16+ |
| Integrations | 13+ | 19+ |
| Support | 1+ | 3+ |
| Get Started Easily | 3+ | 3+ |
| | | |
From the Tutor LMS free vs Pro comparison table, you can see that a few modules are dedicated to pro users only. If you want a customer certificate, advanced analytics, communication, monetization, addons then you must go for Tutor LMS pro. Tutor LMS has 78+ features, and modules of which almost 35% are for free users. You can get started with your LMS with Tutor LMS free version. But for making a professional and scalable LMS website, you will need to purchase the pro.
Editorial Prediction for Tutor LMS
It is very much clear that Tutor LMS, one of the finest LMS plugin for WordPress, will be the leading LMS WordPress plugin soon. At this moment, they are holding the 2nd best active installation but they have a high chance to become number #1.
The video tutorial and documentation they are providing are really amazing. Especially, Tutor academy's video can help a new LMS entrepreneur to start his own eLearning website. The only lacking we have found is their poor support system. The supports are a big drawback for the company. If they can solve it, they will be leaders within a few months.
Tutor LMS Plugin FAQs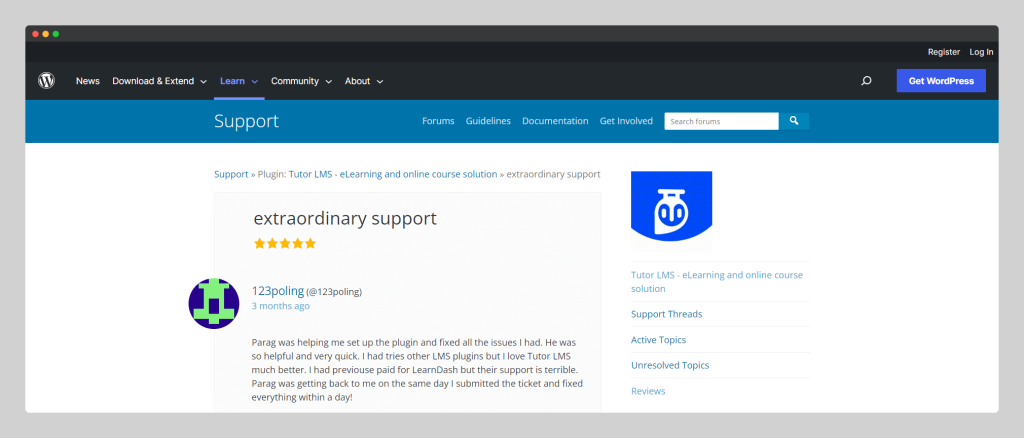 Do you have any question about Tutor LMS plugin? Well, we gathered some of the frequently asked questions and included in this section. Check the Tutor FAQs with the answers. Do you have more questions? Contact us and we will try to help you.
Is Tutor LMS free?
Tutor LMS has both the free and pro version. You can get started with free version for a basic WordPress LMS website. To get professional experience and scaling your website, you will need Tutor LMS pro version. Tutor LMS has 78+ features, and modules of which almost 35% are for free users.
Is Tutor LMS good?
We have added every details including statistics, features, module in the blog. And now, we hope, you can understand how is Tutor LMS. Of course Tutor LMS is a good plugin. But you are the person who can determine how good they are by reading the above details.
What is Tutor LMS?
Tutor LMS is a WordPress LMS plugins that enables all the features of Learning management system. The plugin comes with tones of features. You can get started your own eLearning WordPress website overnight with the help of Tutor LMS plugin.
How to Install Tutor LMS Pro?
In order to install Tutor LMS plugin, first of all, you need to purchase Tutor LMS pro. After purchasing the plugin, check your email for account details. Then login to the website and download the plugin. Upload it on the plugin directory. Don't forget to active it.
How to Set the Price in Tutor LMS?
There are options to set the course price. You need to check the settings menu and course details to set the course price. Make sure, you have integrated the payment methods and currency before setting up the course price.
How do I Activate LMS Tutor?
Activating Tutor LMS is as same as activating other WordPress plugin. Go to the plugins then add new and then upload/select the plugin. Then install now and activated it.
What is the Best LMS for Education?
Tutor LMS, MasterStudy LMS both are better LMS plugins for WordPress website. Dependng on your requirement, you need to chose the best LMS WordPress plugin.
How do I Add Courses to Tutor LMS?
In order to add courses at Tutor LMS, you will need to activate the plugin. Then setup all the basic information and payment getways. Now, from the courses, you can add your course details.
Which LMS is Easiest?
Tutor LMS and MasterStudy LMS seems easy while we checked 17+ LMS WordPress plugin. But depending on your WordPress experience, you can choose the easiest LMS plugin for your Website.
Tutor LMS Review – Final Notes
Thank you for reading the full Tutor LMS review. We hope, you have enjoyed the blog. Have you any questions? Contact us today, and we will reply to you within a few hours. Moving forward, can you share this blog on your favorite social media sites? Your social sharing can motivate us to do more. It's easy and simple. Click on the social media icon and share it now.
Acknowledgment 💯💯
🐾 Images – Images in this blog have been collected from different websites, blogs, landing pages, plugin landing pages, WordPress directories, Social sites etc
🐾 Affiliate Links – This blog contains several affiliate links. This means that if you purchase any product through the link, we will get a commission without charging you extra. You can see affiliates' declarations here.
🐾 Data Source – All the data has been collected from various open sources like landing pages, WordPress directories, YouTube channels etc. Data can be changed at any time.

Editorial Staff
Our Editorial team consists of WordPress Expert/s, Analysts, Content Editors, Writers, Designers, SEO Experts, Outreach People and Developers! For each content, a highly expert and dedicated team led by Asadullah Galib, works together. We have only one motto, "Help you to make your final decisions!"