6+ Top LMS Plugins for WordPress Comparison 2023
So, you're thinking about opening an online tutoring business and need an LMS plugin? But the first obstacle you are facing is finding out the right LMS plugin for your WordPress website. After crawling through the Google search page and the WordPress directory page, everything seems very overwhelming for you. We know this pain and this is why, we have brought you the top LMS plugins for WordPress comparison 2023!
In order to make your quest easier, we have put our heads together to find the top LMS plugins for WordPress. We devise a thorough comparison among them so that you can make the right choice for your business. Invest your time to make education fun for everyone, because we have invested our time to prepare the comparison of top LMS plugins for WordPress 2023. We believe, by going through this blog, you will find the perfect LMS plugin for your WordPress tutoring website.
Best LMS Plugins for WordPress
After going through most of the LMS plugins that are available in the market for WordPress, we have filtered down the most popular, useful, and feature-packed ones so that you don't need to go through that hassle. So, after a lot of filtering, we have come up with these plugins that might be perfect for you.
LearnPress (100,000+ active installations)
Lifter LMS (10,000+ active installations)
Sensei LMS (10,000+ active installations)
LMS by Masteriyo (2,000+ active installations)
Although we have cherry-picked these plugins, that doesn't mean that the other plugins are bad. If you stumble upon any other plugin that you think is suitable for you, you can definitely go with that. We tend to update our blogs every now and then. So if any other plugin out of this list makes a good impact in the industry, we will definitely try to cover them.
Why We Made LMS Plugins for WordPress Comparison?
There are more than 17 WordPress LMS plugins available at this time (April 2023). We have gone through them and published a listing blog already. Ever since we released the blog on the best WordPress LMS plugins, the thing that hit our mind constantly. It was such a huge list that would confuse you even more rather than help you to choose one.
If you have ever read our blogs in the past, you will surely know that our mission and vision are always to make your decision-making easier than ever.
That is why, we have gathered every bit of information. And we could and planned out this comparison blog of the top LMS plugins for WordPress 2023! So that you can choose one for you according to your needs. We will share the analysis and cover up the information that's not available inside the data table. So, without more delay, let's dive deeper!
How did we Select the Top LMS Plugins for WordPress?
We follow some strict rules for choosing WordPress plugins regardless of the niche. In order for us to choose the best plugins for you, we choose plugins based on four main categories. As for the statistical analysis, we have our own benchmarks and scores. The scoring system is as follows!
| | | |
| --- | --- | --- |
| SL | Name | Consideration |
| 1 | Active Installations | 40% |
| 2 | User's Guide | 30% |
| 3 | Product Rating | 20% |
| 4 | Product Age | 10% |
| | Total | = 100% |
| | | |
Last Updated 5th May 2023
We not only select our plugins through these categories but also compare between plugins using them. This helps us to narrow down our options and get a better glimpse of how the plugin might be helpful to you. To know more about how we select the best plugins, you can check out the Wptowp ranking system anytime.
Quick Pricing Comparison of Top LMS Plugins for WordPress
Before we go on to the other parts, we think that at first, we need to compare the prices first. Because no matter which niche you want to work on, budget comes first. Even if a plugin has all to cutting-edge features, if it doesn't fit your budget, there's no use for that plugin to you. So, let's get a birds-eye view of the different price points of the top LMS plugins for WordPress.
| | | | | | | |
| --- | --- | --- | --- | --- | --- | --- |
| Plugin Name | 1 SIte License | 3 Site License | 5 Site License | 10 Site License | 20 Site License | Unlimited License |
| LearnPress | $49-$69/Year | $499/Year | – | – | – | – |
| MasterStudy LMS | $59/Year | – | $280/Year | – | – | $480/Year |
| ** | $320/LTD | | $760/LTD | | | $1020/LTD |
| Lifter LMS | $199/Year | – | $360/Year | – | – | $1200/Year |
| Tutor LMS | $199/Year | – | – | $399/Year | – | $799/Year |
| ** | $499/LTD | | | $899/LTD | | $1899/LTD/50 |
| Sensei LMS | $179/Year | | | | $360/Yearly | |
| LMS by Masteriyo | $140/Year | – | $200/Year | – | – | $400/Year/99 |
| | | | | | | |
Last Updated 2nd May 2023
As you can see in the table above, only MasterStudy LMS and Tutor LMS offer LTD (Life-time Deal) licenses. MasterStudy LTD's price is way lower than Tutor LMS. And as Wptowp visitors, you can save 20% more on MasterStudy LMS. By analyzing the pricing of all of these plugins, we can conclude that LearnPress is the most affordable one to start with.
If you are from an agency then our recommendation is to go MasterStudy Agency licenses. The price of an LTD starts at $320 and you can get the agency license at $1020 only. And we have a MasterStudy 20% discount code for you! MasterStudy LMS' yearly subscription is also affordable compared to the other LMS plugins. On the other hand, Tutor LMS has the highest pricing, no matter what package you are looking for now.
Active Installation and Ages Comparison
Getting to know how much active installation a plugin has and for how many days it has been in the market is important. Especially, it's a good way to know how the plugin is performing in the market. It will give us a good bird eye view of the products we are comparing. It will also save a lot of your time too.
If a plugin is new to the market and if it has fewer active installs than its competitor then we don't always skip that plugin. If the active installs – time graph has an up-going trend, we'd like to mark that as a plugin that is performing well. All we want you to do your job so that you can just read and purchase your best-fitted WordPress LMS plugins.
| | | |
| --- | --- | --- |
| Plugin Name | Active Installs | In the Market Since |
| LearnPress | 1,00,000+ | 9+ Years |
| MasterStudy LMS | 10,000+ | 5+ Years |
| Lifter LMS | 10,000+ | 8+ Years |
| Tutor LMS | 70,000+ | 5+ Years |
| Sensei LMS | 10,000+ | 5+ Years |
| LMS by Masteriyo | 2,000+ | 2+ Years |
| | | |
Last Updated 3rd May 2023
Here, we can see that LearnPress has the most active users 100k+! LearnPress is around in the market for the longest period of time which is almost 10 years. Undoubtedly, it's the leading WordPress LMS plugin. At the other end of the spectrum, LMS by Masteriyo is the youngest one in the market at just 2+ years of age. But it is actually doing pretty well which you will see later in this blog.
TutorLMS and MusterStudy LMS has 5+ year ages but TutorLMS has way more active installations. MasterStudy LMS and Lifter LMS have the same number of active users but Lifter LMS took extra 3 years to reach the milestone.
Quick Rating Comparison of Top LMS Plugins for WordPress
Having a quick look at the ratings of the plugin also helps us to determine whether getting a plugin like that is a win for you or is it a waste of time. Remember, ratings come from experienced users. It's related to the user's product experience as well as the after-sales support experience.
| | | | | |
| --- | --- | --- | --- | --- |
| Plugin | Rating | Total User Ratings | 5 Stars | 5 Star Ratio |
| LearnPress | 4.3 | 520 | 409 | 78.65% |
| MasterSudy LMS | 4.2 | 198 | 152 | 76.77% |
| Lifter LMS | 4.8 | 303 | 279 | 92.08% |
| Tutor LMS | 4.6 | 475 | 411 | 86.53% |
| Sensei LMS | 3.9 | 26 | 16 | 61.54% |
| LMS by Masteriyo | 4.8 | 41 | 38 | 92.68% |
| | | | | |
Last Updated 3rd May 2023
As you can see from the table here, Lifter LMS has the best average rating of 4.8 whereas Sensei LMS has the lowest. LMS by Masteriyo and Lifter LMS have the highest 5 Stars ratio. LearnPress and Tutor LMS received the highest user ratings and they also have the highest five-star ratings. But they are not on the top when you are looking for a five-star rating ratio. Some of the above plugin has other ratings source but as they are not common for all, so we have to avoid them in the table.
Basic Introduction of Top LMS Plugins for WordPress
So, we have covered all the data-based tables and analytics about the best LMS plugins for WordPress. Why not check the basic introduction of each LMS plugin? So, in the following section, we have added a small teaser for each LMS plugin. In case, if you missed the details LMS listing blog, then this section is for you. Almost all the plugin has been linked with the landing page. Click on that link if you need full information about any product.
LearnPress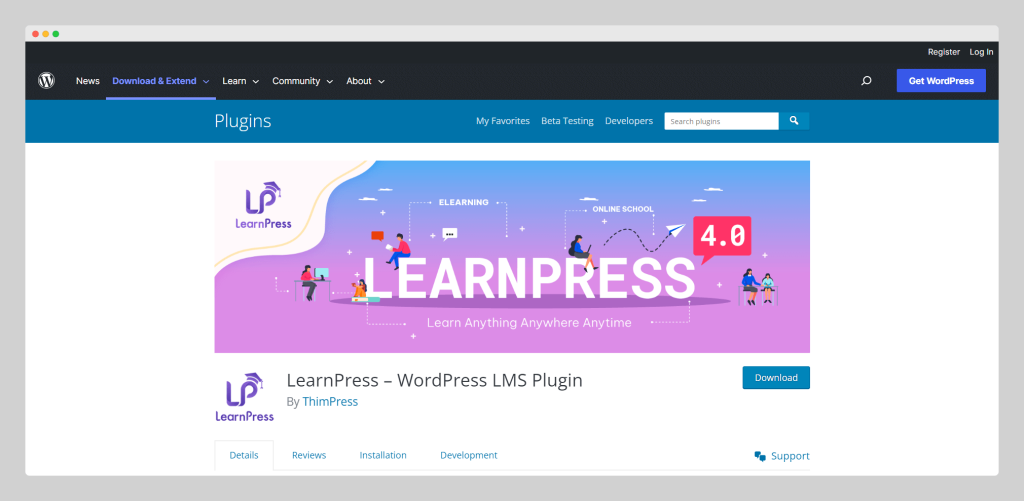 Having over 100,000 active installations, LearnPress is clearly more popular in the industry compared to the rest of the plugins listed in this blog. The plugin has a rating of 4.5/5 in the WordPress directory and over 400 five-star ratings. From creating a course curriculum to taking quizzes, everything is very easy to operate in this plugin. To get a detailed overview of this plugin, read our blog on the 17+ Best WordPress LMS Plugins in 2023.
MasterStudy LMS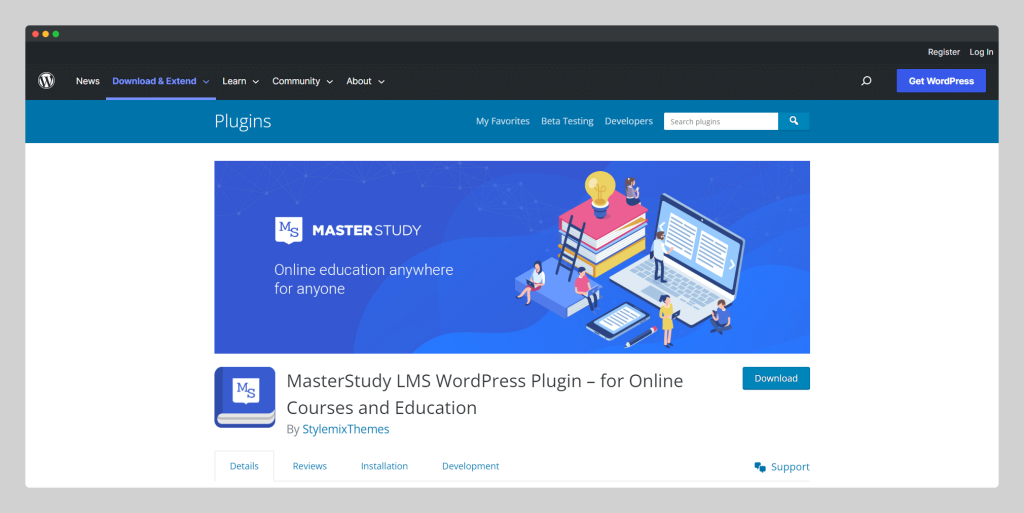 MasterStudy LMS is very popular for its user-friendly UI/UX. The plugin has over 10,000 active installations and over 150 five-star reviews. Even if you are a beginner in the WordPress world, you will never face any problems hovering through this plugin. The onboarding process of this plugin is very straightforward and performs its tasks with great speed.
LifterLMS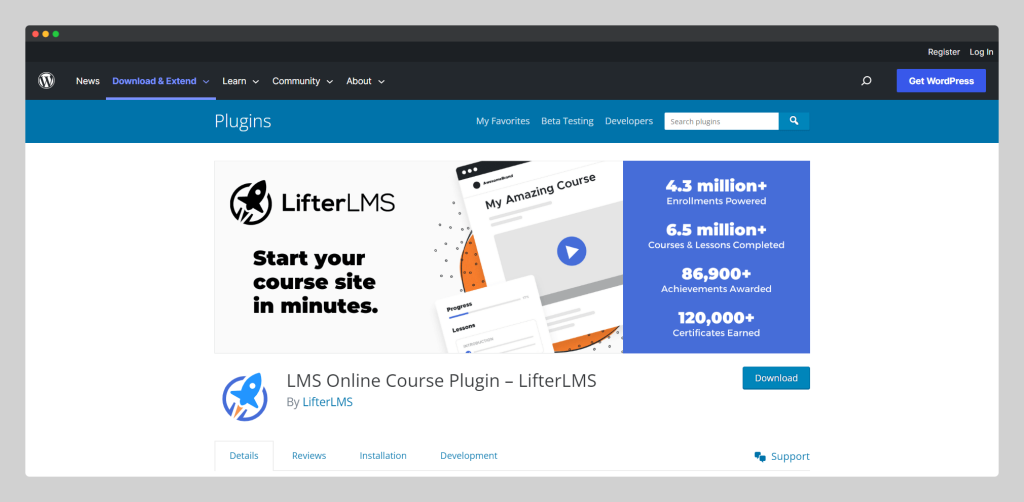 Lifter LMS is also another popular plugin known for its versatility. You can easily launch any sort of online course on any subject at any scale. With over 10,000 active users and almost 300 five-star ratings, it is still living up to the expectations of its users for more than 8 years now. This can be a very good choice for your online tutoring and coaching center.
Tutor LMS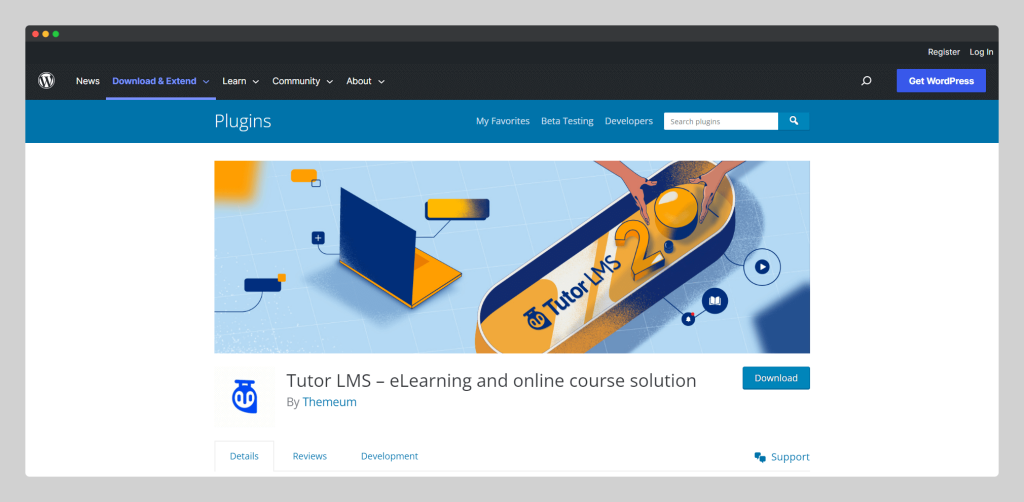 Out of all the plugins that are listed here, Tutor LMS is the second most popular plugin here. The plugin has over 70,000 active users and over 400 five-star ratings. This is at the same time eye-pleasing UI and blazing-fast performance that will make your experience with the plugin worth the while.
Sensei LMS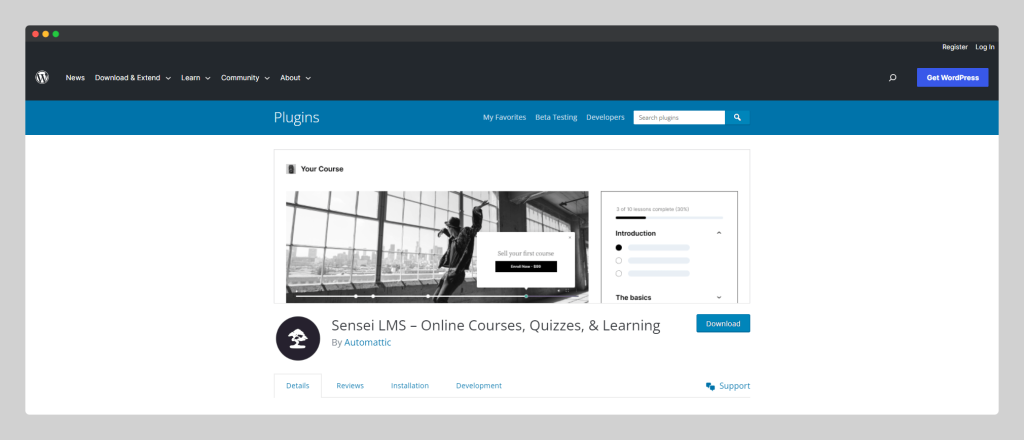 Sensei LMS might not have that much of a user base compared to LearnPress or Tutor LMS, but you will be surprised to learn that, it is developed by the same company behind WordPress, WooCommerce, and Jetpack. Yes, we're talking about automatic. You won't see any bells and whistles with the UI/UX in this plugin. Just a basic UI and it will be sufficient for you to use.
You can complete most of the general LMS tasks like creating courses, managing students, taking quizzes, grades, and receiving payments very easily with this plugin.
LMS by Masteriyo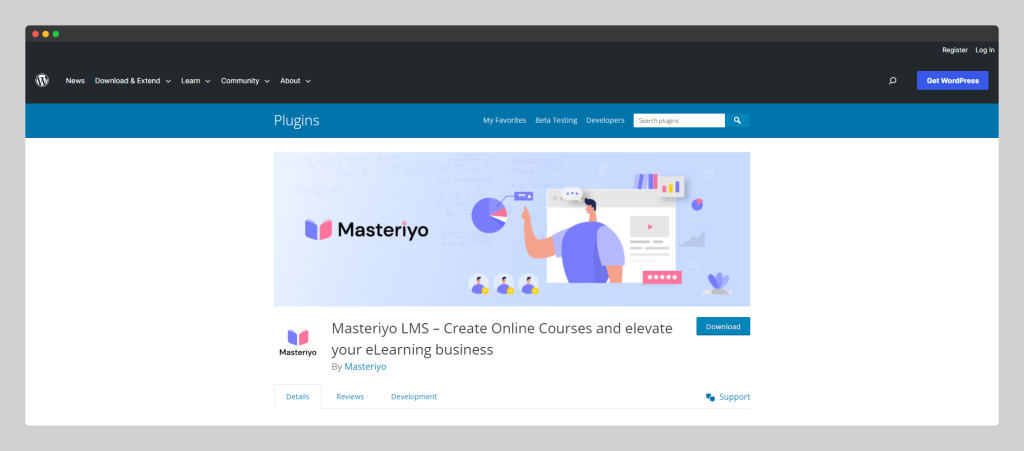 LMS by Masteriyo is a new addition to the WordPress directory and the LMS market. Up until now it only has over 2,000 active users and only 38 five-star ratings out of only 41 total ratings. Although the stats aren't in favor of this plugin, it is actually a very decent LMS plugin for WordPress.
The UI of this plugin is very eye-soothing, and the UX is very beginner friendly. It doesn't have many "over-the-board" features but it has just enough to make your WordPress tutoring website a successful one.
The Bottom Line of Top LMS Plugins for WordPress
After going through all these statistical comparisons, we can come to the conclusion that LearnPress and Tutor LMS are the best ones currently available in the market. Both have great features, good ratings, and a large user base that advocates their supremacy in the market. On the other hand, MS by Masteriyo is like the underdogs of the market. They might not have a big user base but they definitely are great plugins to work with.
FAQs About Top LMS Plugins for WordPress
Here in this section, we have gathered around the questions you guys ask frequently and tried to give you as much precise answers as possible from our end. If you do not see your question in the following section, please contact us. We will add the question on the box with answers for future reads.
What is an LMS Plugin?
LMS stands for "Learning Management System". An LMS plugin is the sort of plugin that you need to use if your WordPress website is for a tutoring or coaching business. You can manage your whole online school with a good WordPress LMS plugin.
Is WordPress LMS Free?
Yes, most plugins have a free version. So, if you go to the WordPress directory and search for any LMS plugin, you can download, install, activate, and use them for free. But to unlock the best potential, you will need to purchase a pro version of the WordPress LMS plugins.
How to Install LMS on WordPress?
The process of how you install LMS on WordPress is very simple. You just need to go to your WordPress dashboard and then to Plugins–>Add New. There you will see a search bar. Search by typing 'LMS' and you will be served with numerous LMS plugins for WordPress. From the search result, choose one and click on Install and after it is installed click activate.
Hey, Thank you so much for reading the full analysis of top LMS plugins for WordPress in 2023. Would you like to share this blog with your friends? Just click on the social icon and confirm your share. If we see our content in the social media shared by the visitors, we feel damn motivated. It feels like our hard works pay off. In order to support us, don't forget to share the blog.
You can also check the MasterStudy LMS review blog. It's one of the top individual WordPress LMS plugins. We have managed a special MasterStudy offer 20% coupon code for you. You can also check TutorLMS which is the finest LMS WordPress plugin made by Themeum. Feel free to contact us if needed.
Acknowledgment 💯💯
🐾 Images – Images in this blog have been collected from different websites, blogs, landing pages, plugin landing pages, WordPress directories, Social sites, etc
🐾 Affiliate Links – This blog contains several affiliate links. If you purchase any product through the link, we will get a commission without charging you extra. You can see affiliates' declarations here.
🐾 Data Source – All the data has been collected from various open sources like landing pages, WordPress directories, YouTube channels, etc. Data can be changed at any time.

Editorial Staff
Our editorial team consists of WordPress expert(s), analysts, content editors, writers, designers, SEO experts, outreach people, and developers! For each piece of content, a highly expert and dedicated team led by Asadullah Galib works together. We have only one motto: "We help you to make your final decisions!"