GetGenie – AI Content Writer for WordPress 2023
Can you believe that AI content writers can replace humans? It will replace humans like the scientific calculator replaced the mathematician. Jokes aside, the good news is that GetGenie, a new AI content writer for WordPress, is available for you. It can help you in many ways to speed up your content marketing. The plugin, in particular, can be a great help when writing a technical blog!
The question is, what is GetGenie? How does it work? What can it do for you? And who works behind this plugin? All the answers are available on this blog! If you are looking for an AI writing assistant, then this is the perfect blog for you. Stop changing the tab!
There's a missing concept about artificial intelligence. People often believe that, AI will replace humans, but the truth is, it's a BIG NO. AI will never be able to replace humans under any circumstances. AI was invented to empower humans, boost productivity, and automate repetitive tasks.

Comment below if you disagree with us!
Lot's of bragging about AI. Now, let's talk about the subject of this blog. GetGenie is your AI writing assistant for WordPress. It's a WordPress plugin that can help you generate blog ideas, blog titles, SERP and keywords, email copy, sales copy, social media copy, and many more. The best part is, you can get everything inside your WordPress dashboard. The plugin comes with an affordable price which grabs the user's eye already.
This blog covers every detail including history, developers, technical aspects, use cases, features, and many more. If you want, you can read the GetGenie review shorter version here.
Aladdin has a single Genie who listen and full fill 3 desire only. But the modern genie (Getgenie) listens till you have the last questions and answer them on the basis of natural language processing. Deep discussion letter. But now just saying, this modern genie can help you with content marketing, keyword analysis, competitor analysis, and whatnot!
Does GetGenie Launch Yesterday?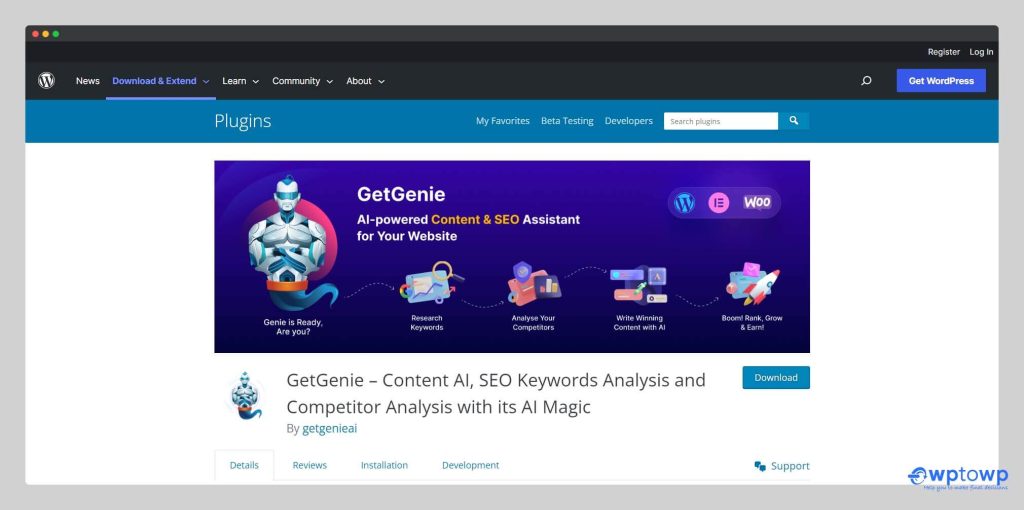 It was the beginning of September 2022, Winter was thinking about calling, and WordCamp Kathmandu was taking place! The GetGenie got its initial release. The stable version of GetGenie was released on September 24th in the WordPress directory. From then until now, the plugin has become more and more mature to give you a better experience.
At this moment, GetGenie is helping over 1,000 users around the globe. 9,000+ total downloads, 90% five-star ratings, the release of the premium version, and praise from the community show the potentiality of this plugin! You can either read the whole blog or check the GetGenie landing page for the latest features!
So, the plugin was not published yesterday. And it wasn't made overnight! GetGenie is born and grows in stages. And within 4 months of its release, it has gotten a lot of positive feedback from users.
Editorial Note 🔔🔔
This blog covers all the possible information that you need for making your decisions. Hence the blog becomes longer than regular expected reviews. You can bookmark the blog for split reading. Maybe you can just scan the headings and highlights if you are in rush!
Who Worked Behind this New Genie?
Do you know ElementsKit? The well-known Elementor Addons have over 800k active installations. The plugin is made by XpeedStudio. GetGenie comes from the same house. XpeedStudio, WPMet is the team that works behind the GetGenie AI content writer for WordPress!
GetGenie is the new wing of XpeedStudio. XpeedStudio is a leading plugin development company from Dhaka. Starting from 2013 by Md. Ataur Rahman released several plugins, and some of them gained huge popularity. For example, Elementskit Elementor Addons have 800,000 active installations and more than 1,000 five-star reviews. MetForm recently reached 100,000 active installations. XpeedStudio has multiple wings like WPMet, Arraytics, etc.
The company already serves over 10 million happy users, including small to large businesses, enterprises, eCommerce, and personal websites. Specializing in AI, Machine Learning, SaaS, Web Apps, and Mobile Apps, XpeedStudio strives to produce high-quality, user-friendly, and next-gen web solutions for people worldwide.
Who Already Talked About this AI Content Writer?
You will be surprised to know that, within just 5 months, GetGenie get mentioned in the number of leading websites. WPDeveloper, a bangladeshi leading company, featured GetGenie. WPManageNinja, another leading company publish another review blog about the plugin. WPWax, commoninja, kasareviews, betalist, indiehackers, and multiple ltd blogs talk about the plugin.
Hubspot, the leading digital marketing platform, also mentioned GetGenie AI content writer for WordPress! You can see the GetGenie news on crocoblock website too. The number is steadily increasing. Even, today, we are talking about GetGenie AI content writer for WordPress!
However, GetGenie has a limited number of video reviews. We discovered Anil Agrawal, Download Chile, and Refine Skill through YouTube reviews.
Why Genie is Better AI Content Writer for WordPress?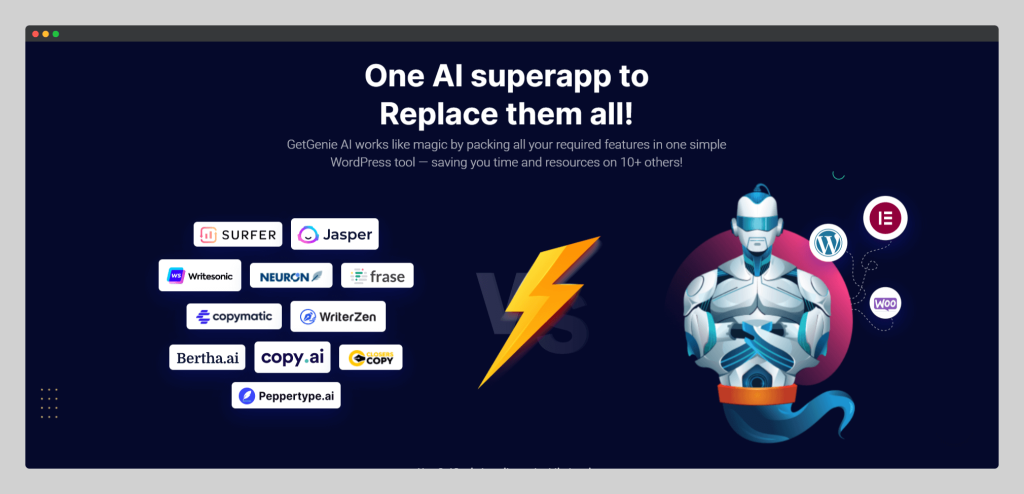 The GetGenie team is calling it a "super app" that can replace all the AI content writers for WordPress. Jasper, Serfer SEO, copymatic, and copy ai are already established and well-known. But what makes GetGenie stand out from its competitors? Wptowp editorial discovered the following application of GetGenie:
Research & Identify AI-Filtered Keywords
GetGenie is ready to do the work that requires a lot of time and experience. The plugin will do research and analyze the keywords. And as an output, it will show you the exact keywords that you need. So, you can get the filter keywords, ready to use on your website.
Analyze & Beat Your SERP Competitors
Experienced digital marketers know, how much time and effort it takes to analyze the competition. GetGenie will take care of it for you. It will do more than just analyze; it will also find the gaps and prepare better content for you.
Optimize Content with Predictive AI Score
Like a mature SEO plugin, GetGenie will show you the live score and suggestions on where should you change. The indicator will help you understand the lacking and the content generator button will generate better content for you. It's double wine from the same plugin.
Things You can do with GetGenie AI
Tighten your seat belt and be ready to know the feature of GetGenie AI content writer for WordPress. As the list is long so you will need time to cover it. GetGenie features protect you from hair loss by anger. 😜😜
Title Ideas 😌 Generate the title of your ideas. Add a basic idea and then polish it with the power of AI. Or, re-generate the title till it better fits your context. Add a better sentence in your title that people click.
Meta Description 😌 No more spammy meta description. Use GetGenie AI content writer for WordPress and generate the ideal meta description for your content.
Paragraph for Heading 😌 If you have the headings, use GetGenie to give the explanation. You can write one to many paragraphs for the title you have.
Social Media Copy 😌 Busy with a daily marketing job and losing social clients due to poor copy. Remove the poor social copay and add better AI power social copy.
Product Description 😌 Remove the boring product description and add the smart content. Grow your sales with a fresh product copy.
Paragraph Rewriter 😌 Don't like your own paragraph? Well, use GetGenie AI content writer for WordPress to update it.
SERP Analysis 😌 GetGenie has the features of SERP analysis.
Keyword Research 😌 AI-powered keyword analysis can help you get the keywords in the shortest amount of time. You can see the search volume of the targeted keyword from the dashboard.
Competitor's Content Analysis 😌 marketers often spend a lot of time checking their competitors. And when you have GetGenie, you can spend time somewhere else as the plugin will do it for you.
Google Trends Chart 😌 Know the trends before you post the content. Google trends chart is one of the great help for knowing the latest trends on the internet.
People Also Ask 😌 There are a lot of questions that people ask often. Know them with GetGenie AI content writer for WordPress. And then add the relevant information to your content.
Paragraph Summarize 😌 Long paragraph? Make a summary and add it to the bottom. It will improve the readability of your post.
Bullet Point Generation 😌 Generate bullet points of your topics with the plugin.
Idea Generation 😌 Generate the ideas for your content and marketing with the plugin.
Apart from the features, GetGenie AI content writer for WordPress is providing 30+ templates. The templates are helpful for new marketers. Specially those who are just learning digital marketing. With the app, newbies can generate formatted content that saves them from mistakes. This way, GetGenie AI content writer for WordPress helps new learners.
Usually, a template presents something re-useable asset. But here at GetGenie, a template re-presents the way to generate content. And guess what, every time you ask GetGenie, it will generate new and different content t for you.
Some of the important templates we have included in the feature list. Here are some other templates for your content marketing. AIDA framework, WooCommerce product long and short description, Product title, Taglines, List of questions, Product ad copy, Pros, and Cons, Featured snippet, etc. for more details, you can check the GetGenie AI content writer for WordPress landing page.
GetGenie AI Content Writer for WordPress Free vs Pro
It's really hard to provide free service for any AI content writer due to the ongoing maintenance cost. However, GetGenie AI content writer for WordPress still has a free version for WordPress users! On the free version, you can test up to 1,500 words in a single domain. You can explore all the templates with SERP analysis and blog Wizard. Let's see the free vs pro comparison.
| | |
| --- | --- |
| GetGenie Free | GetGenie Pro |
| Single Website | Unlimited Websites |
| Unlimited Users | Unlimited Users |
| 1,500 AI Writing Words Per Month | 12k++ AI Writing Words Per Month |
| 10 SEO Keyword Analysis Per Month | 40++ SEO Keyword Analysis Per Month |
| 5 Competitor SERP Analysis Per Month | 20++ Competitor SERP Analysis Per Month |
| AIl Templates | AIl Templates |
| | |
The last update date is 21st December 2022
The words and SERP analysis are different in a different package. It comes with a 14-day money-back guarantee.
There are multiple premium versions available on GetGenie AI. And you can get an upgrade in content generation, and rewrite limits depending on the package. Check out more details on their pricing page. The link is available by clicking the button below.
Who Should You Use GetGenie Pro?
GetGenie AI content writer for WordPress can be used in any digital marketing activity. Even so, you can generate content and use it in offline marketing too. Wptowp editorial research and retrieve some dedicated categories whose people can use this WordPress AI content writer.
🟨 Marketing Strategist – If you are a digital marketing strategist, then GetGenie is your friend to speed up your daily tasks. You can generate ideas, titles, copies, and FAQs with the plugin. You have the option to use this AI content writer to analyze the content and SEO score.
🟨 Content Writer – You can use the plugin to generate the title, headings, paragraphs, and re-write anything.
🟨 Outreach – You can generate better email copy. Then you can send them to the partners and get better link-building results.
🟨 Social Marketer – Ai power article writer can help you generate social copy. No more poor social captions and headings from now. Use GetGenine's AI content writer for WordPress and become a smart social media marketer.
🟨 eCommerce Site Owner – Add a better product description than your competitors. GetGenie AI content writer for WordPress has the features to generate product descriptions for you.
GetGenie AI Content Writer for WordPress Pro Pricing
GetGenie AI content writer for WordPress comes with an affordable pricing plan. They have 3 premium plan that includes both monthly and yearly plan. If you purchase the yearly plan, then the cost will be billed annually.
| | | | |
| --- | --- | --- | --- |
| GetGenie Pro Pricing | | | |
| | Writer | Pro | Agency |
| Monthly | 15.2$ | 39.2$ | 69.3$ |
| Yearly | 11.4$ | 29.4$ | 59.4$ |
| Words/Month | 15k | 70k | 250k |
| Keyword Analysis/Month | 60 | 300 | 800 |
| SERP Analysis/Month | 30 | 100 | 250 |
| | | | |
The last update date is 22nd December 2022
Premium support, a blog, product wizards, elementor support, and other features are included in all premium plans. The plan comes with a 14-day money-back guarantee.
When You Should Not Use GetGenie Pro?
There's some news that Google will ban AI writing content! In fact, some of the sites get penalties already. Yes, that is true. But here's how it works. Google bots give penalties on spammy and unethical content only. Content written by only AI can be spammy in many cases. Because AI can't replace humans. But, if you use AI to help you, then it's risk-free.
So, we found some circumstances under which we are discouraging users to use GetGenie AI content writer for WordPress. Let's explore the list.
You want AI to do Everything 😏 There are many people who believe, AI will do everything. They do not need to do anything. If you are the one, then avoid GetGenie. You need to check the content and add the necessary information to make it humanistic.
You are in a Very New Niche 😏 If you are in an area that has very limited information on the web, then you should avoid GetGenie. Well, the internet has everything. However, there's some new technology arising that might have fewer numbers of information. If you are there, be careful.
Lack of Fundamental Marketing Knowledge 😏 Ai powered assistant will assist you and generate the content. But you need to drive it, need to put the correct concept and data. The better your input is, the more better you will get the output. If you have no fundamental marketing knowledge, then GetGenie ai content writer for WordPress may provide you with less quality information.
GetGenie AI content writer for WordPress is to support you, not to replace you! If you can accept it, we recommend GetGenie for you. If not, then we highly discourage you, not to using GetGenie.
Editorial Prediction for GetGenie AI
The speed of accruing the first 1000+ active installations of GetGenie AI content writer for WordPress was so fast. Wptowp editorial believes it will get more customers in the coming year. We believe, it will have 10,000+ active users in 2023. Moreover, we also hope the browser add-ons will be released in the next year.
Editorial thinks the output and generated content will be far better in the future. As the AI gives a better output from more data. There is a chance for GetGenie to become the #1 AI content writer for WordPress. The plugin can beat its competitor due to its features and design.
How to Get Started With GetGenie?
Starting with GetGenie is as easy as drinking water. We assume you already have a WordPress website. In case you don't, just follow the basic rules. Purchase the domain and hosting, and install WordPress. After that, install the themes and plugins, and finally, update the content on the website.
✔️ Install GetGenie: From the WordPress directory, you can get the GetGenie free version. And GetGenie pro version is available in your account's download section. Install the plugin. The steps are exactly the same as installing other WordPress plugins.
✔️ Activate License: Once you have done the installation, you need to activate the license. Even, if you use the free version, you still need to activate the GetGenie license. From the GetGenie website, activate the license.
✔️ Get the GetGenie Pro: If you want to get limitless options, you go for the GetGenie pro version. Use the powerful AI content writer for WordPress to get the task done within moments.
✔️ Generate Content and Publish: On the post area of the page or post, you will see all the options and the GetGenie icon. Click them to generate and then give the proper input. It might take a moment to generate each action.
Exciting Features Coming to GetGenie AI
If you are looking for what's coming at GetGenie AI content writer for WordPress, you must be surprised to see the list. The browser extension is under development. Multi-Language support is ongoing and already Arabic, hybrid, and Spanish has released. Call to action, Google NLP for keyword suggestions, FAQ generator, Most used keywords by competitors, Tone of voice, and Plagiarism checker are now under development.
The list is growing and regular updates are coming as well. You can submit a feature request and ideas for GetGenie AI content writer for WordPress here. There's more in the up next section. Rewrite with keywords, Press release, and Boss mode is in their plan. The best part that we believe is, you can vote on your own and raise your voice to the GetGenie team.
Frequently Asking Questions About GetGenie AI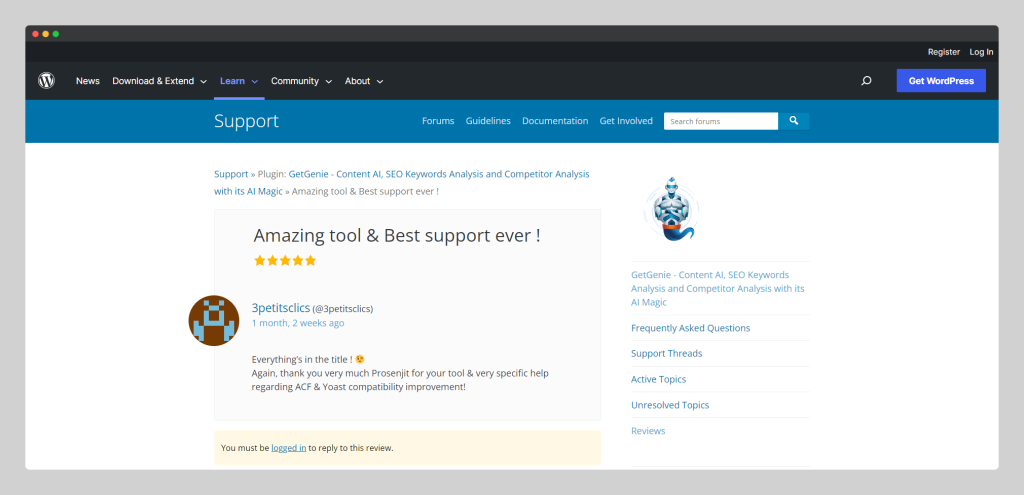 Have some questions about GetGenie AI content writer for WordPress? We have the answer too. Let's explore the question and answer in this section. If you don't found your answer, let us know. We will add the answer as soon as possible.
What is an AI Content Writer?
AI-powered software tools that generate content is called AI content writer. For example, GetGenie AI content writer for WordPress allows users to generate blogs, ideas, titles, keywords, etc. Normally, humans need to find raw data, analyze and pick the best one. But, AI do all the staff for you and provides the filter output.
Can AI Replace Content Writers?
BIG NO! AI can't replace content writers under any circumstance. Remember, AI was invented to power up humans. Not to replace humans. In order to get quality output, AI needs better input made by humans.
How do I Start Writing AI?
You can start with GetGenie AI content writer for WordPress. Install the plugin in your WordPress site. Then on the posting page, you can see all the available options. Utilize them to generate your content.
Which AI Tool is Best for Content Writing?
There are numbers of ai content writer for WordPress. Depending on the needs and business, they can be best for you. However, we think, GetGenien AI content writer for WordPress is one of the best AI content writing tools. More details can see in the above descriptions.
Is there a free AI writer?
There's no AI-free writer that provides quality output. However, GetGenie has a free version that allows you to generate up to 1500 words per month.
Is there any LTD deal at GetGenie?
At this moment, there is no LTD plan at GetGenie Ai content writer for WordPress. You can check the latest deals and discounts on our dedicated page. If we found any LTD deals, we will update them there.
What is GetGenie AI?
GetGenie AI is the most intuitive AI content writer for WordPress plugins that generate content, ideas, keywords, sales copy, and many more. The plugin comes with modern AI and NLP-based solutions that can boost your sales.
Let Your Friends Know About GetGenie AI
It's often called that, sharing is caring. Would you like to care for us? Then share the blog on your favorite social media. Let your friends know about this amazing AI content writer for WordPress. Who knows, they might be interested in this plugin. Sharing is easy. Click on the icon which you want to share and then confirm. Your share will not make our day, it will make our week actually.
Acknowledgment 💯💯
🐾 Images – Images in this blog have been collected from different websites, blogs, landing pages, plugin landing pages, WordPress directories, Social sites etc
🐾 Affiliate Links – This blog contains several affiliate links. This means, that if you purchase any product through the link, we will get a commission without costing you extra. You can see affiliates' declarations here.
🐾 Data Source – All the data has been collected from various open sources like landing pages, WordPress directories, youtube channels etc. Data can get changed at any time.

Editorial Staff
Our Editorial team consists of WordPress Expert/s, Analysts, Content Editors, Writers, Designers, SEO Experts, Outreach People and Developers! For each content, a highly expert and dedicated team led by Asadullah Galib, works together. We have only one motto, "Help you to make your final decisions!"