(Why) Reasons to Use WholesaleX Pro 2023
WholesaleX is one of the best plugins for wholesale business! Especially for WordPress website users, WholesaleX brings a new era to grab the multi-trillion dollar wholesale market. As you are searching for WholesaleX Pro, we assume you already have a basic idea about the WholesaleX plugin. So, In this blog, we will indicate those reasons which lead us to recommend you WholesaleX Pro version.
WholesaleX is the simplest wholesale solution to make selling easier. It simplifies the process of selling to managing wholesale products in your WooCommerce store.
After releasing the plugin last December 2022, Wptowp editorial tested both the free and WholesaleX pro version. As it's a quality plugin and competitive with the topers, we come up with a series of content to let our audience know about this plugin. As part of the series, we are here to express the top reasons why should you use WholesaleX pro in 2023.
WholesaleX is a WordPress B2B wholesale marketplace plugin made by WPXPO. The plugin can be used to create B2B and B2C hybrid marketplace and wholesale WordPress marketplace. WholesaleX is WooCommerce dependent on an eCommerce marketplace plugin for WordPress.
WholesaleX Pro Features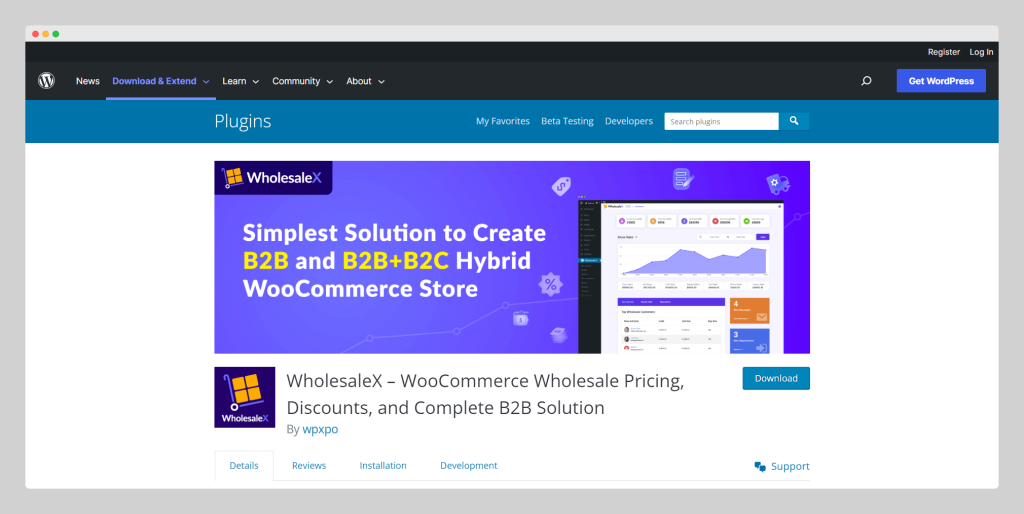 The part that catches our attention is WholesaleX pro features. The plugin just comes out but it seems like well mature. For your next wholesale marketplace, whatever the features you need, WholesaleX pro brings all most all of them. And the best part is, WPXPO brings more features on a regular basis.
Wholesale Pricing 😍 The basic and essential features of any wholesale marketplace. Multiple role-based pricing packages and unit-based pricing can be set with WholesaleX Pro.
Form Builder 😍 You can get connected with potential customers through the in-build form builder. With WholesaleX Pro, you will need to install another form plugin.
WholesaleX Wallet 😍One of the important features that the plugin brings is the WholesaleX wallet. You can manage your sales and customers can see the instant update of their transactions through wallet features.
Multiple Pricing Tiers 😍 Wholesale always means unit-based sales. And here with the plugin, you can set your own pricing style. You are not limited to creating pricing tires with any numbers.
Dynamic Discount Rules 😍 The more units a customers purchase, the more they want to save. And you can allow exactly the same with the dynamic discounts rules. You can set the discounts in such ways, users can't but be happy with the offers.
Control Shipping Methods 😍 You can also control your shipping methods with it.
Other important features of WholesaleX Pro are in the following table. In case, if you are looking for more updates, you can see the WholesaleX changelog here.
| | | |
| --- | --- | --- |
| Multiple Payment Method | Dynamic Discount Rules | Tax Exemptions |
| Custom Fields in Form | Tiered Pricing System | Price Range |
| All Frontend Text Changeable | Buy X Get Y Dynamic Rule | Free Shipping |
| Minimum Purchase Rules | Make Store Private | Auto Role Migration Based |
| Redirect Specific URL Settings | Minimum Order Quantity | Rolewise Disable Coupons |
| Restrict Product Visibility Dynamic Rule | User Order Count Dynamic Rules | reCAPTCHA |
| Maximum Order Dynamic Rule | Total Purchase Count Dynamic Rules | Email Notifications |
| Enabled WholesaleX Rule List on All Products | Filter User Based on Account Status | |
| Combine Login and Registration Form | Hide All Products For B2C and Guest Users | |
The last update date is 1st March 2023
No Coding Solution
WordPress CMS is popular due to its drag-and-drop options. Still, there is some plugin that requires technical knowledge. In some specific cases, that requires coding knowledge too. If you want to change some layout then you will need to hire a programmer.
But WholesaleX pro is a full No Code Solution that required no technical knowledge. With its self-explanatory features and easy design, anyone can manage their wholesale marketplace. If you are a developer, then you can develop a wholesale marketplace for your clients without worry. In the future, your clients can manage the marketplace without asking you a lot of questions.
🧐 A marketplace developed with WholesaleX Pro can manage very easily. So, if you develop a site for your clients, chances are high that, they can manage it very easily.
Unlimited Customization
Business to business, niche to niche, design different, theme differents, layout differents. This is the beauty of the eCommerce wholesale website. In order to keep the design best fitted with the niche, customization is important. The more customization options a plugin offers, the better it becomes for the users.
With WholesaleX Pro, you can do unlimited customization. You need a form, the plugin has a form builder. If you need other changes, you can do them with the plugin. Design on Gutenberg was never easy. But thanks to WholesaleX Pro. You can build your dream wholesale marketplace design now. The plugin is also compatible with all the popular WooCommerce themes.
WholesaleX Pricing [Save 10%]
It offers an affordable price that you can pay either yearly or once a lifetime. You will also have 14 days refund options.
| | | | |
| --- | --- | --- | --- |
| WholesaleX Pro Pricing | | | |
| Single | 5 Sites | Unlimited | Refunds Policy |
| 149$/year | 249$/year | 349$/year | 14 days |
| 249$/Lifetime | 399$/Lifetime | 799$/Lifetime | |
| | | | |
The last update date is 1st March 2023
Apart from the table, they also have bundle pricing which starts 429$ for 2 plugins and 554$ for all 3 plugins. As a matter of fact, the agency bundle is for unlimited sites and for a lifetime. It's a good deal!
Get early bird access with 10% OFF on WholesaleX! Buy the pro for only $89, Grab the deal before it leaves town. We predict that you will rarely find such a large discount in the future.
Supports and Resource
How can you know WholesaleX? Multiple resources are available. You can read WPXPO's blog, plugin documentation, and videos. In similar ways, you can access the plugin teams in multiple channels. Starting from the live support, you can get ticket-based support, social channel, and email update. You will be always up to date by the team.
Supports Multiple Languages
Why will you miss the local community sale when you have the WholesaleX Pro? The translation-friendly plugin will allow you to build your wholesale marketplace in your local language. You can also develop in other popular international languages other than English. This way, you can target the different regions for your wholesale.
Scalable and Clean Design
It comes with better engineering. Remember, the team has experience developing the leading Gutenberg plugin PostX. After growing the plugin, they work on WholesaleX. You will get better code quality and a stable release.
The wholesale industry is big! So, the solution should be scalable. The team knows this and they made the plugin in such ways. You can scale your business with a clean and trendy design. A better quality function will allow you to set the pricing in your winning situations. Can't trust our words? Check WholesaleX free before you to WholesaleX PRO.
Integration and Addons
If you convert your regular WordPress website into a wholesale WooCommerce website, you can use the plugin easily. The plugin is compatible with other popular plugins and themes. You can use WooCommerce to handle your selling features.
Made by WPXPO
WPXPO won the prestigious national ICT awards in Bangladesh in 2022. PostX is the BASIS National ICT Awards-2022 "Winner".
WholesaleX is backed by the Bangladeshi software company WPXPO. Starting in 2019, they have already established their three flagship products: PostX, Gutenberg's post block editor, and ProductX, Gutenberg's WooCommerce solutions, and WholesaelX. PostX is currently powering 30,000+ websites worldwide, while ProductX is also growing, with more than 2,000 active installations.
Additionally, PostX ran an LTD campaign in the MarTech community, where they received a lot of feedback from the top marketers in the industry. Read more details about WPXPO at Bangladeshi WP Company Listing Blog!
Editorial Words
From the start of this plugin, we are keeping a close eye. We tested the free version, and the pro version, and compare them with other wholesale plugins. Due to the features, pricing, and potential, we are recommending WholesaleX for the Wptowp users. If you are working with wholesale business then get the plugin today. We also manage a special 10% discount for Wptowp users.
We hope you have enjoyed the blog. Please share the blog on your social handle so that your friends can know about this amazing wholesale plugin. Contact us for any kind of query.
Acknowledgment 💯💯
🐾 Images – Images in this blog have been collected from different websites, blogs, landing pages, plugin landing pages, WordPress directories, Social sites, etc
🐾 Affiliate Links – This blog contains several affiliate links. If you purchase any product through the link, we will get a commission without charging you extra. You can see affiliates' declarations here.
🐾 Data Source – All the data has been collected from various open sources like landing pages, WordPress directories, YouTube channels, etc. Data can be changed at any time.

Editorial Staff
Our editorial team consists of WordPress expert(s), analysts, content editors, writers, designers, SEO experts, outreach people, and developers! For each piece of content, a highly expert and dedicated team led by Asadullah Galib works together. We have only one motto: "We help you to make your final decisions!"