11+ Strong Reasons to Use PostX Pro in 2023
Do you want to know why should you use PostX Pro this year? Well, here you go! We will talk about 11+ important factors that lead users to use PostX pro. Since we have published a detailed review blog about PostX, so we know how amazing this plugin is. And now it's time to explore them one by one.
PostX is an all-in-one Gutenberg plugin to create a WordPress site. The main features are Archive Builder, Query Builder, Post Grid Layouts, Premade layouts, etc. The plugin comes with Gutenberg PostX dynamic site builder wich is first of all it's kind!
PostX growing so fast and recently hit 30,000+ active installations. 787k+ total downloads, 126+ five-star reviews, and loved by top marketers make PostX auto choice for blog/news site builder in Gutenberg. PostX allows you to create fast-loading and multi-device responsive pages with Ajax-based actions. It ensures that Google will love your site and rank higher.
For Wptowp visitors, we have managed a special 10% off coupon code! If you have a plan for PostX pro then save 10% on your next purchase!
1) Outstanding Features at PostX Pro
What leads you to purchase any plugins? Most of all, the features and functionality. Talking about the PostX pro features that it brings for the users are actionable. Let's see them on the table.
| | | |
| --- | --- | --- |
| Ready-made Blocks | Starter Design Packs | Indefinite Listing |
| Layout Offerings | Endless Customizations | RTL Readiness |
| Dynamic Post Slider | Advanced Query Building | Typography Control |
| Quick Query Picker | Posts Taxonomically | Customizable Coolness |
| Easy Ordering | Further Pickings | Elementor Compatibility |
| AJAX Filtering | Advanced Pagination | Unlimited Templates |
| Content Filtering | Easy Navigation | Templates Library |
| More Functionality | Collapsible Table | Content Animation |
| Sticky Table | Back to Top | Image Animation |
| Table Styling | Category Settings | Content Customizability |
| Category Styling | Category Positioning | SEO Meta Functionality |
| Category Specific Color | SEO Integrations | Content Excerpt |
| Layout Combinations | Responsiveness Control | Archive Builder |
| Table of Contents | PostX Advanced Post Slider | — |
Data Collected up to 7th February 2023
You can see the features list, from the slider to block, menu, featured, ads, etc are available. You can style the website as like as you need with table, animation, pagination, filtering, etc.
2) PostX Pro Integration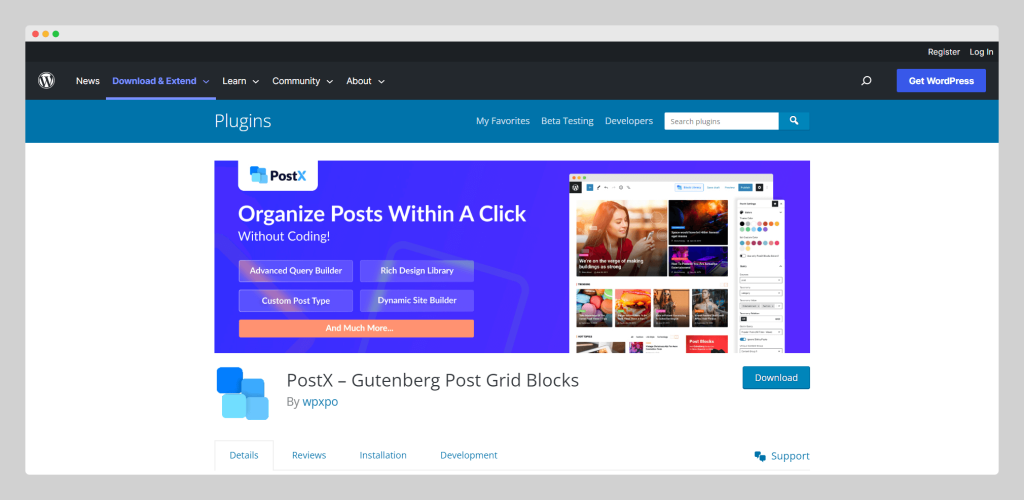 As we said, PostX pro will confirm your site in such a way, the search engines will love it. So, integration plays a vital role. We have checked and found, PostX offers multiple integrations. PostX comes with seamless integration with your favorite page builders and popular SEO plugins. The list is long including Elementor, DIVI, Yoast, Rank Math, etc. No matter whether you use any page builder, you and keep your site as you want in your own ways!
3) PostX Pro Addons
PostX add-ons bring the plugin to the upper level. With more than 10 PostX addons, you can enjoy a full-site building experience, widgets, SEO, pagination, meta, and so on. Here's the list of PostX add-ons.
🔥 Saved Templates – You can convert Gutenberg Blocks into shortcodes to use them anywhere.
🔥 Table of Contents – You can add a Customizable Table of Contents to your blog posts and custom post types.
🔥 Elementor Addons – You can use Gutenberg blocks inside Elementor via Saved Template addons.
🔥 Category – You can choose your desired color and Image for categories or any taxonomy.
🔥 Dynamic Site Builder – Create dynamic websites using PostX instead of old-school page builders.
🔥 Progressbar – Let the users see a graphical indicator to know the reading progress of a blog post.
🔥 Yoast Meta – Show Yoast meta description in the excerpt.
🔥 All in One SEO Meta – Show All in One SEO meta description in the excerpt.
🔥 RankMath Meta – Show RankMath meta description in the excerpt.
🔥 SEOPress Meta – Show SEOPress meta description in the excerpt.
🔥 Squirrly Meta – Show Squirrly meta description in the excerpt.
4) PostX Pro Pricing Policy
PostX pricing is divided into two classes. You can pay yearly or once and use it for the rest of your life. And all the pricing is under three modules for a single site, five sites, and unlimited sites. Depending on your needs, you can choose any pricing plan. And you will also get 14 days of the money-back guarantee.
| | | | |
| --- | --- | --- | --- |
| Unlimited Elements Pricing | | | |
| 1 Site | 5 Sites | Unlimited Sites | Refunds Policy |
| 49$/year | 79$/year | 99$/year | 14 days |
| 149$/Lifetime | 249$/Lifetime | 399$/Lifetime | |
| | | | |
Data Collected up to 7th February 2023
PostX pro pricing may seem a little higher at first look. But check the Unlimited sites license and ROI, and you will understand, the price is much more affordable than similar other plugins. Please be aware that pricing is subject to change, and WPXPO holds the full right to change the price at any time. You can check the latest price on the website. The above prices do not include applicable taxes based on your billing address.
5) PostX Site Builder

PostX Gutenberg post blocks plugin recently introduced the new dynamic site builder. It enables users to create the entire site from the sketch. You can develop your dream Gutenberg-based website with the builder. You can build the home page and gallery page. archive page etc. We have published a complete tutorial about the PostX Gutenberg website builder.
6) PostX Pro USPs
Making a website is not enough nowadays. You need to stand out from your competitors. You need to build a website that Google will like. A fast-loading and smart website can be developed with PostX. PostX comes with the following unique features for you.
Dynamic Site Builder 🤟
Dynamic Post Slider 🤟
Advanced Query Builder 🤟
AJAX Powered Post Filter 🤟
Advanced Posts Pagination 🤟
Ready-made Starter Packs 🤟
The plugin is fully translation friendly. So, you can build the website in your own language. For the people who want to work for the local community, the local language is a must. And for local translation, PostX pro is a must too.
7) PostX Pro Support and Resource
Support is one of the important factors to be considered to purchase any product. Good support can help grow business while bad support can do the opposite. You can access the PostX team on live chat, email, ticket base support, social channel, etc. For the pre-sell query, live chat is one nice option. And for post-sell support, you can choose any of them.
You can also utilize the resource given by the WPXPO team. Details blogs, changelogs, videos, documentation, and email update can help you a lot. You will be able to become updated and take advantage of the latest release.
8) SEO Support of PostX Pro
For any website, SEO is a factor. To grow your revenues, SEO plays a vital role. PostX comes with all the major SEO plugin integration. You can see the RankMath integration, Yoast SEO integration, and All-in-one integration at PostX. So, you can relax while using PostX on your content-based Gutenberg website.
9) PostX Pro Code Quality
The PostX team is highly expert and professional. Technically average page loading time is increased by 0.15s. This is faster than 99% of plugins. They also released new niches on a regular basis. Even though the plugin takes average memory usage is11151.79 KB, which is higher than others! We believe the team will take care of the issue.
10) PostX Pro Trusted by Top Marketers
PostX launched an LTD campaign at MarTech social community. The response was huge including top marketers' positive reviews. At the same time, you can see positive ratings in the WordPress directory. For those of you who don't know about MarTehch, it's a social gathering place for LTD buyers. So, getting a positive response from this community means a lot.
11) The Team Behind PostX Pro
WPXPO won the prestigious national ICT awards in Bangladesh in 2022. PostX is the BASIS National ICT Awards-2022 "Winner".
PostX is backed by the Bangladeshi software company WPXPO. Starting in 2019, they have already established their two flagship products: PostX, Gutenberg's post block editor, and ProductX, Gutenberg's WooCommerce solutions. PostX is currently powering 30,000+ websites worldwide, while ProductX is also growing, with more than 2,000 active installations.
Additionally, PostX ran an LTD campaign in the MarTech community, where they received a lot of feedback from the top marketers in the industry. Read more details about WPXPO at Bangladeshi WP Company Listing Blog!
So, Over to You!
So, you now know all the factors that should consider during PostX pro purchase. If you are still have confusion, about why PostX pro should be your ultimate choice, check the PostX full review blog here. Hope you enjoyed the blog. If you have any questions, contact us. Also, it would be great, if you can share PostX pro blog with your social friends. It will make our week.
Acknowledgment 💯💯
🐾 Images – Images in this blog have been collected from different websites, blogs, landing pages, plugin landing pages, WordPress directories, Social sites etc
🐾 Affiliate Links – This blog contains several affiliate links. This means that if you purchase any product through the link, we will get a commission without charging you extra. You can see affiliates' declarations here.
🐾 Data Source – All the data has been collected from various open sources like landing pages, WordPress directories, YouTube channels etc. Data can be changed at any time.

Editorial Staff
Our editorial team consists of WordPress expert(s), analysts, content editors, writers, designers, SEO experts, outreach people, and developers! For each piece of content, a highly expert and dedicated team led by Asadullah Galib works together. We have only one motto: "We help you to make your final decisions!"