InstaWP Review | Install WordPress Without Local Host (2023)
Why will you spend hours to setup WordPress when you can do it within a second? Just check the InstaWP website, click on a single button, and your WordPress site will be ready in less than a second. No database name, user name, xampp/wamp installation is required. It's just a matter of 2 clicks and a moment! InstaWP makes it possible for you.
InstaWP is a WordPress plugin and SAAS platform that allows users to create WordPress website in simple 2 clicks. It's a tools that speed up the WordPress setup and save you countless hours!
In the InstaWP review blog, we will cover, how to install WordPress without local host configurations. We have included the details of the plugin including advanced features, pricing, integration, and InstaWP USPs. Moreover, we will also talk about the team behind this plugin, free vs pro comparison, our own prediction, and so on. Let's begin the blog now.
InstaWP has been developed by Vikas Singhal and supported by Automattic (The company behind WordPress itself, WooCommerce, and many more.)
InstaWP Review – Introduction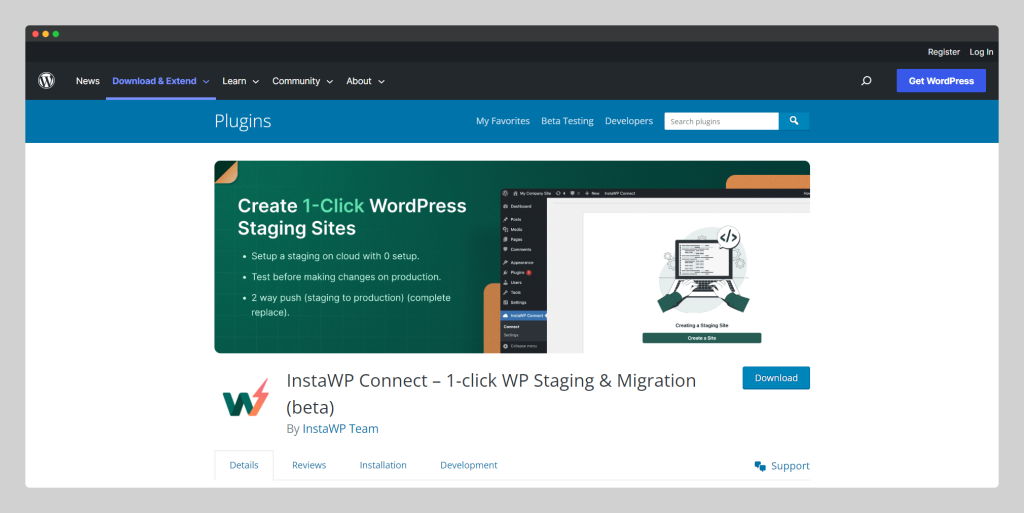 Starting a new WordPress site is still a pang (painfully). You have to set up a domain, SSL, database, installation, demo content, imports, etc. If it's on the server, then need to login to the hosting control panel and use the WordPress installer. And for the local host, need to set up a server.
Let's say, you are technical and you don't mind doing menual WordPress setup. But think about a budy day, when you have to install the WordPress? What about the developer guy who need multiple WordPress setup for different task?

Not easy, it's pain squire now!
Introducing InstaWP, the ultimate solution for installing WordPress. It's a one-click WordPress installer that required a single second to give you a ready-made WordPress site.
Best Features of InstaWP Plugin
InstaWP Pro Pricing
InstaWP Plugin Integration
InstaWP Review Spotlight (USPs)
When did InstaWP Start Its Journey?
The story of InstaWP has been started almost 10 years ago in 2015 by Vikas Singhal. He was in search of an easy installation of WordPress and the idea of InstaWP hit his mind.
After multiple attempts and changing the name, finally, InstaWP born. Vikas was building it in public and updated it on Twitter regularly. Once it gets some response from the community, Vikas think about funding, and guess what? Automattic, the parent company of WordPress, funded it.
I wanted to see if someone would be interested to fund this and help make the dream a reality crossing my fingers, I emailed a couple of people, including Matt from Automattic!, expecting no response. To my surprise, after a week, Automattic's team replied back saying this sounds interesting and we got into several rounds of discussions. They listened to the whole thing very patiently.

Vikas Singhal, CEO of InstaWP
Today, InstaWP is the ultimate destination for both technical developers and non-technical WordPress lovers.
Who are Behind the InstaWP?
If you read the above section, then you already know Vikas Singhal is the man behind InstaWP. He has started, tried multiple times, and bring the ideas in the reality. And at this moment, he is leading the team from the front side. Automattic funded the product and help to make the dream come true. So, obviously, Matt and the Automattic team are supporting this product.
Where did InstaWP Get Mentioned?
InstaWP Free vs Pro Comparison
Editorial Prediction for InstaWP
InstaWP Plugin FAQs
InstaWP Review – Final Notes
Acknowledgment 💯💯
🐾 Images – Images in this blog have been collected from different websites, blogs, landing pages, plugin landing pages, WordPress directories, Social sites, etc
🐾 Affiliate Links – This blog contains several affiliate links. This means that if you purchase any product through the link, we will get a commission without charging you extra. You can see affiliates' declarations here.
🐾 Data Source – All the data has been collected from various open sources like landing pages, WordPress directories, YouTube channels, etc. Data can be changed at any time.

Editorial Staff
Our editorial team consists of WordPress expert(s), analysts, content editors, writers, designers, SEO experts, outreach people, and developers! For each piece of content, a highly expert and dedicated team led by Asadullah Galib works together. We have only one motto: "We help you to make your final decisions!"