Wp Social Review 2023 | Should You Buy It?
So. You know about WP Social and now searching for WP Social review to learn more? In this blog, we will add all the necessary information, such as WP Social features, integration, compatibility, pricing, and much more, for you. And, if you don't know WP Social, you can still get a complete overview of the plugin. This blog is for you if you are looking for social media plugins.
In short recalling, WP Social is a social media plugin that helps you to grow your sales and traffic through social media. For example, you can add social login, social share, share counts, etc. So, ultimately, if you are looking for doing anything on social media through your website WP Social can help you in many ways.
According to statists, 4.59 billion people use social media in 2022 which will grow by 5.85 billion by 2027. People from all over the world use social media. But connecting them to the website was never been easy. WP Social comes to solve the issue. How WPSocial solves, we have covered WP Social review blog.
While working on the ShopEngine review, we noticed, WPMet has an amazing social media automation plugin called WP Social. We checked, analyzed, and decided to review it. According to Wptowp editorial, WP Social can help you in all possible ways that need a medium to connect you (your website) to the social channel.
Having 20,000+ active users and 39+ five-star solid ratings, WP Social become one of the most popular social media plugin for WordPress. The plugin has 4.7-star ratings with 253k+ total downloads in 12 years. There's more in-depth history, statistics, and opinions available in WP Social review detailed version.
There are different plugin that covers a partial part of social media. Some theme only allows users to display the social counts. And share, while others allow users to log in and register on your site using social media. But WP Social is the one that allows you to do both of them. Multiple solutions under a single umbrella.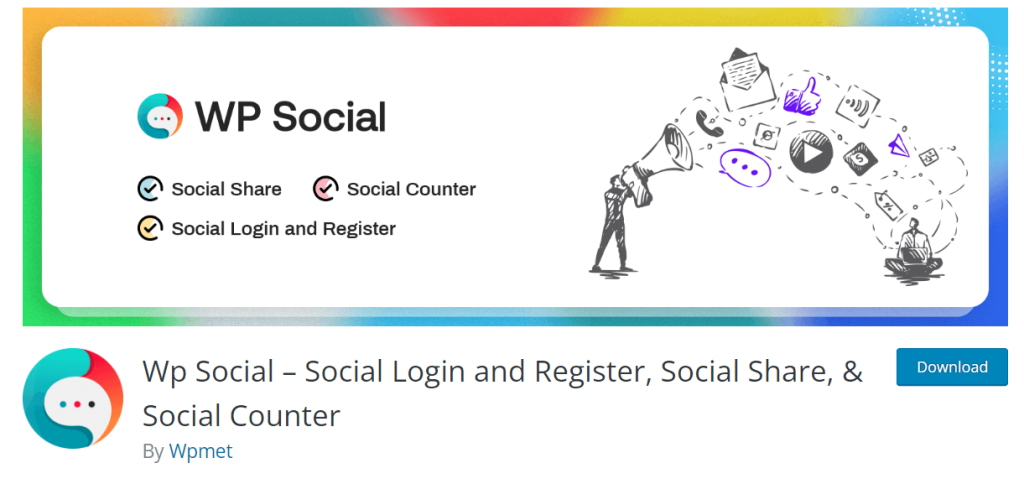 It's always called that sharing is caring. Every business has some caring fans and they want you to support them. They want to share your website, and content on social media but it's really staff to do. It required a lot of effort. Similarly, social media-addicted users do not love to log in with their personal email. Social media login is an ideal choice for them. You can solve all these problems with WP Social.
1) Social login – Your website visitors can log in to your site with 10+ social media such as Facebook, Twitter, etc. They do not require you to signup to post comments on your content.
2) Social media share – Social media is the primary source of traffic for a new website. And you can allow your visitors to share the content on their favorite social channels with just a few clicks.
3) Social counter – How many times does your content get shared by other visitors? You can display this counter on your website. You can show the total numbers as well as social channel-specific numbers.
4) Login customization – You can also customize the login form for the users. Especially, if you want to get some specific information, you can use these features.
5) Custom login redirect – Once the users finished login in through social media, you can drive them to a specific page of your website.
6) Show login button – You can display and hide the login buttons for the users.
7) Auto refresh news feed – The news feed refresh option is available at WP Social. So, visitors do not need to refresh the page again and again to see the latest update.
8) Font change on social widgets – You can update the font style and match it with the theme of your business and motto.
9) Email login credentials to new users – Send the login details through email to the users. Once anyone login through social media, they will get an auto-generated email with their login details.
To get success and get more conversions, you can not avoid social media. Our expert marketers say, "Social media is the first and basic source of your traffic." When you have a new website and social media, you should not worry about the initial traffic. And at this point, WP Social is the plugin that you need on your WordPress website.
From the WP Social review, you already know, what features and functionalities you can get. So, editorial believes, it should be your initial plugin like an SEO plugin, security plugin, and so on. Here are some of the unique selling points of WP Social review.
Multiple Solution 👉 3 major solutions from one single plugin. WP Social review covers all of them.
Vast Customization 👉 You can customize a lot in this plugin including the social login page.
GDPR Compliance 👉 The plugin is fully compatible with GDPR low.
State-of-the-Art API 👉 Everything works through API.
Shortcode Compatibility 👉 You can use Shortcodes to get the widgets.
Diverse Widget Support 👉 You can get vast numbers of widget support in this plugin.
Advanced Animation 👉 Animation encourages visitors to react and share. WP Social has pre-designed and creative buttons that you can use on your website.
Login Customization 👉 You can customize the login page to get extra information from the customers.

Responsive Design 👉 WP Social is a completely responsive plugin and your users will have a nice experience on all devices.
Continuous Update 👉 In the year 2022, the WPMet team published more than six updates to the free version. You can expect regular updates and issues fixed within a month of the issues being raised.
Lightweight and Fast 👉 Compared to other social media plugins, WP Social is a fast-loading and lightweight plugin that keeps your website fast too.
Friendly Support 👉 You can get live support, ticket-based support, social media and community interaction, documentation, and video. All are free for the users.
Forcing to register users on your website with email, passwords, and details is the idea of the 20s and it's won't be good to keep the same style now. In fact, it can cause you a high bounce on the site. WordPress doesn't provide you with the default social login options but WP Social does.
Features and functions 📌 You are getting at least three solutions from the plugin. So, the first and foremost spotlight at WP Social Review is on the features and functions of this plugin.
Design quality 📌 WP Social's design is super simple and easy to navigate. The design is focused on self-exploration for non-tech users.
People behind the plugin 📌 WPMet team is behind this plugin. They are the publishers of ElementsKit (with almost 1 million users), ShopEngine, the #1 WooCommerce builder, MetForm, GetGenie- AI Writing Assistance, etc. They are also bestselling authors at Envato Market, having more than 10 years of experience. So, when they made WP Social, you can trust it.
WP Social Pro comes with affordable pricing. Compared to the other social media plugin, you are getting a better composition, more features, and functionalities at a more affordable price. You can get started for 29$ only. Another best part is, you have the option to pay a WP Social lifetime deal. Pay once and use the plugin for the rest of your life.
| | | | |
| --- | --- | --- | --- |
| WP Social Pro Pricing | | | |
| Single | 5 Sites | Unlimited | Refunds Policy |
| 29$/year | 89$/year | 129$/year | 14 days |
| 79$/Lifetime | 179$/Lifetime | 399$/Lifetime | |
| | | | |
The latest data update date is 3rd November 2022
There is 14 days time for you to test the premium version of the plugin. And as a developer, if you want to use WP Social pro, you can get some exposure and support from the team.
While you are checking the WP Social review, we love to share the back-end technology too. You can see how they are impacting and why they have been used to develop WP Social.
✔️ Javascript – The WP Social front-end part has been developed with javascript and it's a framework. It actually boosts the speed and user experience. Also, DOM (Document Object Model) helps a lot to the developer to interact with social media.
✔️ API – Different third-party API has been used in this plugin. It's important to get integrated and compatible which WP Social handles with API.
✔️ PHP – PHP is the required language to develop the backend of the WordPress plugin.
✔️ WordPress – WP Social is based on WordPress CMS. You must install WordPress to get started with WP Social.
Need better engagement? 🚀 If you are looking for better engagement without spending extra, then social media is the key source for you. You can use WP Social for showing the total share and individual share. It will influence people to share on their feeds. Also, easy sharing is another legend for getting lots of sales.
Have Facebook commerce? 🚀 If you have Facebook commerce or start a Facebook-based business then WP Social is your most needed plugin. It will help you transfer the web content to your social feed and social content to your website.
Social shop owner? 🚀 Are you a social shop owner? It can be any platform like Facebook, Pinterest, and so on. If yes, then WP Social can help you to grow your business.
Social media influencer? 🚀 From the WP Social review, you have seen the features. They are helpful for the social influencer too. A website can help you to do better communications with your potential clients.
Newborn website owner? 🚀 Are you starting a new website? Worried about initial traffic? Use WP Social and get instant social traffic on your site. Every time, someone shares your content in their favorite social feed, you can get some traffic.
Social media-focused business? 🚀 Social media-focused businesses should also have websites in this era. If you have and want to sync the site and social media, use WP Social review.
Want social users on your site? 🚀 When your content gets some share on the social feed, social people will drive to your website.
Moreover, if you are a freelancer, agency owner, or developer, you can use WP Social for your clients too. WP Social's documentation and video resources can help you to finish your task faster than you do in a manual.
While we were checking the plugin, the easy navigation and settings panel grabbed our attention. Anyone having no experience with experts can use the plugin. Its self-explanatory label of the function can help you. We think the plugin is growing slowly but yet it's fine. It will not slow down your website and work, solve the basic problems.
We recommend you use WP Social for your website. In order to solve the basic problem, it's a good plugin. Lightweight and fast of course.
Besides WP Social review, you can see WP Social Ninja reviews and WP Social review vs WP Social Ninja reviews too.
WP Social is one of the small ones but uses the full plugin. We have covered most of the topics in the WP Social review. Now let's see some of the FAQs about WP Social review. In case, if you have more questions, ask us.
WP Social is a social media plugin for WordPress that solve 3 basic problems. Allow your users to log in on the website with social media, show the social share numbers and also enable the social share option on the website. We have covered details in the WP Social review.
Elementor is not a required plugin for WP Social. However, you have seen in WP Social review that the plugin has Elementor widgets that you can use.
WooCommerce is not a required plugin for WP Social review. But WP Social review is fully compatible with WooCommerce and you can use the plugin on your website.
As you have seen in WP Social review, the plugin has both Elementor and shortcode options. You can use any of them on the Elementor page builder-based website. But for the Gutenberg-based website, you can use WP Social review shortcodes and blocks.
Over the complete WP Social review, we have covered all the information that you need to know before purchasing the plugin. At the same time, the plugin has free versions that you can test before purchasing the pro version. Documentation and videos are also available.
Considering all of the resources, no one should use WP Social Pro Null version. Even, if you use WP Social null, it will be risky for you.
There are multiple social media plugins available in the WordPress directory. Some of them are much potential, and it's really hard to say which is the best alternative to WP Social ninja. However, we think, WP Social is one of the best alternatives to WP Social ninja.
Yes! WP Social offers both yearly and lifetime payment prices. You can get WP Social's LTD packages on the WP Social pricing page.