PostX Review WordPress Gutenberg Blocks Plugin (2023)
Looking for the PostX review? Wptowp editorial has completed the PostX review for you. After reading the blog, you can know all the important information about this amazing post grid plugin. As usual, we have added some exclusive information. It will help you make your final decision.
We started working with PostX way before starting the Wptowp website. On our partner's website, we published a PostX review. And also we worked on various other blogs. Now, it's time to share this plugin with Wptowp's visitors.
PostX Review – Introduction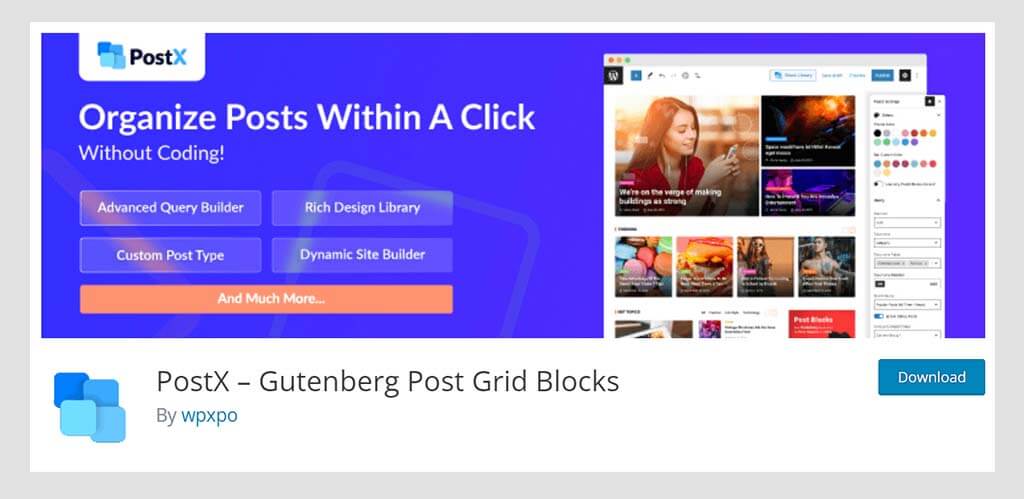 PostX is one of the promising Gutenberg post-block plugins made by WPXPO. The plugin is ideal for different types of blogs, such as news sites, magazines, or individual blogs. A bunch of features is available to improve your site's functionality. Ready-made block designs and CSS customization options, in particular, will make your life easier when designing an appealing website. PostX started its journey in 2020, and the plugin has grown rapidly since its inception.
PostX is the BASIS National ICT Awards-2022 "Winner". It's a prestigious national ICT award in Bangladesh.
Best Features of PostX Plugin
Let's explore the latest features of the plugin. We have added it to the list for you. It's just a list, but you can check the details on the PostX review landing page. The list is long. As we want to keep the PostX review blog readable, we added some of the features inside the table.
1) Ready-made Blocks 🐶 PostX is famous for its pre-made blocks. You can get tons of pre-made templates. Just install the plugin, go to the library, and import. Boom! You have done it. Your site is ready to use.
2) Starter Design Packs 🐶 You can import the full site layout for your own niche. There are tons of niche-based starter packs in PostX.
3) AJAX Filtering 🐶 Let's allow your users to filter your post easily, fastly, and smoothly. At PostX, the filtering options are powered by AJAX. Technology that makes it faster than ever.
4) Sticky Table 🐶 Table is essential for any data representations. How about the sticky table? Well, you can get the sticky table feature at PostX.
5) Back to Top 🐶 For the blog and content-based site, the back-to-top option is a kind of a must. PostX knows this and they have the feature for you.
6) Image Animation 🐶 Add animation to the images and provide a trendy user experience to the website visitors.
7) Table of Contents 🐶 How many times did you read the full blog? Most of the time, users just scan and went to the important point. Here comes the table of content features. It adds all the headings that users can navigate.
8) Content Animation 🐶 Another animation feature. Like image animation, content animation also makes the site design trendy. It reduces the bounce rate for any website.
| | | |
| --- | --- | --- |
| Layout Offerings | Endless Customizations | RTL Readiness |
| Dynamic Post Slider | Advanced Query Building | Typography Control |
| Quick Query Picker | Posts Taxonimically | Customizable Coolness |
| Easy Ordering | Further Pickings | Elementor Compatibility |
| Indefinite Listing | Advanced Pagination | Unlimited Templates |
| Content Filtering | Easy Navigation | Templates Library |
| More Functionality | Collapsible Table | Archive Builder |
| Responsiveness Control | Back to Top | Layout Combinations |
| Table Styling | Category Settings | Content Customizability |
| Category Styling | Category Positioning | SEO Meta Functionality |
| Category Specific Color | SEO Integrations | Content Excerpt |
| | | |
The last update date is 20th November 2022
Hot News: While we were publishing the blog, the PostX plugin added a new feature called "PostX Advanced Post Slider." It allows users to add multi-style sliders to your website.
PostX Integration and Addons
Addons make the PostX Gutenberg post blocks plugin better, and more robust and extend the compatibility with multiple other popular plugins. For example, RankMath meta add-ons help users to use the meta description option on the blog or page. Here at PostX review, let's have a look at the integration list of this plugin.
💥 Saved Templates – Convert Gutenberg Blocks into shortcodes to use them anywhere.
💥 Table of Contents – Add a Customizable Table of Contents to your blog posts and custom post types.
💥 Elementor Addons – Use Gutenberg blocks inside Elementor via Saved Template addons.
💥 Category – Choose your desired color and Image for categories or any taxonomy.
💥 Dynamic Site Builder – Create dynamic websites using PostX instead of old-school page builders.
💥 Progressbar – Let the users see a graphical indicator to know the reading progress of a blog post.
💥 Yoast Meta – Show Yoast meta description in the excerpt.
💥 All in One SEO Meta – Show All in One SEO meta description in the excerpt.
💥 RankMath Meta – Show RankMath meta description in the excerpt.
💥 SEOPress Meta – Show SEOPress meta description in the excerpt.
💥 Squirrly Meta – Show Squirrly meta description in the excerpt.
The last update date is 20th November 2022
PostX Pro Pricing
Reading the PostX review, why not you know the PostX pricing? It is divided into two styles. You can pay yearly or once and use it for the rest of your life. And all the pricing is under three modules for a single site, five sites, and unlimited sites. Depending on your needs, you can choose any pricing plan. And you will also get 14 days of the money-back guarantee.
| | | | |
| --- | --- | --- | --- |
| Unlimited Elements Pricing | | | |
| 1 Site | 5 Sites | Unlimited Sites | Refunds Policy |
| 49$/year | 79$/year | 99$/year | 14 days |
| 149$/Lifetime | 249$/Lifetime | 399$/Lifetime | |
| | | | |
Data Collected up to 25th June 2022
Please be aware that pricing is subject to change, and WPXPO holds the full right to change the price at any time. You can check the latest price on the website. The above prices do not include applicable taxes based on your billing address.
PostX Review Spotlight
What countered us to recommend PostX for you? Well, the features and functions you have seen already. Here in this section, we would like to highlight something more for you.
PostX Site Builder

PostX Gutenberg post blocks plugin recently introduced the new dynamic site builder. It enables users to create the entire site from the sketch. You can develop your dream Gutenberg-based website with the builder. You can build the home page and gallery page. archive page etc. We have published a complete tutorial about the PostX Gutenberg website builder.
Better PostX Support
You are getting top-notch support from the PostX team. The support can be accessed from the live chat, ticket base support, social media support, etc. You can see the latest update from the social profile. You can also check the tutorial from the official youtube channel. And not mentioned above, they have well-written documentation for the plugin.
What is on the Way on PostX Plugin?
No public roadmap was found for the PostX review. However, we discovered from the newsletter subscription that they will try to publish new starter packs every Monday. Even if, it's not on a Monday, we expect to have 1-2 new starter packs each month.
When Should You Use PostX Plugin?
When should you go for the PostX premium version? Well, if you are convinced and need the advanced features, you can purchase pro. Here are some of the important categories that demand the PostX Gutenberg post blocks plugin for your next website.
🤘 News Portal – Create a new portal website without doing any hand coding and optimize the pattern like a pro. You don't need to use the old-style blog and news theme for your next news portal. Update the whole pattern with PostX.
🤘 Online Magazine – Bring the ideas of your online magazine to life with PostX pro. Import a dedicated magazine demo and update the content.
🤘 Personal Blog – Have some personal thoughts? Well, it's time to publish them and make your digital diary accessible from around the globe. Build your personal blog with the PostX Gutenberg post blocks plugin today.
🤘 Fashion Blog – Are you a fashion expert? With a fashion online blog, you can share your knowledge with a wider audience.
🤘 Travel Blog – Traveller? Why don't you try to make some extra bucks by sharing the travel experience online? Get a domain, hosting, WordPress, and PostX. No more hassle or difficulty managing your travel blog.
🤘 Sports News – Develop your sports news site with PostX pre-made spots demo.
🤘 Food Blog – Foodis? Share your own personal blog's food review. Build a professional food blog within a few hours with PostX.
Seems like, all the blog categories are included here. But you can use the PostX Gutenberg post blocks plugin for any similar purpose. Like building a portfolio website, personal funding website, and company representing website. You can also create a social gathering website, deals, and marketplace website. PostX provides a free version so no matter which purpose you need if it's Gutenberg based, try PostX first!
Editorial Prediction for PostX Plugin
PostX Gutenberg post blocks plugin grows from 0 to 20k+ within a few years. And our prediction is, it will grow more and become 30k+ within the next year. That's what we are hoping only depending on our experience. If you notice their change, you can see the regular update!
Moreover, they also have a nice response from the MarTech social community, led by top marketers. We believe, PostX will always be the top pick for the Gutenberg post blocks plugin.
PostX Plugin FAQs
Have a query about the installation of PostX, renewing the license, or confusion if you need an extension? Check out our frequently asked questions. Let us know if you found the answer to what you were looking for!
Do You Have Any Discount Offers for PostX?
PostX review often offer discounts and coupon codes for visitors. However, for Wptowp visitors, we manage a permanent special PostX coupon code. You can check the blog that includes how to apply PostX Gutenberg post blocks plugin code too. You can also check other Wptowp coupon codes here.
Are there Any LTD Deals on PostX?
Can I Use PostX with Elementor?
Yes! You can use the PostX Gutenberg post blocks plugin with the Elementor too. PostX is fully compatible with Elementor!
PostX Review – Final Notes
If you are planning to grow your site with organic traffic then PostX should be your choice. If you have long time plan to continue your site and add more and more content, then PostX review can help you. The different pattern is ideal for optimizing the website. Also, SEO plugin integration can lead your site to the next level. So, build a site with PostX review, that google like!
PostX has achieved 20,000+ active installations, 115+ five-star ratings, 674,687+ total downloads, and serving more than 120 countries!
Kudos to you, you have finished the whole PostX review blog. Now, it's time to share the blog on your favorite social, media. Let your friend know about this amazing plugin. We are sure, they will like this too!
Acknowledgment 💯💯
🐾 Images – Images in this blog have been collected from the WPXPO website, blogs, Wholesale landing page, Social site, etc
🐾 Affiliate Links – This blog contains several affiliate links. This means, that if you purchase any product through the link, we will get a commission without charging you extra. You can see affiliates disclosed here.
🐾 Data Source – All the data has been collected from various open-source. For example, a landing page, WordPress directory, YouTube channel, etc. Data can get changed at any time.

Editorial Staff
Our Editorial team consists of WordPress Expert/s, Analysts, Content Editors, Writers, Designers, SEO Experts, Outreach People and Developers! For each content, a highly expert and dedicated team led by Asadullah Galib, works together. We have only one motto, "Help you to make your final decisions!"